Best used cars under £5,000
We show you some of the most tempting best used cars for £5,000 or less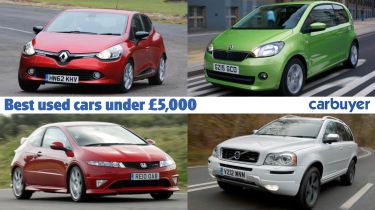 In a lot of ways, used car buyers have never had it so good. While a budget of £5,000 won't get you behind the wheel of the most up-to-date cars, you may be surprised at just how much you can get for your money. What's more, technological progress marches on so quickly that even older, less expensive cars come with impressive equipment.
It's worth remembering that the launch of a new model doesn't mean the old version is no longer worth having. Although the latest iteration may showcase the newest gadgets, be more economical and have a higher safety rating than its predecessor, these are almost always the result of improvements that could be made – not changes that were absolutely vital.
You'll find that some of the older designs on the market today carry an impressive Euro NCAP safety rating, but the test gets stricter every year – and while these newer cars are ultimately safer, the vast majority of recent cars – including many that you can buy used for less than £5,000 – offer far more protection in a crash than older models.
The same rule applies to fuel efficiency and standard equipment – the latest version of almost any car will show improvements over its predecessor, but it's rarely a night-and-day difference. If you don't need to be driving a car on the cutting edge of innovation, you can save a lot of money.
Put simply, £5,000 will buy you a far better used car than it would have just a few years ago. We've put together a collection of our favourite used cars – including a range of sizes and categories – that you can pick up for half the cost of a new city car. Have a different budget in mind? Check out our best used cars for £3,000 and best used cars for £10,000.
Skoda Citigo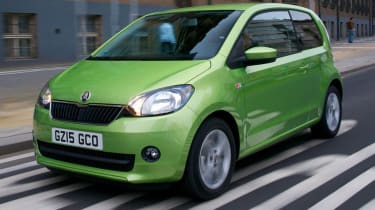 Whether it's as a first car or simply a town runaround, you can't go wrong with a Skoda Citigo for this budget. It's mechanically identical to the Volkswagen up! and SEAT Mii but the Citigo is the best value for money. You can get high-spec models with low mileage for £5,000 and there are plenty available.
There's a choice of three- and five-door models, and both offer cheap road tax, a decent amount of passenger space and a surprisingly big boot. Base-spec 'S' models miss out on air conditioning and split-folding rear seats, so we'd recommend SE or Elegance models. The 1.0-litre MPI engine is simple and promises excellent fuel economy - it's possible to see over 60mpg out-of-town.
Renault Clio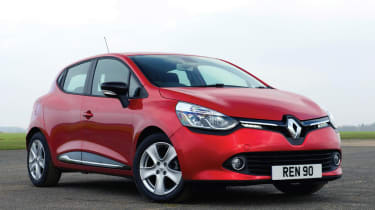 The Renault Clio has brought a dash of French style to the supermini class ever since it was launched in 1990. There are plenty of Mk4 Clios within budget and, even before the later facelift, they still look great. Renault didn't change the styling for the Mk5 too much because customers liked the smart design so much.
At this price, low-mileage examples are rare (many will have roughly average mileage for the age), but it's worth picking a Mk4 over a Mk3 Clio because it has a bigger boot, ISOFIX child-seat mounting points and extra equipment. Make sure you're happy with the performance of the 74bhp version if you're looking at one; we found it a little sluggish, but there's also an 89bhp 0.9-litre turbo engine which is noticeably quicker.
Mazda3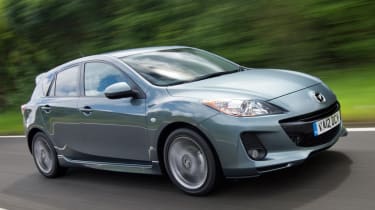 It's not a default choice in the family hatchback class but the Mk2 Mazda3 (sold from 2009-2013) is well worth a look. There's no denying it's an eye-catching car, while it's good to drive and usually very well-equipped. Even TS spec, one up from entry-level, gets all-round electric windows and dual-zone climate control.
Top-spec Sport models have an equipment list you'd find on brand-new versions, with sat nav, cruise control, heated seats and auto wipers - although the screens inside are undeniably small. Diesel may not be very fashionable but it's still the best choice in the Mazda3 - especially the 2.2-litre engine with its eight-second 0-62mph time and near-50mpg fuel economy.
Vauxhall Astra estate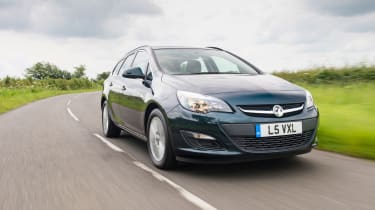 Vauxhall Astra estates lose their value quite quickly, which is great news for used buyers. All except the most basic model come with nice touches like alloy wheels, front fog lights and chrome trim. Vauxhall is another company that piles on the standard equipment to compete with the Ford Focus and Volkswagen Golf, while the Astra estate has a big boot too.
A lot of used examples you'll find will be diesels but there are several to choose from, and all will give plenty of power when you've got a car full of people and suitcases. Many Astras were bought by fleet buyers, who looked for a comfortable and reliable car - and these are qualities private buyers will appreciate too.
Honda Civic Type R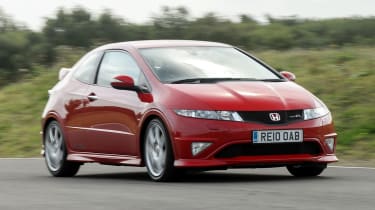 There are plenty of exciting cars available for £5,000 but few are as desirable as the Honda Civic Type R. It's an exciting hot hatch that manages 0-62mph in around 6.5 seconds, and the Type R badge also guarantees a race-inspired interior with lots of sporty red touches.
There are a good number of unmodified, low-mileage examples for sale, and values haven't shot up yet like they have for the previous 'EP3' Civic Type R. This 'FN2' Civic is perhaps the one enthusiasts are least keen on but it's fun and we still expect it'll be a future classic.
Volkswagen Passat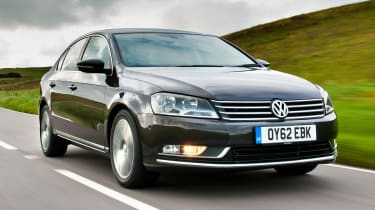 If long-distance comfort is your main concern, rather than sportiness, you should certainly look at a Volkswagen Passat. Built almost exclusively for use as company cars, Passats are quiet, refined and economical, and choosing a higher-spec model nets you equipment like auto headlights, sat nav and cruise control.
All Passats of this shape are diesels and private buyers are best off with the 2.0-litre 138bhp unit - capable of mid-50s MPG - unless the 1.6's better fuel economy is of particular importance. The Passat is smart and business-like inside and out, and all the controls are right where you would expect.
Ford C-MAX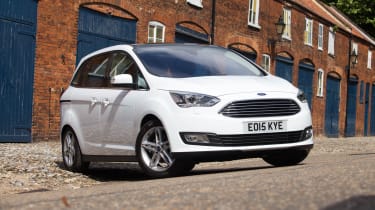 The Ford C-MAX is one of our favourite compact MPVs. It takes up no more space on the road than a Ford Focus, but offers far more room and versatility inside than that car ever could. What's more, despite being taller and bulkier-looking than a regular hatchback, the C-MAX still manages to be genuinely appealing to drive, thanks to it sharing much of the Focus's mechanical makeup. Around £5,000 is a healthy budget for C-MAX shoppers; it should see a well specified model with a petrol or diesel engine on your driveway. And there's a choice of five-seat and seven-seat Grand C-MAX models, too.
Many newer examples will have built up high motorway mileages, but if maintenance has been kept up to date, this need not be too much of a worry. It's easy to find a low-mileage example, though, with lots available with around 60,000 miles. Ford kept the Mk2 C-MAX current with regular updates (it was still sold in 2019), so the newer the car you buy, the more equipment it's likely to have.
Citroen C4 Grand Picasso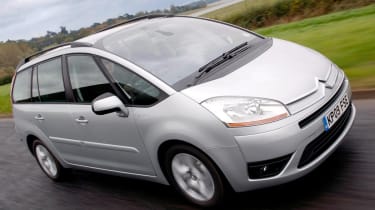 While the Ford Grand C-Max has seven seats, they're really for occasional use. If you need them more regularly, a proper seven-seat MPV like the Citroen C4 Grand Picasso will be a better fit. It's unashamedly about practicality, with three full-size seats (each with child-seat points) across the middle row, but still manages to be stylish too.
Most come with roof rails, front fog lights and parking sensors, and we found a good few cars with around 50,000 miles on the clock within budget. While the dashboard design is unusual to say the least, the cabin is spacious and airy - and feels even more so if you find a car with a panoramic glass sunroof. The 1.6-litre diesel is fine for most journeys, although it'll feel a bit underpowered on steep hills and when fully loaded; if you need more power, a 2.0-litre is available but it's harder to find.
BMW Z4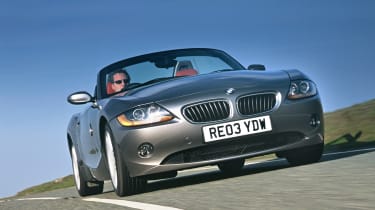 If you're looking for something a bit sportier, the BMW Z4 is an upmarket, stylish convertible that's great fun on winding back roads. For this budget you'll be looking at first-generation cars, which were sold until 2009. They're all rear-wheel drive and petrol, which will appeal to keen drivers, and even the slow-sounding 150bhp 2.0-litre engine will hit 0-62mph in around eight seconds.
Find an example with the 228bhp 3.0-litre six-cylinder engine, and that sprint will take just six seconds. The top speed is 152mph, and the 3.0-litre also makes a much nicer noise than the smaller engine. The Mercedes SLK is also worth a look, as is the Mazda MX-5 if you'd like something a little newer.
Nissan Qashqai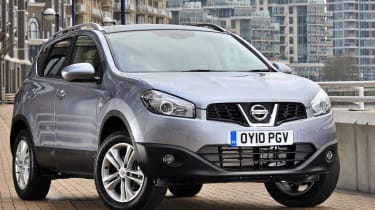 Want to know why SUVs have become so popular? It's partly down to the success of the Nissan Qashqai, which was one of the first family crossovers. Buyers loved the higher driving position, big boot and low running costs, and it's a recipe that nearly every manufacturer has tried to follow since.
The Qashqai is very well-equipped (although we'd sidestep entry-spec Visia models), and some cars even have sat nav, a reversing camera and a panoramic sunroof. Diesels return over 50mpg, while the petrols offer about 40mpg and are ideal if you're predominantly going to be driving around town. Reassuringly, all second-generation Qashqais come with ISOFIX child-seat points, and there's enough space in the rear to mount a child seat without affecting the front seats.
Volvo XC90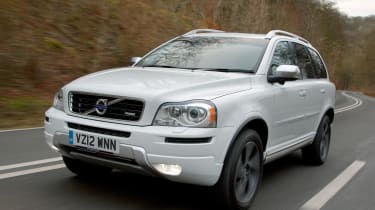 We've included the Volvo XC90 SUV in this list to highlight just how much high-quality used car £5,000 will buy you. The big Volvo was first released in 2002, taking on the might of the BMW X5 and Mercedes M-Class. Our £5,000 budget actually gives us a surprisingly wide choice of machines, but certain models are likely to prove a more shrewd buy than others. Although the powerful turbocharged 2.9-litre T6 model is tempting, it's extremely thirsty and that forces values down.
The 2.4-litre D5 diesel is a much better buy; it's a reliable and reasonably economical engine and still has plenty of power for towing and long trips away. A £5,000 XC90 is likely to have covered high mileage, but condition and regular maintenance are more important than the number on the odometer. The fact that the Mk1 XC90 remained in production for 12 years highlights just what a good job Volvo did on its first foray into the SUV market, and a used example offers spectacular value for money.
Want to know more about buying a used car? Read our used car buying checklist, or why not check out our guide to financing a used car.
2020 scrappage schemes: the complete guide
2020 scrappage schemes: the complete guide
Best new car deals 2020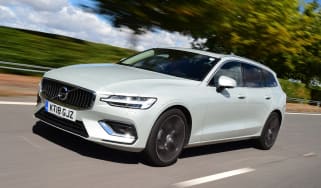 The UK's top 10 best-selling cars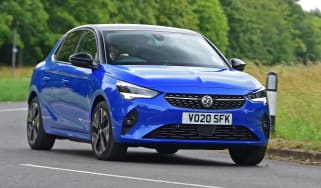 The UK's top 10 best-selling cars