Top 3 used convertible cars for £6,000
"Dear Carbuyer, I'm looking for a used convertible car for the summer that's fun to drive. What do you recommend for £6,000?"
While you might think of a convertible car as something of a niche choice given the gloomy UK weather, as a nation we actually buy more drop-tops than several of our nearest European neighbours.
A convertible's central appeal is, obviously, enjoying driving with the roof down; letting the outside world transform what would be a fairly mundane journey in any other car into a thoroughly involving driving experience.
The best convertible cars to buy in 2020
Typically, older used convertible cars fall into two distinct groups. The first is models that were purpose-built as convertibles, such as the Mazda MX-5. These were designed with additional body strengthening from the start, so the lack of a fixed roof has minimal effect on performance and handling. The second group is convertibles based on coupes. These are often heavier thanks to the chassis strengthening added to compensate for the loss of the roof, which can affect acceleration and handling.
One upside of buying an older used convertible from the late 1990s/early 2000s is the simplicity of their folding tops. Nearly all models from this time feature a folding fabric roof, which is lightweight, easy to operate and relatively cheap to maintain. A fabric roof also takes up a small amount of space when stowed, with most models offering a decent amount of boot space for shorter trips and daily use.
While cars from this era may appear to lag behind their modern equivalents in terms of technology, most convertibles come in high-spec trims with good standard equipment. Leather-trimmed seats, air conditioning, cruise control and a premium sound system are often included, making them easy to live with all year round.
The majority of convertible cars are also decent to drive, with each of our three choices boasting powerful petrol engines that make them equally capable on both B-road drives and daily commutes.
Our reader is looking to spend up to £6,000 on a used convertible car for the summer that offers good performance. At this price, our picks are slightly older models but they're still quick by modern standards and come well-equipped.
The stylish choice: Saab 9-3
For: Interesting looks, Swedish charm, strong enginesAgainst: Feels outdated compared with rivals here
Before Saab went out of business in 2011, the 9-3 was a stylish competitor to the BMW 3 Series and Mercedes C-Class. Unfortunately, the most recent model was built on a nine-year-old platform, and doesn't hide its age as well as its competitors here, especially in the cabin.
Most convertibles are well equipped, though, and mid-range Vector Sport models have heated front seats, dual-zone climate control and leather upholstery. Top Aero models can be had with bi-xenon headlights and nav.
Despite being outdated, the interior is pleasingly minimalist, with quirky features such as the centre-console key barrel and a turbo boost gauge in the instrument cluster. Quality is behind similarly aged rivals', while its sat-nav graphics look tired.
The 9-3's saving grace is its range of excellent engines, which run from a 158bhp 1.9-litre diesel to a 250bhp turbocharged 2.8-litre V6 petrol, all offering respectable performance andan entertaining drive. We suggest you hunt for a manual example, because the six-speed auto is a little slow to react.
The sensible choice: BMW 3 Series
For: Punchy six-cylinder engine and good build qualityAgainst: Good low-mileage models increasingly rare
As a more conventional alternative to the Saab 9-3, the BMW 330i convertible offers practicality, strong build quality and a superior chassis. Its equipment was alsoof a higher quality, including a more sophisticated traction-control system and rain-sensing wipers.
There are plenty to choose from, too, from early, high-mileage bangers to late, well cared-for minters within our price range. The 3 Series is quite old, so there are more of the former, and you should shop around for the best deal.
The E46 3 Series has similar features to the Saab, but its build quality is better. Options were costly when new, so there are plenty of base examples for sale, yet we found a late model with leather seats and a Harman/Kardon stereo within budget.
Bmw's old M54 naturally aspirated 3.0-litre straight six was a strong engine, offering 231bhp and 300Nm of torque. It's linked to a six-speed manual gearbox, which feeds power to the rear wheels, providing a respectable 0-62mph time of 6.7 seconds and a top speed of 153mph.
The sporty choice: Porsche Boxster
For: Neat handling and a sonorous flat-six engineAgainst: Sub-£5k cars are often high-mileage
PORSCHE'S Boxster was launched back in 1996, so Mk1 models are affordable. However, buyers will struggle to find a good example within our budget. For this money, options are limited to a tidy 2.7-litre model with around 80,000 miles, or a ropier 3.2 with around 100,000 miles.
If you hear grumbling noises from the rear of the engine on a test drive, walk away, because the bearings on the intermediate shaft can wear prematurely. If they fail, the engine will more than likely require an expensive rebuild.
The Boxster offers a sportier drive than the 3 Series and 9-3, and it comes with a pair of bucket seats and a sports steering wheel. Better-equipped models have leather trim, climate control and electric seats with adjustable lumbar support.
There were three flat-six engines in the Mk1 Boxster: a 204bhp 2.5 litre, a 228bhp 2.7 litre or a 260bhp 3.2 litre. All were offered with a manual or Tiptronic automatic gearbox, with the most potent manual version boasting a sub-six-second 0-62mph time and a top speed of around 160mph.
Carbuyer's choice, as picked by deputy editor Ben Hodges - Porsche Boxster
From the three excellent cars we've picked, I'd buy the Porsche Boxster. It's the best to drive and the flat-six engine sounds great. Despite its status as the 'entry-level' Porsche, it's also well equipped.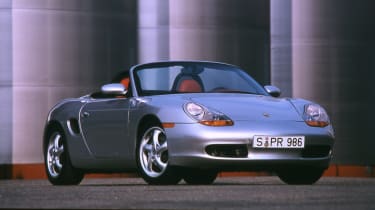 While the original 986-generation Boxster was often derided as a car for people that couldn't afford a 911, it's an excellent performance car in its own right. Even in base 2.5-litre spec, the flat-six engine offers strong performance and has a slick manual gearbox. Combine the burbling engine note with the retracted roof and Porsche's top-notch driving dynamics and, regardless of which engine you pick, the Boxster offers a huge amount of fun for not a lot of money.
Read our top 10 list of the best sports cars you can buy here.
Best road-tax-free cars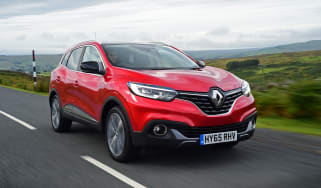 Best diesel cars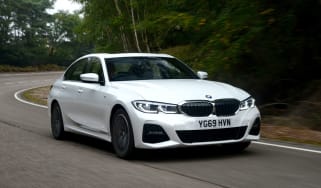 New 2020 Kia Stonic SUV: prices and specs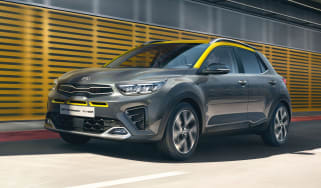 New 2020 Kia Stonic SUV: prices and specs
Updated Peugeot 5008 starts at £29,585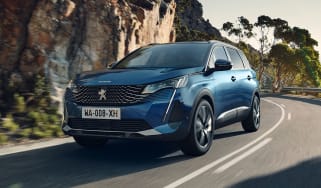 Updated Peugeot 5008 starts at £29,585
Cupra Formentor SUV review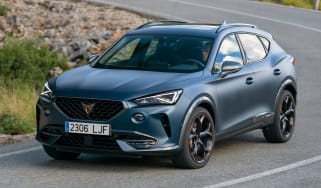 Cupra Formentor SUV review