Used Volkswagen Golf Review: 2013 to 2019 (Mk7) - Engines, drive and performance
The Golf Mk7 offers you a range of very economical and low emissions petrol and diesel turbocharged engines, as well as electric and hybrid
Even if you're not particularly interested in cars or driving, you'll enjoy being behind the steering wheel of the Golf Mk7.
What is the VW Golf Mk7 like to drive?
Turn that steering wheel just slightly and you'll feel an instant, precise response. The Golf's suspension isn't unduly upset by bumpy roads, you won't hear much noise from the tyres, engine or wind, and almost regardless of which engine you've chosen, the car will accelerate smartly and smoothly. 
Whether your car has a manual gearbox or an automatic, the gears change without fuss. Although adequately spacious inside, the Golf is compact enough to park easily. All of its controls operate in a relaxed, measured way: nothing about driving the Golf Mk7 is a chore.
Which engine should I choose?
The best of the Golf's petrol engines is the 1.5-litre TSI, delivering a fine blend of power and economy. It's genuinely impressive, with a keenness to rev that helps it to feel livelier than its fuel economy would suggest. It uses a cylinder-deactivation system, automatically and unobtrusively shutting down two of its four cylinders when full power isn't needed.
The 128bhp BlueMotion version of the 1.5 TSI automatically allows the engine to switch off entirely and coast during deceleration to assist fuel economy. This eco-focused engine still returns decent performance, with a 0-62mph time of 8.8 seconds for both manual and automatic versions and a top speed of 130mph; perhaps more notable than its power, though, is how quiet this engine is.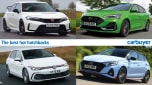 Top 10 best hot hatchbacks 2023
The 1.0-litre TSI engine, meanwhile, impresses by how effectively it deploys its relatively low 84bhp power output. On paper, 0-62mph in 11.9 seconds sounds slow, but it still pulls away from the lights briskly and feels nippy enough to keep pace with traffic. However, load up the car with passengers and luggage or ask for a quick bursts of overtaking performance, and this engine struggles. Still, it's smooth and quiet when worked hard, and makes an appealing sound.
There is a more powerful (113bhp) version of the 1.0 TSI which gives superior motorway performance and drops the 0-62mph time to just under 10 seconds. In our testing we've found it slightly punchier than the 1.0-litre engines fitted in either the Ford Focus or Vauxhall Astra. As ever, the Golf GTI and Golf R models remain excellent performance cars, and you can read our separate reviews for each.
All the diesels are good performers, with the 148bhp 2.0-litre able to sprint from 0-62mph in 8.6 seconds. However, if you spend a lot of time cruising at a steady motorway speed you'll find the 113bhp 1.6-litre TDI provides more than enough power – 0-62mph takes 10.2 seconds and it's more fuel-efficient than the 2.0-litre. 
If minimising your bills is a priority, choose a manual gearbox, as the six- and seven-speed DSG automatics increase fuel consumption slightly. But don't dismiss them without trying them – these autos are really slick and smooth to use. The Golf GTD offers the most diesel performance.
Volkswagen also offered the all-electric e-Golf variant, and previously the plug-in hybrid Golf GTE, with both having impressively low running costs.