Best used cars with cheap road tax and insurance
If you need a used car with low running costs, then one of these second-hand options could be just what you're looking for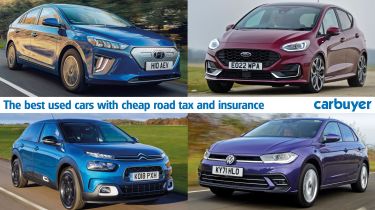 While a low asking price plays a big part in a car's overall affordability, it isn't the only thing you need to bear in mind if you're a motorist on a budget. How much the car will cost to tax and insure will also be a factor to consider when you're putting money aside to keep the car on the road.
Opt for a used car with low CO2 emissions, for instance, and you'll have a second-hand motor that sits in a low Vehicle Excise Duty (VED, or road tax) band. This will in turn mean you'll pay less money per year than you would for a comparable car with a higher CO2 output.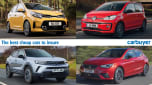 Top 10 best cheap cars to insure 2023
Likewise, if you're after a shrewd second-hand purchase, a used car that sits in a low insurance group will also be worth having on your radar. While the exact amount of money you'll end up paying can vary depending on the make, model and the insurance provider you go for, as a rule of thumb insurance premiums will be smaller for a car with a low insurance group rating than a high one.
Because they tend to have low CO2 emissions and sit in low insurance groups, many of the most affordable used cars to tax and insure will typically be smaller models such as superminis and city cars. However, if you'd prefer something a bit roomier than that, there are also some larger family cars that don't cost an arm and a leg to run, either.
Read on for our picks of some of the best used cars you can buy that are available with cheap road tax and insurance.
The Ford Fiesta is a household name that was around for around 47 years before it was sadly discontinued midway through 2023. That means if you want a Fiesta now you'll have to buy used, but with so many trim levels over the years and a plethora of examples to choose from in the classifieds, it's a great second-hand buy. The most recent Mk8 Ford Fiesta was cheap to insure and run, but more refined than any other generation that came before it. 
The standard Mk8 Fiesta was available from launch with a simple 1.1-litre non-turbo engine with either 69bhp or 84bhp, which sat in a very low insurance group four (of 50). For a good balance of performance and low running costs, though, we'd go for the 1.0-litre Ecoboost turbocharged unit with 99bhp in Zetec trim, as it's still cheap to run, sitting in insurance group 11. A 124bhp mild-hybrid version gets a slightly discounted road tax rate, although it will cost more to buy used. A frugal 1.5-litre TDCi diesel was also available with 84bhp, which could suit you if you're a long-distance motorway driver, and sits in insurance group nine. If you prefer to drive an automatic, the sole option with this transmission is the 99bhp 1.0-litre petrol model, but if given the choice we'd stick with the manual as it's much better to drive.
Partnership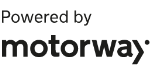 Need to sell your car?
Find your best offer from over 5,000+ dealers. It's that easy.
If your budget can stretch to it, we'd steer clear of entry-level Style models. While these did come with air-con, electric front windows and mirrors, as well as Bluetooth, it's worth opting for a Zetec model or above, as this trim gained 15-inch alloys, a heated windscreen, Apple CarPlay and a 6.5-inch infotainment screen. While it does sit in a slightly higher insurance group than Style, it's still cheap to insure overall.
While there's a newer version of the Skoda Fabia now on sale, the Mk3 version that was replaced in 2021 has aged well in terms of looks. The Czech brand is famed for its value for money and strong practicality, and the Fabia delivers on these fronts, as well as being cheap to run. 
Naturally, Fabias with the least powerful 59bhp engines will be the cheapest to insure, sitting in the absolute lowest group one insurance bracket. Even the well-equipped Colour Edition model sits in group one with this engine, so you can get features like a more colourful exterior, sat nav, cruise control, front parking sensors, and air conditioning among other features, without paying over the odds for insurance. 
One of the big perks of fully electric cars is that, by virtue of having no combustion engines, they don't produce any tailpipe emissions. As a result, cars such as the Hyundai Ioniq Electric don't emit any CO2, and are therefore exempt from road tax charges. It helps, too, that recharging an electric car is typically more affordable than filling up a petrol or diesel car at the pumps.
Due in part to factors such as its larger size, the Hyundai Ioniq Electric may not be as affordable to insure as the superminis and city cars on this list – even the entry-level Premium models start off at insurance group 16. That said, this is on par with combustion-powered family hatchbacks – which, in quite a few cases, will cost more to tax than the Hyundai. It's one of the cheapest electric cars to insure.
The now-replaced SEAT Leon makes a strong case for itself if you're after a good-value used family car – after all, it's a nicely polished and well-rounded hatchback that tends to be less expensive than a like-for-like alternative such as the Volkswagen Golf. It's not just the asking price where the car holds up well as a low-cost prospect, as the Leon also brings to the table low running costs.
For drivers who spend a lot of time around town, the 1.0-litre petrol models in the entry-level SE spec appeal with their 107g/km of CO2 emissions, which helps keep road tax costs down. Likewise, this spec of SEAT Leon starts off in insurance group 13, so it should be quite affordable to insure. High mileage drivers may be better off with the 1.6-litre diesel, though – as well as boasting better fuel economy, it has CO2 emissions as low as 102g/km and starts off in the SE trim at an even lower insurance group of 12.
When it comes to insurance premiums, the current iteration of the Volkswagen Polo promises to be very affordable. On S and SE models with the 1.0-litre petrol engine under the bonnet, this flavour of VW supermini sits in the lowest possible insurance group rating of 1. Not only is this better than many smaller city cars, but it's also lower than the previous generation of VW Polo, which started off in insurance group 4.
The older VW Polo that went out of production in 2018 does have the edge when it comes to cheap tax bills, though. Thanks to their sub-100g/km CO2 emissions, the 1.4-litre diesel and 1.0-litre 'BlueMotion' petrol versions of this generation of Polo qualify for free road tax, and even the more polluting models sit in low vehicle excise duty bands so aren't costly to tax, either.
The Volkswagen Up! has been around for quite some time, and for a period it was sold as a fully electric e-Up! variant. This model was discontinued a few years back, so your only option is to buy used, and it's a great pick for those after a small electric city car suitable for short trips around town that's cheap to run and insure. Early models came with an 18.7kWh battery good for up to 99 miles, but an update brought a larger 36.8kWh battery with up to 162 miles to a charge.
The e-Up! sits in insurance group 10, which is very low for an electric car, and its status as an electric car means you won't have to pay any road tax until the rules change from 1 April 2025. Still, even after then electric cars will only need to pay the lowest tax rate, currently standing at £10 a year. 
The e-Up! was quite expensive when it was first introduced, but values quickly depreciated on the used market, which is good news for second-hand buyers. It was one of three closely-related models, the other two being the Skoda Citigo e iV and SEAT Mii Electric, but the e-Up! was the more premium-feeling of the trio, though it's still fairly simple. It did come with more equipment as standard compared to the regular petrol Up!, including a reverse camera, cruise control and DAB radio, plus a useful feature that allows you to access information such as its charging status remotely via an app. There's also a handy cradle build into the dash which you can use to mount your smartphone and display the sat nav app of your choice, which is a nice touch.
When it launched, the Citroen C4 Cactus was the latest in a long line of quirky cars from the French brand, though there was more to the car than its ability to stand out from the crowd. As it turns out, the C4 Cactus is a nicely-rounded and versatile family car, which we crowned our overall Car of the Year at the 2015 Carbuyer Awards.
As its presence on this list shows, the Citroen C4 Cactus also promises to be an affordable car to run. The 99bhp 1.6-litre diesel models promise to be the most economical of the lot, as Citroen quoted up to 83mpg for the car when new and there's free road tax on models registered before April 2017. Diesel C4 Cactuses do start in insurance group 18, though, which is quite a bit higher than what the petrol models can achieve – for example, the 1.2-litre petrol version in the entry-level Feel spec starts off in a supermini-esque insurance group seven.
Do you fancy owning an all-electric family car, but can't stretch your budget to the new Volkswagen ID.3? Handily, there is an alternative to be found on the used car market, in the form of the Volkswagen e-Golf which went out of production in 2020.
While the e-Golf won't necessarily be the most affordable family hatchback to insure (even the least costly model sits in the insurance group 19 bracket), it does promise to be far less expensive to run in other areas. By virtue of having no tailpipe emissions to speak of, the VW e-Golf is exempt from road tax, and being electric means the e-Golf will cost less to fill up per se than a petrol- or diesel-powered VW Golf. In other aspects, the e-Golf feels very similar to a Golf with an engine, and the boot is even the same size.
It may not have the efficiency-enhancing mild-hybrid and hybrid engine options available on its successor, but that doesn't mean the previous iteration of the Nissan Qashqai is expensive to run. On the contrary, depending on the spec, it can prove to be a surprisingly affordable family SUV to tax and insure.
If it's the lowest insurance premiums you're after, the 1.2-litre petrol models in the entry-level Visia trim will be the one to go for, as this spec starts out at an impressively low insurance group rating of 12. Buyers after a low tax option with good fuel economy may find a fair bit to like about the 108bhp 1.5-litre diesel – while it's more expensive to insure and isn't amazingly quick, it has a low tax bill thanks to its 99g/km of CO2 emissions, and Nissan claimed it could return up to 74.3mpg.
As a bang for your buck family estate car, the recently discontinued Vauxhall Astra Sports Tourer makes a very good case for itself. There are good amounts of space inside for passengers and their luggage and, because it didn't have the strongest residual values, used examples can be picked up for a fraction of their original price when new.
Boosting the Astra Sports Tourer's affordability credentials further are its impressively low tax and insurance costs. The least expensive Astras to insure will be the 1.4-litre petrols, which start out at insurance group eight in the entry-level Design spec, though the 1.6-litre diesel makes a more convincing case for itself. While it's a bit more expensive to insure due to its insurance group 13 rating, it's much more economical and, if you opt for an example registered before April 2017, it won't cost you a penny in VED.
The best used cars with cheap road tax and insurance
Tesla Cybertruck finally delivered: specs, prices and UK availability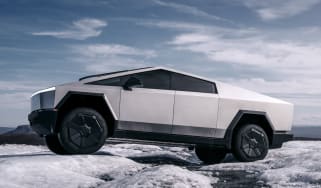 Tesla Cybertruck finally delivered: specs, prices and UK availability
Best new car deals 2023: this week's top car offers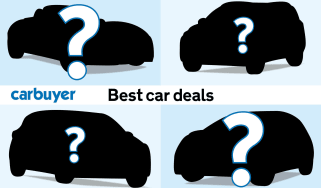 Best new car deals 2023: this week's top car offers
New 2024 Dacia Duster arrives – popular budget SUV enters its third generation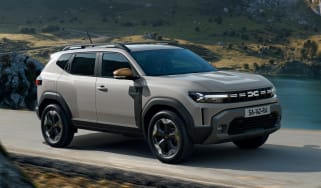 New 2024 Dacia Duster arrives – popular budget SUV enters its third generation