Land Rover Defender SUV - Engines, drive & performance
The Land Rover Defender has a wider range of talents than almost any other vehicle on sale
It might be one of the most loved models of all time, but one thing the Defender was never famous for was its everyday performance. Enough low-down grunt to get up steep bank and tow a trailer, yes, but not straight-line speed away from the lights.
With a more advanced powertrain, the new Defender has a far broader set of talents. Its advanced adaptive four-wheel drive and air suspension (on top trims) ensures it's still capable of traversing the world's most inhospitable terrain, but it can also tear from 0-62mph in as little as 5.2 seconds with a V8 engine fitted.
Just as impressive as its on-paper statistics, there's the fact it's simply fun to drive as well. Many have questioned whether the new Defender would tread on the toes of the Discovery, but from behind the wheel it instantly has a character of its own. Its steering is more alert and faster to react, while the Defender's air suspension is firmer and there's more feedback flowing back through your fingertips and the seat as you drive.
Attack a British road, and the Defender is instantly enjoyable and feels surprisingly sporty, digging its front tyres into the road. It's remarkably composed too; the fact the body leans slightly through faster corners and the nose lifts under acceleration only seems to add to its character.
Yet, the same suspension can transform to scale ruts, wade through deep water and absorb torturous bumps. Every Defender is fitted with an eight-speed automatic gearbox that also has low-range ratios designed for off-road driving and towing. At Eastnor Castle's off-road experience centre, sections have been opened up for the first time in a decade to test the Defender's extreme capabilities. A set of tortuous undulating water-filled pits is a particular challenge, and just when you think the Defender is about to get stuck, its Terrain Response 2 software modulates power to the wheels to find just enough traction to drag it out the other side.
Designed around Land Rover's new D7x platform that's incredibly stiff - and has been subjected to years of rigorous testing during its development - the Defender has approach and departure angles of 38 and 40 degrees respectively, along with a 900mm wading depth. It can tackle 45-degree side slopes and inclines, and its Terrain Response 2 system can be used to adjust the chassis and differentials manually or simply be left in Auto, where it recognises the surface you're driving on.
Land Rover Defender diesel engines
The Defender launched with two versions of the 2.0-litre 'Ingenium' diesel engine, badged D200 and D240, with the same 430Nm of torque but 197 and 237bhp respectively. Both get an automatic gearbox and permanent four-wheel drive as standard, and cover the 0-60mph dash in 9.9 seconds and 8.7 seconds.
Early impressions are that it's the best use of the engine yet, and we especially like how Land Rover has altered its sound. This has been done by augmenting engine noise using the car's audio system, with the resulting background noise more like a rumble than a high-pitched diesel growl. A sensitive throttle pedal means the D240 engine also feels impressively responsive.
Land Rover is already replacing them with larger 3.0-litre straight-six diesel engines equipped with mild-hybrid hardware. These are badged D200 (with 197bhp), D250 serving up 247bhp and D300 with 296bhp. Acceleration from 0-62mph takes 10.2, 8.3 and 6.7 seconds respectively.
The V8 version should be even more capable. With 518bhp and a 0-62mph time of 5.2 seconds, it's the fastest factory version of the Defender ever. Considering its boxy shape, its 149mph top speed is particularly attention-grabbing. To make the most of its extra power, the V8 Defender also gets a new active electronic differential, upgraded suspension and a toughened gearbox. Its Terrain Response system also gains a new Dynamic mode for enthusiastic driving on-road.
Petrol engines
Unlike the previous iteration of Defender, buyers can choose between two petrol engines, badged P300 and P400. The smaller 2.0-litre turbo gets 296bhp, propelling the car from 0-60mph in 7.6 seconds, while the 3.0-litre straight-six P400 has 395bhp and gets to 60mph in six seconds.
The P400 is also fitted with 48-volt mild-hybrid electrical assistance, designed to harvest the energy normally wasted under deceleration and store it in a small lithium-ion battery. This can be used to bolster the engine's torque under acceleration and provide stop and start more of the time when waiting in traffic.
It's the most fun version to drive, for now, with a tuneful sound from its six-cylinder petrol and impressive acceleration. Interestingly, there are no steering wheel-mounted paddles for the automatic gearbox, as engineers don't feel they fit the Defender ethos, but you can nudge the gearstick to shift manually. The engine and steeringing again feel surprisingly willing for a big, heavy SUV.
Plug-in hybrid engines
The Defender P400e plug-in hybrid uses a 2.0-litre petrol engine, electric motor and a 19.2kWh lithium-ion battery. With a combined 398bhp, it's the fastest Defender available until an anticipated performance model arrives with a V8 engine, getting from 0-62mph in 5.6 seconds. Unfortunately, the P400e is limited to the Defender 110 model. Air suspension and 20-inch alloy wheels come as standard.
Best new car deals 2021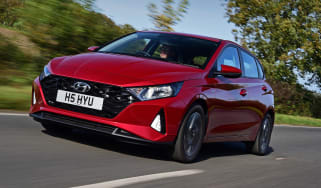 UK road tax rules for 2021 explained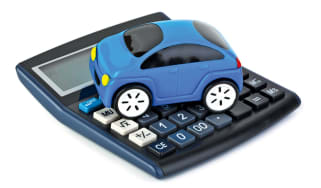 UK road tax rules for 2021 explained
New 2021 Porsche Macan nearing production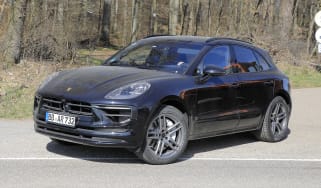 New 2021 Porsche Macan nearing production