BMW i3 awarded four stars by Euro NCAP
The latest Euro NCAP scores have been released, with the BMW i3 scoring just four stars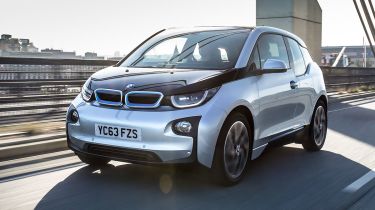 The latest set of Euro NCAP crash test results have been published today, and include a few surprise scores for some of 2014's most eagerly anticipated cars.
Perhaps the biggest shock is the new BMW i3, which was awarded just four stars by Euro NCAP. It has become the norm in recent years for new cars to score the full five stars thanks to innovative new technologies, safety assistance systems and better pedestrian protection.
The BMW i3 electric car managed an impressive 86 per cent for adult occupant protection and a decent 81 per cent for child occupant protection. However, it was let down by a poor 57 per cent score for pedestrian safety and a sub-standard 55 per cent for its safety assist systems. Compare that to the Nissan Leaf, which scored the full five stars, and the BMW's result looks particularly disappointing.
Other surprise scores include the new Nissan Note and upcoming Ford EcoSport SUV – both of which also scored four stars in the most recent round of testing.
Like the BMW i3, the Nissan Note was penalised for poor pedestrian protection, but fared better for safety assist systems – scoring 70 per cent in this area thanks to its seatbelt reminders, electronic stability control and speed limiter. The latter prevents the car exceeding a set speed dictated by the driver.
The Ford EcoSport, due on sale in 2014, was also let down by a poor pedestrian protection score. A safety assist score of 55 per cent was another disappointment and Ford will hope to improve on this in the next round of testing.
Elsewhere, many new cars scored the maximum five stars – including the Mazda3, Peugeot 308 and Mitsubishi Outlander PHEV hybrid. The upmarket Maserati Ghibli was also tested, along with the new Infiniti Q50 and Ford Tourneo Connect MPV – all of which also managed full marks.
However, although each of these scored five stars, none performed well enough to trouble our list of the top 10 safest cars. The Volvo V40 hatchback still sits at the top of our list – scoring 100 per cent for its vast array of safety assist technology, including a system that can brake the car automatically and one that can read speed limits. It even managed 98 per cent for adult occupant protection.
For more information on the current Volvo range, visit the CarBuyer Volvo reviews page.