UK new car sales bounce back in November
New car registrations return to growth in November after October saw the first decline in nearly four years.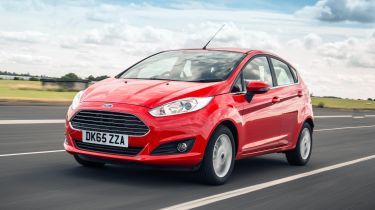 After the UK's new car sales suffered their first month-on-month decline in 44 months in October, November saw an immediate return to form, with registrations climbing from 177,664 in October to 178,876 in November.
That's according to figures released by the Society of Motor Manufacturers and Traders (SMMT) on Friday representing a 3.8% rise compared to the same month in 2014.
Also on the up are alternative fuel vehicles (hybrid, plug-in hybrid, hydrogen fuel cell and pure electric vehicles), which sold 5,326 units in November – an 8.6% increase on November 2014's figures.
SMMT chief executive Mike Hawes said: "November's figures come as a reminder of the strength of the UK car market, as low interest rates and competitive finance deals continue to attract consumers to new car ownership. We've been expecting a levelling-off in demand for some time now – a development that's being realised following an unprecedented three-and-a-half years of non-stop growth."
Petrol and diesel cars also saw similar increases, both compared to October 2015 and November 2014, with diesel just shading petrol-powered cars for popularity, despite the recent Volkswagen 'Dieselgate' scandal.
The Ford Fiesta was the UK's biggest-selling new car in November, just shading the Vauxhall Corsa into second place. The ever-popular Ford Focus came in third, while the Volkswagen Golf and Vauxhall Mokka round out the top five.
Completing the top 10 were the MINI hatchback, Nissan Qashqai, Vauxhall Insignia, Audi A3 and new Vauxhall Astra.
Buyers continue to be attracted by a range of cheap finance deals, thanks to continued low interest rates. Some 75% of new car purchases are made using finance.
| | | |
| --- | --- | --- |
| Ranking | Make/Model | Number sold |
| 1 | Ford Fiesta | 7,826 |
| 2 | Vauxhall Corsa | 7,276 |
| 3 | Ford Focus | 4,868 |
| 4 | Volkswagen Golf | 4,336 |
| 5 | Vauxhall Mokka | 3,928 |
| 6 | MINI hatchback | 3,464 |
| 7 | Nissan Qashqai | 3,306 |
| 8 | Vauxhall Insignia | 3,197 |
| 9 | Audi A3 | 3,190 |
| 10 | Vauxhall Astra | 3,141 |