New Honda CR-V 2019: prices, specs and release date
More details of the new Honda CR-V have been announced ahead of its autumn 2018 launch
The Honda CR-V will be available with seven seats and as a hybrid for the first time ever when it goes on sale this autumn. The SUV's proportions have been increased slightly, boosting interior space for passengers and their luggage.
The car has been designed with convenience in mind, with features such as a bigger boot, doors that open wider and help keep dirt off your legs, bigger door pockets and even a repositioned fuel tank to increase legroom.
Honda took the wraps off the all-new CR-V SUV at the Geneva Motor Show in March, introducing hybrid engine technology as well as the seven seat option. In front-wheel drive form, the hybrid model will be capable of 53.3mpg with CO2 emissions of 120g/km.
The CR-V is extremely important for the Japanese company; it's among the world's best selling SUVs and faces increasingly tough competition from the Kia Sportage, Hyundai Tucson and Toyota RAV4, as well as compact premium SUVs like the BMW X1, Audi Q3 and Mercedes GLA.
It'll also address a future that's becoming increasingly intolerant of pollution – the sale of diesel cars has declined sharply in the light of concerns over urban air quality. It can be no coincidence that no diesel engine has been announced for the CR-V; it looks like the new hybrid model may effectively replace diesel power.
New Honda CR-V styling
The new Honda CR-V doesn't radically depart from the previous model's looks, but has a closer resemblance to the latest Honda Civic without abandoning the familiar SUV proportions. The sides are more deeply sculpted than before, though – the rear door surfaces stretch outwards over bulging wheelarches, which are sharply outlined for emphasis.
The front grille merges into upswept headlamps and while the visual layout is reminiscent of the Ford Kuga and Hyundai Tucson, a prominent Honda badge and sharp character lines in the bumpers and front wings echo the distinctive detailing of the Civic. The new body is claimed to be significantly more aerodynamic than the previous model's, reducing interior noise as well as increasing fuel economy.
Inside, the rather complicated previous dashboard has been replaced by a tidier and more car-like design, with fewer individual controls and buttons. Unlike some compact SUVs, the CR-V retains separate climate-control buttons below a seven-inch colour touchscreen that takes care of infotainment. The instrument cluster houses a digital colour display and the gear selector is dashboard-mounted, leaving space for storage in the centre console.
Practicality
The new CR-V's interior takes advantage of slightly larger external dimensions to offer an optional third row of seats for the first time, which Honda claims offers "exceptional" leg room, a very low 'heel step height' and a comfortable backrest angle. Honda also claims "class-leading" access to these seats when they're needed.
The manufacturer has achieved this by moving the front and rear wheels 40mm further apart, while increasing the CR-V's width by 35mm. There's now 50mm more room between front and rear passengers and the fuel tank has been repositioned to the rear of the car, boosting backseat legroom by 50mm. The doors also open six degrees wider for easier access to the seats, and include a 'wrap around' bottom sill designed to keep any mud or dirt away from your legs.
When the optional third row of seats is fitted, all three rows can recline and the middle row can slide forwards and back by 150mm, making it easier to access the third row and adjust legroom.
Elsewhere, the boot is deeper, wider and has a longer load bay than before, and the height of the boot floor can be varied in two stages to allow a flat floor for ease of loading, or extra space for bulky items. The boot now measures up to 1,830mm long (1,800mm for the seven-seater), an increase of 250mm over its predecessor. There's a hands-free power tailgate at hand, too, whose opening radius can be set to allow safe operation in confined spaces such as multi-storey car parks.
Honda claims you'll find it easier to carry items that don't fit into the main boot cavity – it can be extended with greater ease thanks to single-action 'dive-down' second-row seats with a 60:40 split. Passengers also get more interior storage compartments, including a 'three-way' centre console, with 'tray', 'box' and 'open' modes, that's big enough to store a laptop or bag when open. The door pockets are now large enough to fit a full size tablet device - thanks to speakers moved higher up. Higher trims will also feature USB ports for rear passengers.
Engines and technology
The big news about the new CR-V is the arrival of a hybrid power option. The 'intelligent multi-mode drive' (i-MMD) hybrid system comprises a 2.0-litre petrol engine and a pair of electric motors, eliminating a conventional gearbox in favour of a more compact unit with a single gear. It's claimed to "create a direct connection between moving components and a smoother transfer of torque".
Economy in the front-wheel drive hybrid model stands at 53.3mpg with CO2 emissions of 120gkm. If you choose the same car but with four-wheel drive, economy drops slightly to 51.4mpg and CO2 emissions increase to 126g/km.
The hybrid system, which can produce a maximum of 181bhp, features three modes and can switch between them automatically when it determines which is the most efficient or suitable for the conditions. The first of these modes is EV Drive, which is a pure electric mode, the second is Hybrid Drive, which involves the petrol engine and electric motor, and the third is Engine Drive, which involves the petrol engine driving the wheels directly.
Other Japanese marques tend to favour continuously variable (CVT) automatic gearboxes on hybrid cars, but in the CR-V, Honda offers a CVT with the 1.5-litre turbocharged petrol engine, where it's an optional alternative to the standard six-speed manual. Front-wheel drive is standard with both the petrol and hybrid engines; four-wheel drive is optional.
When fitted with four-wheel drive, the CR-V gains, according to Honda, "genuine all-terrain capability". Power can be intelligently sent to the wheel or wheels best placed to deploy it in tricky conditions, while ground clearance is increased by 38mm across the range.
Prices and on-sale date
The new CR-V is expected to reach continental Europe ahead of the UK, with the first European buyers expected to take delivery some time in autumn. Petrol-engined versions will appear in showrooms first, with hybrid models following in early 2019.
UK prices and specification have yet to be announced. However, although this CR-V is larger and more practical than before, we expect prices to be only modestly higher than today's, in order to remain competitive. The petrol CR-V currently starts at £23,760 for the entry-level S model.
2021 Honda Civic breaks cover in new patent photos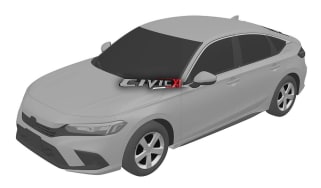 2021 Honda Civic breaks cover in new patent photos
New 2020 Kia Stonic SUV: prices and specs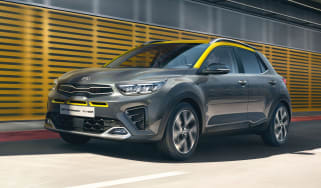 New 2020 Kia Stonic SUV: prices and specs
Updated Peugeot 5008 starts at £29,585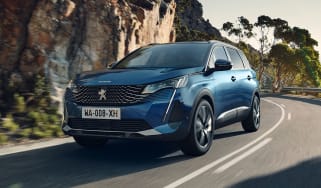 Updated Peugeot 5008 starts at £29,585
Cupra Formentor SUV review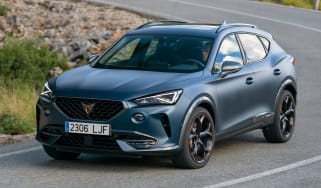 Cupra Formentor SUV review