Volkswagen promises 'extreme' R models
A 400bhp Volkswagen Golf R and hardcore electric models for bolstered R brand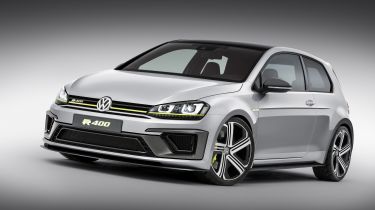 Not only will Volkswagen make its R models more 'extreme', its future range of I.D. electric cars won't be exempt from the high-performance treatment, company bosses have told Carbuyer.
Volkswagen's current GTI and R hot hatchbacks have conceded a significant power deficit to rivals like the Ford Focus RS and Honda Civic Type R. But, a plan to redress the balance is already afoot, says VW's sales and marketing boss, Jurgen Stackamann.
Carbuyer's best hot hatchbacks
He told Carbuyer, "The R brand is going extreme and can go extreme" at the Beijing Motor Show, adding: "The role of R is that it can go beyond the pure rational; nobody needs a compact car with 400bhp, but there is a place, certainly, and that's the turf of R."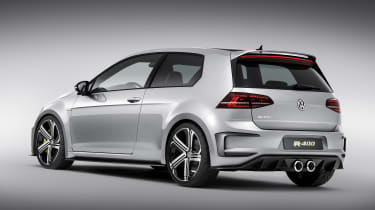 Beijing was the venue for the 2014 debut of the Golf R 400 concept, celebrating the 40th anniversary of the iconic model's launch. Its 2.0-litre TSI engine was tuned to produce 396bhp, sent to all four wheels for a 3.9 second 0-62mph time.
It's likely the extreme R treatment will be debuted by the Mk8 Golf that's due to arrive in 2019, but R could also be rolled out on SUV's in a similar fashion to the new Cupra sub-brand that includes a 296bhp Cupra Ateca crossover. VW bosses have expressed interest in extending the R portfolio to the Volkswagen T-Roc and Tiguan.
"With a little more expressive design and R can go beyond the rational side of things. It [the R brand] can find its place in a different league of pure performance and there's a space where customs are willing to pay a significant amount of money." added Stackmann.
VW I.D R electric performance models planned
The future of the R brand won't be limited to petrol models, expanding into VW's future range of I.D. electric cars. "The I.D. R that we put into Pikes Peak shows that the R strategy needs a dimension on the electric world," Stackmann explained. "It cannot stick to just conventional powertrain solutions - it is a new dimension to our brand."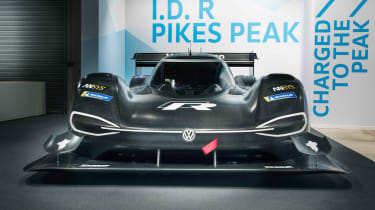 Volkswagen's electric I.D. R Pikes Peak car aims to beat the existing 8:57.118 minute record for an electric car at the treacherous "Race to the Clouds" hill climb in Colorado Springs, USA. It develops 670bhp, with one motor for each axle and shows "how powerful we can get with our MEB [electric platform] idea" and "where can we take the R idea when it comes to the [electric] family", Stackmann told us.