New Peugeot 308 aiming for 2021 launch
Peugeot's rival to the Ford Focus and Volkswagen Golf should get an electric version
308 spotted in heavy camouflage
Will feature Peugeot's latest styling cues
Hatchback and estate versions expected
A replacement for the Peugeot 308 is in development. The 308 is the oldest model in Peugeot's line-up and will soldier on until late 2021 or early 2022. Its replacement will feature new styling and will boast both electric and plug-in hybrid variants. Like the current car, the forthcoming 308 will compete against the Ford Focus, SEAT Leon and Honda Civic in the family hatchback class.
New 2021 Peugeot 308 styling
The main shape and windowline looks to be very similar to the outgoing car. Despite all the camouflage, it's clear that the 308 will get a new bonnet - likely due to stricter pedestrian safety requirements - and a redesigned front end. LED headlights are fitted to this development model, and we'd expect high-spec models to feature claw-like lights like those on the latest Peugeot 2008. The company's latest design trend is to have LED daytime running lights that look like fangs but it's not clear if the 308 will feature these.
Around the back, the rear windscreen is narrower and more steeply raked than before, while the tailgate has been reprofiled with a lower lip to make loading easier. The only glimpse of the tail-lights shows they're skinny LED units, and it's likely there will be several different elements arranged in three pillars.
Electric versions will only differ slightly from combustion-engined versions, with a fared-in grille, blue elements and e-308 badging. There won't be any exhaust pipes either.
Rumours suggest Peugeot is working on a more rugged-looking version, with plastic body cladding, roof bars and a slightly raised ride height. This would be in a similar vein to the Ford Focus Active and Toyota Corolla Trek but, like those cars, four-wheel drive won't be fitted.
Interior
Spy photographers have managed to snap a picture of the inside. A lot of it is camouflaged but the i-Cockpit digital instrument cluster will return, alongside an updated 10-inch touchscreen that'll be borrowed from the recently facelifted 3008. There's a new Peugeot logo on the steering wheel; it's not clear if this'll make it to production.
Peugeot e-308 electric
While not officially confirmed, an electric version is all but guaranteed. Being part of the PSA Group means Peugeot has access to a 50kWh battery pack and a 134bhp electric motor, which is already available in the Peugeot e-208 and e-Traveller. Almost 200 miles of range should be expected.
If a replacement for the Peugeot 308 GTi hot hatchback is in the pipeline, we'd expect this to be battery-powered too. The company will soon offer more powerful electric motors and bigger batteries, with the most potent motor suggested to have around 335bhp. This would put an upcoming 308 GTi in good stead against the Honda Civic Type R or Ford Focus ST.
Engines and plug-in hybrids
You'll still be able to choose from a variety of engines and powertrains in the new 308. Seeing as the current petrol and diesel engines are offered in the new Citroen C4, it's expected that these will be carried over to the upcoming 308. A 1.2-litre petrol engine will offer 108 or 128bhp (potentially alongside a 153bhp version), while a single diesel engine will probably pack 108bhp.
The new 308 should also feature a plug-in hybrid option, to appeal to business users and private customers who want a mix of petrol and electric power. The most likely option is the front-wheel-drive hybrid powertrain found in the 3008, which has one electric motor, 222bhp and a 0-62mph time of around eight seconds.
See where the Peugeot 308 SW features on our list of the best small estates.
New Renault 5 electric car on sale by 2025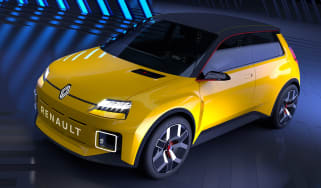 New Renault 5 electric car on sale by 2025
Best small SUVs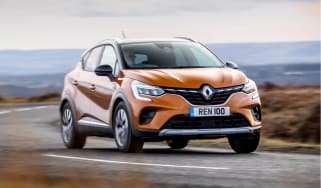 Best first cars