Best cheap cars
We look at the best cheap cars on the market that offer spectacular value for money, proving that you really can spend a little but get a lot.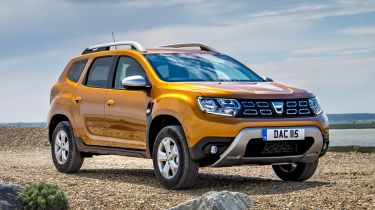 Most buyers have a budget for their next car and it will often dictate whether they buy new or used. Before deciding between the two, it's worth bearing in mind that there are often great deals on new cars that make them surprisingly affordable, which is why Carbuyer rounds up some of the best new car deals every Friday. You can often score a great deal on an outgoing model too, if you don't mind buying a car that's about to be replaced.
Some motorists may be put off buying new; even a Ford Fiesta costs over £16,500 in entry-level trim. However, there's now an impressive list of cars that might appeal to those who previously had no choice other than buying used. The very cheapest cars, such as the Dacia Sandero in entry-level Access trim at £6,995, are sometimes said to be designed to entice customers into the showroom, where they will eventually end up spending more money. However, if you're determined and are bound by a strict budget, you can drive away in an inexpensive entry-level model for less than you may have originally guessed.
Despite headline-grabbing prices, do your best to get a car with a specification that suits your requirements because some entry-level models are rather spartan and don't come with the most recent infotainment or convenience technology. If you can't quite stretch to a car with all of the exact features you want, it's worth remembering that an entry-level model will have much of the same design, engines, safety features and reliability as its range-topping counterpart.
You're also buying a package that should be hassle-free for a long time. Every new car sold in the UK presently has at least a three-year warranty and many are more generous than that - several manufacturers now offer up to seven years of cover. This gives you peace of mind that any fault that should develop will be rectified by the manufacturer with a minimum of fuss. Breakdown cover should also be included to ensure that any such fault causes minimal disruption if it rears its head mid-journey.
It's not only private buyers who stand to benefit from low prices. Although business users might be given a company-car allowance sufficient for a more expensive model, choosing a car with a lower taxable value will reduce your Benefit-in-Kind (BiK or company-car tax) bill. Some of the best value cars in the UK also have impressively low CO2 exhaust emissions, which further reduces their BiK rate.
Here's our rundown of some of the best cheap cars to buy in the UK. Once you're done, check out our guides to the best cars with cheap insurance and best used cars.
A decent SUV for the price of a supermini is what Dacia offered when it launched the Duster five years ago, and impressive sales figures have been the predictable result. Now we're into the second generation, and while prices have crept up, the latest Duster offers more of everything that made the original so popular. We're not going to extol the virtues of the absolutely cheapest Duster in Access trim, because it comes without a radio, runs on basic steel wheels and is a little too close to 'poverty spec' for comfort – even though you still get a fiver in change from £11,250, making it jaw-dropping value.
Save your pennies a little longer and spec up to Duster Essential trim is our advice, as it gives you manual air-conditioning, a DAB digital radio and roof bars. Four-wheel drive costs an extra £2,000 and is available on all three engines, but does increase fuel consumption. Whichever you choose, the latest Duster features freshened-up styling inside and out, and more sound-deadening to improve refinement on the road.
As Skoda is part of the VW Group, the Fabia benefits from the same underpinnings and many of the same parts as the Volkswagen Polo - yet undercuts it on price. All three models offer impressive value, and the base S version gets creature comforts like DAB radio, Bluetooth and LED daytime running lights for a low price. SE is probably the best-value offering in terms of kit, with lots of extra features.
The Fabia hatchback is practical enough but, if you need even more space, the Fabia is one of the only superminis in the UK with an estate version. It also scored well for reliability in our ownership survey, and Skoda as a brand finished an impressive fifth out of 30 manufacturers.
It would be remiss of us not to give the Sandero a spot on our list, if for no other reason than it's the very cheapest new car you can buy in the UK today. An entry-level Sandero Access costs a shade less than £7,000, and just like the Duster it's a whole lot of car for the money. Dacia's winning formula for value is to offer a big car for the price of a small one – the Sandero is a similar size to the Ford Fiesta while costing less than a Ford Ka+.
Also like the Duster, the cheapest Access model isn't exactly lavishly equipped, with even a stereo omitted from the standard equipment list, but the next model up, the Ambiance, provides air-conditioning and DAB radio for only a little extra outlay. Elsewhere, the Sandero belies its penny-pinching image by offering robust construction (Dacia's owned by Renault and the Sandero uses many parts from the Clio) and modern engines with decent fuel economy and fine reliability.
The Volkswagen up! is mechanically identical to the Skoda Citigo and SEAT Mii, but the VW is now the only one that is still available with a petrol engine - and it's the cheapest of the three as a result. The up! is imbued with the sense of fun-loving sportiness that larger VWs aren't as known for and has easily the most personality of the three. You could argue, too, that its easy-going demeanour means you're more likely to discover another facet of the up!'s nature – it's a rather enjoyable car to drive.
The headline price of the base up! trim is very attractive, and it still offers DAB radio and air conditioning to increase your enjoyment of this cheeky city car still further. If you'd like your city car to be electric, we'd recommend choosing the entry-level Skoda Citigo e iV, as it's one of the cheapest electric cars on sale and offers a decent range.
If you're looking for space on a budget, then the Dacia Logan MCV is impossible to beat. It boasts a colossal 573-litre boot, which is only fractionally smaller than the Volkswagen Golf Estate - a car that can cost more than twice the price. There's bags of space in the back, and three adults can sit in relative comfort.
Of course, you're not getting Volkswagen quality for this price: it's far from stylish, only carries a three-star Euro NCAP crash test rating and the engines and driving experience is slightly agricultural. But for a car that costs less than £10,750 in its cheapest spec - which makes it one of the cheapest cars on this list - that interior capacity makes it hard to beat.
One of the more spacious city cars available, the Picanto is among our favourite models in the class and the entry-level models offers lots of car for the money. Sadly, you'll need to step up to the '2' trim if you want the more powerful engine or niceties such as air-con or Bluetooth which prevents it climbing higher in our list.
Nevertheless, the Picanto is cheap to run, whichever version you go for, and the seven-year, 100,000 mile warranty will provide real peace of mind for the cost-conscious car buyer. The five-door only Picanto has space for four adults - just - and a decent-sized boot, making it the ideal city car.
The Hyundai i10 is a seriously impressive machine. It's handily sized for urban areas, but (unlike many other city cars) comes with five doors and five seats as standard and has plenty of interior space. While you can get versions with extremely generous standard equipment, prices do rise steadily as you creep up the range, so ask yourself whether you really need niceties like heated seats and privacy glass.
If you can manage without a touchscreen and rear speakers, you can buy an entry-level SE model for not much at all. You still get a very well built car, and one that comes with one of the best warranties in the business, running for five years with no mileage limit.
Like the VW trio mentioned above, the Peugeot 108 is pretty much identical under the metal to the Citroen C1 and Toyota Aygo. The Toyota hasn't made this list because it's a little pricier than its French cousins and is only available with one engine. All three cars do look very different, though, and the Peugeot arguably has the most conservative styling of the trio, yet it's no less handsome for this.
When looking at the 108 specifically, it's worth thinking about whether you really need air-conditioning, as the entry-level Access model costs £1,500 less than the cheapest version that offers chilled air. For many people, particularly those who don't have to tackle slow urban journeys, living without air-con is no real hardship, and spending that leftover money on petrol will take you a long way thanks to the car's remarkable fuel economy.
It's well worth looking at Peugeot's 'Just Add Fuel' package – or Citroen's similar 'Simply Drive' scheme for the C1 - as all the car's running costs, such as insurance and maintenance, are bundled into one handy monthly payment. All you have to do is remember to put petrol in it.
While it's easily the most expensive car on this list, the Ford Fiesta ST is something of a bargain if you value fun and a great driving experience, especially as you can spend thousands more on a car that's only a little bit faster. It's a peach to drive, and its 197bhp is plenty for our twisting B-roads.
The Fiesta ST is so much more than performance alone; it's spacious and reasonably practical, plus it has sat nav, online functions and a heated windscreen (a must-have on frosty winter mornings). Driven carefully, it'll even manage over 40mpg thanks to cylinder deactivation technology.
MG has entered the crossover market for the first time, with a neatly designed model boasting a very low price, from just over £12,000. That's an enviable position, undercutting direct rivals like the Renault Captur, SEAT Arona and Kia Arona by several thousand pounds. MG hasn't done this by whittling down the equipment to 1990s levels either, including LED daytime running lights, cruise control and Bluetooth from the off.
There are two petrol engines, measuring 1.0 or 1.5 litres, and the smaller one is more sophisticated, with 108bhp thanks to a small turbocharger and a six-speed dual-clutch automatic gearbox. The ride is nice and smooth, too – a necessary trait for a small SUV to master – without compromising handling too badly. There's also an electric MG ZS EV version, which isn't too expensive for a battery-powered car and is better to drive than the petrols.
Best tow cars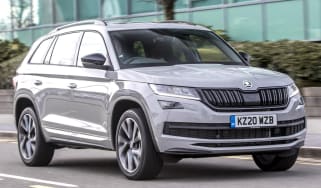 Special edition cars: the best, worst and weirdest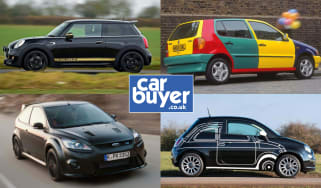 Special edition cars: the best, worst and weirdest
Cupra Formentor SUV review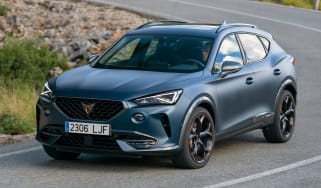 Cupra Formentor SUV review
2020 Volkswagen ID.3 hatchback: base model starts at under £30k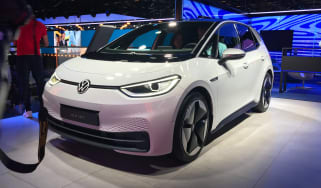 2020 Volkswagen ID.3 hatchback: base model starts at under £30k
Audi Q8 gains plug-in hybrid versions with 28-mile electric range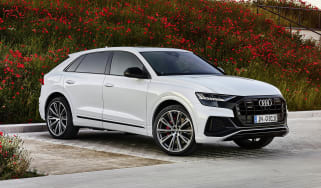 Audi Q8 gains plug-in hybrid versions with 28-mile electric range