Best convertibles
The best convertibles aren't just toys for the summer, they can be used all year round. Here's our definitive guide to the drop-tops that offer the best mix of thrills and usability.
One of the ironies of British car buying is our undying love of the convertible despite the gloomy weather. In Europe, only Germany records more convertible sales, so our love of smelling freshly cut grass and hearing birdsong as we drive is still alive and well.
Manufacturers cater for most types of driver too; from those who want a bare-bones sports car with a simple drop top to a more luxurious two-seater suited to lengthier trips at a more relaxed pace. The four-seat convertible has also made a resurgence for sun-loving families who want to travel in style and compare tans at the end of any trip.
There are still a few convertibles that have metal folding roofs but the vast majority have returned to a fabric 'soft-top' hood. Fabric roofs are lighter and easier to package than a cumbersome metal roof, while advances in sound insulation mean they're almost as good at keeping noise at bay.
These leaps in engineering have helped designers build our favourite convertibles - those which provide all the fun of a roofless driving experience, but don't cause any annoyances the rest of the time. Happily the days of accepting that a convertible would be vague to drive, noisy, cold and easy pickings for thieves are well and truly over.
It's worth remembering that cabriolets need a little more care and maintenance than a car with a fixed roof. Fabric roofs need cleaning and proofing at least once a year to retain their appearance and water resistance, and try to avoid parking under trees if you can help it. Check out our guide to the best soft top cleaners to buy.
If you prefer the smooth lines of a coupe or have a fair complexion, our round-up of the best sports cars may be worth a read, while our list of the best cars with panoramic sunroofs could offer a compelling alternative.
Read on for our top 10 convertibles:
Few cars can put a smile on your face like a MINI, and the latest MINI Convertible has all the ingredients for success. Losing the roof hasn't really altered the way it drives, so it's still great fun thanks to a superb chassis, go-kart-style handling and brilliant engines. Go for the 1.5-litre MINI Cooper Convertible and it'll be cheap to run, but just as enjoyable to drive. You can also choose from Cooper D and Cooper SD diesels for the best economy, while Cooper S and John Cooper Works models are available if you want more power.
As with the MINI hatchback, space in the rear is cramped, and the boot is even smaller, but you'll probably forget about that once you put the roof down and find a twisty country road. What's more, you can choose from a huge range of paint colours, wheels, seat trims and a couple of roof designs to make it your own. Interior quality is of a high standard, too.
The Porsche 718 Boxster is an excellent sports car and a very good convertible too. Under the bonnet is either a 2.0-litre or 2.5-litre four-cylinder petrol engine, and even the entry-level model comes with 296bhp.
It might only be a two-seater but two boots improve practicality and the interior is stylish and well built. The Boxster isn't cheap but it has a highly desirable image and is one of the very best convertibles to drive currently on sale.
The Mazda MX-5 is the world's best-selling convertible and there are some very good reasons why. For one, it has always been good fun, thanks largely to its simplicity and low weight, and the latest version is no different. The fourth-generation MX-5 feels small and agile from behind the wheel, and the steering provides plenty of feedback. The manual gearbox is one of the best on the market and although the car has a relatively low power output, it feels as fast as you'd every really need.
The standard MX-5 has a manually operated fabric roof, although there's also a folding-hardtop version called the RF. Mazda has a reputation for excellent reliability and the MX-5 is good value for money, making it a very tempting proposition for convertible buyers.
Positioned between the smaller Mercedes C-Class Cabriolet and the eye-wateringly expensive S-Class Cabriolet, the E-Class has a big gap to plug, but it does so with aplomb. True four-seat convertibles are rare, but the drop-top E-Class is genuinely spacious in the back and there's a 385-litre boot to carry luggage.
It's quickly clear from behind the wheel that comfort takes priority over speed, thanks to soft suspension and smooth automatic gearboxes that have a relaxed rather than aggressive feel. You'll certainly feel cosy inside, thanks to a sumptuous interior with tactile materials and excellent build quality. The E-Class Cabriolet is advanced too, with the option of two 12.3-inch screens side-by-side on the dashboard, replacing the traditional instrument cluster and infotainment system.
The Porsche 911 is one of the very best cars to drive on sale now, and the soft-top cabriolet version lets you enjoy the sound of the six-cylinder engine even more. You can drop the roof in just 12 seconds at speeds of up to 30mph, so making the most of a quick spot of sunshine is easy. Carrera S and 4S models get 444bhp and hit 0-62mph in just 3.6 seconds, while the 641bhp Turbo S version drops that to a mere 2.7 seconds.
Porsche also offers a Targa version, which is halfway between a convertible and a coupe; the top roof panel is removable and can be stowed away electronically. The price of the 911 is perhaps the only downside but you can easily spend £50,000 more on a McLaren or Audi that aren't any quicker than the Porsche.
The latest BMW Z4 feels like something of a throwback to old convertible muscle cars like the AC Cobra. It has its engine up front, rear-wheel drive and, in the M40i model, a relatively large 3.0-litre petrol engine that develops 335bhp. The interior blends luxury, comfort and quality, making the Z4 a very competent car in which to cover big distances when necessary.
Some lighter rivals with smaller engines will make sense for a certain demographic but there are few modern convertibles with the same character as the Z4, so it's certainly worthy of consideration if you're looking for a convertible and have the budget.
The Audi TT Roadster is another stylish option for those in the convertible car market and benefits from clever design elements including a triple-layer fabric roof, which helps to reduce interior noise when driving with the roof up, giving the car a more refined feel.
Even the entry-level model has 195bhp, thanks to a 1.8-litre petrol engine, and a 242bhp 2.0-litre version is also available. Losing the fixed roof of the TT Coupe doesn't spoil the car from a driving point of view, and the beautifully stylish and modern interior remains exactly the same.
Mercedes has vast experience in designing convertibles, so it's no surprise the C-Class Cabriolet is such a success. Even with the roof stowed, the interior is impressively refined and free from buffeting. With it up, the multi-layered fabric and clever design means there's little difference between the Cabriolet and Coupe on the move in refinement terms.
It's a shame the 2.1-litre diesel is a bit rattly though, making Mercedes' turbocharged petrol engines better suited to cruising with the roof down. The C200 and C300 produce 181 and 242bhp, and return 47.1 or 42.2mpg respectively. If you want sports car levels of performance, the AMG C43 is fitted with a 3.0-litre V6 producing 362bhp, getting it from 0-62mph in 4.8 seconds.
Audi has long specialised in the four-seat convertible, and the Audi A5 Cabriolet is the latest of this kind of car from the German brand. It's surprisingly practical thanks to a 380-litre boot, and the drop-top A5 has a beautifully built interior. There's a long options list you can dip into, but even without added leather and technology, the dashboard is stylish and intuitive to use.
One area where the Audi falls down slightly is from behind the wheel, because while it's quick and drives well, the rear-wheel drive BMW 4 Series Convertible is sharper drive. The engine line-up is made up of 2.0 and 3.0-litre petrol and diesels, offering a wide choice of power and economy figures. There's also a high-performance S5 Cabriolet for a more muscular convertible experience.
Following BMW's new naming policy, the 2 Series Convertible takes the baton from the open-roofed BMW 1 Series. Not only has the model name changed, but the design is also far better resolved, with a sleek appearance and well-judged proportions from every angle. In typical BMW fashion, there's a plethora of engines, with four petrols and three diesels ranging from 134bhp to 335bhp. It's possible to enjoy the breeze while returning up to 68.9mpg in 218d and 220d versions, while the high-powered BMW M240i can get from 0-62mph in just 4.9 seconds. Choose this engine and you'll want to drop the roof just to hear the 3.0-litre six-cylinder petrol engine sing as you go through the gears.
It's best to think of the 2 Series Convertible as a 2+2, with spacious front seats but only really enough room in the back for children or adult passengers on very short trips. Boot space is a reasonable 335 litres, but this shrinks to 280 litres when you want to put the roof down.
Best cheap sports cars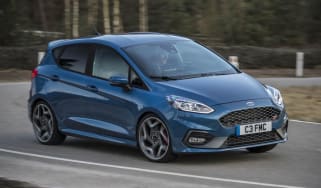 Updated Peugeot 5008 starts at £29,585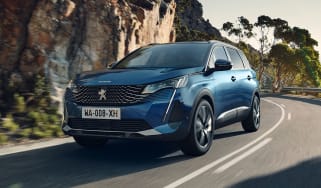 Updated Peugeot 5008 starts at £29,585
Cupra Formentor SUV review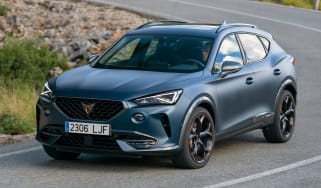 Cupra Formentor SUV review
2020 Volkswagen ID.3 hatchback: base model starts at under £30k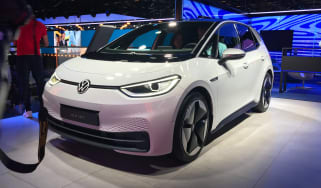 2020 Volkswagen ID.3 hatchback: base model starts at under £30k