Skoda Enyaq Coupe iV review
"The Skoda Enyaq Coupe iV takes all the positives from the regular Enyaq iV SUV, combining them in a sleeker package without sacrificing practicality"
Pros
Great range figures
Practical
Smart interior
Cons
Likely to cost more than Enyaq SUV
No entry-level battery option
Rivals are quicker
While sleek hatchbacks like the Peugeot 508 and Vauxhall Insignia struggle for sales, adding in a higher ride height and rakish SUV styling seems to be a guaranteed recipe for success. Following in the footsteps of cars like the BMW X4 and Audi e-tron Sportback, Skoda has launched the new Enyaq Coupe iV, which is based on its regular electric Enyaq iV SUV.
The Skoda Enyaq Coupe iV joins the range at a time when the brand is already struggling to keep up with demand for its first standalone electric car, and it looks set to be a strong seller itself. There's plenty to like about the regular Enyaq, and the Coupe version adds a more striking look without drastically reducing practicality meaning it ticks a lot of boxes.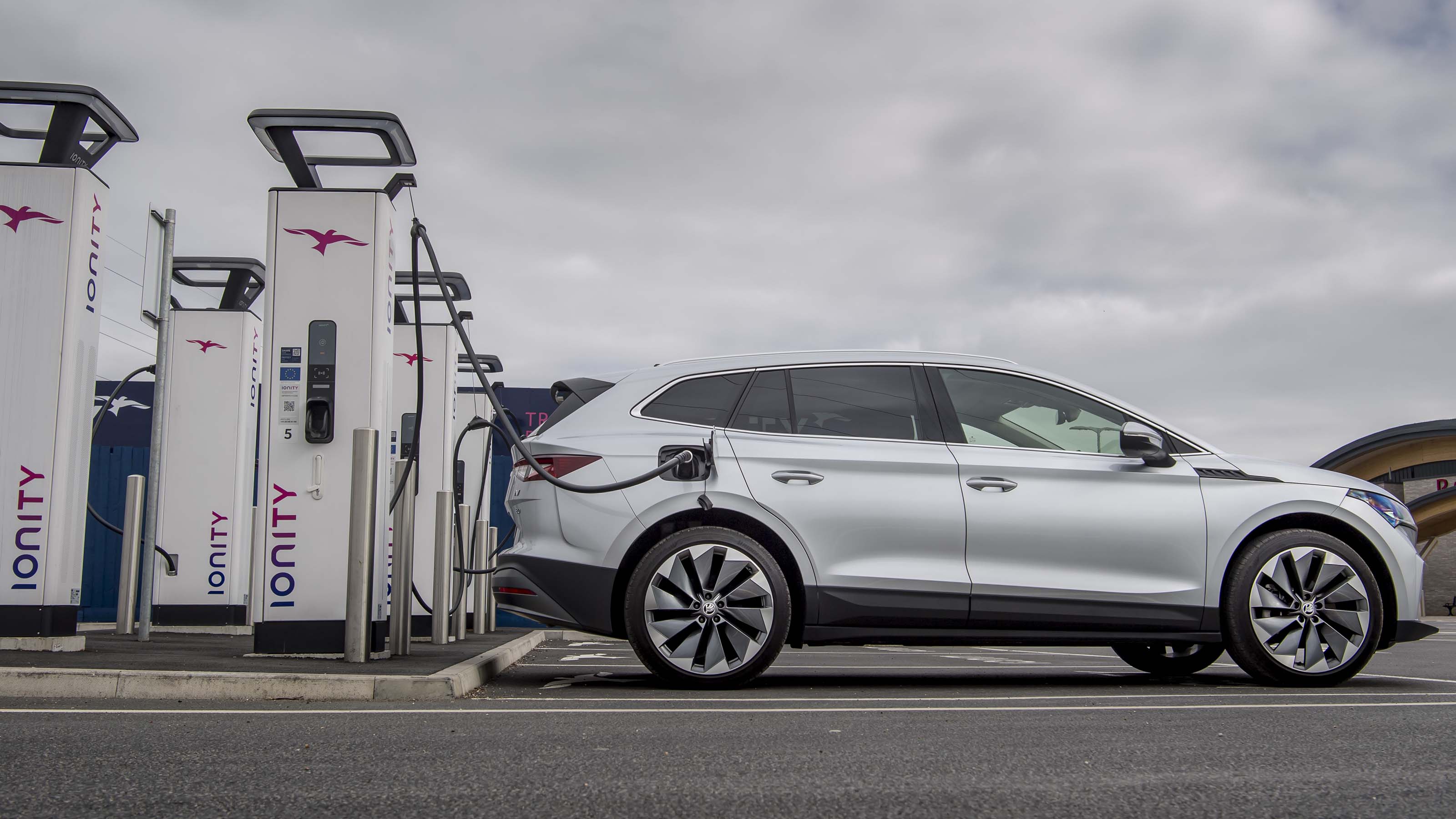 Top 10 best electric SUVs 2022
Its shape is more slippery and aerodynamic than the regular SUV, so the Enyaq Coupe iV actually offers a little more range. The base 80 model can return up to 335 miles of range, a couple more than the SUV, while even the more powerful vRS model can manage over 300 between charging stops.
Yes, the Enyaq Coupe iV introduces Skoda's first-ever electric vRS model. With more powerful electric motors and four-wheel drive, the 295bhp Enyaq Coupe iV vRS can zip from 0-62mph in just 6.5 seconds. It's also available in some impressively lurid paint colours.
The vRS is Skoda's most expensive model to date, and its price does put it in some esteemed company, like the more potent versions of the Hyundai Ioniq 5 and Kia EV6, not to mention the Tesla Model Y. Incidentally, the regular Enyaq SUV is getting a vRS version later in the year.
More reviews
In-depth reviews
The Enyaq Coupe iV also comes to the UK without the entry-level '60' model you can choose in the SUV. Considering even this powertrain comes with a 250-mile range, it's a little disappointing that it's not available on the sleeker version, as that'd make the Coupe better value.
Mind you, buyers of the 80 model are still getting a lot for their money. Besides the long range, the Enyaq has a smart interior with the biggest touchscreen fitted to any VW Group electric car, plus a tinted panoramic sunroof, big alloy wheels and bright LED headlights. The Enyaq Coupe iV is a spacious car and even offers plenty of headroom, while the boot is still an impressive size. It's certainly one of the most convincing coupe SUVs.
Range, charging & running costs
A range of up to 335 miles between charging stops should be enough for most drivers 
Every version of the Enyaq Coupe iV offers over 300 miles between charges. The 80 is the best, with up to 335 miles possible, but the 80x and the vRS aren't too far behind - although, like any electric car, you'll see lower range figures during the winter. Fast-charging at up to 135kW is standard, enabling a top-up to 80% charge in around 40 minutes. Plug in to a home wallbox and your Enyaq will take around 13 hours to fully recharge. 
No Enyaq now qualifies for the plug-in car grant, while the Coupe only comes with the bigger battery option so it's not quite as good value for money as the SUV. Once you buy it, though, you'll enjoy cheap home charging and free VED (road tax), as well as exemption from low-emission zone charges for the next few years at least. Insurance should also be reasonable compared to rivals, and Benefit-in-Kind tax for business users is minimal.
The Enyaq Coupe iV gets a decidedly average three-year/60,000-mile warranty, although some rivals like the Kia EV6 offer more comprehensive cover. You'll only need a service every two years in the Enyaq, due to its lack of moving parts compared to a petrol- or diesel-engined Skoda.
Electric motor, drive & performance
Every version of the Skoda Enyaq Coupe iV is good to drive and even the base 80 model is relatively quick off-the-line
The VW Group shares its electric powertrains between its brands, so the Enyaq comes with the same choices as the Volkswagen ID.4. In the entry 80 version of the Coupe, you get a 201bhp rear-mounted electric motor, a top speed of 99mph and a 0-62mph time of 8.8 seconds, which feels brisk rather than rapid enough to pin you back in your seat. There'll also be a four-wheel-drive 80x version.
Skoda's first electric vRS model also offers four-wheel drive, courtesy of a motor on each axle. Combined, they produce 295bhp, and get the Enyaq Coupe iV vRS from 0-62mph in 6.5 seconds. That's on a par with the petrol-powered Skoda Octavia vRS, but isn't as quick as the entry-level Tesla Model Y (even the Model Y Long Range has over 500bhp).
Unsurprisingly, there's little difference between the driving experiences of the Enyaq SUV and the Coupe. Our 80 spec test car excelled as a cruiser, and is fairly good to drive when the road tightens up. It feels similar to other Skoda SUVs like the Karoq and Kodiaq, although with a bit more pace from the electric motor's instantly available power.
Set up with the optional adaptive dampers (which Skoda calls Dynamic Chassis Control, or DCC), the Enyaq Coupe is very comfortable both at low and high speeds. However, the Sport setting makes the ride a little too firm. On the Enyaq SUV, we preferred the standard suspension, and we expect it'll be fine for most buyers.
Brake regeneration is initially set up not to be as strong as it is in some other electric cars, but you can turn it up if you wish. Do so and you'll be able to drive along without often touching the brake pedal, and this stronger setting also improves your range because more energy is being channelled back into the battery.
Interior & comfort
The Enyaq Coupe iV has a sophisticated and airy-feeling interior
Skoda has resisted the temptation to give its first dedicated electric car an outlandish interior, so the Enyaq and Enyaq Coupe iV feel reasonably similar to a petrol- or diesel-powered Skoda inside. What's different is the size of the screen, with a massive 13-inch touchscreen sitting proudly on the dashboard. It's nearly as big as the single-screen setup in the Tesla Model Y, but is supplemented by an additional digital dial cluster mounted behind the steering wheel - meaning you don't have to look over at the main screen as you drive.
While physical climate control buttons and dials would have been preferable, the large size of the screen means that the climate and seat heating functions have plenty of room. The way the dashboard arcs out below the screen allows you to use it as a hand rest, making it easier to prod icons while driving.
It may be more of a reflection on the Volkswagen ID.4, but the Skoda seems to have a more premium material quality than the VW. Plush materials cover most surfaces, and the Enyaq Coupe iV ups the ante by featuring a huge panoramic roof as standard.
The Enyaq also offers a range of interior upholstery options in place of traditional trim levels. Lodge and EcoSuite options bring sustainable materials, while Suite adds leather and Lounge has microfibre suede and metal trim elements. There's also a SportLine model with its own darker looking interior feel.
Every Enyaq features two-zone climate control, keyless entry, ambient lighting, parking sensors and sat nav. The SportLine and vRS models add bigger wheels, upgraded headlights and an illuminated grille. There are a number of option packs to choose from to upgrade the climate control, infotainment and driving assistance features.
Practicality & boot space
The Enyaq Coupe offers very few compromises when it comes to space and practicality 
You didn't think Skoda would make an impractical car, did you? While the Skoda Enyaq iV Coupe is presented as a more stylish version of the Enyaq SUV, it manages not to skimp on passenger or boot space.
Fitting a panoramic sunroof usually results in a lack of headroom because of the shade blind, but Skoda's roof is tinted so it doesn't need a blind. Headroom is said to be similar to what you get in the Skoda Octavia Estate, despite the sloping roof. Access to the rear seats is only slightly impeded, so should be fine for most buyers.
The boot is only 15 litres smaller than the Enyaq SUV, and is considerable at 570 litres. The rear seats fold 60:40, and the model gets some of Skoda's 'Simply Clever' features such as umbrellas stored in the front doors and an ice scraper located in the tailgate. Additional practicality can be found on the options list, with retractable window sunshades, phone pockets, boot netting and a variable boot floor. Unlike the Hyundai Ioniq 5, the Enyaq Coupe iV gets a rear window wiper.
Reliability & safety
The Enyaq Coupe gets an array of safety features, and a five-star safety score should reassure owners
The Enyaq may be Skoda's first dedicated electric car but the majority of parts are used in a number of other VW Group models like the Audi Q4 e-tron and Volkswagen ID.3. There's very little to go wrong with the electric powertrain itself - you only have to get it serviced every two years, after all - but infotainment glitches may be more common. Skoda finished just outside the top 10 in our 2021 Driver Power owner satisfaction survey, with a lower-than-average percentage of owners reporting a fault.
The five-star safety score of the standard Enyaq is applicable to the Coupe as well. Adult protection was rated particularly highly at 94%. Autonomous emergency braking and lane-keeping assist are among the standard safety features, with plenty more being available if you tick the right boxes on the options list.