Best used convertibles – our favourite sunshine bargains
We pick 15 of our favourite used convertibles available from £1,000 to £20,000
This summer has been one of the hottest on record in the UK, so you'd be forgiven for hankering after a convertible to make the most of it. We've selected 15 of our favourites across a cross-section of budgets up to around £20,000 – you may be surprised just how much topless car you can get on the used market.
There's a cross-section of petrol and diesel engines, manual and automatic gearboxes, front, rear and four-wheel-drive options, and a range of soft and hard-tops to choose from. Most will happily serve as day-to-day transport, albeit with the option to make the most of any surprise spring sunshine.
If you're on the hunt in the classifieds for the cars below, don't forget to check out our guides to buying a used car, what to check before you do and how an HPI check can help you avoid nasty surprises.
1. Audi A4 Cabriolet
Audi's successor to its long-serving Cabriolet of the 1990s, the Audi A4 first lost its roof in 2002 and was made in two generations until the A5 took its place in 2007. Today, good early examples of the A4 Cabriolet can be secured for as little as £2,500 – most likely powered by a 1.8-litre petrol engine with around 150bhp. A 3.2-litre V6 was also available, along with 2.0 and 2.5-litre diesel engines, among others. If serious performance is a consideration though, the 4.2-litre V8-powered S4 cabriolet is a charismatic (and particularly sonorous) high-speed cruiser; good examples are still available for less than £5,000.
2. Saab 9-3 Convertible
A particularly stylish and understated choice, the Saab 9-3 Convertible is a credible alternative to the Audi A4 Cabriolet and BMW 3 Series Convertible also featured on this list. Powered by a range of punchy turbocharged petrol and diesel engines, the 9-3 is refined and comfortable, but still fun to drive. High-mileage, well maintained examples regularly dip below £2,000, but spend a little extra and you'll easily secure a later facelifted model with around 70,000 miles on the clock for £4,000-5,000. We'd choose a 1.9-litre diesel if fuel economy is a worry, and don't be put off by the fact that Saab is no longer in business – there are plenty of specialists and suppliers who still cater for its models.
3. BMW 3 Series Convertible
The go-to four-seater convertible for much of its extensive lifespan, the BMW 3 Series convertible strikes a great balance between driving pleasure and everyday comfort. Our hypothetical £5,000 budget is enough to buy a range of E46-model cars, or higher-mileage E93-shape models. We'd stick to nicer examples of the older car – a 3.0-litre, 242bhp 330Ci if outright performance is important to you, or one of the the diesel models if fuel economy ranks higher – the 2.0-litre 320Cd or 3.0-litre 330Cd are good choices.
4. Fiat 500C
Retro styling, city-friendly dimensions and a chic image have made the Fiat 500 a runaway success for Fiat. Adding further to the car's unique appeal, the 500C version comes with a full-length fabric roof that can be dropped all the way back when the sun shines. Good, early 1.2-litre petrol examples with around 50,000 miles on the clock start at around £4,500 – it's worth looking for your ideal specification, as personalisation options were wide and varied.
5. Mercedes-Benz CLK
If the BMW and Audi options on this list are too sporty for your tastes, the luxurious CLK is a great tonic. Always intended as a comfortable cruiser rather than a thrilling driving machine, the convertible version of the Mercedes C-Class comes with plush leather trim, pliant suspension and a range of powerful and refined petrol engines. A great reputation for reliability is welcome, especially given that many models will have mid to high-mileage within our £5,000 budget. We'd go for a CLK200 Kompressor, powered by a supercharged 1.8-litre petrol engine with 163bhp. Well looked-after examples with around 100,000 miles start at £3,500 or so, climbing towards our limit as condition improves and milages drop.
6. Volvo C70
Though most well known for producing practical estate cars, Volvo also has a proud history of producing handsome coupes. The C70 continued that trend, but added a folding metal hard-top to the recipe, making it one of the more practical everyday propositions on this list. Powered by a choice of characterful four and five-cylinder petrol and diesel engines, the C70 isn't the most frugal in this company, but offers a similar combination of comfort and driver appeal as its Saab 9-3 counterpart. We'd go for the D5 diesel, good examples of which start at around £3,000. Creep towards the top end of our budget and you'll easily secure a solid, low-mileage car.
7. Renault Megane CC
Renault gave its Megane family car a folding metal hard-top to create the Megane CC, whose accessible open-top thrills for all the family made it a popular choice when new. Today, the Megane CC represents even more of a bargain, with low-mileage, great-condition early examples available for as little as £3,000. And quite unlike the Audi above, parts, servicing and general upkeep will be reasonable – but be sure to pay close attention to the roof, its mechanism and seals before splashing the cash.
8. MINI Convertible
Occupying a similar spot in the market to the Fiat 500C, the MINI Convertible is a topless version of a retro-styled small car. The MINI is larger than the Fiat, however, and benefits from a fully retractable roof that folds up at the rear of the car in a traditional fashion. Around £4,000 will secure an earlier Cooper or Cooper S model with a mid to high mileage, although it's worth paying a little extra for a later example that's been well cared for. Specifications vary wildly, but special editions are worth looking out for – Sidewalk models came with unique alloys, paint and brown leather seats, for example.
9. Suzuki Jimny Soft Top
If you like the idea of being exposed to the elements while venturing off the beaten track – both literally and in automotive terms – you can't do any better than the Suzuki Jimny Soft Top. There aren't usually very many for sale at any one time, but the fabric-roofed version of this tiny SUV tends to undercut the hard-top version on price. The Jimny is unique in this company in being genuinely capable off-road (if not terribly great on it) and is powered by a 1.3-litre petrol engine. It's hard to argue with prices, though – you'll need just £3,000 to find a low-mileage car with full service history.
10. Volkswagen Eos
Based loosely on the Volkswagen Golf (whose convertible version it replaced in 2006), the Volkswagen Eos is a family-car-based, four-seater cabriolet in the same mould as the Renault Megane CC. A folding metal hard-top turns the car into a stylish coupe when the sun isn't shining, while a range of great petrol and diesel engines strike a usable balance between economy and performance. As with all folding hard-top models, it pays to check for faulty mechanisms and leaky seals. Prices for a 2.0-litre TDI diesel with around 100,000 miles on the clock start as low as £3,000, but we'd be inclined to spend around £1,000 more to secure a similar car that's seen an easier life.
11. Jaguar XK Convertible
Named in the tradition of a long line of Jaguar sports cars, the XK was a modern interpretation of the brand's core values of sportiness and luxury. Introduced in 2006, it replaced the Jaguar XKR and was a much more sophisticated offering, with lightweight all-aluminium construction, a redesigned version of the faithful 4.2-litre V8 petrol engine from the previous model and thoroughly modern styling. As little as £13,000 can secure an high-mileage early car, but we'd aim to spend around £20,000 on a model that's covered fewer miles. Later models used a more sophisticated 5.0-litre V8 engine and got a styling update; prices for these start at around £23,000. As ever, look for evidence for regular and regimented servicing at the hands of a dealer or specialist to avoid any nasty surprises.
12. Mazda MX-5
No list of reasonably priced convertibles would be complete without a Mazda MX-5. Introduced at the very end of the 1980s and still built and sold today in its fourth generation, the MX-5 has always been a small, light and fun-to-drive two-seater with a simple yet effective four-cylinder petrol engine. We've chosen the third generation model for this list – a car that adds a little more day-to-day usability to the MX-5's fun recipe. It's also far less prone to rust than earlier models, while its mechanicals remain just as reliable given proper maintenance and regular servicing. Good examples start at around £3,500; this'll secure an early 1.8-litre model with around 60,000 miles on the clock.
13. Porsche Boxster
The Boxster has long been the most accessible route into Porsche sports car ownership – but its reasonable price doesn't equate to a sub-standard driving experience. In fact, of all the cars on this list, the Porsche could be considered the most fun to drive, thanks to its combination of a mid-mounted six-cylinder engine and poised rear-wheel-drive chassis. While the first-generation Boxster is an excellent choice, we'd be tempted to stretch to the second-generation model for a little extra outlay – just £10,000 will secure a well maintained early '987' model with a high-ish mileage. Be sure to watch out for signs of neglect – prices are low (for a Porsche, at least) but running costs can be prohibitively expensive for many.
14. Honda S2000
The Honda S2000 is a powerful two-seater sports car that was built to take on the Porsche Boxster between 1999 and 2009. Its high-revving, naturally aspirated 2.0-litre petrol engine is the star of the show, producing an impressive 237bhp. Granted, you need to rev the engine out to extract all that power, but it's great fun doing so. The good news for sports-car enthusiasts is that a great S2000 can be picked up for as little as £7,000 – enough for an early example with around 70,000 miles on the clock and a comprehensive service history. Honda's great reputation for reliability applies here; the S2000 is built to last and is relatively devoid of known issues. Oil use can be high, so look for evidence of regular changes, keep an eye out for worn suspension components and watch out for rust – underside protection wasn't perfect.
15. Jeep Wrangler
Another wildcard entry on this list, the Jeep Wrangler isn't a convertible in the traditional sense – rather a serious off-roader that comes with the option of removing its roof entirely if the mood takes you. The Wrangler isn't fast, refined or particularly sophisticated in any form, but we recommend looking at the most recent generation, known as the 'JK', powered by a 2.8-litre diesel engine. Around £12,000 will buy a higher-mileage, long-wheelbase model in Sahara specification, with prices rising to around £20,000 for a similarly specified car with around 30,000 miles on the clock. The Wrangler's no-nonsense off-roader intent brings with it a decent reputation for reliability, but check for signs of hard use – while many will have spent most of their lives on tarmac, some may have been thrown around on green lanes.
Engine management light: top 5 causes of amber engine warning light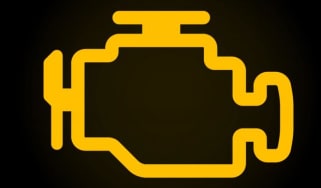 Engine management light: top 5 causes of amber engine warning light
Tesla Cybertruck finally delivered: specs, prices and UK availability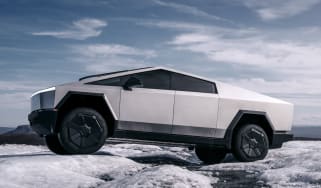 Tesla Cybertruck finally delivered: specs, prices and UK availability
Best new car deals 2023: this week's top car offers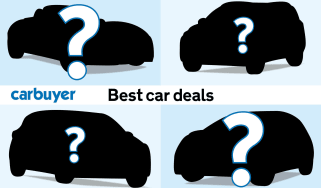 Best new car deals 2023: this week's top car offers