Peugeot 308 GT Line review
The 308 GT Line offers the looks of a hot hatchback, with supermini running costs
Many of us love the mean looks, muscular wheels and extra equipment lavished on hot hatchbacks, but aren't as enamoured with the prospect of costly insurance, high fuel consumption and exorbitant company-car tax. That's where models like the Peugeot 308 GT Line come in.
It looks almost identical to the speedy 308 GT, but the GT Line is more about style than outright performance. Instead, you can choose the same thrifty petrol and diesel engines as the Active, Allure and Tech Edition trims, with the same low running costs. Peugeot isn't the only manufacturer to employ this trick – see also the Volkswagen Golf R-Line, Volvo V40 R-Design, Audi A3 S line and Kia Ceed GT Line – so the 308 is in good company. And if you need lots of space, you're also in luck, because the GT Line trim can be applied to the Peugeot 308 SW estate with a massive 660-litre boot.
Among the GT Line's most striking features are its 18-inch diamond-cut alloy wheels, with a silver face and black barrel. The dark theme is repeated in the door mirrors and tinted privacy glass, while the front grille is swapped for one with a chequered-flag design and red 'Peugeot' lettering. The bumpers and door sills are swapped for deeper items and at the rear there's dual rear exhaust trim.
The interior is similarly sporty, thanks to leather and cloth seats with red stitching, aluminium pedals and door sills, a perforated leather steering wheel and matching floor mats with red stitching. The upgrades aren't limited to styling changes, with the exterior lighting also getting an upgrade. Full LED headlights are fitted to improve visibility at night, along with LED foglights and scrolling front indicators for an ultra-modern look. Safety is bolstered by Peugeot Connect SOS and Assistance technology that can alert the emergency or recovery services and even report your exact location using GPS.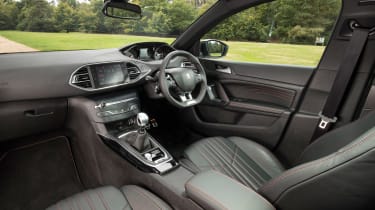 GT Line ownership kicks off with the 1.2-litre PureTech petrol with 128bhp, costing from just over £23,000. This is around £3,000 more than the same engine in the entry-level Active trim – not bad considering number of extras fitted. You can also add an eight-speed automatic gearbox for another £1,400 and this only has a marginal effect on efficiency, reducing fuel consumption from 54.3 to 52.3mpg.
Alternatively, there's Peugeot's 1.5-litre BlueHDi diesel, with an identical amount of power but fuel economy of up to 76.3mpg. Just like the petrol, a six-speed manual gearbox is standard, while an automatic is on the options list. Performance is also similar, with the petrol and diesel engines getting the 308 GT Line from 0-62mph in just under 10 seconds.
Verdict: 4/5
The Peugeot 308 GT Line is ideal for any drivers that appreciate a stylish body kit, but spend more time on the North Circular than the Nurburgring. Plus, its efficient turbocharged engines still offer decent performance, getting the GT Line from 0-62mph in under 10 seconds. Value for money is another appealing factor, with a generous amount of kit added compared with the Active trim, as well as the likelihood that residual values will be stronger.