All you need to know about: dipped headlights
Do you know which lights you should be using when it gets dark? Here's our quick guide to the use of dipped beam headlights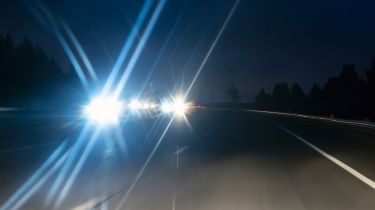 Cars are becoming increasingly sophisticated and many now have an 'auto' setting for the headlights, which can turn your dipped beam lights on when it senses it's dark enough. It's important to remember, however, that the onus is ultimately on you as the driver to ensure the correct lights are in use. To keep you safe on the road when it gets dark, we've put together this quick guide on the use of dipped beam headlights.
'Dipped beam' is a reference to the headlights in their normal setting, while the setting to make the lights appear brighter when roads are empty and unlit is the 'main-beam' or 'full-beam' setting.
Best headlight bulbs to buy this year
So, what exactly are dipped headlights? In most cars you will have side lights, dipped beam headlights and full beam headlights, while nearly all cars made since 2011 will also have daytime running lights (DRLs), but we'll come onto those in a minute. Dipped beam lights are effectively the brightest lights you can use without dazzling or blinding other road users and the Highway Code informs us of when they should be used.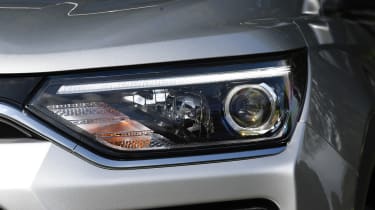 According to the Highway Code you must 'ensure sidelights and rear registration plate lights are lit between sunset and sunrise' when a road has street lighting, generally in built up areas. Dipped beam headlights must be used on all other roads at night, and 'night' is defined as the period half an hour before sunset to half an hour after sunrise.
When to use dipped headlights
The Highway Code also recommends that dipped beam headlights should be used 'at night in built up areas and in dull daytime weather, to ensure you can be seen.' This might seem to go against its recommendation to use sidelights at night in built up areas, but the use of sidelights should be seen as a minimum legal requirement with the use of dipped beam being the best course of action whenever it's dark or visibility is reduced.
We'd also recommend turning your headlights on when it's raining hard enough that you need your wipers to be on continuously, whether the sky is dark or not. You should use your headlights when going through a long tunnel but this will normally be signposted before the tunnel. If your car's dashboard doesn't light up automatically, you should turn your headlights on if it's too dark to see the dials clearly.
Many modern cars have an 'auto' setting for their lights that switch on and off when the car's sensors think they should be illuminated, but there can still be occasions when manual input from the driver is required. It's best practice to keep your lights switched to this setting rather than keeping the switch in the off position. At least this way the car's headlights will illuminate when it gets dark. However, the Highway Code also notes that dipped beam headlights should also be used when 'visibility is seriously reduced' such as in heavy rain. In these situations it's quite possible that your car's auto lights function will not detect that dipped beam headlights are required, which is why you should always be prepared to manually override the auto function.
Daytime running lights (DRLs)
Confusion can sometimes arise thanks to the advent of DRLs. These are permanently illuminated on cars registered since 2011 (and before on some makes) and cannot be switched off while the car is running – they will illuminate even when the car's light switch is in the off position. Crucially, DRLs only illuminate the front lights, so when it becomes dark your rear lights will remain unilluminated making your car very hard to see from the rear.
Of course, you must also use the car's fog lights when you cannot see for more than 100 metres, but you need to remember to switch them off when visibility increases once again; it's an offence not to switch them off as they may dazzle other road users.
Main beam headlights
Main-beam headlights should only be used when on roads away from built up areas and only when there are no other vehicles or road users (including pedestrians and cyclists) in front of you, otherwise they will be dazzled by your main beam lights. When main beam lights are being used there will be a blue tell-tale light illuminated in your car's dash pod to remind you they are on. You should turn them down to dipped whenever another vehicle or road user is in sight.
The use of dipped beam headlights is pretty simple: switch them on when visibility is reduced, or during dull weather, or when it's dark. In most cases the auto setting (if your car has one) will do this for you, but don't fully rely on it and be prepared to override the system if required.
It goes without saying that your lights should be in good condition – check your car regularly to ensure all bulbs illuminate – not just your headlights, but all the lights. The light lenses should also be clean, as dirty lights can seriously reduce their effectiveness.
Dipped beam headlights: a final checklist:
As a minimum, turn on sidelights when it's dark in built up areasBest practice is to use dipped beam lights at all times when it's darkUse dipped beam lights when 'visibility is seriously reduced'Fog lights can be used when visibility is reduced to less than 100mUse your car's auto light setting but be prepared to switch dipped beam lights on if requiredDaytime running lights are not a substitute for dipped beam headlightsOnly use full-beam headlights if the road ahead is clear of other road users
Read our guide to parking lights and how they work here.