Top 3 used small hot hatches for £8,500
"Dear Carbuyer, I want a small hot hatch that won't cost a fortune to insure. What are my options for £8,500?"
Since the Volkswagen Golf GTI established the genre over four decades ago, the hot hatch has continued to be a hit with buyers. But as modern cars have gradually become larger and heavier, several manufacturers have bucked the trend by adding a small hot hatch to their respective line-ups.
All of the very best small hot hatches you can buy today, including the Ford Fiesta ST, Volkswagen Polo GTI and Suzuki Swift Sport, are based on existing superminis. All follow the route of adding a powerful engine, tweaked chassis, bigger brakes and sporty exterior styling to a standard hatchback.
Best hot hatches to buy in 2020
While small hot hatches are less powerful than larger models, the gap in performance is relatively minor. The latest Ford Focus ST boasts 276bhp and is capable of 0-62mph in 5.7 seconds, with the smaller 197bhp Fiesta ST covering 0-62mph in 6.5 seconds - a difference of only 0.8 seconds.
The smaller size and lower power makes small hot hatches cheaper to buy and less expensive to insure than those based on cars in the class above. Arguably the biggest advantage, however, is the way they drive. Less weight means they make do with less power to achieve the same level of thrills, and it's easier to exploit more of the performance without breaking the law.
As a smaller car, they are also easy to drive around town and return respectable fuel economy when driven normally.
Our reader is in his late twenties and is looking for a small hot hatch that is affordable to insure. For a budget of £8,500, there are plenty of cars that fit the bill. We've picked three slightly older models that are all huge fun to drive.
The driver's choice: Ford Fiesta ST
For: You'll never get bored behind the wheelAgainst: Cabin underwhelms, lacks premium appeal
Considered by many to be the best small hot hatch in its day, the previous-generation Fiesta ST may be outclassed by its replacement inside, but it ticks the hot-hatch boxes that matter most: it has bags of driver appeal, sharp looks, and low running costs.
We found a 2015 car with 45,000 miles for £8,400. Get ST-2 trim and above if you can and, as with all these cars, buy on condition and ownership/service history.
Rumours say Ford modelled this cabin on a Nokia mobile phone, which gives you an idea of its age. It's well equipped, though: all cars get Recaro seats, while ST-2 has a Sony stereo and part leather, and ST-3 adds cruise and climate control.
If you're not put off by the ST's myriad buttons, you're likely to be sold as soon as you attack a corner. With accurate steering that's full of feedback, a slick six-speed gearbox, an eager 179bhp 1.6-litre engine, and 0-62mph in 6.9 seconds, the ST has a purity about it that appeals to almost all petrolheads.
The stylish choice: MINI Cooper S
For: Agile, fast, looks sharp, most powerful car hereAgainst: Next to no rear legroom, ride can be choppy
A wheel-at-each-corner stance means even the standard MINI hatch is a sharp steer, so fitting it with a 2.0-litre turbocharged engine and tweaking the suspension was only ever going to result in an entertaining hot hatch.
The Cooper S is by no means perfect, though: it can get fidgety in town and it's one of the less practical cars on sale. But if you want a characterful, fast and sharp-driving premium hot hatch, you could go a lot further and do a lot worse. A 2014 car with 50,000 miles is within budget.
If the Polo's interior is too staid and the Fiesta's too plasticky, you're going to love the inside of the Cooper S. The toggle switches, retro, central screen, and oval pedals hark back tothe original MINI, while also feeling modern and premium.
With 189bhp on tap, the Cooper S is the most powerful and fastest car here, even if only by a tiny margin. As well as being quick, the MINI is as chuckable around corners as the Fiesta,but its ride doesn't offer quite the same level of pliancy; and the steering is well weighted, yet feels somewhat artificial.
The solid choice: Volkswagen Polo GTI
For: Solid build quality, posh image, plush interiorAgainst: Lacks sparkle on B-roads, 1.4 engine complex
A hot hatch with a reputation for being always the bridesmaid and never the bride, the Polo GTI is still worth considering. Its biggest issue is that it lacks the finesse and excitement of the Fiesta and Cooper S, but look past that and it's a well built, refined and quick hot hatch.
Your budget limits you to the 1.4-litre turbocharged and supercharged GTI rather than the facelifted 1.8-litre turbo car, but £8,500 secures a 2014 car with around 50,000 miles on the clock, in automatic or manual guise.
The best way to describe the Polo's interior is typically VW. It's ergonomically sound, made from high-quality materials, and the check seats evoke its big brother, the Golf GTI. But it's also like the driving experience: impressive, but lacking in flair.
The Polo's engine may be small, but 178bhp makes it potent. Its acceleration matches the Fiesta's, with 0-62mph taking the same 6.9 seconds. True, you'll have more fun on smaller roads in the Ford or MINI, but if you cover a lot of miles, the Polo'sbig-car refinement will make you glad you chose the VW.
Carbuyer's choice, as picked by deputy editor Ben Hodges
All three picks are excellent hot hatches but the Ford Fiesta ST is the only one for me. When introduced, the second-gen Fiesta ST was a gigantic leap forward from the previous car, and it remains one of the best hot hatches to drive ever.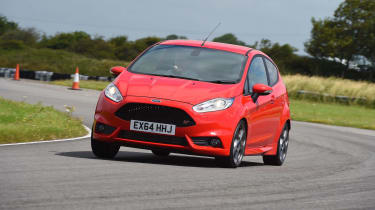 It has everything you'd want from this type of car, with nimble and precise handling, a punchy turbocharged petrol engine and a slick-shifting six-speed manual gearbox. While the button-festooned dashboard and rather poor sat nav might be off-putting for some, I can overlook these minor issues purely because of the way the car drives; the ST is one of the most engaging and immersive cars ever produced in this class. Factor in the relatively respectable practicality and the everyday usability, and it's my clear winner.
Want to know more about hot hatches? Why not read our list of the fastest models you can buy.
New 2020 Kia Stonic SUV: prices and specs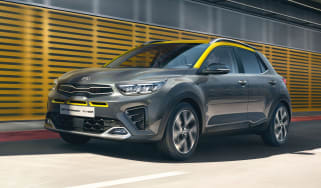 New 2020 Kia Stonic SUV: prices and specs
Updated Jaguar XF launched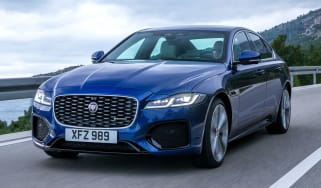 Updated Jaguar XF launched
Updated Peugeot 5008 starts at £29,585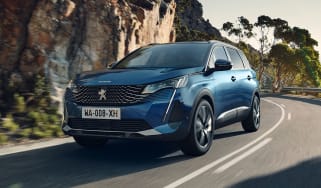 Updated Peugeot 5008 starts at £29,585