Used Volvo XC90 review: 2014-present (Mk2)
A supremely stylish and comfortable full-size SUV, loaded with safety technology and powered by efficient engines including mild hybrids and plug-in hybrids
Pros
Spacious and comfortable
Seven-seater
Extremely safe
Cons
Not so reliable
Big for parking
Infotainment system slow
Volvo likes to celebrate its Swedish heritage by applying its home nation's simple, elegant design ethic to its cars. The XC90 Mk2 is a case in point. Inside and out this full-size SUV stands apart from its key rivals for its uncomplicated yet attractive lines, its lack of the brash, and for visually downplaying just how big it is.
Because the Volvo XC90 Mk2 is a large car. It easily seats three adults across its back seat, and then accommodate a couple more if you raise two more seats from the boot floor. And even with seven occupants the XC90 Mk2 still has enough luggage space for your weekly shop.
Not only is Volvo's answer to the BMW X5 and Audi Q7 roomy, it's also versatile. Its central row of seats can slide forwards and back to allow more legroom for passengers in the third row, and all three of its seats can slide, recline and fold independently. And with all the back seats folded, the luggage area's floor is flat and pretty much as spacious as a van's.
This family-friendly practicality doesn't define the Volvo XC90 Mk2's character, however. It can also play the role of luxury limousine. All models are generously equipped – dual-zone climate control, leather trimmed seats, adaptive cruise control, front and rear parking sensors, and an array of safety systems are the very least you can expect – while the excellent build quality and chic interior design add to the premium feel. The XC90 Mk2 has wonderfully comfortable seats, good sound insulation in the cabin, and its suspension is set up to impress the passengers more than the driver.
If that last point sounds like a criticism, it is. And it isn't. Drivers inclined towards taking the long way home just for the fun of it may find the XC90 Mk2 disappointingly stable and reserved – a BMW X5 or Audi Q7 may suit them better. But for most people the Volvo is as engaging to drive as it needs to be for hauling around kids, family, dogs, friends, the elderly or VIPs.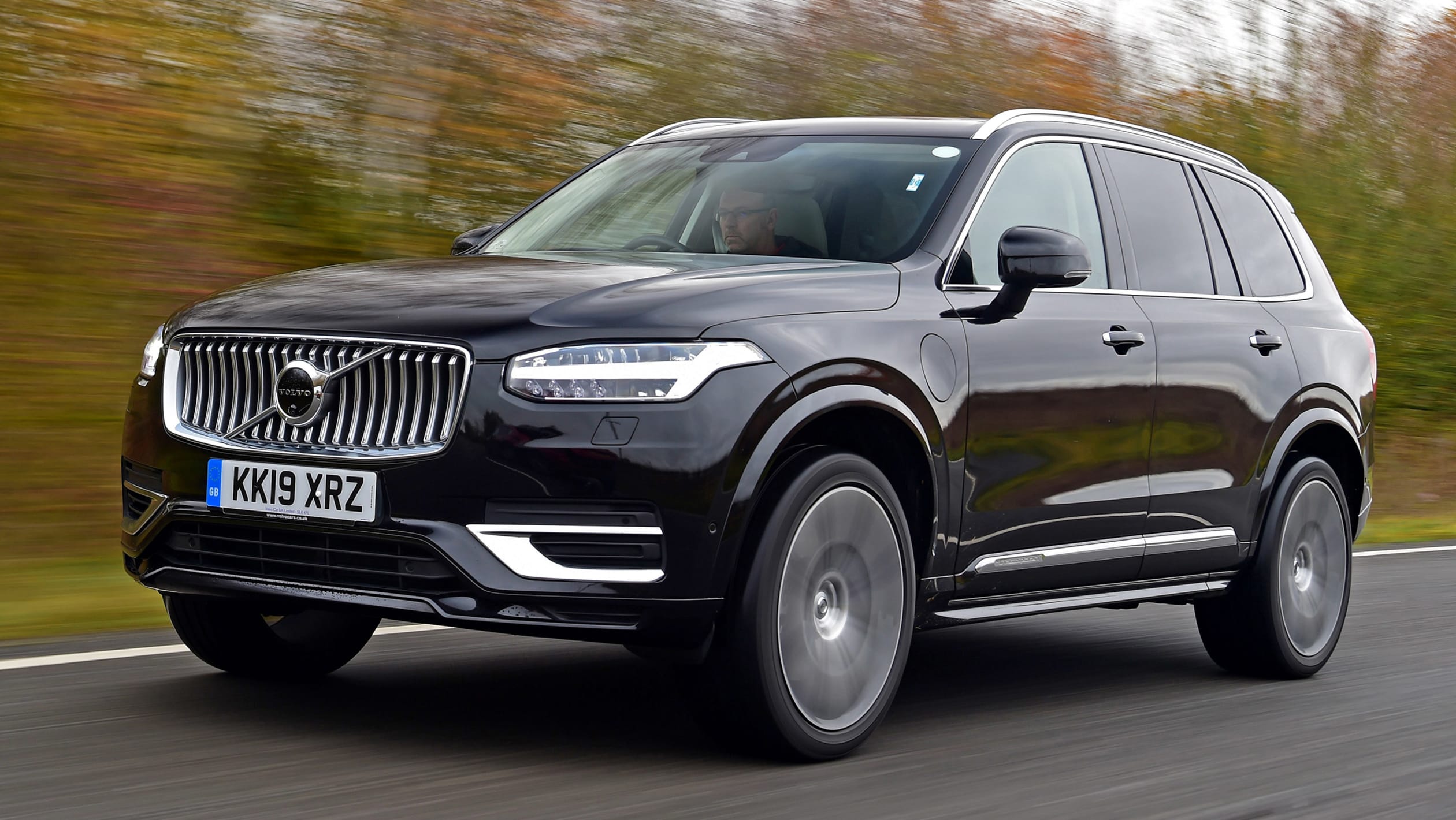 Volvo XC90 SUV review
Turbocharged petrol and diesel engines are the mainstays of the XC90 Mk2's engine range, but there's also a twin-turbo petrol, a powerful supercharged and turbocharged petrol engine, diesel-electric and petrol-electric mild hybrids (they combine the conventional engine with a small electric motor that's charged by the braking system and boosts power, improves fuel economy and reduces CO2 emissions), and a petrol-electric plug-in hybrid that can travel up to 28.6 miles in electric-only mode.
All these engines are refined, quiet and deliver respectable performance – especially the plug-in hybrid Recharge T8 model. The diesel variants are economical, with even the non-hybrid D5 returning close to 50mpg Combined (using the previous NEDC fuel efficiency testing regime). For comparison, the petrol engines give around 35mpg.
Volvo doesn't offer a manual gearbox for the XC90 Mk2 – all versions use an eight-speed automatic and the entire range is four-wheel drive.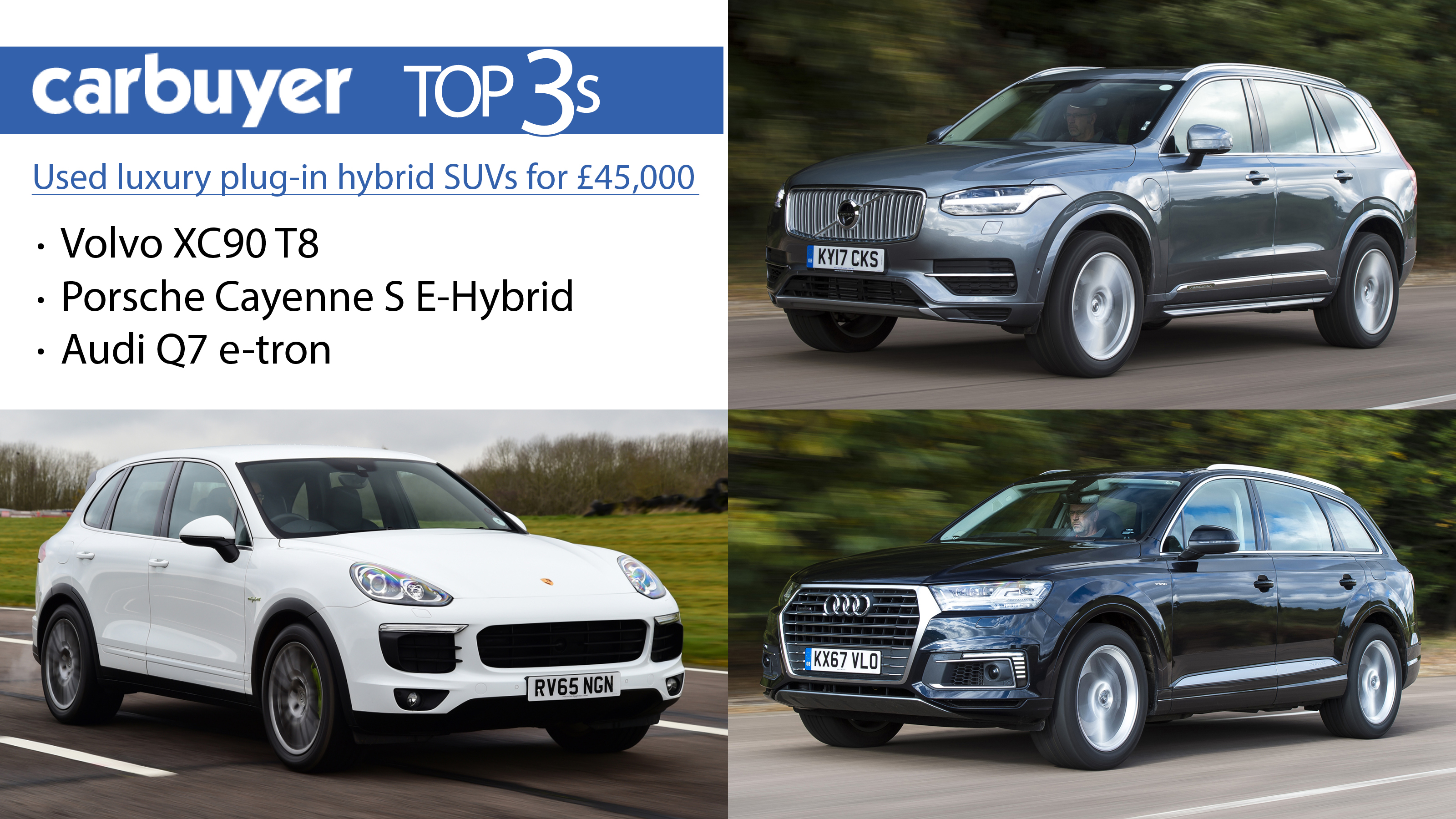 Top 3 used luxury plug-in hybrid SUVs for £45,000
Volvo's reputation for safety is enhanced by the XC90 Mk2's fine performance in the Euro NCAP organisation's crash tests, where it not only earned a full five stars safety rating, but also scored highly in individual safety categories, with a 100% score for driver assistance systems.
While there's much to recommend the XC90 Mk2 to potential buyers, there's also a caveat – the reliability of early models was very poor, with numerous recalls including some for safety-related problems. 
What's the history of the Volvo XC90 Mk2?
The Volvo XC90 Mk2 arrived in UK showrooms in December 2014 and offered three engine options – a 222bhp 2.0-litre turbodiesel in the D5, a 315bhp 2.0-litre petrol engine with both turbocharging and supercharging in the sporty T6, and then a plug-in hybrid version of the T6's engine that with the help of an electric motor produced 401bhp in the T8 Twin Engine.
To begin with there were just two trim grades, Momentum and Inscription, but in November 2015 the sporty-looking R-Design was slipped in between them. An eight-speed automatic gearbox and four-wheel drive were common to all. 
A 232bhp PowerPulse version of the D5 turbodiesel engine was introduced in 2015, while in August 2018 the petrol engine range was expanded with the arrival of the 245bhp turbocharged 2.0-litre of the T5.
The XC90 Mk2 was revamped over the course of 2019, with mild changes to its exterior styling, software upgrades for the automatic gearbox, and the introduction of extra safety technology including a system to automatically steer you back onto your own side of the road if you inadvertently drift into the path of oncoming traffic. 
Also arriving during 2019 were new mild hybrid engines – the B5 in both petrol-electric and diesel-electric forms to replace the previous T5 petrol and D5 diesel, and the B6 to take the place of the turbocharged and supercharged T6 petrol. These mild hybrid models added a small electric motor to work in unison with the conventional engine, providing extra power for acceleration and, by reducing the conventional engine's workload, reducing CO2 emissions and improving fuel consumption. Meanwhile, the T8 Twin Engine plug-in petrol-electric hybrid received a larger battery pack that improved its electric-only range to a claimed 31 miles.
The XC90 Mk2 received a further mild revamp in 2021, with further enhancements to its technology (including Google Maps and Google in-car assistance), the introduction of new trim levels, and the T8 Recharge gaining more power and extending its electric-only range to a claimed 42 miles.
Which is the best Volvo XC90 Mk2?
There are no poor choices when it comes to the Volvo XC90 Mk2. Whichever trim grade and engine you pick, you'll be treated well, enjoying good performance, a sense of calm refinement, excellent safety protection and a handsome amount of standard equipment.
However, the XC90 Mk2's petrol engines – even those that are mated to a small electric motor as part of a mild hybrid setup to help improve fuel economy – are thirsty compared with the diesels, struggling to achieve more than 30mpg in real-word driving. 
The sole exception, on paper at least, is the turbocharged and supercharged 2.0-litre engine of the T8 plug-in petrol-electric hybrid. As that description implies, you plug it in to a mains electricity supply to charge the battery pack of its electric motor, which then works in tandem with the conventional engine to boost power, reduce CO2 emissions and improve fuel economy – its Combined consumption figure (using the old NEDC method of measuring) is an incredible 134.5mpg. But that's a fluke of the testing procedure and assumes that the electric motor's battery pack always has a full charge and that you always use its full 31-mile electric-only range. In reality some owners report between 25mpg and 40mpg. The T8 – which is also badged Twin Engine and Recharge, depending on its age – is also expensive to buy, although its ability to be driven solely on electric power will be attractive to some urban dwellers.
Best engine for the XC90 Mk2 is the 2.0-litre turbodiesel, found under the bonnet of cars badged D5 and B5, the latter being a mild hybrid that went on sale from September 2019 (confusingly there's also a B5 petrol). The D5 started out with 222bhp but in 2015 a PowerPulse version was introduced with 232bhp – it's the one to seek out, as it has slightly more spring in its step. If you can afford the mild hybrid B5 diesel (which also has 232bhp) then it's better still, its electric motor boosting performance at low to middling speeds and making this version of the XC90 Mk2 more relaxing to drive. All the diesels are quiet, cultured and give punchy performance combined with reasonable fuel economy. The D5 has a Combined consumption figure of 48.7mpg using the old NEDC measurement protocol, while the B5 delivers 44.1mpg using the more real-world WLTP (Worldwide harmonised Light-duty vehicles Test Procedure) method of testing.
As for choosing a trim grade, the entry-level Momentum has everything you need, including adaptive cruise control, leather seats, heated front seats, dual-zone climate control, front and rear parking sensors, sat-nav, infotainment system with Bluetooth smartphone connection and DAB radio, and a powered tailgate that you can open and close by waving your foot beneath the rear bumper. However, if your budget can withstand a little extra expense, opt for the Momentum Pro. The Pro package adds posher leather upholstery, a heated steering wheel and the convenience of a head-up display. And if you should happen to find a car fitted with the optional air suspension at a reasonable price, snap it up – it makes an already comfortable car yet more cossetting.
What are the alternatives?
If you like the idea of a large, luxury SUV but aren't entirely convinced by the Volvo XC90 Mk2, there's a wealth of alternatives. The Audi Q7, BMW X5, Mercedes-Benz GLE, Range Rover Sport and Porsche Cayenne all have impressively upmarket badges, but some don't even offer seven seats as an option. The Land Rover Discovery 5 does seat seven and is even more spacious inside, while the Volkswagen Touareg also offers a third row of seats and looks sufficiently classy that it can pass muster as an XC90 Mk2 rival.
Running costs, MPG, CO2 emissions and insurance
Most models are costly to service, tax and insure, but good fuel economy from the diesel-engined derivatives ease some of the financial burden
The Volvo XC90 Mk2 is a large, weighty, prestigious and complex car, so high running costs shouldn't come as a complete surprise. Volvo's premium SUV sits in high insurance groups, most models get stung heavily for road tax, and the petrol-engined derivatives aren't especially economical, although 30mpg+ doesn't seem so bad for a car so big. At least the diesel models redress the financial balance a little, with economy of 44mpg+.
Although the XC90 Mk2's onboard computers will advise when your car needs servicing according to where and how you drive it – if you don't do many miles and they're all in the city, for example, or you travel long distances on the motorway – the maximum gap between services is 12 months or 18,000 miles, whichever comes first.
If the car you're looking at is comparatively new and the original owner took out a five-year fixed-price servicing plan, the balance of which they're willing to transfer to you, then it's a good day. Otherwise an interim service at a Volvo dealer will cost you around £280 and a major service about £450 – the XC90 alternates between these two types of servicing. There are extra costs, too, with a change of brake fluid needed every other service, adding another £90 or so to the bill. 
With the oldest examples of the XC90 you should also budget for a cambelt replacement – for the petrol models this should happen at 10 years or 108,000 miles, and for the diesels it's also 10 years but 90,000 miles. At a Volvo dealer you're looking at about £650 for parts and labour. Bear in mind that there's now a good network of independent Volvo specialists in the UK, where labour rates are considerably cheaper. 
How much do Volvo XC90 Mk2s cost?
The Volvo XC90 Mk2 is much in demand on the used market, in part because its seven-seater status and upmarket demeanour make it popular for the posh school run. Consequently prices remain high, only the very early models from 2015 and 2016, and with 50,000 to 100,000 miles on the clock, dipping below the £30,000 mark. 
At this age and mileage trim grades don't have the impact on prices that you might imagine; in some cases there's almost price parity between a car with entry-level Momentum trim and one with the range-topping Inscription grade. So if you've ever wondered how the other half live, this could be your opportunity to find out.
Newer versions of the XC90 Mk2 (2018 onwards) with mileages as high as 60,000 are on used car dealers' forecourts for more than £40,000, but they typically are R-Design or Inscription trim grades. It's not uncommon to see low-mileage examples in the £45,000 to £55,000 bracket and we've even spotted a 22,000-mile 2020 T8 Twin Engine plug-in hybrid for £61,000.
Of course, used car prices fluctuate week-to-week, so to keep up to date with what an XC90 Mk2 could cost you, visit our sister site, Buyacar. And don't rush into a purchase, research the market carefully first.
What's it like for fuel economy, emissions and tax?
Fuel economy honours in the XC90 Mk2 range belong with the diesel-engined cars. The D5 has an official Combined fuel consumption figure of up to 49.6mpg, while the later diesel-electric hybrid B5 delivers 44.1mpg. That might seem like a step backwards for the B5, especially given its green credentials, but its economy was measured using the WLTP test procedure that's said to give a more accurate representation of what owners can expect out on the road. There's no like-for-like comparison available, but Volvo claims that the B5 diesel hybrid is 15% more efficient than the older D5.
It's the same story with the petrol engines. The B5 and B6 hybrids give up to 32.5mpg and 30.7mpg measured the WLTP way, against 35.8mpg for the T5 and 34.9mpg for the T6 non-hybrids, that were tested using the old NEDC system.
Tested the old way, the T8 Twin Engine petrol-electric plug-in hybrid gives an astonishing 134.5mpg; the 104.6mpg it falls back to when WLTP-tested is still jaw-dropping. Yet misleading. To replicate that figure the T8's battery pack would have to be permanently at full-charge and you'd always have to use its full 31-mile electric-only range. On long journeys you soon deplete the charge in the battery pack, leaving the electric motor element of the powertrain redundant and a dead weight that you have to haul around. T8 owners report real-world consumption figures as low as 25mpg, but more often 35-40mpg.
While it's hard to justify the T8 over the turbodiesels when looking at fuel consumption, the fact that its CO2 emissions range between 49g/km and 61g/km give it an advantage for road tax. Models registered before 1 April 2017 are tax-exempt because the tax rates are emissions-related – as a comparison, the 149g/km of CO2 produced by the D5 turbodiesel means an annual tax bill of £170-£210 depending on the trim grade and options. 
XC90 Mk2s registered after 1 April 2017 in theory pay a flat rate of road tax – £155 for the pretty much the whole range except the T8 plug-in hybrid, which is £145. However, because all XC90 Mk2s cost in excess of £40,000 when new, there's also a luxury car supplement to pay as well during years two to six after first registration. This lifts the T8's annual tax bill to £480, with all other models pay £490.
How much will the Volvo XC90 cost to insure?
There are few cars as safe to crash in, but the insurance industry still regards the XC90 Mk2 as a technically sophisticated, premium car that is expensive to repair or replace, and the Volvo's insurance groups reflect that fact – it sits in insurance groups 33-45.
Reliability and common problems
Despite being very solidly built, the XC90 Mk2 suffers from electrical gremlins and has been subject to several recalls, including for safety-related problems
When a car is as seemingly well made as the XC90 MK2 is, you rather assume it's reliable, too. Unfortunately, that's not the case. Volvo's large SUV has been subject to 14 recalls, some for issues as serious as the airbags not working and the autonomous emergency braking system malfunctioning. As with any recall, the XC90 Mk2's woes should have affected only a very small number of cars, but do check with a Volvo dealer that the car you're looking at has had any remedial work carried out.
Beyond the recalls, the XC90 Mk2 suffers from assorted electrical issues, with some owners reporting multiple electrical failures; it's the curse of many modern cars.
The XC90 Mk2 hasn't appeared in any of our Driver Power owner satisfaction surveys, but in 2021 Volvo as a brand ranked 9th out of 30 car brands.
Are there any common problems and things to look for?
Modern cars are packed with complex electronics that are marvellous when they work, but are frustrating when they malfunction because the source of the problem can be hard to track down. The XC90 Mk2 has been plagued by electrical gremlins affecting every area of the car. Faults include the screen for the infotainment system going blank so that the climate control, sat-nav and Bluetooth are inoperable; door mirrors going haywire and moving of their own accord; powered tailgate and doors not opening and unlocking; gearbox glitches, and more.
Some owners have faced multiple electrical items going on the blink, although some report that they've never had a problem. With luck any issues with the XC90 Mk2 you're looking at will have been sorted out by earlier owners, but when inspecting a car it's tremendously important to prod every button and flick every switch to ensure everything works as it should.
If you're considering a T8 Twin Engine/Recharge, make sure that it doesn't hesitate before pulling away from rest – this could be a sign that the rear axle is on its way out, and it costs about £3,000 to replace.
Early examples of the XC90 Mk2 are now more than seven years old and may have amassed a significant mileage. Age and miles take their toll on car components such as brake discs, exhausts and suspension parts, so ask when these were last replaced and budget for the car requiring replacements in the not-too-distant future.
What about recalls?
The XC90 Mk2's record for recalls isn't the worst we've seen, but it's not great, either – at least 14 to date. Four of these relate to problems with the airbags and two concern the autonomous emergency braking system failing to operate as it should. To compound those two issues, there have been glitches with the seatbelts, too.
The XC90 Mk2 hasn't had a lot of luck with its pipes and hoses, either. The car was recalled for potential damage to power steering fluid hoses, for cracked rubber pipes that could cause fuel leaks and for leaks from the engine's coolant system caused by damaged hoses. Some models were recalled to replace a plastic component on the top of the engine that might potentially melt and perhaps cause a fire, while another batch of cars were recalled to replace a major engine component (the crankshaft) that had the potential to fail and destroy the engine.
There are three things to stress here. First, not all of these recalls affected every XC90 Mk2. Second, recalls are generally a precautionary measure, so not every car recalled actually suffered a problem. Last, before buying an XC90 Mk2 make a note of its Vehicle Identification Number (VIN) that you'll find on its V5 registration document and have a Volvo dealer check that any relevant recalls have been acted upon.
What do owners think?
Not enough XC90 Mk2 owners responded to our Driver Power survey of owner satisfaction, so the car hasn't made an appearance. Volvo as a brand has, though, placing 10th out of 30 car makers in the 2020 Driver Power survey, and moving up a place in 2021.
Volvo owners as a whole praised their car's interior design, safety features, infotainment system and connectivity, build quality and practicality, but were critical of its handling, fuel economy and high running costs.
Engines, drive and performance
With its emphasis on comfort rather than sportiness, the XC90 Mk2 encourages a relaxed driving style and has engines that support that aim
Anticipating that a seven-seat SUV is likely to be used a family wagon that's often loaded with passengers, dogs and luggage, Volvo has made the XC90 Mk6 comfortable rather than sporty to drive. So compared with rivals such as the BMW X5 and Porsche Cayenne, the XC90 Mk2 doesn't feel especially exciting from behind the steering wheel. Instead, it is relaxed and unfussed, whilst at the same time able to maintain a decent pace along winding roads, should the occasion demand it. 
The XC90 Mk2's engines contribute to this laid-back style of driving. Most provide strong pulling power (torque) at low to medium speeds, allowing you access to reasonable acceleration in an effortless manner. They're refined, too, and quiet, contributing to the sense that in the XC90 Mk2 you make calm progress from place to place, rather than feeling the impulse to scurry along at breathless high speed. 
What's the XC90 like to drive?
The clean and slightly minimalist interior design of the XC90 Mk2 is suggestive of tranquility and sets the mood for what the car is like to drive. Good sound insulation in the cabin keeps the engine, wind and tyre noise at unintrusive levels, and the XC90 Mk2's front seats are among the most comfortable you'll find in any car. Those seats have an excellent range of adjustments, the steering column too, so you should have no great trouble finding your ideal driving position, and there's also something strangely relaxing about sitting as high as you do in an SUV.
Although capable of a brisk sprint when required (say, for overtaking), the XC90 Mk2's engines – turbodiesels, turbocharged petrols, turbo and supercharged petrols, and hybrids – do their best work at low to medium speeds when they can exercise their strong pulling power, or torque. This means that you don't have to rev the engines hard to access the sort of performance that lets you dive for that gap in the traffic, or enables you to maintain a steady pace up a steep motorway incline, or lets you keep up a hearty yet effortless speed along winding back roads. Because there's little need to use high revs, engine noise levels are kept low, further adding to the serenity of the cabin. 
The XC90 Mk2's eight-speed automatic gearbox contributes to the calm of the driving experience, shifting between ratios smoothly and in regular driving programmed to select the best gear for fuel economy, which in turn reduces the engine's revs and keeps the noise down. By pressing a button on the centre console you can select a 'sport' mode for the gearbox that increases the revs, and some models have paddleshifters on the steering wheel that enable you to change gears yourself, but once the novelty of those features wear off, most people are happy to let the gearbox do its own thing. 
While the XC90 Mk2's steering isn't as quick and direct as that of some rivals, when you have no direct comparison to make then it seems to go about its business just fine, and once you've become accustomed to its lightness you always feel in full control. Although not a sporty car, the XC90 Mk2 does have plenty of grip from its tyres and the fact that it's four-wheel drive lends an extra sense of security when the roads are slippery – the big Volvo does lean a fair bit through corners, so for the sake of your passengers you're unlikely to be exploring the limits of its roadholding very often. 
Having mentioned the XC90 Mk2's four-wheel-drive system, it should be noted that it's designed for all-weather mobility rather than off-road adventure. That said, you should be able to tow a horsebox out of a muddy car park with it or make it to the village shop when the roads have a light covering of snow.
The XC90 Mk2's suspension is set up for a comfortable ride quality and mostly it succeeds. Urban potholes and ridges hit at low speed rattle the suspension's composure, but on the open road it's soft and compliant; there's enough body control that it doesn't become floaty, say when you've encountered a trough in the road at speed. Models with 20-inch and larger alloy wheels don't ride with quite such aplomb, but the XC90 Mk2's optional air suspension is able to compensate for the extra weight of those large-diameter rims. 
Which engine should I choose?
The turbocharged 2.0-litre diesel and its evolutions are the best choice for the XC90 Mk2. Badged D5, this engine initially had 222bhp which increased to 232bhp with the introduction of the PowerPulse derivative. In 2019 the D5 became the B5 with the addition of mild hybrid technology – this involved integrating a small electric motor to work in tandem with the conventional turbodiesel engine, which boosts the power when accelerating and helps improve fuel economy and reduce CO2 emissions. The electric motor is powered by an on-board battery pack which is charged using energy recovered during braking, similar technology to that used in Formula One race cars. 
All the diesel models have spirited performance – 0-62mph in 7.7 seconds in the case of the B5 – but it's their easily accessible low- to mid-range muscle that suits the character of the XC90 Mk2 so well, propelling the big SUV with ample vigour yet impressively little fuss. The extra urge of the B5's electric motor makes it the best of the trio in this respect, but because it's the newer car, it's also the most expensive. 
Good fuel economy seals the deal for the diesels – up to 49.6mpg for the conventional turbodiesels and 44.1mpg for the mild hybrid B5. Despite those official fuel figures seeming to suggest that the early car is the more economical, the B5 is actually 15% more efficient; its fuel consumption was measured using the tougher and more recent WLTP system, said to give a more realistic outcome than the older NEDC system by which the D5 was assessed.
If unleaded is your preferred fuel, check out the mild hybrid B5 petrol. It's the same package as the self-charging hybrid B5 diesel, but in this case it's a twin-turbo 2.0-litre petrol engine in partnership with the small electric motor and developing 247bhp. With the shove of two turbochargers and an electric motor, the B5 petrol responds smartly to the throttle pedal even at very low engine speeds and feels quick along backroads. At high revs it sounds sweeter and more refined than the diesel engines, but it simply can't match their fuel economy – at best the B5 petrol gives 32.5mpg (WLTP).
As with the B5 diesel, the B5 petrol is a newer model and is likely to be quite expensive. For a more budget-friendly petrol-engined XC90 Mk2 you'll need to look to the non-hybrid T5, available prior to mid-2019. It's the same engine as the B5 petrol but minus the electric motor and for the most part it has the same driving manners. However, the T5 lacks the feisty thrust of the electric motor when you first press the accelerator pedal and returns only 30.4mpg (WLTP).
For those seeking a little extra petrol performance, there are the T6 – a 305bhp 3.0-litre with both a supercharger and turbocharger – and the B6, the mild hybrid evolution. There's lots of oomph from this pair (0-60mph in 6.3 seconds for the T6), but some people find the slight whine from the supercharger off-putting and even the B6 version delivers only 30.7mpg (WLTP).
At the other end of the fuel economy scale is the T8 Twin Engine/Recharge, a plug-in hybrid model with a much more powerful electric motor than those used in the mild hybrids, and which uses the T6/B6's supercharged and supercharged 2.0-litre petrol for its conventional engine component. There were three versions of the T8 up to September 2021, with slightly different power outputs, but the model's headline-grabbing fuel consumption figure was 134.5mpg. As discussed earlier in this review, that's an anomaly of the testing regime and you're much more likely to see 40mpg.
However, the T8 is claimed to run for up to 31 miles solely on electric power, so as a city dweller it will enable you to do your part in reducing urban air pollution. Until the start of 2022 Londoners also enjoyed the financial benefit of the T8 being exempt from the capital's daily Congestion Charge, but that perk is now rescinded. On the plus side, the T8 is the fastest version of the XC90 Mk2, the 86bhp equivalent developed by the electric motor giving an instant and exhilarating punch to the acceleration when you're in a big rush. Unfortunately, because this is a plug-in rather than a self-charging hybrid, once the battery pack is depleted, the electric motor is simply along for the ride.
Interior comfort and safety
The XC90 Mk2 can seat seven people in great style and considerable comfort. It's handsomely appointed and packed with high-tech safety equipment
The XC90 Mk2's cabin exudes understated opulence. Its design has a classy minimalism and the materials it's made from have a high-quality look and feel. Ensconced in the front of the Volvo it's easy to forget that this luxury haven is also a hugely practical and versatile family wagon, capable of easily seating seven adults. 
On the move, engine, wind and tyre noise are well muted, and the suspension soft but well controlled. Because of the high seating position the car's occupants have a commanding view out, while the driver is surrounded by a wealth of high tech equipment aimed at enhancing the car's convenience, comfort and safety.
And on the subject of the latter, the XC90 Mk2 scored a full five stars rating in the Euro NCAP organisation's crash tests. In addition to its standard safety equipment, the XC90 also offers a selection of safety options.
What's the Volvo XC90 Mk2 like inside? 
The Volvo XC90 Mk2's cabin is a masterclass in using modern minimalist design to create a sense of opulence and wellbeing. The interior looks special and upmarket, and where there are shiny materials – textured aluminium trim, chromed air vent surrounds, piano black plastic for the steering wheel spokes and around the infotainment system's screen – the effect is one of stylishness, not bling. 
Not only does the 9.0-inch colour touchscreen in the middle of the dashboard have visual impact because it's mounted in an upright, portrait position and is flanked by a pair of distinctively large air vents, its presence has allowed Volvo's designers and engineers to remove buttons and switches and assign their functions to the touchscreen, simplifying the look of the dash.
R-Design and Inscription trim grades also feature a full digital instrument pack in front of the driver, which can be personalised to your personal preferences, while the steering wheel's lateral spokes house remote controls for the stereo, cruise control and phone operation. 
A broad – and in some models, leather-upholstered – console divides the front of the cabin and is home to the gearlever and polished, textured aluminium knobs for the infotainment system's manual controls. The latter are a chic touch, as is the orrefors crystal gearlever found in the Inscription – this top model also features walnut veneer trim inserts.
Middle-row passengers not only have ample room for their heads, knees and shoulders, they also have an individual seat that can slide forwards and back, and recline. The two individual seats of the third row stow flat in the boot floor until required, but they're full-size seats, leather-upholstered, and designed for adults up to 5ft 7in tall. Those rearmost passengers also enjoy speakers in the roof lining and cupholders in the trim beside them.
What's on the equipment list?
To call the XC90 Mk2 Momentum an 'entry-level' models is to do it a disservice, yet it is where the price list starts. Even so, it's handsomely kitted out, with leather upholstery, dual-zone climate control, heated front seats, infotainment system with a colour touchscreen, DAB radio, sat-nav, Bluetooth smartphone connection, front and rear parking sensors, powered tailgate that can be opened and shut by waving your foot beneath the rear bumper, adaptive cruise control, automatic emergency city braking, and automatic LED headlights and windscreen wipers.
Next up the chain is the R-Design. To the Momentum's spec it adds sportier exterior styling, leather and nubuck-trimmed sports front seats with powered adjustment, 20-inch alloy wheels, digital instruments and privacy glass for the rear windows.
Inscription is the full-on luxury trim grade, with Nappa leather upholstery, walnut veneer trim inserts, and an orrefors crystal gearlever. 
On top of these three trim grades the original owners could also specify the Pro package, which incorporated the features of the optional Winter Pack, plus a bit more. For those models that didn't have it already, Pro added Nappa leather upholstery, as well as a heated steering wheel, windscreen, and windscreen washer nozzles; forego the heated windscreen and you could instead have a head-up display.
The T8 Twin Engine could be ordered with ordered with any of the trim grades but also had a few of its own special features, including digital instruments, four-zone climate control with controls for the third-row passengers and an opening panoramic sunroof: the pre-2021 Recharge added the super-costly 1,400W 19-speaker Bowers & Wilkins audio system to that list.
Numerous options were available to the original buyer of an XC90 Mk2. An air suspension system with adaptive dampers is a good one to look out for, while if you're hoping to hook up your iPhone directly with the infotainment system rather than by Bluetooth, the wiring was an option. One of the more unusual options was the 'Red Key', which limits the top speed of the XC90 Mk2 to 75mph, sets the adaptive cruise control to its maximum distance to the car in front, puts a cap on the volume you can turn the audio system up to, and permanently engages all of the safety systems you might otherwise be able to turn off. Why? Safety, especially if there's an inexperienced driver behind the wheel.
Of more practical day-to-day value is Park Assist, a system that automatically measures surrounding parking spaces to find one that's large enough to park an XC90 Mk2 in, and then handles steering duties as you squeeze into the gap.
How safe is the Volvo XC90 Mk2?
When the Euro NCAP organisation subjected the XC90 Mk2 to its crash tests in 2015, the big Volvo emerged with a full five stars rating. It scored 97% for adult occupant protection, 87% for children, 72% for pedestrian safety, and 100% for driver safety assistance systems.
Standard safety equipment on the XC90 Mk2 has been improved during its lifespan, so not all cars will have everything we're about to mention, but even the early cars featured a raft of electronic safety aids. Amongst the XC90's safety equipment highlights are City Safety, which automatically applies the brakes if sensors detect you haven't noticed a cyclist, pedestrian or large animal in the road, or if you're about to pull out into the path of other traffic; Steer Assist that helps you make emergency avoidance manoeuvres at speeds between 31mph and 62mph; Oncoming Lane Mitigation, which guides you back into your lane if you've drifted into the path of oncoming traffic; Run-Off Road Protection that pre-tightens the front seatbelts if you do leave the road; and Pilot Assist II, an advanced form of cruise control that not only keeps you a set distance from the car in front, but can also brake down to a standstill for a traffic jam, and then reactivate once you've driven away from rest.
Practicality and boot space
Huge inside and with wonderfully versatile seating, the XC90 Mk2 adds practicality to its list of fine features
Even when all its seven seats are occupied, the XC90 Mk2 retains enough boot space to accommodate a week's worth of supermarket shopping. Fold the third row seats into the boot floor and the luggage space becomes massive – with all the rear seats folded to create a flat floor, and it's van-like inside.
Passengers will also enjoy how large the XC90 Mk2 is inside. The second row of seats provides a generous amount of space in all directions, while Volvo claims that the third-row chairs are designed to accommodate adults up to 5ft 7in tall. 
How big is the Volvo XC90 Mk2?
Multi-storey and underground car parks hold no fear for the XC90 Mk2, because while it is undoubtedly a large vehicle, at most it stands 1,776mm tall. Parallel parking is a different story, because Volvo's SUV is 4,953mm long; its 2,140mm width might also prove cumbersome down narrow city side streets.
How much space is there for passengers?
Middle-row adult passengers in the XC90 Mk2 enjoy an abundance of headroom, legroom and shoulder width. Each has their own individual chair, which slides backwards and forwards and can be reclined. The central seat isn't as broad as its two outer partners, and while it's still adult-sized, it's probably best if that adult is shorter rather than taller – that would also help with the fact that there's a hump running down the middle of the floor (the transmission tunnel), which although much smaller and lower than most, requires you to sit with your feet either side, or with your knees slightly raised. 
That central seat is available with an optional two-height integrated booster cushion for when your kids are graduating from child seats to proper ones.
Access to the third row of seats is made far easier by the fact that the outer middle-row seatbacks not only tilt forwards but the whole chair slides out of the way, creating a bigger gap. Volvo claims that the third-row seats are designed for adults up to 5ft 7in tall, giving them adequate head and knee room. For shorter trips you can squeeze someone up to 5ft 10in tall in there, and their journey can be made more bearable if the occupants of the middle-row seats slide them forward slightly. 
There's lots of storage in the XC90 Mk2, from cupholders and cubbies on either side of the third-row seats, back door bins commodious enough for one-litre drinks bottles, further cupholders in the rear armrest and front centre console – the latter also has a cubby for trinkets and phones – and a large glovebox.
How big is the boot?
With your XC90 Mk2* stuffed to the max with passengers you still get 397 litres of luggage space, about the same as for a small hatchback, and into which you should be able to squeeze a week's supermarket shopping, provided you haven't gone too crazy. Fold the third-row seats into the boot floor and that space expands to 775 litres, enough for three or four large suitcases, or a couple of big pushchairs. Fold the middle row away and there's 1,951 litres of space at your disposal, eliminating the need to hire a van to bring back that hefty piece of furniture from the auction house.
The XC90's luggage-swallowing talents don't end there, though. All five of the rear seats can be folded individually, allowing you to alter the passenger to goods ratio. And the middle row seats can also slide forwards if you only need a little extra length in the boot. The folding mechanism for the seats is simple – pull a lever, they fall into place – and when folded they create a flat floor, level with that of the boot. And talking of the boot, it also features a handy underfloor compartment. 
All XC90 Mk2s feature a powered tailgate that can be opened and closed by waving your foot beneath the back bumper, handy when your hands are full of shopping or the tailgate is dirty. 
* Boot volumes refer to XC90 Mk2s with conventional engines – hybrid models have slightly less boot space, the plug-in hybrid T8 slightly less still.