Facelifted Volkswagen Tiguan: new Tiguan R on sale
New VW Tiguan R does 0-62mph in under five seconds and costs £45,915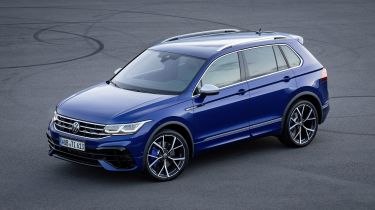 Tiguan gets Golf-inspired styling
Plug-in hybrid to join the range later
Tiguan R has 316bhp
The first-ever Volkswagen Tiguan R is now on sale, with prices starting at £45,915. It becomes the flagship model of the facelifted Tiguan range, with a powerful 2.0-litre petrol engine and chassis tweaks. The fastest Tiguan is the fourth 'R' model in the VW lineup, after the Golf R, T-Roc R and the hybrid Touareg R; an Arteon R is on the way too.
Last week, two other powerful petrol engines joined the line-up. As before, a 187bhp 2.0-litre engine is now available, alongside a 242bhp version taken from the Volkswagen Golf GTI hot hatchback. These will soon be joined by a plug-in hybrid Tiguan.
2020 Volkswagen Tiguan R
Marked out by grey mirror caps, a rear diffuser and 21-inch alloy wheels, the Tiguan R sits at the top of the range and provides a genuine performance option for the first time. It uses the same 2.0-litre petrol engine as other fast VW Group SUVs - the Cupra Ateca, Audi SQ2 and Volkswagen T-Roc R - but has 20bhp more power at 316bhp. Uprated brakes, a torque-vectoring system, a lowered dynamic chassis and a new 4MOTION all-wheel-drive system are fitted, with the latter able to portion out power to each individual wheel. Like the Cupra, a titanium Akrapovic sports exhaust is available as an option.
Accelerating from 0-62mph takes just 4.9 seconds, and the top speed is limited to 155mph. These are certainly impressive figures for a bulky family SUV, but the car's power and size also means that you'll probably see no more than 28mpg. Its price is about £5,000 more than the T-Roc R and £7,000 more than an entry-level Cupra Ateca.
The Tiguan R looks just as athletic on the inside, with sports seats, a flat-bottomed R-badged steering wheel and exclusive dashboard trim. You also get paddles to change gear yourself but the Tiguan sticks with a conventional gear lever rather than the Golf's small switch.
Standard features include Matrix LED headlights, keyless entry and start, a rear-view camera, VW's Travel Assist semi-autonomous driving function, heated front seats and a heated steering wheel.
Volkswagen Tiguan petrol engines
Both 187bhp and 242bhp engines come exclusively with four-wheel drive. Accelerating from 0-62mph takes 7.4 seconds and six seconds respectively, meaning a 242bhp Tiguan is actually faster than a Golf GTI. The trade-off is 32-34mpg fuel economy, depending on the spec and engine, and you'll see a lot less than that if you drive enthusiastically. The 187bhp engine is available on Elegance (£36,275) and R-Line (£36,140) trims; the 242bhp one is only available with R-Line, at a cost of £39,560.
Lower down the range, the new Tiguan gets a 1.5-litre petrol engine, available with 128 or 148bhp. Picking the 128bhp petrol engine with a manual gearbox limits you to base and Life trims, and it'll manage up to 44.8mpg and 0-62mph in 11 seconds. The 148bhp petrol allows you to pick an automatic gearbox, and isn't much less economical but is a second or two quicker from 0-62mph.
Diesel engines
The 148bhp diesel is familiar but here it's only available with an automatic gearbox, although you can pick all-wheel drive. You can expect 48-50mpg from front-drive cars depending on trim level, and a 9.3-second 0-62mph time, while the 197bhp engine (shared with the Golf GTD) is only available on the top specs with all-wheel drive. As a result, it's quick - 7.5 seconds to 62mph - but not particularly economical, promising up to 42mpg.
Prices, specs and release date
An unnamed base Tiguan model kicks off the range, costing £24,915. It's about £550 cheaper than the entry-level pre-facelift car, and comes with 17-inch alloy wheels, LED headlights, dusk and rain sensors and an eight-inch touchscreen with Bluetooth and DAB radio.
Next up is the Tiguan Life, which VW expects to be the best-seller. It starts at £2,000 more than the base-spec car, and brings roof rails, three-zone air con, adaptive cruise control, parking sensors and tinted windows.
Like the Volkswagen Arteon range, the Tiguan line-up now branches out into Elegance and R-Line trim levels. Elegance cars (starting from £32,430) get a long kit list, including matrix LED headlights, heated front seats, keyless entry, a digital instrument cluster, hands free tailgate, panoramic sunroof and a rear-view camera. R-Line is £300 more, and benefits from some of the same equipment and a sporty look, achieved with bigger wheels, lower suspension and a body kit.
Styling
Volkswagen has redesigned the front end of the Tiguan, which now looks more similar to the latest Golf. There's a hint of Volkswagen Touareg in the styling, too, thanks to a taller bonnet, slimmer headlights and a bigger grille. The bumpers at each end are new, and most models get an exclusive bumper design (R-Line models get bigger air intakes and four fake exhausts, for example). You'll also spot a new tail-light design and updated badging.
Interior
Like the latest Volkswagen Golf, the Tiguan's interior is now available with touch-sensitive panels for the climate control and steering wheel, replacing physical buttons. Volkswagen says these are optional extras but they may be fitted to some UK trim levels as standard. If they're available at extra cost we'd recommend avoiding them; our experience in the Golf showed that they're not as intuitive as physical buttons and are prone to noticeable fingerprint smudges.
Extra technology comes in the form of an embedded eSIM, which facilitates a range of online features through the infotainment system. Depending on spec, the new Tiguan can come with Android Auto, wireless Apple CarPlay and natural voice command recognition. A new Harman Kardon sound system, matrix LED headlights, scrolling indicators and predictive adaptive cruise control join the options list, alongside VW's Travel Assist semi-autonomous driving tech, which combines the cruise control and the lane-keeping assist.
Volkswagen Tiguan eHybrid plug-in hybrid
Alongside the Tiguan R, a plug-in hybrid model joins the lineup. A 31-mile range is promised from the battery and the hybrid will always start in electric mode if there's enough charge. Different driving modes change how the car uses its petrol engine and electric motor. With 242bhp and the two parts of the powertrain able to work together, the Tiguan hybrid should offer brisk acceleration when required.
It's the same powertrain as you'll find in the Volkswagen Passat GTE and Volkswagen Golf GTE, plus the new Cupra Leon and Skoda Octavia vRS. When it reaches the UK, the Tiguan eHybrid may be rebadged as the Tiguan GTE.
What does it mean for car buyers?
Volkswagen says the Tiguan is Europe's best-selling SUV and the facelift brings smarter styling and more choice - so it should widen the car's appeal even further. But the extra technology has pushed the Tiguan's price up (it's already more expensive than many rivals), and neither the fast R or the potentially eco-friendly plug-in hybrid will be priced as entry-level models. The Tiguan R will be expensive to run, too, and it remains to be seen how much different it will be from the Cupra or the smaller T-Roc R.
Read more in our Volkswagen Tiguan review, or see where it places on our list of best family SUVs.