New 197bhp Volkswagen Golf GTD now on sale
The eighth-generation 2020 VW Golf GTD features the most powerful diesel engine in the model's history
Prices start from £32,790
New GTD will only be available with a seven-speed DSG gearbox
Features an all-new digital cockpit as one of two dashboard-mounted screens
The new 2020 Volkswagen Golf GTD is now available to order for a starting price of £32,790. It's the most powerful and efficient GTD yet, and packs all the Golf's latest technology.
Diesel hot hatchbacks aren't as common as petrol versions but both the Ford Focus ST and Skoda Octavia vRS are offered with powerful diesel engines, and you might also want to consider the BMW 1 Series 120d and Mercedes A-Class A 220 d.
Engines, fuel economy, performance and emissions
The new GTD is powered by a turbocharged 2.0-litre TDI diesel engine producing 197bhp (a 15bhp increase over the old car), making it the most powerful diesel engine ever fitted to a production Golf. Power is sent to the front wheels via a seven-speed dual-clutch (DSG) automatic gearbox as standard. The Mk8 GTD is the first to be offered without the choice of a manual gearbox.
With a slight rise in performance comes a quicker 0-62mph time, down from 7.4 to 7.1 seconds, and a top speed of 152mph. As a result, it's only half a second slower from 0-62mph than the petrol-powered Golf GTI but promises up to 54.3mpg (about 15-20mpg more than the GTI) when driven more sedately.
VW says the new Golf GTD is the most efficient ever made, with the lowest emissions in the model's history. It uses 'Selective Catalytic Reduction' (SCR) technology, which is also used in the TDI versions of the latest Volkswagen Passat. Referred to as 'twin dosing,' this system uses AdBlue (an additive used to reduce harmful diesel emissions), which is sent directly into a pair of catalytic converters mounted in the exhaust system, helping to reduce the car's NOx emissions compared with the old model.
Three core driving modes are available, called 'Eco,' 'Comfort,' and 'Sport'. Switching between these sharpens the car's steering and throttle response, and drivers can customise the car's setup with a fourth 'Individual' mode. Optional adaptive suspension is also available as part of VW's 'Dynamic Chassis Control' system.
Styling
Similar to the new Golf GTI, the GTD gets a sportier looking bodykit with a more aggressively styled front bumper. LED headlights and daytime running lights are standard, with an optional LED light bar that spans the width of the front grille. The lower section of the nose sports a honeycomb grille and x-shaped LED fog lights.
Elsewhere, the car gets 18-inch alloy wheels as standard with larger designs on the options list. Silver and black contrasting bodywork accents also feature, with 'GTD' badges located on the front wings and the centre of the tailgate. The rear of the car gets a restyled bumper and diffuser, with a twin exhaust located on the left side.
Interior and technology
Full UK specifications have yet to be confirmed, but it's likely the new Golf GTD will have a 10.25-inch digital instrument cluster and 10-inch infotainment touchscreen system including VW's 'Discover Pro' sat nav as standard. Connectivity tech is borrowed straight from the standard Mk8 Golf, including Apple CarPlay and Android Auto, and Car2X networking functionality that communicates with other cars nearby to help you avoid traffic jams.
As with previous versions, the GTD gets front sports seats trimmed in black and grey upholstery. A flat-bottomed multifunction sports steering wheel is also fitted, featuring touch controls along with ambient interior lighting.
Safety technology and driver assistance
The GTD gets lane keep assist and autonomous emergency braking (AEB) with pedestrian detection, which is capable of automatically bringing the car to a halt if a hazard is detected.
The car also features VW's 'Travel Assist,' which essentially combines the lane assist function with adaptive cruise control so that the car can drive itself with minimal driver input on the motorway.
Practicality
At launch, only a five-door version of the GTD will be available. It's more practical than the old car, with increased dimensions making it more spacious inside. VW has not confirmed the size of the boot but it should have the same 380 litres of space as the standard Golf hatchback.
A new Volkswagen Golf estate has now been revealed, leaving the introduction of an estate version of the Mk8 Golf GTD as a possibility at a later date.
Prices, specifications and release date
The new GTD arrives with a cheaper price than the GTI - £32,790 for the GTD versus £33,460 for a manual GTI, and opting for the automatic gearbox on the GTI further increases the price by £1,500. Volkswagen has confirmed that keyless entry, three-zone climate control and a heated steering wheel all feature, although we're yet to see a full equipment list. Meanwhile, a fast range-topper in the shape of the Golf R will be revealed in November.
Want to know more about the Mk8 Volkswagen Golf? Read out in-depth drive review for everything you need to know.
The UK's top 10 best-selling cars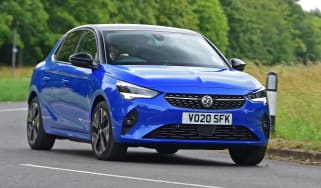 The UK's top 10 best-selling cars
2020 Volkswagen Golf GTI: prices, specs, and release date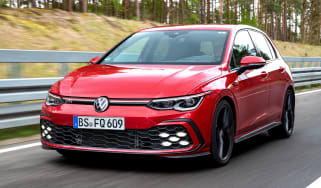 2020 Volkswagen Golf GTI: prices, specs, and release date
Ford EcoBoost engines: what are they and should you buy one?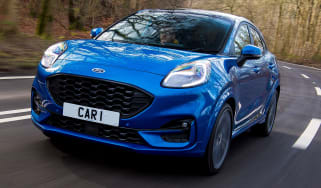 Ford EcoBoost engines: what are they and should you buy one?
Refreshed 2020 Land Rover Discovery breaks cover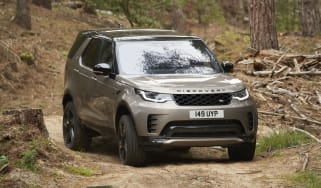 Refreshed 2020 Land Rover Discovery breaks cover
What is ESP on a car?