Abarth 595 hatchback review
"The Abarth 595 is a sporty hatchback based on the Fiat 500 that is characterful and fun to drive"
Pros
Plenty of character
Sporty looks
Reasonable running costs
Cons
Ride is very firm
MINI Cooper S is a better all-rounder
Top-spec model is expensive
The Abarth 595 is a hot hatchback based on the dinky Fiat 500. Using that car's basic shape, Abarth has added a muscular bodykit, sporty alloy wheels and a turbocharged 1.4-litre petrol engine with an extra dose of power that increases as you move up the range.
The latest 595 is essentially a facelifted Abarth 500 and reflects the changes Fiat made to the standard car. The Abarth now boasts the latest Uconnect infotainment system and a flat-bottomed steering wheel, as well as some styling tweaks inside and out. Abarth tends to update the 595 and 695 range (695 versions are the most powerful) regularly, and launches special editions almost as often as Fiat does with the regular 500.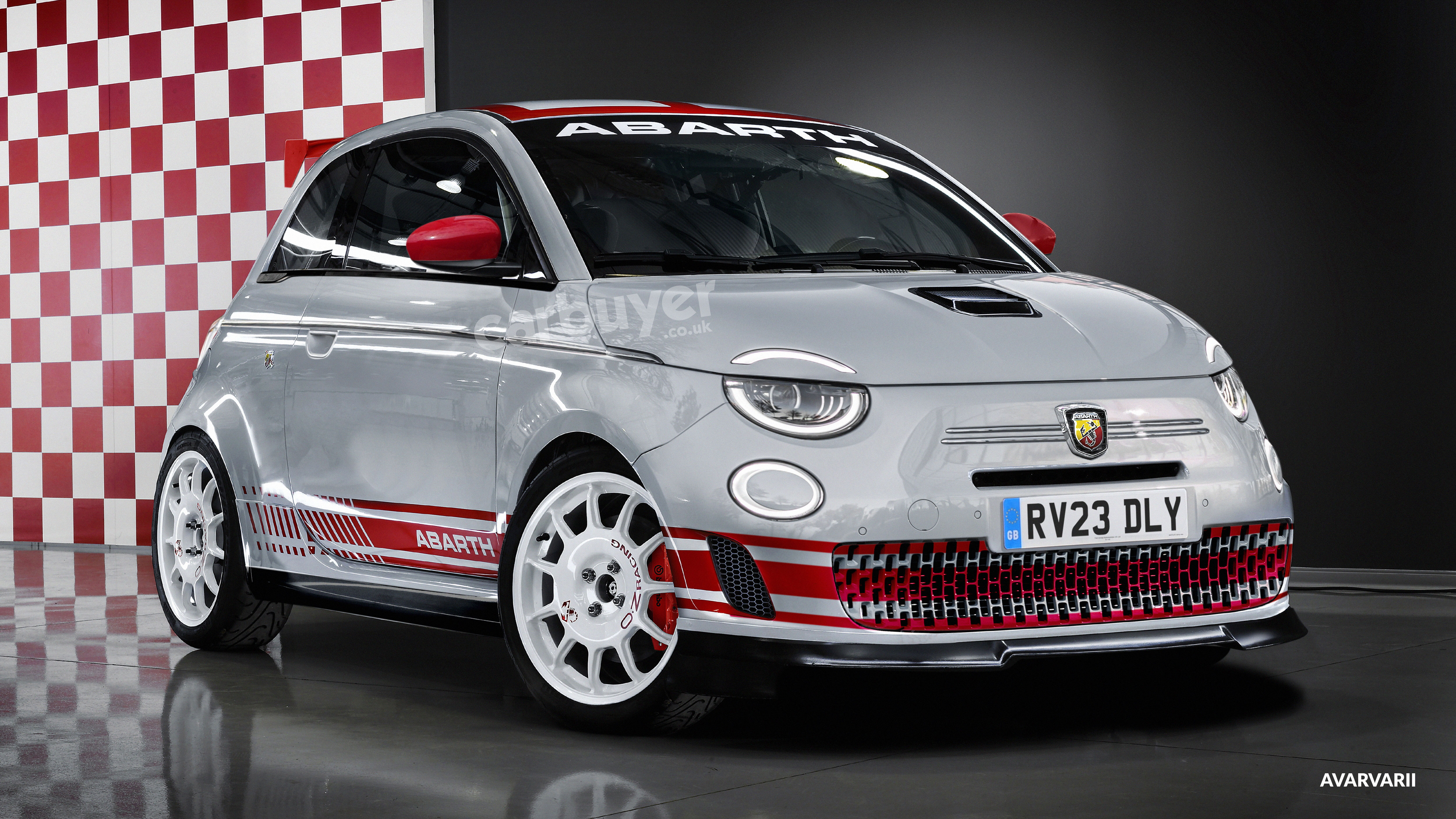 Next Abarth 500 will be an electric hot hatch
The 595 and 695 line-up looks a little complicated, although it was made somewhat simpler in March 2022. Before then, a 143bhp version opened the range, but this has now been dropped. It means that all 595 versions get 163bhp, while every Abarth 695 gets a 15bhp power boost on top of that.
Trim levels currently consist of base 595 and 695 models, then Turismo and F595 or Competizione models. As you go up the range, go-faster bits like a sports exhaust system, uprated brakes and carbon-backed seats are fitted. Notable previous models include the Esseesse and 2019's 695 70th Anniversario model, complete with a huge adjustable rear spoiler.
Thanks to the 595's relatively low weight, economy isn't unreasonably bad for a car focused on driving thrills, but practicality is naturally hampered by the 595's city-car dimensions. All models in the range have firm suspension, particularly the Esseesse, so poorly surfaced roads can get quite uncomfortable.
More reviews
In-depth reviews
Overall, however, the 595 is lots of fun to drive and that'll be the number-one priority for most people considering buying one. It feels nimble and sharp in corners, the engine sounds great and its small size and low weight helps on narrow, twisty roads. While some hot hatchbacks are better all-rounders than the Abarth 595 (the MINI Cooper S, Ford Fiesta ST and Hyundai i20 N are all objectively better cars), few have as much raw character.
MPG, running costs & CO2
The Abarth 595 petrol engine is relatively small and turbocharging helps efficiency
The Abarth comes in multiple different power outputs, but because they all use the same turbocharged 1.4-litre petrol engine (tweaked to provide more or less power), Abarth claims roughly the same efficiency figures for all models in the range. Economy stands at between 39.2mpg and 42.2mpg with CO2 emissions of 152-163g/km. Road tax costs the standard rate per year across the board. The Abarth's high-spec parts will be more costly to replace than equivalent parts on the regular 500.
Engines, drive & performance
The 595 is quick and has sharp, accurate steering
There are currently six models to choose from, and each one can be specified as a hatchback or as the Abarth 595C convertible that features a full length sliding fabric roof. The standard 595 used to come with 143bhp and a 0-62mph time of 7.8 seconds, but the base model now gets the 163bhp engine fitted to Turismo and F595 models. All three versions of the Abarth 695 (base, Turismo and Competizione for 2022) have 178bhp and are intended to be the most hardcore versions. 163bhp versions take 7.3 seconds to hit 0-62mph and the 695 versions do it in 6.7 seconds.
The Competizione has firmer suspension than the other three models in the range thanks to stiffer Koni shock absorbers. This firmness and the car's accurate steering and slick gearbox mean it can change direction with great speed and balance. There's also a limited-slip differential to improve traction, lifted from the hardcore and limited-run Abarth 695 Biposto, along with Sabelt bucket seats and Brembo brakes to ensure you have plenty of stopping power.
All 695s and the range-topping 595 also come with the sporty and rorty 'Record Monza' exhaust, which adds another layer of pleasure to the 595 driving experience. From late 2018, owners can also press a Sport button to make the exhaust quieter or even louder, while also adjusting the engine's power delivery and steering feel.
There's no escaping that the firm ride makes the car pretty uncomfortable after a while, but on the right road the high-spec versions are seriously quick and a pleasure to drive.
Interior & comfort
The interior is pleasant but the suspension is very firm, particularly on the range-topping model
Every Abarth 595 now comes with Fiat's seven-inch Uconnect infotainment screen with Live services as standard. It's not class-leading but it works well enough and is compatible with Apple CarPlay and Android Auto, as well as having DAB radio. It also features Abarth Telemetry, which can monitor your lap times around pre-loaded racing circuits. Sporty bucket seats on top models look great and are surprisingly comfortable, too, but overall the seating position – as it did in the previous version – feels a little too high, as if you're standing above the pedals. There's no reach adjustment for the steering wheel either.
All 595s feel very firm, and this can make it an uncomfortable car on all but the smoothest roads. Similarly, the noisy, almost raucous, exhaust note is lots of fun when you're in the mood, but it can get a bit tiring when you're taking things more leisurely. At least the Record Monza exhaust can be made quieter if you turn off Sport mode.
Practicality & boot space
The 595 is a small car with little boot space
The 595 is a small, three-door hatchback, so inevitably practicality isn't its strong suit. Getting in the back isn't a hugely comfortable experience and there's only room for two people once there – although rear-seat passengers do have a relatively decent amount of legroom, even with tall people sitting in the front.
Boot space is pretty tight at 185 litres, however the rear seats fold down to create a 550-litre space if you really need some extra room. A MINI has slightly more space, plus its boot is easier to use; the shape of the 595 means the boot lip is relatively high and the opening is quite narrow.
Reliability & safety
Fiat has a poor reputation for reliability
Fiat has historically had a reputation for making unreliable cars, which doesn't bode particularly well for Abarth, as the 595 and 695 are based on the Fiat 500. Neither the 595 nor 695 sell in sufficient numbers to make it into our Driver Power customer satisfaction survey, but the Fiat 500 came 67th out of the top 75 cars in 2021. Fiat as a brand finished a lacklustre 26th out of 29 manufacturers, although a slightly lower-than-average proportion of owners reported a fault in the first year of ownership (13.2%).
While the Abarth 595 hasn't been crash-tested, the Fiat 500 it's based on first received five stars from Euro NCAP in 2007, but could only manage three after updates and a re-test in 2017. While fitted with anti-lock brakes and airbags, the Abarth misses out on some of the latest safety kit like autonomous emergency braking.