Most stolen cars of 2020 revealed
Over 3,000 Ford Fiestas were pinched in 2020; we list the UK's most stolen cars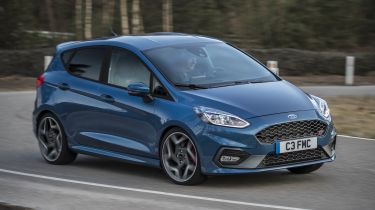 New figures show that more Ford Fiesta models were stolen last year than any other car, which is perhaps not a major shock given just how many there are on British roads. According to DVLA statistics, 3,392 Fiestas were taken without consent; around 50,000 were sold last year and it's been Britain's most popular car for the last few years.
Worryingly, almost 20,000 more cases of car theft were reported in 2020 than the previous year, with the DVLA recording 74,769 stolen vehicles. That works out at more than 200 thefts a day nationwide.
The second most-stolen car was the Range Rover, with 2,881 examples ending up in the wrong hands. Third and fourth, meanwhile, went to the Volkswagen Golf and Ford Focus, two other big sellers.
The Office for National Statistics (ONS) reports that over a third of cases involved cars with keyless entry. If the key is within range, its signal can be easily copied and used to open and start the car, even if no physical fob is present. To combat keyless car theft, you should consider buying a Faraday pouch to store your keys in when you're not using them.
A further 24% of thefts happened as a result of keys being taken. You should hide keys out of sight and away from windows, while parking in illuminated areas may also help reduce the chance of your car being stolen, as 80% of vehicle thefts happen at night.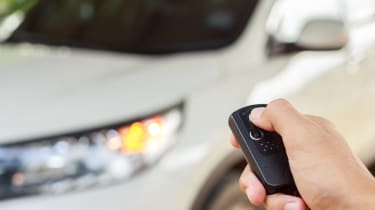 Most stolen cars in the UK in 2020
Police issued advice includes:
Don't leave your car keys on view or placed near windows, doors, or cat-flaps where thieves can see them.
Don't leave valuables on display. Move handbags, wallets or other valuables out of sight.
Ensure you lock all doors and windows, even when you are at home.
Look like you are in when you are out. If no one is home during the evening, leave a light on or a radio playing. Consider using a timing device.
Don't help the thief. Lock away tools, ladders or other implements outside that thieves could use to gain entry to your home or garage.
Fit outside security lighting and an alarm, and ensure they are in working order. Don't forget to turn them on when you are out and when you go to bed.
Remember to lock all gates, sheds and garage doors.
Always lock your car and fit a tracking device if finances allow. Trackers give a much better chance of your car being found. Consider using other devices such as steering locks or wheel clamps.
If you don't have a garage, consider fitting sturdy gates to your driveway or always use your garage if you have one, and never leave your car keys in your car.