MG ZS EV SUV - Range, charging & running costs
​​Not only is the MG ZS EV cheap to run, it also undercuts most rivals on price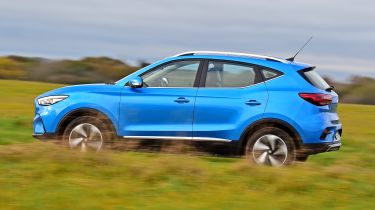 As is often the case with facelifted cars, prices have risen slightly. The fact remains that the MG ZS EV is hard to ignore if you're looking for a practical electric car with a decent range that doesn't cost the earth. From January 2022, MG introduced a smaller battery option, which is cheaper to buy than the Long Range model.
MG ZS EV range and charging
We were satisfied with the 44.5kWh battery fitted in the outgoing ZS EV and so were many customers but MG hasn't rested on its laurels. While the old car could do 163 miles on a charge, the new 51kWh battery officially manages up to a 198 miles of range in perfect conditions. MG says that you could achieve even more than that if you drive mainly in town, where the stop-start driving can channel extra charge to the battery via the car's regenerative braking system.
The Long Range version officially manages 273 miles - and 250 should be achievable in real-world conditions. It has a higher capacity, 72.6kWh battery but it doesn't take up any more space and is only 10kg heavier.
When its batteries are low, the ZS EV is compatible with charging at up to 76kW, so it can be charged from flat to 80% in around 42 minutes at public rapid charging stations. A 50kW charger will take just over an hour. However, the CCS/Type 2 charging port is located behind a flap in the front grille, so if you like reversing into spaces you'll be out of luck here. There are no Renault ZOE-style battery leasing costs and a home charging unit is also included for free, adding up to a great value package. A full recharge on a 7kW home wallbox takes 10.5 hours and should only cost a few pounds with a competitive energy tariff.
Like all electric cars, VED (road tax) costs nothing, and company-car drivers will like the ZS EV's minimal Benefit-in-Kind (BiK) tax liability too. Should you wish to take your ZS EV into London, it's exempt from the ULEZ and the Congestion Charge.
Insurance groups
The new MG ZS EV sits in group 28 out of 50, regardless of which trim level you pick. It means insurance will be more expensive than for the petrol ZS, which starts in group 15. The Hyundai Kona Electric, meanwhile, occupies group 20 for the lower-range model, and the Peugeot e-2008 has a group 25 rating.
Warranty
MG's seven-year/80,000-mile warranty is very generous. Many of its rivals, including the Peugeot e-2008, come with a three-year warranty, while the Renault ZOE and Hyundai Kona Electric are covered for five years. Kia's warranty package for the e-Niro is just as long as the MG's but covers up to 100,000 miles in that time. MG provides a guarantee against the battery dropping below 70% capacity.
Servicing
Servicing costs should be lower than petrol models, as MG says maintaining electric cars is "easier and less expensive".