Best new cars for 2019 - which new models arrived last year?
What were the best new cars of 2019? Our list includes the new models from last year, including SUVs, superminis, EVs and more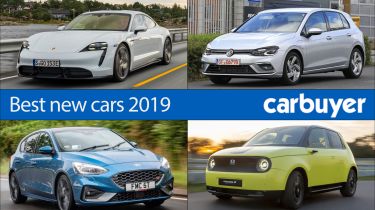 A common decision faced by many car buyers is when to buy a new car; should you buy a car when it's about to be replaced or hold out until a new model arrives? If you'd rather have the latest model, this list is for you - all these cars went on sale in 2019 and still feel brand new.
A new model may have better technology and more features than the car it replaced, and tends to come with updated styling and increased practicality. For many people, this is more important than potentially scoring a discount on a model that's about to be withdrawn. Of course, some models on this list have no direct predecessor - the Audi A1 Citycarver is unlike anything that has come before.
Our exhaustive list will help you make the right decision on which new car you should pick in 2020. We've set all the cars out by class, so you can easily compare all of the new models in each area of the market.
The key new cars launched in 2019
There were lots of new cars introduced in 2019 but some will be more significant to UK car buyers than others. Below we've picked out the models that are likely to be the biggest sellers and you can jump directly to the entry on each car by clicking the link. Otherwise, simply scroll down to see all of the cars revealed ordered by class…
Read on for a guide to the new cars that arrived in 2019.
Page 1 - Superminis and city cars, family hatchbacks, small SUVs
Page 2 - Family SUVs, premium cars, saloons and estates
Page 3 - Electric and hybrid cars, performance cars
Superminis and small cars launched in 2019
Audi A1 Citycarver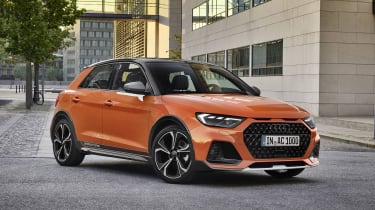 Price: £22,040 - £24,605
The Audi A1 Citycarver is a more rugged-looking version of the standard A1 Sportback that rivals the Ford Fiesta Active and small SUVs such as the Volkswagen T-Cross. Changes over the standard A1 include an extra two inches of ground clearance, larger alloy wheels and plastic cladding. The 115bhp 1.0-litre petrol engine (badged 30 TFSI) is currently the only choice, but we expect the A1 Citycarver to get at least two other petrol engines available in the current A1 range.
Read our review of the Audi A1 Citycarver.
Peugeot 208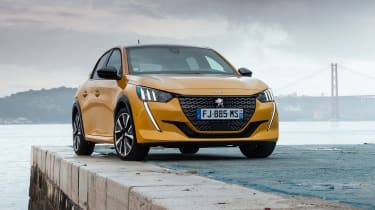 Price: £16,250 - £23,350
The new Peugeot 208 is one of the company's most important cars and there are electrified models for the first time. The new 208 features some of the styling touches already seen on Peugeot's SUVs and was one of the most striking small cars released in 2019.
Read our review of the new Peugeot 208, and pure-electric Peugeot e-208 here.
Renault Clio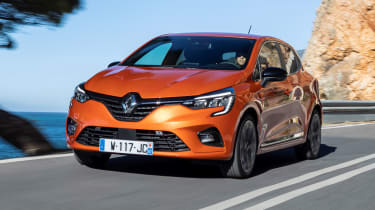 Price: £14,695 - £20,795
The new Renault Clio features all-new new styling and a host of interior changes compared with the previous model. It's one of the most technologically advanced small cars, with a digital dial cluster, a large, crisp touchscreen and other cutting-edge features. The interior is a vast improvement over the old model, with soft-touch materials and stylish 'piano key' climate-control buttons.
Read our review of the 2019 Renault Clio here.
Vauxhall Corsa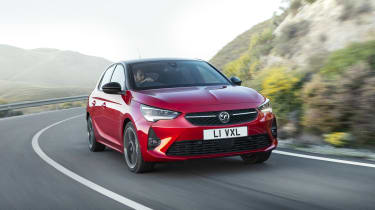 Price: from £15,550
The all-new Vauxhall Corsa has been revealed and is available with a pair of petrol engines and a single diesel engine - all promising greater efficiency than the engines in the old model. An all-electric Corsa-e variant is also available with a claimed driving range of 205 miles. The new Corsa is more spacious than before, thanks to a larger wheelbase (the distance between the front and rear wheels). The chassis is also new and much lighter - the lightest model with a four-cylinder petrol engine weighs just 980kg.
Read our review of the new Vauxhall Corsa here.
Family hatchbacks launched in 2019
BMW 1 Series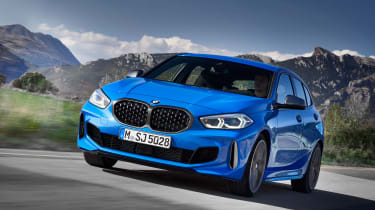 Price: £24,430 - £36,430
The new BMW 1 Series is very different to the previous model. It's front-wheel drive for the first time, with M Performance versions adopting four-wheel drive, while the styling changes turn it into a mini-BMW 5 Series. It feels like that inside too, with plenty of premium touches and some of the very latest safety and connectivity technology.
Read our review of the BMW 1 Series here.
Skoda Scala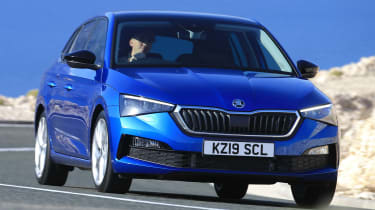 Price: £16,940 - £23,885
Replacing the Skoda Rapid, the Scala sits below the Golf-based Skoda Octavia and is actually based on the Volkswagen Polo. Despite that, it's large enough for a family and comes with a range of punchy yet economical engines that are used elsewhere in the VW Group range. Safety is a top priority; lane-keeping assist, rear traffic alert and more are available as standard.
Read our review of the new Skoda Scala here.
Toyota Corolla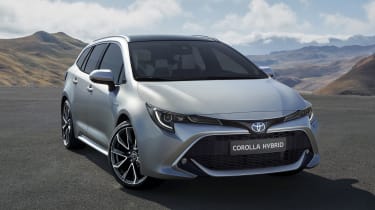 Price: £24,140 - £29,955
Toyota's latest crack at the Corolla hatchback is by far its best yet. It feels upmarket and elegant, and is available with a selection of economical and refined hybrid engines. Even the entry-level trim gets goodies such as a reversing camera, LED headlights and an eight-inch touchscreen, and all come with Toyota's five-year, 100,000-mile warranty. The company has just broadened the range with GR Sport and rugged Trek models, while Corolla saloon and Touring Sports estate body styles are also available.
Read our review of the new Toyota Corolla here.
Vauxhall Astra
Price: £18,885 - £29,290
The facelifted 2019 Vauxhall Astra has arrived with a subtle new design and active aerodynamics that make it one of the most aero-efficient cars you can buy. It can only be specified with a new range of petrol and diesel engines, and gets a host of new tech and a revised interior.
Read our review of the Vauxhall Astra here.
Small SUVs launched in 2019
DS 3 Crossback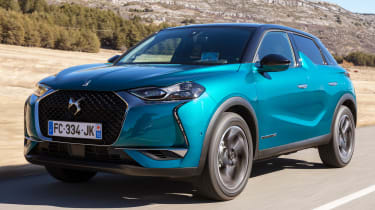 Price: £22,120 - £33,020
The DS 3 Crossback looks to bring some French style to the small SUV class, and it's on sale now. The interior borrows upmarket elements from its big brother, the DS 7 Crossback, while the exterior offers different styling from many alternatives. You can also choose an electric E-Tense electric version with almost 200 miles of range, alongside the conventional petrol and diesel variants.
Read our review of the new DS 3 Crossback here.
Ford Puma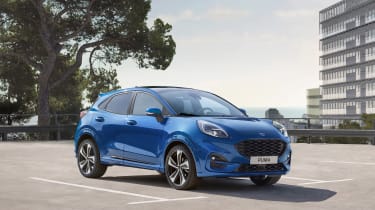 Price: £20,545 - £27,345
After a 17-year hiatus, the Ford Puma is back. This time around though, it's a small SUV based on the best-selling Fiesta hatchback. This new model will sit between the EcoSport and Kuga in Ford's model lineup and comes with mild-hybrid tech, smart interior design, and a sporty looking profile. A plug-in hybrid is due in 2020.
Read more about the new Ford Puma here.
Nissan Juke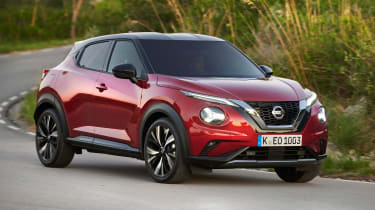 Price: £17,395 - £25,395
In many ways the Nissan Juke is the original small SUV, and after nearly a decade a new version has arrived. It gets an all-new design, shares its underpinnings with the new Renault Clio, and is bigger than the outgoing model with improved cabin and boot space. Inside, the all-new interior design gets dual infotainment screens on the higher trim level models, along with an array of driver aids including automatic emergency braking. New petrol engines include a three-cylinder 1.0-litre unit, with larger engines and a possible plug-in hybrid model expected to arrive in 2020.
Read our review of the new Nissan Juke here.
Renault Captur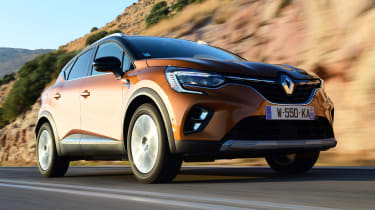 Price: £17,595 - £25,145
The all-new Renault Captur was revealed in 2019. The new car is larger with more interior and boot space, as well as an array of new tech, including a plug-in hybrid model. It sits on a new platform that's shared with the Clio hatchback, making it lighter with improved handling and refinement. The plug-in E-Tech model can cover a claimed 28 miles on electric power, and will be offered alongside a new range of petrol and diesel engines. Inside, the new Captur borrows its interior design from the new Clio, with a large infotainment screen and a digital dash.
Read our review of the Renault Captur here.
Volkswagen T-Cross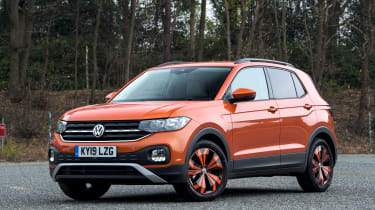 Price: £17,395 - £27,455
The T-Cross is VW's fourth SUV. Roughly Volkswagen Polo-sized, it's the smallest SUV the company sells but still offers enough room for two adults sat behind each other, and will offer a boot slightly larger than the current Volkswagen Golf. The classy interior is taken straight from the Polo, but you can choose coloured accents to jazz it up.
Read our review of the new VW T-Cross here.
Page 1 - Superminis and city cars, family hatchbacks, small SUVs
Page 2 - Family SUVs, premium cars, saloons and estates
Cupra Formentor SUV review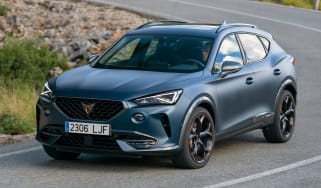 Cupra Formentor SUV review
2020 Volkswagen ID.3 hatchback: base model starts at under £30k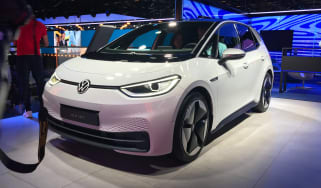 2020 Volkswagen ID.3 hatchback: base model starts at under £30k
Audi Q8 gains plug-in hybrid versions with 28-mile electric range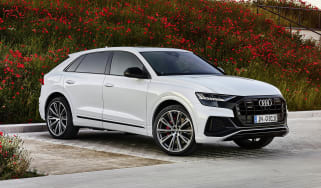 Audi Q8 gains plug-in hybrid versions with 28-mile electric range