Best new cars for 2019 - which new models arrived last year?
What were the best new cars of 2019? Our list includes the new models from last year, including SUVs, superminis, EVs and more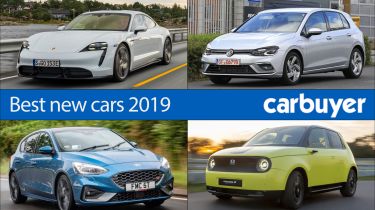 Page 1 - Superminis and city cars, family hatchbacks, small SUVs
Page 2 - Family SUVs, premium cars, saloons and estates
Page 3 - Electric and hybrid cars, performance cars
Family SUVs on sale in 2019
BMW X1 facelift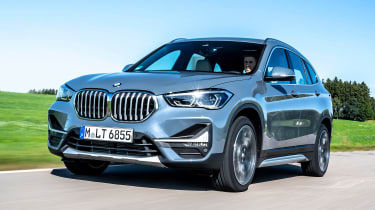 Price: £28,795 to £38,145
The facelifted BMW X1 has been revealed with a subtle exterior styling update, and the addition of the M Sport Plus pack. Alongside a choice of conventional petrol and diesel engine options, a plug-in hybrid version is scheduled to arrive early in 2020. The facelifted X1 will be seeking to rival recent models such as the Range Rover Evoque and the Audi Q2.
Read our review of the new BMW X1 here.
Ford Kuga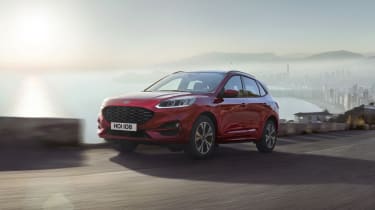 Price: £23,995 - £37,795
Ford officially revealed the new Kuga in 2019, and it's styled to more closely resemble the larger Ford Edge and Puma. Alongside traditional petrol and diesel engines, the Kuga will be available as a plug-in hybrid capable of 34 miles of electric range and 235mpg when using a mix of petrol and electric. The new car should shake up the family SUV market, as the previous one was outclassed by too many rivals.
Read more about the 2019 Ford Kuga here.
Kia XCeed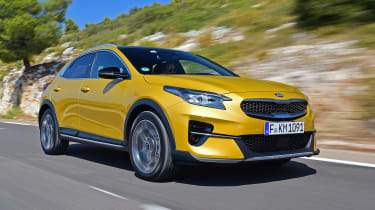 Price: £20,795 - £29,195
The Kia XCeed is the final piece of the Kia Ceed jigsaw, which also includes two estate models - the SW and Proceed. Priced from £20,795, the new model is dubbed a 'crossover utility vehicle' (CUV) by Kia, sitting higher and featuring more interior space than the Ceed hatchback. It's front-wheel drive with a range of petrol and diesel engines made available when it was launched. A plug-in hybrid version is due in 2020.
Read our review of the Kia XCeed here.
Lexus UX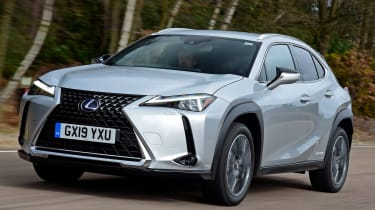 Price: £29,905 - £40,335
Aiming for a slice of the small SUV pie, Lexus finally released the UX crossover. It's positioned at the premium end of the class, hence the high price, but you do get a classy interior and a good driving experience. Hybrid is the only option, which will appeal to company-car drivers and buyers moving away from diesel.
Read our review of the Lexus UX here.
Mazda CX-30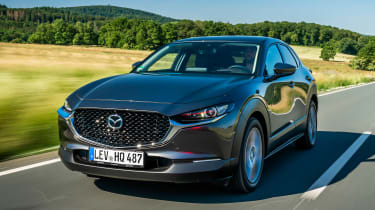 Price: £22,895 - £33,495
The third SUV in Mazda's lineup, the CX-30, sits between the CX-3 and CX-5 models. It rivals the Ford Kuga and Skoda Karoq. At launch, buyers can pick from a single petrol engine with mild-hybrid tech, or one diesel. A new SkyActiv-X petrol engine can be paired with four-wheel drive and promises fuel economy on par with a diesel engine.
Read our full review of the Mazda CX-30.
MG HS
Price: £17,995 - £24,495
The MG HS is a new flagship SUV that replaces the discontinued GS model. Although it's a little more expensive than the GS, the HS offers plenty more equipment. Self-driving technology is available on top-spec models in the form of lane-keeping assist and adaptive cruise control. There's also a panoramic sunroof and a Bose audio system.
Read our review of the MG HS here.
Mercedes GLB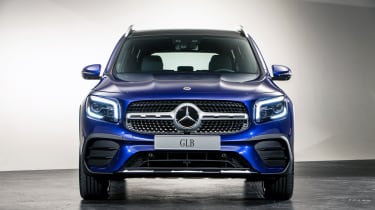 Price: £34,200 - £48,665
Mercedes launched its new SUV, the GLB, in 2019. It sits between the Mercedes GLA and the GLC but is more practical with the option of seven seats. It is based on the same underpinnings as the A-Class hatchback and can be specced with a range of 2.0-litre engines, and Mercedes' 4MATIC all-wheel-drive for higher spec models. A more powerful AMG-GLB 35 variant sits at the top of the range.
Read our review of the Mercedes GLB here.
SsangYong Korando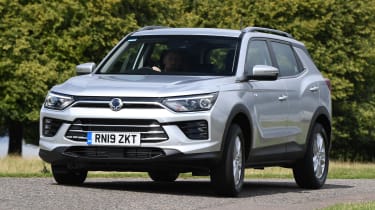 Price: £19,995 - £31,995
The SsangYong Korando may not be the first SUV that comes to mind but it promises reliable family transport and a long warranty for a reasonable price. SsangYong has revealed the smart styling of the new model and an electric version will be launched in 2022. The manufacturer is aiming to increase its brand recognition in the UK with three new or facelifted SUVs in the next two years.
Read our review of the SsangYong Korando here.
Premium cars launched in 2019
Aston Martin DBX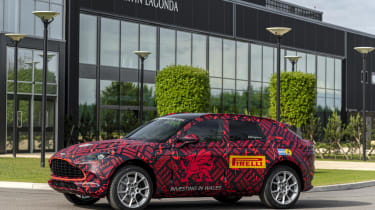 Price: £158,000
Aston Martin has taken the wraps off its first SUV, which is an alternative to the Lamborghini Urus and Bentley Bentayga. It uses a bespoke platform (so Aston Martin will hope to sell the DBX in large numbers), but brings Vantage-style design touches to an SUV body shell. A 4.0-litre V8 is used, while a hybrid model will arrive later.
Read more about the new Aston Martin DBX here.
Bentley Bentayga Speed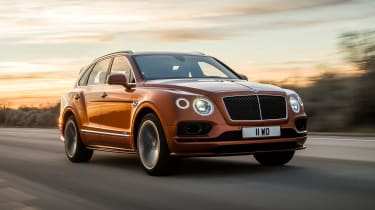 Price: ~ £200,000
The Bentley Bentayga Speed is the world's fastest SUV, but only by a hair's breadth over the Lamborghini Urus. It'll hit 190mph and will get from 0-62mph in under four seconds. Power is up to 626bhp, while the Bentayga Speed features 22-inch alloy wheels and a hot hatch-like rear spoiler. It made its public debut at the Geneva Motor Show.
Read our review of the Bentley Bentayga here.
Bentley Flying Spur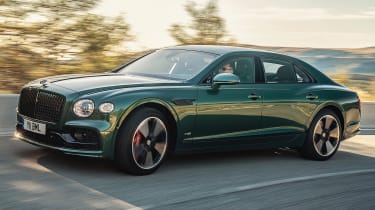 Price: ~ £150,000
The latest iteration of the Bentley Flying Spur has arrived. It boasts new styling, taking styling cues from the Continental GT. Under the bonnet is a 6.0-litre 12-cylinder engine, producing 626bhp. Adaptive four-wheel drive is also standard, sending up to 100% of the power to the rear wheels.
Read our review of the Bentley Flying Spur here.
BMW X6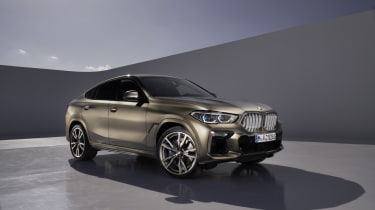 Price: £60,790 - £74,335
The latest BMW X6 is now on sale. At first glance, the new model looks similar to the outgoing car. Like the two previous generations, the roof and rear windscreen sweeps down sharply. The front and rear ends are still tall and blocky but there are new bumpers and lights. The reshaped 'kidney' grilles at the front are also illuminated, making the X6 the first BMW model to receive this feature.
Read our review of the BMW X6 here.
BMW 8 Series Gran Coupe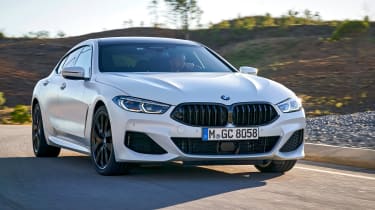 Price: £69,340 - £97,720
BMW's flagship 8 Series coupe is now available as a four-door Gran Coupe. It is slightly more practical and spacious with seating for five passengers, and features the same engine range as the two-door coupe - including a twin-turbocharged V8 petrol engine. The interior features a crisp digital instrument cluster and a large touchscreen, with plenty of premium materials throughout. If you want one, the base model starts from £69,340.
Read our review of the BMW 8 Series Gran Coupe here.
BMW X7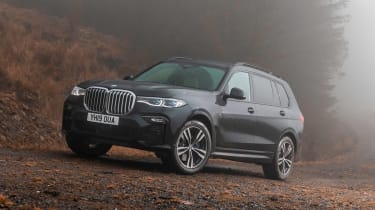 Price: £72,315 - £87,400
BMW's new flagship SUV is now available to order. The X7 is a seven-seater with slim headlights, a massive grille and bulky proportions. It'll take on the Mercedes GLS and Range Rover in the luxury stakes, and features a suitably opulent interior full of premium materials and the latest technology.
Read our review of the new BMW X7 here.
Mercedes GLS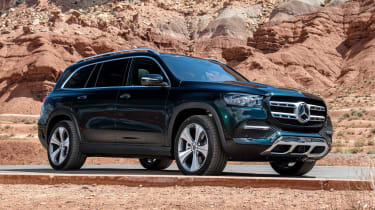 Price: £82,755 - £91,005
Mercedes has pulled the wraps off its latest seven-seat SUV. The new version of the GLS promises S-Class levels of luxury, with nice touches such as heated outer rear seats and five-zone climate control as standard, as well as seating for seven. Backseat passengers can also control some of the car's functions from a tablet.
Read our review of the new Mercedes GLS here.
Porsche Cayenne Coupe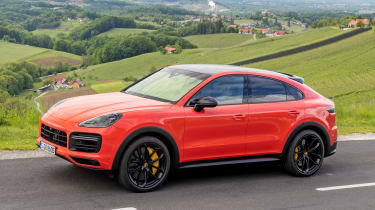 Price: £62,169 - £104,729
Porsche has revealed a coupe version of the Cayenne SUV. As is the case with cars such as the Audi Q8, BMW X6 and Mercedes GLE Coupe, practicality will take a slight hit to make way for a stylish coupe shape. Expect the Coupe to feature all the same engines as the regular Porsche Cayenne, including a powerful hybrid version.
Read our review of the Porsche Cayenne Coupe here.
Porsche Cayenne Turbo S E-Hybrid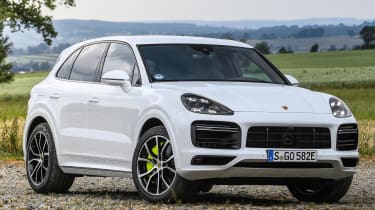 Price: from £123,349
The new range-topping Porsche Cayenne Turbo S E-Hybrid has arrived, boasting a colossal 671bhp from its hybrid electric powertrain. It will be available in both traditional SUV and coupe-SUV body styles, and outguns the rival Lamborghini Urus by 45bhp. Electric driving range is up to 25 miles, and fuel economy is 52.3mpg with a CO2 emissions figure of 90g/km.
Read more about the Porsche Cayenne Turbo S E-Hybrid here, or why not check out our prototype drive review here.
Range Rover Evoque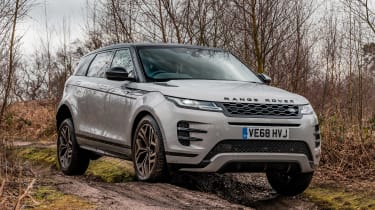 Price: £31,295 - £51,065
The new Range Rover Evoque might look very similar to the outgoing model, but changes underneath are far more noticeable. Land Rover says 90% of its components are new, while most versions now use mild-hybrid technology to reduce fuel consumption and carbon dioxide emissions. There's plenty of new technology available, including a 'ClearSight' rear view mirror that essentially hides the passengers or luggage behind you for a clear view.
Read our review of the new Range Rover Evoque here.
Saloons and estates launched in 2019
BMW 3 Series Touring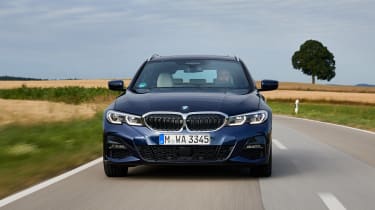 Price: £35,235 - £48,765
The new BMW 3 Series Touring has arrived. It has more power and more boot space than the outgoing model, and all of the new tech from the 3 Series saloon. BMW says it is more focused and better to drive too, and confirmed that a UK exclusive M Sport plus trim level will also be available.
Read our review of the BMW 3 Series Touring here.
Mercedes A-Class saloon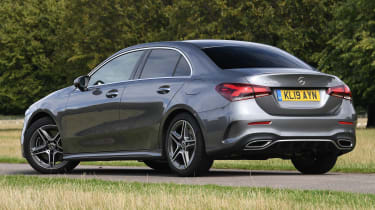 Price: £25,805 - £44,615
The latest Mercedes A-Class range features a saloon model for the first time. It's aimed at the Audi A3 saloon and sits alongside the Mercedes CLA. Think of it as a mini Mercedes C-Class, especially as it is full of the latest technology, and you won't be far off the mark. It's available with two 10.25-inch screens that sit side by side on the dashboard, plus much more. The boot is 50 litres bigger than the hatchback, at 420 litres.
Read our review of the Mercedes A-Class saloon here.
Mercedes CLA Shooting Brake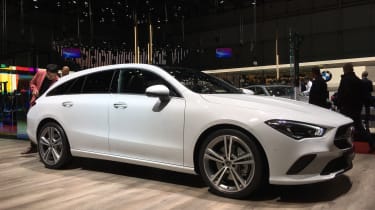 Price: £32,280 - £57,395
The new Mercedes CLA Shooting Brake estate isn't quite as practical as the Mercedes C-Class Estate, as it focuses on style over outright boot space. All models come in AMG Line trim, while two fast AMG models with 302bhp and 415bhp respectively sit at the top of the range, providing fiery alternatives to other fast estates from SEAT, VW and Kia.
Read more about the Mercedes CLA Shooting Brake here.
MINI Clubman facelift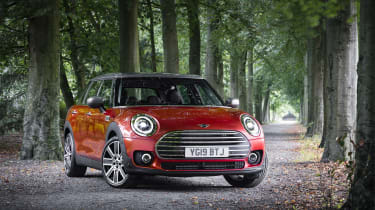 Price: £21,950 - £35,360
The MINI Clubman has been treated to the same mid-life updates as the hatchback, which mainly involve new alloy wheels and redesigned tail-lights that look like the Union Jack flag. All versions are well equipped - and there are plenty of options to choose from, of course - and three engines produce between 134bhp and 189bhp.
Read our review of the MINI Clubman here.
Skoda Superb facelift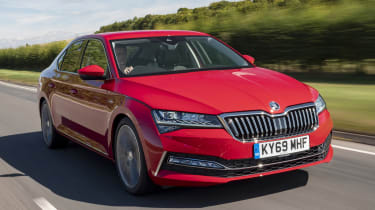 Price: £24,365 - £39,585
Skoda's largest five-seater is getting a plug-in hybrid option borrowed from the Passat GTE below. It'll use a 1.4-litre petrol engine and an electric motor, with 34 miles of electric range promised. Unlike the Passat GTE, the Superb will offer a PHEV powertrain as an option on the top trim levels. A Superb Scout model joins the range for the first time. Like other Scout variants, it'll feature raised suspension, plastic body cladding, underside protection and four-wheel drive.
Read our review of the new Skoda Superb hatchback here.
Volkswagen Passat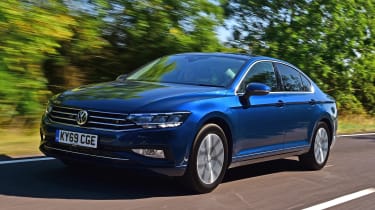 Price: £25,580 - £40,980
The Volkswagen Passat has received a major facelift. Although the styling is mostly similar to the current model, there are plenty of changes in this 'mk 8.5' generation facelift. Chiefly, the inclusion of semi-autonomous technology means the Passat can essentially drive itself in some situations, while the GTE hybrid now offers more electric range and should be more affordable.
Read our review of the new Volkswagen Passat saloon here, or go here for the new Passat estate.
Audi A6 Allroad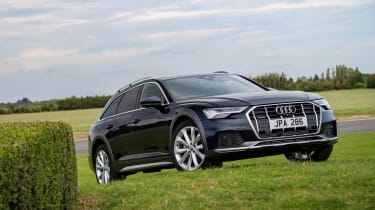 Price: £54,555 - £70,945
The new Audi A6 Allroad is based on the A6 Avant estate but gets enhanced off-road tech, rugged body styling and a 48-volt hybrid powertrain. Further changes include a raised-height, and self-adjusting suspension, and rear-wheel steering for the first time.
Read our review of the Audi A6 Allroad here.
Page 1 - Superminis and city cars, family hatchbacks, small SUVs
Page 2 - Family SUVs, premium cars, saloons and estates
Updated Peugeot 5008 starts at £29,585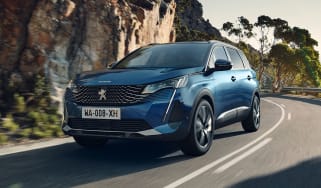 Updated Peugeot 5008 starts at £29,585
Cupra Formentor SUV review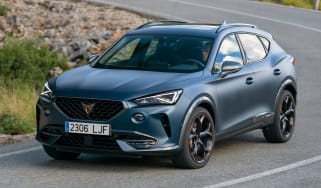 Cupra Formentor SUV review
2020 Volkswagen ID.3 hatchback: base model starts at under £30k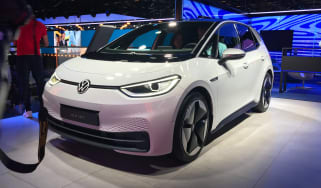 2020 Volkswagen ID.3 hatchback: base model starts at under £30k