Best new cars coming in 2020
What can you expect to see in showrooms in 2020? Our guide reveals all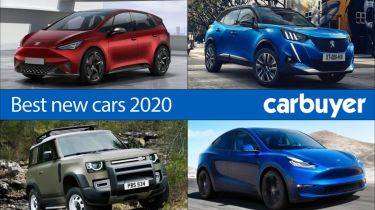 It's a very exciting time in the car industry. A large number of manufacturers are fully embracing electrification, with the arrival of a range of plug-in hybrids and fully electric models such as the SEAT el-Born and the Fiat 500 EV. Others, though, are staying faithful to the conventional petrol engine with a new 302bhp MINI John Cooper Works GP hatchback and BMW M3 set to arrive in 2020.
Our picks for the best cars coming in 2020 include a wide range of different market sectors - covering everything from city cars, family SUVs, performance and luxury cars, and many more that you can buy this year.
Best new cars coming out in 2021 and beyond
The key new cars due in 2020
There are lots of new cars due to come in 2020 but some will be more significant to UK car buyers than others. Below we've picked out the models that are likely to be the biggest sellers and you can jump directly to the entry on each car by clicking the link. Otherwise, simply scroll down to see all of the cars we're expecting ordered by class…
Read on for a preview of the new cars arriving in 2020.
Page 1 - Superminis, city cars and family hatchbacks
Page 2 - Small SUVs and family SUVs
Page 3 - Large SUVs, saloons and estates
Page 4 - Coupes, convertibles and fast SUVs
Page 5 - Hot hatchbacks, MPVs and supercars
City cars and superminis coming in 2020
Citroen C3 facelift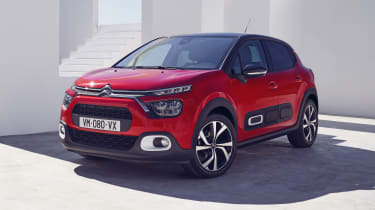 On sale: now
Price: from £16,280
Citroen has given the C3 hatchback a mild redesign, with a new nose inspired by a recent concept car. LED headlights are now fitted as standard, and there are new seats - plus new personalisation options.
Read more about the Citroen C3 facelift here.
Fiat 500 EV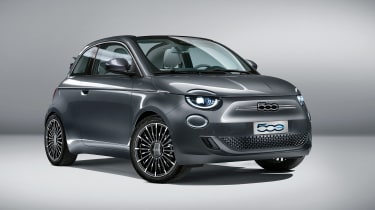 On sale: orders open now
Price: £26,995 after £3,000 grant (for the launch model)
The Fiat 500 EV has been revealed and, despite being on a whole new platform, the car looks very similar to before. There are some neat new styling touches, though, and the 500 EV will offer a range of 199 miles. A lot more technology is on offer, thanks to a redesigned interior that's right up to date. It'll cost a lot more than the current petrol car but the two cars will be sold side-by-side for a while.
Read more about the Fiat 500 EV here.
Honda Jazz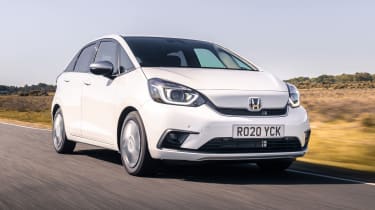 On sale: now
Price: £18,980 - £23,580
Now available to order, the new Jazz is a bit rounder while still offering much of the practicality for which the car is so well known. All versions will be hybrid, and there'll be a new Crosstar variant with raised ride height and more rugged styling. Look out for great deals on the current Honda Jazz in the next few months, with the new model expected in showrooms later in 2020.
Read more about the new Honda Jazz here.
Kia Picanto facelift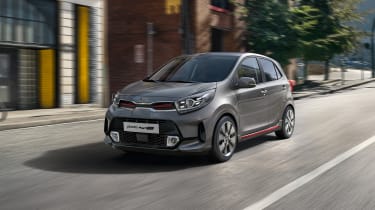 On sale: August
Price: ~ £10,500
The changes applied to the new Kia Picanto's styling are minor, but there are much bigger updates inside. Namely, an eight-inch touchscreen is available and it can pair with two phones at once. There are also updates to the engine range, so they should be slightly more economical than before.
Read more about the new Kia Picanto here.
Kia Rio facelift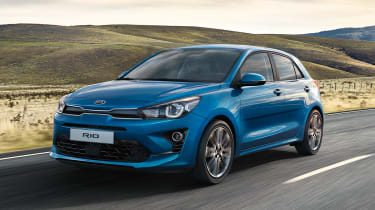 On sale: autumn
Price: ~ £13,000
Kia has also updated its Rio hatchback, which rivals the Ford Fiesta and is a little bigger than the Picanto. It too gets the large eight-inch screen, and there's a brand-new engine with mild-hybrid technology for the first time. There are LED headlights and new paint colours.
Read more about the new Kia Rio here.
Toyota Yaris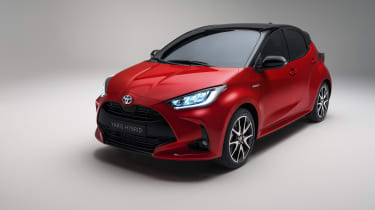 On sale: summer
Estimate price: ~ £17,000
The latest Toyota Yaris has more interior space and new styling, partly thanks to a new platform. A plug-in hybrid version is expected to join the current hybrid models, while more than one Yaris hot hatch is being planned - this will include one hardcore model with over 250bhp, huge wheel arches and four-wheel drive.
Read our review of the new Toyota Yaris here.
Family hatchbacks coming in 2020
Citroen C4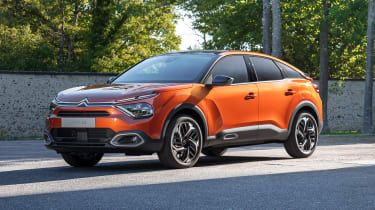 On sale: late summer
Price: ~ £30,000
Citroen has revealed a new C4 to face off against the Ford Focus and Vauxhall Astra, and it'll have electric, petrol and diesel powertrains from launch. It'll look completely different to the bland previous model, with crossover saloon-like styling. We think it looks excellent inside and out, with a more upmarket interior than the Citroen C4 Cactus, which this car will also replace.
Read more about the new Citroen C3 here.
Hyundai i30 facelift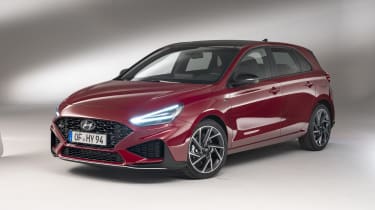 On sale: summer
Starting price: £17,355
It's time for the Hyundai i30 range to get a midlife facelift and there are plenty of improvements. The styling changes aren't massive but striking new LED elements in the headlights and restyled grilles are enough to make the i30 really stand out. Inside, it's the same story; recognisably a Hyundai, but with a wide new touchscreen that gives the interior a much more upmarket feel. Mild-hybrid engines now feature, too.
Read more about the new Hyundai i30 here.
Mercedes EQA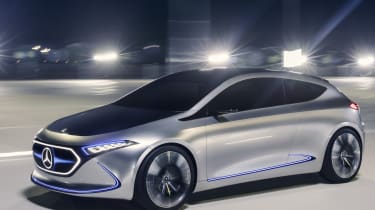 On sale: autumn
Price: ~ £35,000
After the Mercedes EQC, there'll be an electric car a similar size to the Mercedes A-Class hatchback and Mercedes GLA SUV. The EQA will be Mercedes' smallest electric car but will offer a large 60kWh battery and an electric motor that combine to produce 286bhp and 0-62mph in around five seconds. It'll be a premium alternative to the Volkswagen ID.3, and should be able to travel around 250 miles between charges.
Read more about the Mercedes EQA here.
SEAT el-Born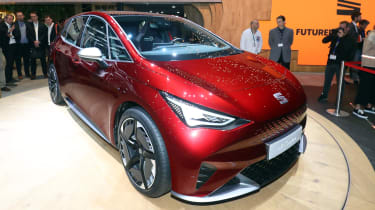 SEAT has revealed its first electric car. Based on the Volkswagen ID.3, the SEAT el-Born will have a sporty feel and will offer around 260 miles of range. It's a similar size to the SEAT Leon hatchback, but will be more spacious due to the lack of engine and exhaust. The powertrain creates 202bhp, giving a 0-62mph time of 7.5 seconds.
Read more about the SEAT el-Born here.
Skoda Octavia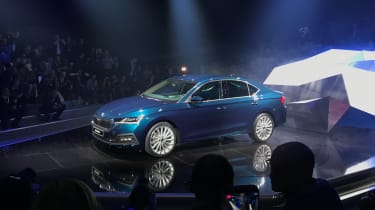 On sale: now
Starting price: £22,390 (estate £23,370)
The Skoda Octavia is a very important car for the Czech company, and the latest version is more like the Skoda Superb. The new car will be more luxurious, slightly bigger and will have an engine range with multiple hybrid options.
Read our review of the new Skoda Octavia estate here.
Volkswagen ID.3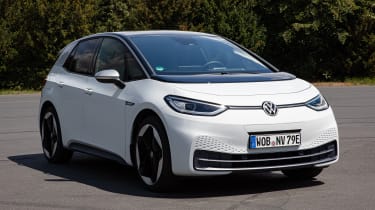 On sale: now
Price: ~ £41,000 ('1st' launch model)
The Volkswagen ID.3 is now on sale and first deliveries are scheduled for September. The first 30,000 cars will be high-spec '1st' launch models, but some of these will need software updates later in the year to get the full list of technology.
Read our review of the Volkswagen ID.3 here.
Volvo V40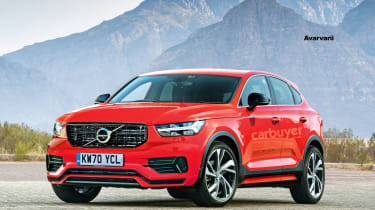 On sale: autumn
Price: ~ £25,000
The Volvo V40 will become a pseudo-SUV when the new model breaks cover later in 2020. It'll take cues from the successful Volvo XC40 SUV, with raised ride height and plastic body cladding. Hybrid and electric versions will be available.
Page 1 - Superminis, city cars and family hatchbacks
Page 2 - Small SUVs and family SUVs
Page 3 - Large SUVs, saloons and estates
Page 4 - Coupes, convertibles and fast SUVs
Best new car deals 2020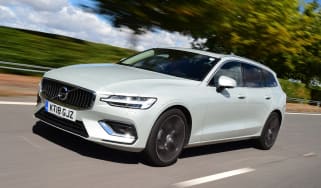 2020 scrappage schemes: the complete guide
2020 scrappage schemes: the complete guide
The UK's top 10 best-selling cars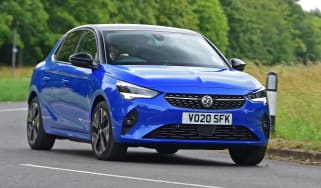 The UK's top 10 best-selling cars