Best new cars coming in 2020
What can you expect to see in showrooms in 2020? Our guide reveals all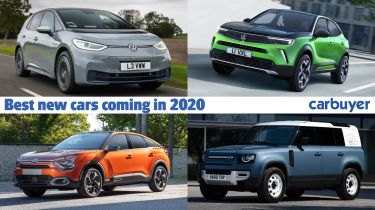 Page 1 - Superminis, city cars and family hatchbacks
Page 2 - Small SUVs and family SUVs
Page 3 - Large SUVs, saloons and estates
Page 4 - Coupes, convertibles and fast SUVs
Page 5 - Hot hatchbacks, MPVs and supercars
Hot hatchbacks coming in 2020
Audi S3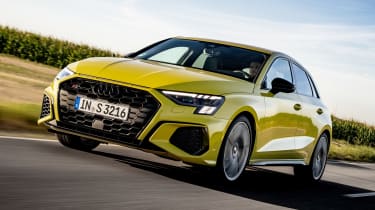 On sale: late 2020
Price: ~ £41,695
The latest Audi A3 is now available in flagship S3 form with 306bhp and quattro four-wheel drive. Buyers can pick from both a four-door saloon and five-door hatchback models, with the new car capable of 0-62mph in 4.8 seconds.
Read our review of the new Audi S3 Sportback here.
Cupra Leon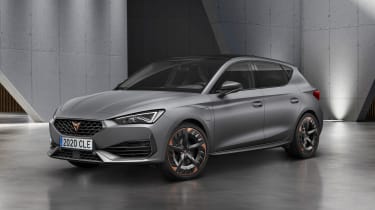 On sale: can be preordered now
Price: ~ £32,000
The fastest Leon now has a Cupra badge, but it's still available in a choice of hatchback and estate bodystyles. There's even more choice with this new version, as you can opt for a 242bhp plug-in hybrid or three petrol engines with either 242, 296 or 306bhp. The fastest of these hits 0-62mph in 4.8 seconds - about a second faster than the current model. Like the Cupra Ateca, plenty of copper accents mark it out as the hot Leon.
Read more about the Cupra Leon here.
Hyundai i20 N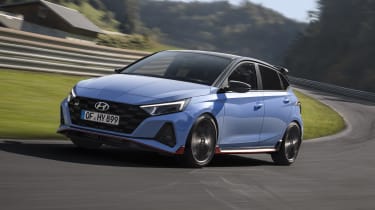 On sale: late 2020
Price: ~ £20,000
Hyundai has finally taken the wraps of it's the i20 N hot hatch. It boasts a 1.6-litre turbocharged petrol engine producing 201bhp, and is capable of 0-62mph in 6.8 seconds. When it arrives, the new car will rival the Ford Fiesta ST, Volkswagen Polo GTI and MINI Cooper S. Prices have yet to be confirmed, but we'd expect it to start from around £20,000.
Read more about the Hyundai i20 N here.
Skoda Octavia vRS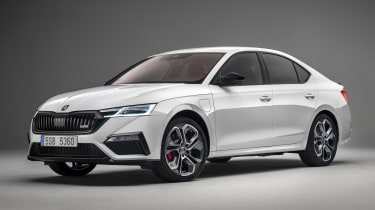 On sale: autumn
Price: ~ £31,495
Like the Cupra Leon and VW Golf GTE, the next-generation Skoda Octavia vRS will use a mix of petrol and electric power, with an output of 242bhp and a 0-62mph time of 7.3 seconds - although petrol and diesel versions are likely to follow suit. All the vRS design cues are present: it gets big alloy wheels, a spoiler and a more aggressive front bumper.
Read more about the Skoda Octavia vRS here.
Toyota GR Yaris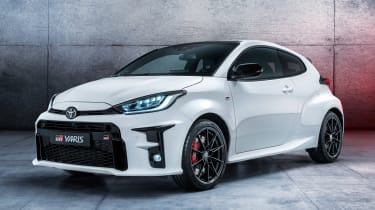 On sale: November
Price: £29,995
While a £30,000 Yaris initially seems hard to swallow, the performance on offer means the GR Yaris could almost be described as a bargain. We expected it to cost at least £5,000 more than it actually does. It's essentially a road-going version of Toyota's rally car, with 257bhp, four-wheel-drive and lots of bespoke bodywork. 0-62mph takes just 5.5 seconds, which makes the Ford Fiesta ST and Volkswagen Polo GTI look a little slow by comparison.
Read more about the Toyota GR Yaris here.
Volkswagen Golf GTI and GTD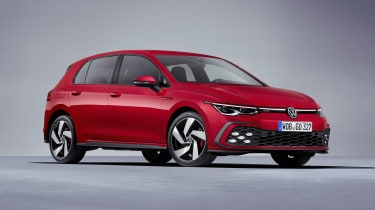 On sale: late 2020 
Price from: VW Golf GTI - £33,460 / VW Golf GTD - £32,790
The iconic hot hatchback is back for an eighth generation, and it still has the tartan seats, golf-ball gearknob and red detailing. A 2.0-litre petrol engine is fitted, producing 242bhp, but there's no plug-in hybrid version - that's what the GTE is for. Despite diesel sales declining, there's a new GTD too. It has 197bhp and a 0-62mph time of 7.4 seconds, and the petrol GTI gets from 0-62mph a second quicker. We've recently seen the GTI Clubsport testing, which will be a more hardcore GTI model with almost 300bhp.
Read more about the Volkswagen Golf GTI and GTD here.
MPVs and people carriers coming in 2020
Mercedes EQV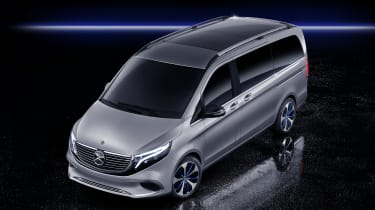 On sale: now
Price: ~ £70,665
The Mercedes EQV will be the world's first electric MPV. Essentially an electric version of the Mercedes V-Class, the new model manages 213 miles on a charge and can top up by 60 miles in just 15 minutes. A production version will be shown at Frankfurt Motor Show later this year.
Read more about the Mercedes EQV here.
Peugeot e-Traveller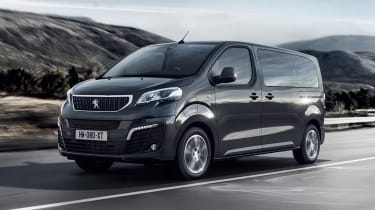 On sale: late 2020 
Price: unconfirmed
Electric vans are becoming more common, and that means electric van-based MPVs are set to be more widely available. This is Peugeot's; the e-Traveller can seat up to eight people and manages 143 miles of range on a charge. Fast-charging is fitted so you're not waiting around for hours at a motorway service station.
Read more about the Peugeot e-Traveller, or check out the mechanically identical Citroen e-SpaceTourer and Vauxhall Vivaro-e Life.
Volkswagen Caddy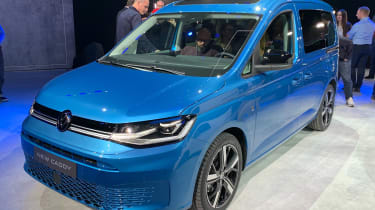 On sale: late 2020 
Price: ~ £24,000
There's a new Volkswagen Caddy MPV and van coming later this year, and we're promised that it's even more practical than before. Tech gets a boost, too - all models get a touchscreen infotainment system, and all passenger models get a panoramic sunroof. Three diesels and one petrol engine are available with up to 120bhp.
Read more about the Volkswagen Caddy here.
Supercars and hypercars coming in 2020
Chevrolet Corvette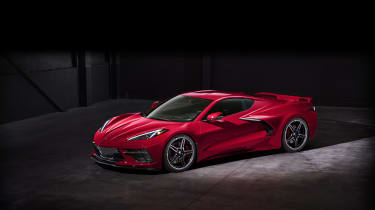 On sale: spring
Price: ~ £60,000
Ever since the Chevrolet Corvette was introduced, it's been a rear-wheel-drive, front-engined muscle car. Now, for the eighth-generation, the engine has been moved to the middle of the car, putting the Corvette firmly in competition with the best European sports cars. It'll use a naturally aspirated 6.2-litre V8 with 495bhp, giving a 0-60mph time of less than three seconds. For the first time, it'll come to the UK as a right-hand-drive car, too.
Ferrari Roma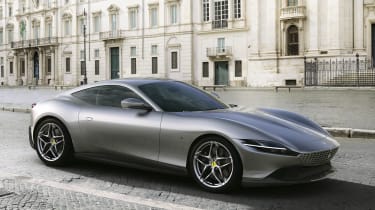 On sale: summer
Price: ~ £190,000
Ferrari has revealed a striking new coupe, called the Roma. It sits near the entry point of the Ferrari range, and features a completely new interior design to match its ultra-modern exterior. A 612bhp 3.9-litre V8 provides the power, with 0-62mph taking just 3.4 seconds.
Read more about the new Ferrari Roma here.
Lotus Evija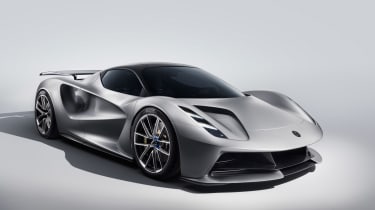 On sale: summer
Price: £1.7 million
Out of seemingly nowhere, Lotus has confirmed it'll be making a near-2,000bhp electric hypercar called the Evija. The raw statistics are barely believable: 0-62mph in under three seconds, 0-184mph in under nine seconds and that stratospheric price. A 70kWh battery provides the range for up to 250 miles, and it's capable of recharging at up to 800kW - not that a charger this powerful exists yet.
McLaren 765LT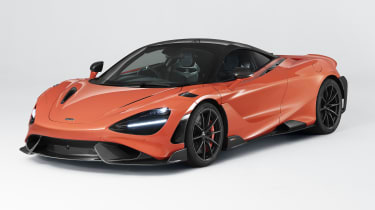 On sale: can be preordered now
Price: announced shortly
Few people thought the McLaren 720S needed any more power, but the 765LT has now arrived with 755bhp - 45bhp more than the 720S. Not only that, but it's lighter too, thanks to McLaren removing the radio and using carbon fibre for many body parts.
Read more about the new McLaren 765LT here.
Mercedes-AMG One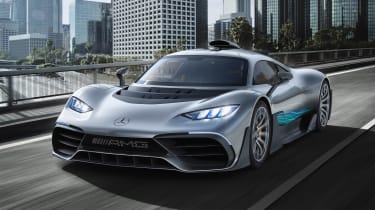 On sale: autumn
Price: £2.4 million
Mercedes-AMG is currently deciding how to put an F1 engine into a road car. When it hits production, the Mercedes-AMG One will have almost 1,000bhp from a 1.6-litre turbo V6, and the addition of a large battery means it'll be able to travel up to 15.5 miles on electric power alone.
Porsche 911 GT3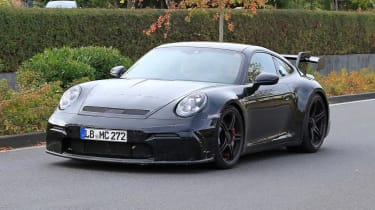 On sale: spring
Price: ~ £125,000
Porsche is planning another track-focused version of the current 911, and spy shots show that it'll have aggressive bumpers, flared wheel arches and a simply massive rear spoiler. The GT3 will get the same engine as the old 911 GT3 - without a turbo, unlike the rest of the range - and power will creep above 500bhp.
Tesla Roadster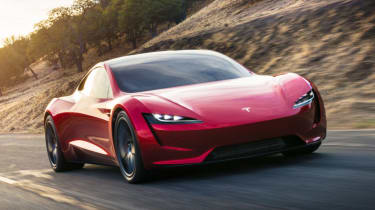 On sale: late 2020/early 2021
Price: ~ £150,000
Zero to 60mph in 1.9 seconds, at 100mph in 4.2 seconds and a top speed of 250mph: these are apparently the statistics of the upcoming Tesla Roadster. Tesla's first car was the original Roadster, but this is a completely different beast. Boss Elon Musk is aiming to create the world's fastest accelerating car.
Read more about the new Tesla Roadster here.
TVR Griffith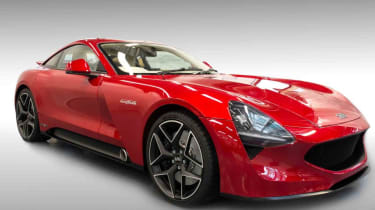 On sale: late 2020/early 2021
Price: ~ £90,000
TVR appears to be back with a new Griffith sports car. A 500bhp 5.0-litre Cosworth V8 will be used to deliver 0-62mph in under four seconds and a reported top speed of 200mph. It promises a stunning soundtrack and carbon-composite elements in the platform. The main cause for concern is that TVR has been very quiet since the Griffith was first revealed…
Page 1 - Superminis, city cars and family hatchbacks
Page 2 - Small SUVs and family SUVs
Page 3 - Large SUVs, saloons and estates
Page 4 - Coupes, convertibles and fast SUVs
Page 5 - Hot hatchbacks, MPVs and supercars
Find expert reviews of all new cars on sale in our Car Reviews section.
Updated Peugeot 5008 starts at £29,585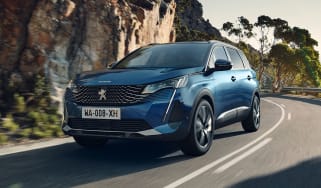 Updated Peugeot 5008 starts at £29,585
Cupra Formentor SUV review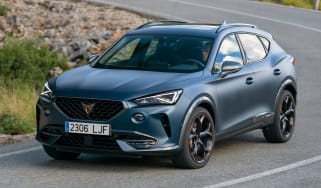 Cupra Formentor SUV review
2020 Volkswagen ID.3 hatchback: base model starts at under £30k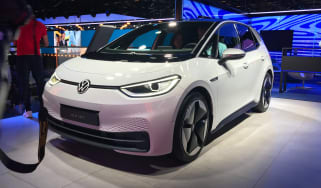 2020 Volkswagen ID.3 hatchback: base model starts at under £30k