Best new cars coming in 2020
What can you expect to see in showrooms in 2020? Our guide reveals all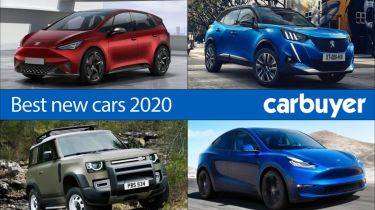 Page 1 - Superminis, city cars and family hatchbacks
Page 2 - Small SUVs and family SUVs
Page 3 - Large SUVs, saloons and estates
Page 4 - Coupes, convertibles and fast SUVs
Page 5 - Hot hatchbacks, MPVs and supercars
Large SUVs coming in 2020
Audi e-tron Sportback
On sale: summer
Price: ~ £70,000
The electric Audi e-tron range will be broadened by a sportier-looking SUV coupe, which will rival cars like the BMW X4. Audi claims 278 miles of range, and it'll feature energy recovery and active grille slats. Just like the e-tron, you'll be able to spec wing-mounted cameras instead of traditional mirrors.
Read more about the Audi e-tron Sportback here.
Hyundai Santa Fe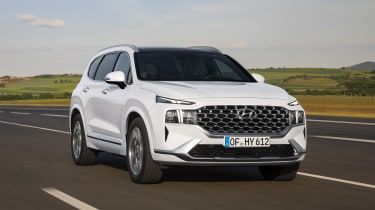 On sale: September
Price: ~ £40,000
While at first glance the Hyundai Santa Fe seems to have been treated to a midlife facelift, the changes go much deeper than that. The bold styling hides a new platform, shared with the Kia Sorento, which enables the introduction of hybrid and plug-in hybrid powertrains. Hyundai has rejigged the Santa Fe's interior, and it now looks quite Mercedes-like.
Read more about the new Hyundai Santa Fe here.
Jaguar F-Pace facelift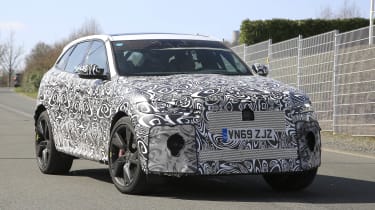 On sale: summer
Price: ~ £38,000
The Jaguar F-Pace still feels like a fairly new car but a facelifted version is due in 2020. There'll be extra in-car technology, such as a new infotainment system, a digital instrument cluster and a digital rear-view mirror, plus the introduction of a plug-in hybrid model. This is likely to use a 1.5-litre three-cylinder petrol engine with an electric motor.
Read more about the Jaguar F-Pace facelift here.
Kia Sorento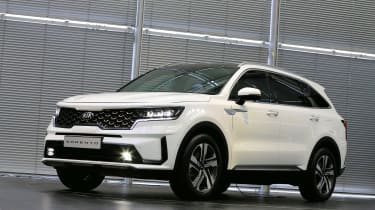 On sale: autumn
Price: ~ £37,500
The latest generation of Kia's seven-seat SUV has been revealed. Once again rivalling the Skoda Kodiaq and Hyundai Santa Fe, the Sorento will bring a choice of diesel of petrol/electric plug-in hybrid powertrains, plus a stylish new design and a more upmarket interior.
Read more about the new Kia Sorento here.
Saloons coming in 2020
BMW M3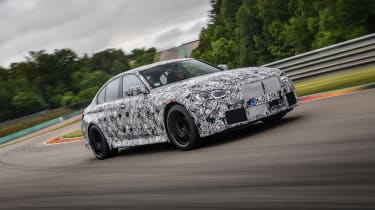 On sale: late 2020
Price: ~ £70,000
Petrol-powered performance cars are here to stay for a little while longer at least. The next BMW M3 saloon will come with 473bhp or 503bhp if you opt for the Competition spec model. Both will be rear-wheel drive, with the standard model getting a purist-pleasing six-speed manual gearbox and the Competition getting an automatic gearbox. The new M3 will get all the new tech from the latest 3 Series.
Read more about the upcoming BMW M3 here.
BMW 5 Series facelift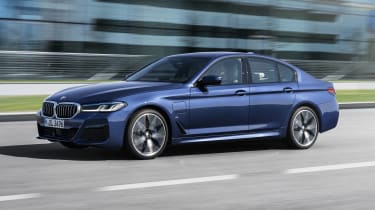 On sale: July
Price: from £37,480
A facelift to the BMW 5 Series range has introduced redesigned lights, grilles and air intakes, but BMW has also altered the engine range. All standard petrol and diesel engines get mild-hybrid assistance, there's a second plug-in hybrid version and a new 523bhp 550i V8 engine.
Read more about the new BMW 5 Series, or check out the recently launched BMW M5 facelift.
DS 9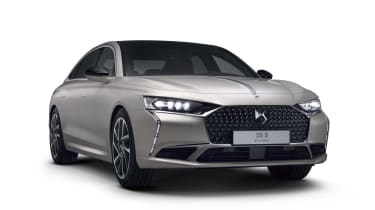 On sale: late 2020
Price: ~ £32,000
After the DS 3 Crossback and DS 7 Crossback SUVs, the French brand is turning its attention to the executive saloon market. The DS 9 is based on the long-wheelbase version of the Peugeot 508 (not the standard-length one we get), so there's plenty of legroom and those in the back will be able to have massaging seats with heating and cooling functions. The design is sharp and similar to the DS 7, although interestingly the DS 9 has its rear indicators mounted on the C-pillar.
Read more about the DS 9 here.
Jaguar XF facelift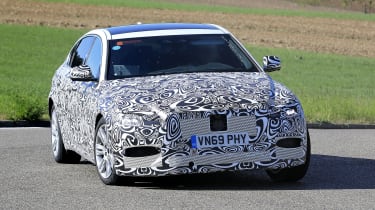 Expected reveal: Autumn
Price: ~ £36,000
Jaguar's rival to the BMW 5 Series and Audi A6 is due to be facelifted this year, possibly with slim headlights like those fitted to the Jaguar F-Type coupe. We expect Jaguar Land Rover's Touch Pro Duo infotainment system to feature.
Read more about the new Jaguar XF here.
Jaguar XJ electric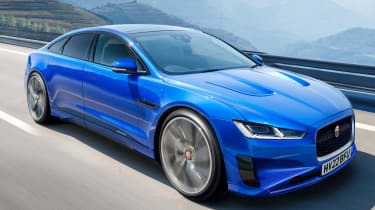 On sale: late 2020
Price: ~ £80,000
It's been confirmed that the current Jaguar XJ will be replaced by a fully electric version, built at the company's West Midlands factory. The styling will evolve to become more similar to the XF, while it'll also take cues from the Jaguar I-Pace electric car.
Mercedes E-Class facelift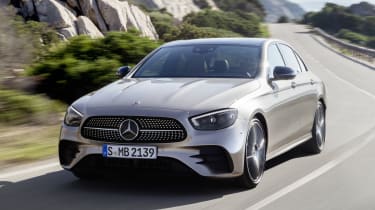 On sale: June
Price: ~ £39,000
The Mercedes E-Class range is getting a facelift, with a new front end for all models. The saloon also gets a new rear end inspired by the Mercedes A-Class saloon. There are subtle changes to the interior but some extra technology to help it stay in competition with its rivals, including cruise control that works with the sat nav to automatically slow you down for traffic jams and corners.
Read more about the Mercedes E-Class facelift, or check out the fast Mercedes-AMG E63 versions.
Mercedes EQS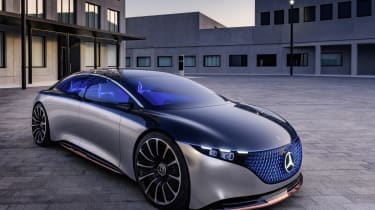 On sale: late 2020
Price: ~ £120,000
Despite the Mercedes EQS being a similar size to the Mercedes S-Class, the two cars will sit side-by-side in the showroom. Up to 435 miles is promised on a single charge from the 100kWh battery, which also allows 469bhp and an impressive 0-62mph acceleration time. The luxurious EQS will recharge to 80% in 20 minutes, and it'll get a next-generation infotainment system.
Read more about the Mercedes EQS here.
Mercedes S-Class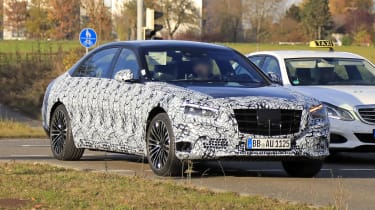 On sale: autumn
Price: ~ £80,000
A new Mercedes S-Class is due in 2020 and will continue to push the envelope with the latest technology. Level 3 semi-autonomous driving will make its debut, while the twin-screen dashboard setup is set to be replaced by one huge touchscreen. A plug-in hybrid version is in the pipeline, but there'll be no fully electric model as that car will be badged as the EQS.
Read more about the new Mercedes S-Class here.
Peugeot 508 Sport Engineered Concept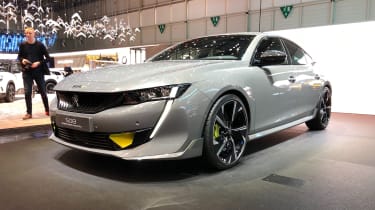 On sale: late 2020
Price: unconfirmed
Peugeot will produce a sporty hybrid version of the 508 saloon. First previewed at the 2019 Geneva Motor Show, it's not known whether the production version will use the same 408bhp powertrain as the concept. In concept form, Peugeot said the car could hit 0-62mph in 4.3 seconds and accelerate to a top speed of 155mph.
Read more about the Peugeot 508 Sport Engineered Concept hybrid here.
Polestar 2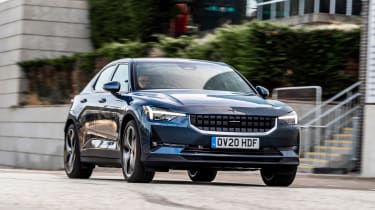 On sale: now
Price: £49,900
Polestar's first reveal was a £100,000 hybrid coupe, but its '2' model should be a bit more down-to-earth. The Polestar 2 is an electric saloon with hints of SUV in its design, and will compete against the Tesla Model 3 later this year. It'll hit 0-62mph in under five seconds and should manage over 300 miles between charges.
Read our review of the Polestar 2 here.
Porsche Panamera facelift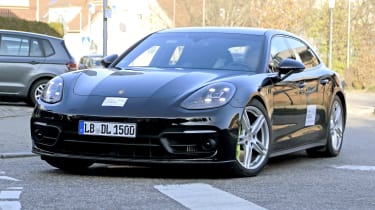 On sale: summer
Price: ~ £68,000
A few subtle tweaks are coming the way of the Porsche Panamera this summer, such as a redesigned front bumper and new LED daytime running lights. The hybrid models will be upgraded too, offering longer electric range and improved performance - although few people have been disappointed with the current car's acceleration.
Read more about the new Porsche Panamera here.
Rolls-Royce Ghost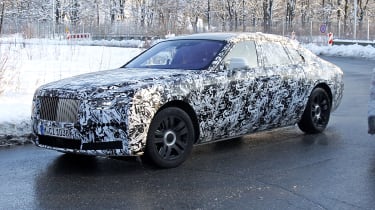 On sale: late 2020
Price: ~ £250,000
After the new Rolls-Royce Phantom was unveiled in 2017, the smaller Ghost is following suit with a new model for 2020. While the styling doesn't look too different to the current car, it'll sit on Rolls' 'Architecture of Luxury' platform, instead of sharing its underpinnings with the BMW 7 Series.
Read more about the new Rolls-Royce Ghost here.
Estates coming in 2020
Volkswagen Golf Estate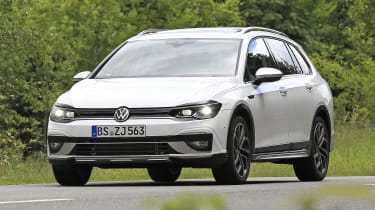 On sale: late 2020
Price: ~ £24,500
It was only a matter of time before the Volkswagen Golf Estate was spotted, and this barely camouflaged model suggests it won't be long before it's officially revealed. A new rugged looking 'Alltrack' model is on the way as well, and the new car will be availanle to order before the end of the year. As with the hatchback, there'll be a huge amount of technology on board.
Read more about the Volkswagen Golf Estate here.
Volkswagen Arteon Shooting Brake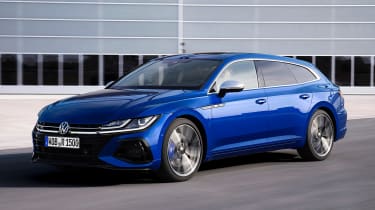 On sale: autumn
Price: ~ £34,000
The Volkswagen Arteon is getting a svelte estate model in the middle of 2020 with a more practical boot and a sweeping tailgate. It's being introduced as part of a facelift to the Arteon range, and will also be offered in 316bhp 'R' form.
Read more about the Volkswagen Arteon Shooting Brake here.
Page 1 - Superminis, city cars and family hatchbacks
Page 2 - Small SUVs and family SUVs
Page 3 - Large SUVs, saloons and estates
Page 4 - Coupes, convertibles and fast SUVs
Car dashboard warning lights: the complete guide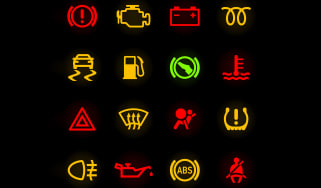 Car dashboard warning lights: the complete guide
Best new car deals 2020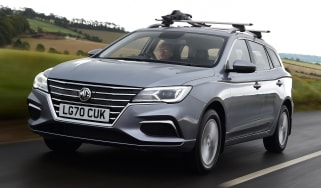 New Volkswagen Golf GTI Clubsport gets 296bhp and racetrack mode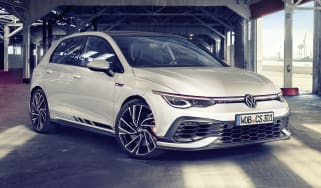 New Volkswagen Golf GTI Clubsport gets 296bhp and racetrack mode