Best new cars coming in 2020
What can you expect to see in showrooms in 2020? Our guide reveals all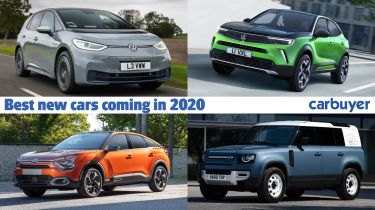 Page 1 - Superminis, city cars and family hatchbacks
Page 2 - Small SUVs and family SUVs
Page 3 - Large SUVs, saloons and estates
Page 4 - Coupes, convertibles and fast SUVs
Page 5 - Hot hatchbacks, MPVs and supercars
Coupes and convertibles coming in 2020
Aston Martin Vantage Roadster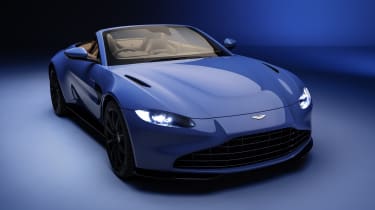 On sale: autumn
Price: from £126,950
Take the beautiful looks of the new Aston Martin Vantage and remove the roof, and the Vantage Roadster is the result. Using the same 4.0-litre V8 as the coupe, 0-62mph is dispatched in 3.8 seconds and top speed is 190mph. Aston says it has the fastest-opening roof of any convertible on sale.
Read more about the Aston Martin Vantage Roadster here.
Audi e-tron GT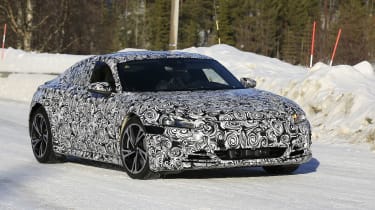 On sale: late 2020
Price: £100,000+
After the e-tron SUVs, Audi will reveal a slinky four-door coupe called the e-tron GT. Set to compete with the Porsche Taycan and Tesla Model S, it'll have four-wheel drive and a 0-62mph time of under three seconds. Fast-charging up to 350kW is possible, meaning the huge battery can be charged to 80% in just 15-20 minutes.
Read more about the Audi e-tron GT here.
BMW 4 Series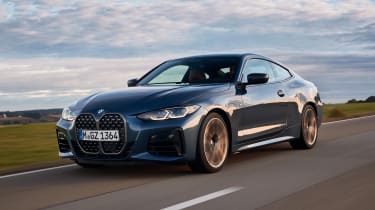 On sale: Now
Price: from £39,870
The BMW 4 Series has been revealed, and we'll leave you to make your own mind up about the distinctive styling. It may now look completely different, but it still shares most of its engine range and its interior with the BMW 3 Series saloon. The coupe variant will be a pure two-door, while the convertible will get a fabric roof instead of the metal-folding version found in the outgoing model. There's also a four-door Gran Coupe due soon too.
Read our review of the new BMW 4 Series coupe here.
BMW M4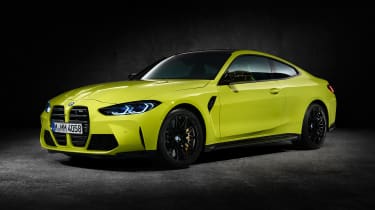 On sale: late 2020
Price: ~ £70,000
After the reveal of the new 4 Series Coupe, the latest M4 will follow later this year. It'll get the same dramatic styling, with a pair of huge front kidney grilles, and the same 473bhp and 503bhp six-cylinder engine options as the new M3 Saloon. The more powerful version is the only version coming to the UK.
Read more about the new BMW M4 here.
Ford Mustang hybrid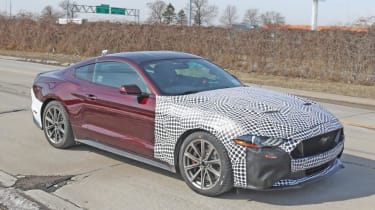 On sale: summer
Price: ~ £50,000
The Ford Mustang isn't just going electric - there'll be a hybrid version of the coupe too. Ford has been testing a hybrid version in disguise, and it's thought that it'll use the 2.3-litre EcoBoost engine alongside a battery and a small electric motor. The power figures of the hybrid should be similar to the V8, but fuel economy will be a little better.
Lexus LC500 convertible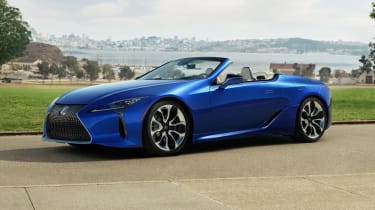 On sale: summer
Price: ~ £80,000
The Lexus LC is now available as a stylish convertible model, with extra strengthening to keep it as rigid as the coupe. Its 5.0-litre V8 will result in a 0-62mph time of around 4.5 seconds, and a hybrid model may yet join the line-up. A wind deflector and multi-layered roof means it'll be quiet inside.
Read our review of the new Lexus LC convertible here.
Lexus LC-F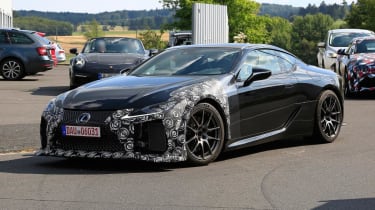 On sale: autumn
Price: ~ £105,000
As well as the recently revealed LC500 convertible, these spy shots suggest the Lexus LC will get a high-performance LC-F version. It'll have more aggressive bodywork and larger exhausts, and could use a new turbocharged engine with up to 600bhp. We expect rear- and all-wheel-drive models to be offered.
Volkswagen T-Roc Cabriolet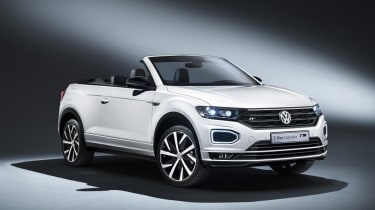 On sale: now
Price: from £26,750
A convertible version of the Volkswagen T-Roc is now on sale, and it effectively replaces the Beetle and Golf cabriolets - neither of which are on sale anymore. The T-Roc cabrio will be a four-seater because of space taken up by the mechanism for the folding roof. That roof, by the way, takes just nine seconds to be raised or lowered.
Read our review of the Volkswagen T-Roc Cabriolet here.
Fast SUVs coming in 2020
Aston Martin DBX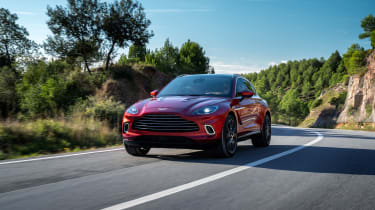 On sale: now
Price: £158,000
Aston Martin has finally revealed its first SUV, which will be an alternative to the Lamborghini Urus and Bentley Bentayga. It has Vantage-style design touches and an impressively practical SUV body shell. A 542bhp 4.0-litre V8 will be used, while a hybrid model will arrive later.
Read our review of the Aston Martin DBX here.
Audi RS Q5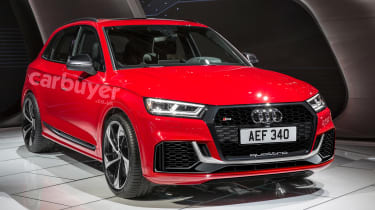 On sale: autumn
Price: ~ £70,000
The Audi RS Q5 has had a surprisingly long gestation period, but we expect it to be revealed and in dealerships next year. It's likely to use the same 444bhp 2.9-litre twin-turbo V6 engine as the Audi RS5, and will feature all the design touches that Audi RS owners are used to.
Read more about the Audi RS Q5 here.
Cupra Ateca facelift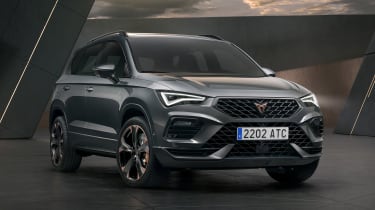 On sale: late 2020
Price: ~ £38,000
The Cupra Ateca has only been on sale for a couple of years but later this year it's getting the same styling updates as the SEAT Ateca. Cupra has also tweaked the powerful petrol engine, so it now hits 0-62mph in under five seconds.
Read more about the Cupra Ateca facelift here.
Cupra Formentor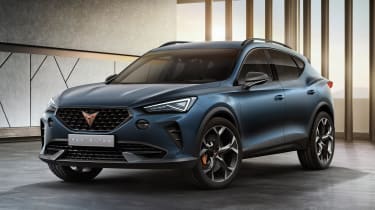 On sale: late 2020
Price: ~ £39,830
The first standalone Cupra model will be the Formentor, an SUV with a choice of 242bhp plug-in hybrid and 306bhp petrol engines. The styling has offers a more coupe-like shape than the Cupra Ateca, with a sharp front end inspired by the SEAT Tarraco SUV.
Read our review of the Cupra Formentor here.
Ford Mustang Mach E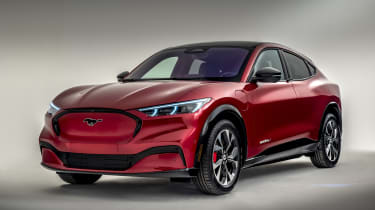 On sale: can be preordered now
Price: from £40,270
Electric SUVs and the Ford Mustang seem like polar opposites, but now you can buy the Mustang Mach E as Ford broadens the Mustang range. Most models will offer over 300 miles of range to compete with a Tesla Model Y, but will still offer Mustang-like performance.
Read more about the Ford Mustang Mach E SUV here.
Ford Puma ST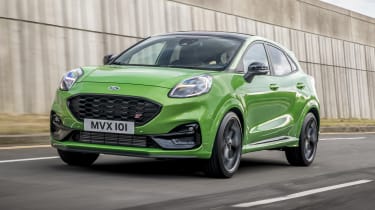 On sale: late 2020 
Price: ~ £28,495
The Ford Puma will be an SUV based on the Ford Fiesta, and now there is a hot ST version too. Using the Ford Fiesta ST's 197bhp engine, the Puma ST will sit at the top of the range and offer 0-62mph in only 6.7 second with a bigger boot than the Fiesta's.
Read more about the new Ford Puma ST here.
Hyundai Tucson N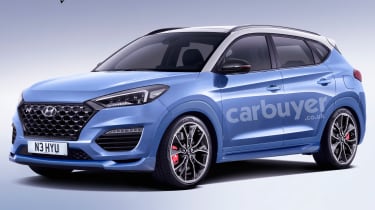 On sale: late 2020 
Price: ~ £32,000
Not wanting to let the VW Group have all the fast SUVs, Hyundai is set to launch a hot version of its Tucson SUV. It'll have four-wheel-drive and could kick out around 340bhp, but should be slightly cheaper than the Cupra Ateca and Volkswagen T-Roc R. Lowered suspension and sportier styling will mark the Tucson N out from the rest of the range.
Mercedes-AMG GLA 45 S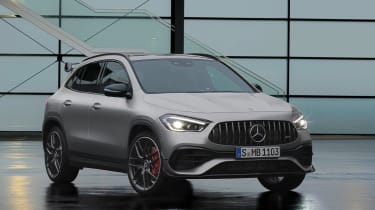 On sale: now
Price: £58,755 (£64,775 for the 'Plus' version)
Closely following the new Mercedes GLA into showrooms is the super-hot version, with a 2.0-litre engine pumping out a huge 415bhp. Zero-to-62mph takes just 4.3 seconds - the same as a Porsche Macan Turbo - and the suspension, brakes and steering have all been upgraded to complement the extra power.
Read more about the new Mercedes-AMG GLA 45 S here.
Volkswagen Tiguan R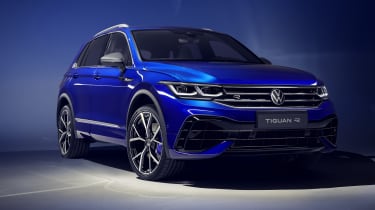 On sale: late 2020
Price: ~ £45,000
The Volkswagen Tiguan R was revealed as part of a facelift of the brand's popular family SUV model. As with the smaller Volkswagen T-Roc R, this hot version of the Tiguan has a turbocharged petrol engine but with power up to 316bhp. Uprated brakes, lowered suspension and VW's 4MOTION four-wheel-drive all feature, along with a sporty bodykit and huge 21-inch alloy wheels. Performance figures have yet to be confirmed but we'd expect the performance Tiguan to sprint from 0-62mph in around five seconds.
Read more about the Volkswagen Tiguan R here.
Volkswagen Touareg R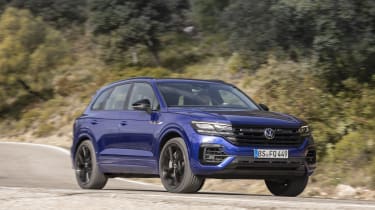 On sale: late 2020
Price: ~ £75,000
Even Volkswagen's flagship SUV gets an R badge, but the Touareg has a much more powerful engine. It's a 456bhp plug-in hybrid powertrain that's also used in the Bentley Bentayga Hybrid, and slingshots this massive SUV from 0-62mph in under five seconds. Up to 27 miles of electric range are promised when the battery is fully charged.
Read more about the Volkswagen Touareg R here.
Page 1 - Superminis, city cars and family hatchbacks
Page 2 - Small SUVs and family SUVs
Page 3 - Large SUVs, saloons and estates
Page 4 - Coupes, convertibles and fast SUVs
Updated Peugeot 5008 starts at £29,585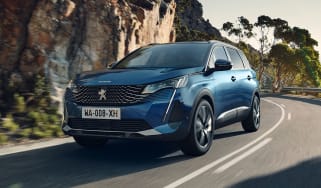 Updated Peugeot 5008 starts at £29,585
Cupra Formentor SUV review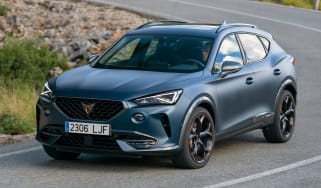 Cupra Formentor SUV review
2020 Volkswagen ID.3 hatchback: base model starts at under £30k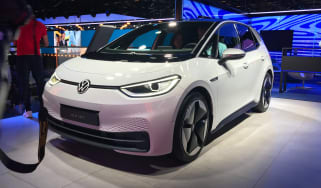 2020 Volkswagen ID.3 hatchback: base model starts at under £30k