Best new cars coming in 2020
What can you expect to see in showrooms in 2020? Our guide reveals all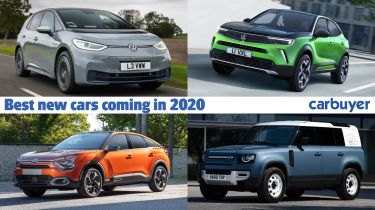 Page 1 - Superminis, city cars and family hatchbacks
Page 2 - Small SUVs and family SUVs
Page 3 - Large SUVs, saloons and estates
Page 4 - Coupes, convertibles and fast SUVs
Page 5 - Hot hatchbacks, MPVs and supercars
Small SUVs coming in 2020
Alfa Romeo Tonale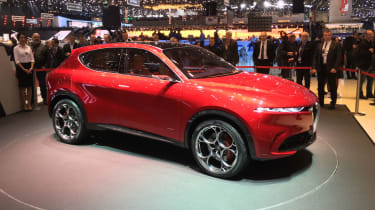 On sale: late 2020
Price: ~ £22,000
Alfa Romeo revealed a surprise new SUV at the 2019 Geneva Motor Show, and we're expecting to see it in showrooms by the end of this year. Smaller than the Stelvio, the Tonale (also named after an Italian mountain pass) will be available with plug-in hybrid power to save fuel.
Read more about the Alfa Romeo Tonale here.
Mazda MX-30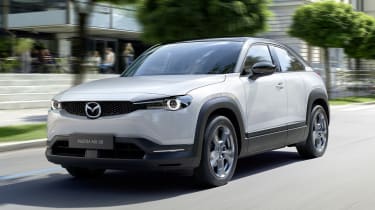 On sale: can be preordered now
Price: £26,995 after £3,000 grant (First Edition cars)
Mazda's first electric car has been revealed and deliveries are likely to start early next year. The Mazda MX-30 has unusual backwards-opening rear doors and a maximum range of 124 miles, due to a smallish 35.5kWh battery. A smaller battery means it's lighter, so the MX-30 should be reasonably good to drive. The refined interior features recycled materials and all the latest connectivity tech.
Read more about the Mazda MX-30 here.
Toyota Yaris Cross
On sale: late 2020
Price: ~ £22,000
The new Toyota Yaris Cross SUV has been unveiled. It's the firm's smallest SUV and shares its underpinnings with the new Yaris hatchback. It's longer than the standard Yaris and features a higher roofline, making it more practical. Both front- and four-wheel-drive models will be available, powered by a three-cylinder petrol engine and electric motor setup producing 114bhp.
Read more about the new Toyota Yaris Cross SUV here.
Family SUVs coming in 2020
Audi Q4 e-tron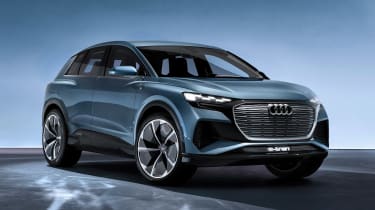 On sale: late 2020
Price: ~ £45,000
Audi unveiled its second electric SUV at the 2019 Geneva Motor Show, ahead of the car going on sale later this year. The Q4 e-tron will be a similar size to the Audi Q3, and should be a lot more affordable than the £70,000 e-tron. It should manage around 280 miles of range, and will be able to recharge to 80% in around 30 minutes with a fast charger. The e-tron's optional wing cameras (replacing mirrors) should be available at an additional cost.
Read more about the new Audi Q4 e-tron here.
Audi Q5 facelift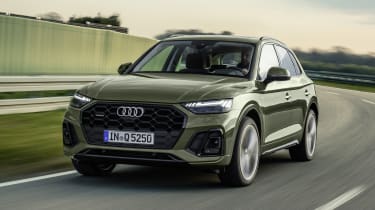 On sale: July 2020
Price: ~ £43,000
The Audi Q5 has been facelifted for 2020 with design tweaks, upgraded tech, and mild-hybrid assistance. Styling changes are limited to a new headlight design, a wider front grille, and larger air intakes. The infotainment screen has increased in size and new in-car communications tech has been added. Alongside the mild-hybrid engines, a pair of plug-in hybrid models are also available.
Read more about the new Audi Q5 here.
BMW iX3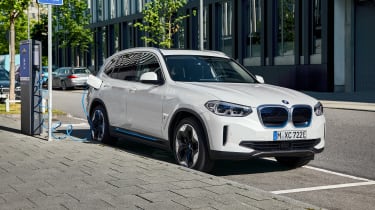 On sale: winter
Price: ~ £61,900
BMW has joined the electric SUV party with the iX3. Recently teased in official images, we expect it to be on sale before the end of the year. It'll have a range of up to 285 miles and have 150kW rapid-charging capability. The iX3 looks broadly similar to the petrol- and diesel-powered BMW X3, with only subtle hints that it's a zero-emissions version
Read more about the BMW iX3 here.
Jeep Renegade and Jeep Compass PHEVs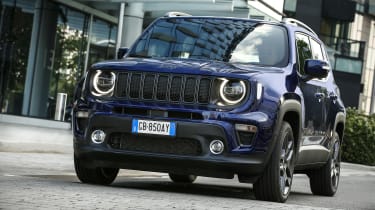 On sale: autumn
Price: From £32,600 - Renegade / From £37,500 - Compass
Jeep revealed plug-in hybrid versions of its best-selling SUVs at the 2019 Geneva Motor Show. Launches of the Renegade and Compass PHEVs have been delayed but you'll be able to buy both later in the year. Both will offer up to 31 miles of electric driving and official CO2 emissions of under 50g/km.
Read more about the Jeep PHEV models here.
Land Rover Defender Hard Top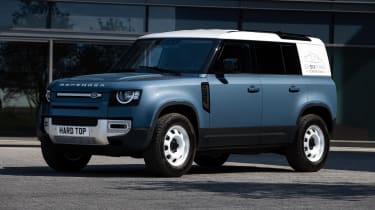 On sale: late 2020
Price: £35,500
The Land Rover Defender Hard Top is a commercial version of the standard Defender, with no rear seats to maximise cargo space. It'll be available in three-door 90 and five-door 110 forms, and takes its name from the original load-lugging Defender of the 1950s. All of the off-road technology of the standard car is carried over, including JLR's clever ClearSight rear-view mirror, which displays a camera feed from the back of the car - handy for when the rear load space is full.
Read more about the Land Rover Defender Hard Top here.
MINI Countryman facelift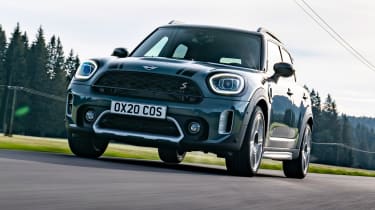 On sale: now
Price: from £23,500
The MINI Countryman has been updated for this year and, like other MINI models, it gets Union Jack rear lights, among other minor styling changes. Auto high-beam is standard, the touchscreen has been updated and there's a new digital instrument display borrowed from the MINI Electric.
Read more about the facelifted MINI Countryman here.
Nissan Qashqai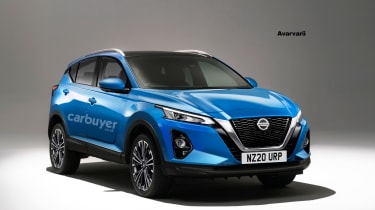 On sale: late 2020/early 2021
Price: ~ £22,000
The Nissan Qashqai is often considered one of the cars that popularised SUVs and crossovers, and there's going to be a new model introduced in about a year's time. It'll get a new face similar to the Nissan Juke, plus ProPilot semi-autonomous driving assistance and e-Power hybridisation.
Peugeot 3008 Hybrid4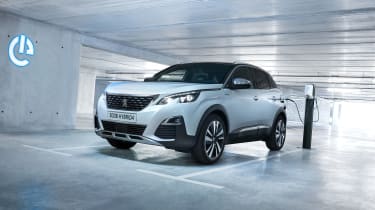 On sale: now
Price: from £36,585
One of the best all-round family SUVs is now available as a plug-in hybrid. The Peugeot 3008 Hybrid4 uses a 1.6-litre petrol engine and an electric motor, giving a total output of 296bhp and acceleration to shame some hot hatchbacks. An electric range of 36 miles is promised, with an official economy figure of 217mpg. It's the same powertrain as used in the DS 7 Crossback E-Tense and the Vauxhall Grandland X Hybrid4.
Read more about the Peugeot 3008 Hybrid4 here.
SEAT Ateca facelift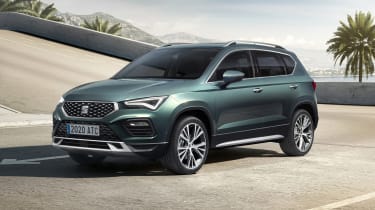 On sale: autumn
Price: ~ £22,700 - £36,000
SEAT's mid-size SUV has been updated and the new version will reach showrooms later this year. The new Ateca gets tweaked front-end styling, upgraded technology and other interior improvements. A rugged new Xperience model tops the range and a 2.0-litre diesel replaces the entry-level 1.6.
Read our review of the new SEAT Ateca here.
Tesla Model Y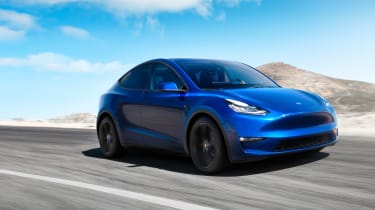 On sale: summer
Price: ~ £36,000
The Tesla Model Y will be the brand's fourth electric model, and will share most parts with the Model 3 saloon. The SUV will offer more space but will still provide around 330 miles of range and will cost from around £36,000.
Read more about the Tesla Model Y here.
Vauxhall Mokka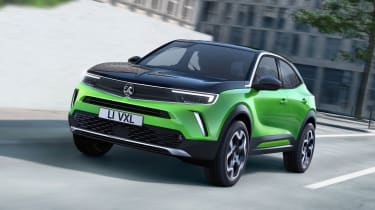 On sale: winter
Price from: Mokka - £20,735 / Mokka-e - £30,840
The next Vauxhall Mokka will be offered with petrol and diesel engines but the main focus will be on a new pure electric model. Sitting on the same platform as the Peugeot e-2008, the electric Mokka-e offers 201 miles of range and fast-charging. The interior is dominated by screens; there are few physical buttons.
Read more about the Vauxhall Mokka EV here.
Page 1 - Superminis, city cars and family hatchbacks
Page 2 - Small SUVs and family SUVs
Page 3 - Large SUVs, saloons and estates
Page 4 - Coupes, convertibles and fast SUVs
New 2020 Kia Stonic SUV: prices and specs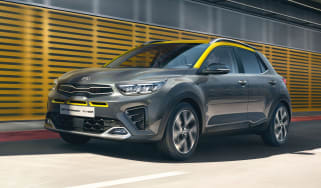 New 2020 Kia Stonic SUV: prices and specs
Updated Peugeot 5008 starts at £29,585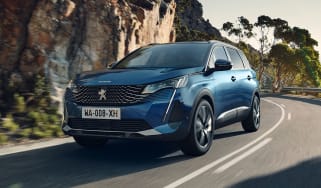 Updated Peugeot 5008 starts at £29,585
Cupra Formentor SUV review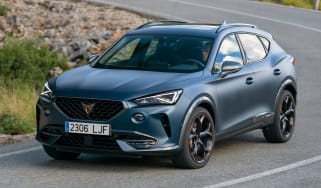 Cupra Formentor SUV review