Porsche Taycan vs Tesla Model S: specs comparison
The Porsche Taycan has arrived to take on the Tesla Model S, so which of these fast, luxurious, electric cars is the best?
It's fair to say that the Tesla Model S drastically changed the electric car market when it was launched, as the EVs before it tended to be slow with limited range. The Model S is a sleek, near-silent saloon that has the performance to scare supercars and the range to make it an owner's only car. Porsche has now launched its own high-performance electric car, the Taycan, but which of these two cars should you choose?
Price
The Porsche Taycan is much more expensive than the Tesla Model S but only the top two models are currently available. These are the Taycan Turbo and Turbo S, the same names used for the fastest petrol models in Porsche's line-up, and cost from £115,858 and £138,826 respectively. A third version will join the range as the least expensive model and will be closer to the price of the Model S. All cars get LED lights, a huge 16.8-inch digital instrument cluster, two touchscreens, a 'Hey Porsche' voice assistant and semi-autonomous driving technology.
At the time of writing, there are two Tesla Model S options to choose from. The Long Range model starts at £78,050 and the top-spec Performance version starts at £92,650. Each Model S features a premium audio system, heated seats and steering wheel, and sat nav, while the Performance adds a carbon-fibre spoiler and some interior upgrades. Tesla seems to change its pricing regularly, which in turn makes it harder to predict monthly payments if you're buying these cars on finance deals.
Powertrain, performance
Underpinning the Porsche and the Tesla are skateboard-style chassis, with the battery packs filling the space between the axles. Both cars have electric motors on each axle, making them all-wheel drive, although a rear-wheel drive, single-motor configuration will power the entry-level Taycan when it launches.
The Taycan uses a 93.4kWh battery and an 800V system, and produces 617bhp as standard in both Turbo and Turbo S models. Enable launch control and the output increases to 671 and 750bhp respectively. Turbo models are capable of 0-62mph in 3.2 seconds and Turbo S versions drop the time to 2.8 seconds - both are electronically limited to a 161mph top speed. Porsche did 26 consecutive launches during testing, showing that the car can repeatedly perform. The Taycan also set a new Nurburgring lap record for a fully electric four-door saloon, completing the circuit in 7:42.
Since Tesla simplified the Model S range, both available models use a 100kWh battery. Tesla doesn't provide power figures for its cars, but acceleration from 0-62mph takes 3.7 seconds in the Long Range model and a scarcely believable 2.4 seconds in the Performance variant. Performance cars have the Ludicrous mode launch control system, which allows the two-tonne saloon to compete against million-pound hypercars.
Charging times and range
On a full charge, Porsche says the Taycan manages up to 279 miles if you choose the Turbo, and 257 miles on the top-of-the-range Turbo S. Porsche has future-proofed its first electric car; it's compatible with chargers that offer up to 270kW, even though very few chargers currently offer this. On a 270kW charger, the Taycan's battery level can jump from 5% to 80% in just 23 minutes, while using a 50kW charger increases the waiting time to 93 minutes. An 11kW wallbox is available, which recharges the Taycan in nine hours.
The Tesla Model S has always been ahead of its competitors in terms of range, and even the Performance version manages up to 365 miles, depending on how you drive it. The Long Range version offers an extra 10 miles of range but is considerably less expensive. Tesla's newest Superchargers provide up to 200kW of power, meaning a top-up to 80% takes 45 minutes. New Model S customers currently get free access to the Supercharger network, which includes many motorway service stations.
Exterior design
Treading the line between traditional and modern, the Porsche Taycan looks like current Porsches yet has futuristic styling to match its powertrain. It's the company's first electric car, and its design indicates that it'll slot in below the Porsche Panamera in size, if not price. The window shape is similar to the Panamera and the 911, and the Taycan is as sleek and smooth-looking as you might expect. There are eye-catching design touches, like the four-dot LED headlights and the full-width tail-light bar, and its 21-inch alloy wheels are similar to those fitted to the Mission E concept car.
Tesla's offering looks more like a regular saloon, which makes its performance all the more surprising. Since being facelifted, the Model S has quite a blank nose, punctuated by a thin grille and slim LED headlights. It adds luxury touches like door handles that glide out when you approach the car. Its 21-inch wheels are a £4,400 optional extra on the Performance model.
Interior design
Porsche has aimed to blend old-school and ultra-modern inside the Taycan. The dashboard design apes the Porsche 911's, which is designed to resemble the original 911's dash, but adds plenty of technology - and touchscreens. There's a 10.9-inch infotainment screen, an 8.4-inch screen on the lower centre console, a huge virtual instrument cluster and the option of a separate touchscreen for the passenger. If specified, the two screens combine to look like one massive display. Five interior colours are available, and you can choose between leather or sustainable microfibre upholstery.
Tesla's dashboard design is familiar - the Model S interior is dominated by an enormous 17-inch portrait touchscreen. Whereas the Taycan has different screens for different features, almost everything is controlled through one screen in the Model S. Which you like most comes down to personal preference but neither have physical buttons for the climate control, which would make it easier to use. The interior is clad in leather, zinc and Californian wood, but you can spec finishes like carbon fibre for additional cost. Questions remain about the build quality of the Model S; the Porsche feels more solidly put together.
Technology
These are flagship electric cars, so both feature an impressive array of technology. In the Taycan there's online connectivity, over-the-air software updates, a night-vision system that can detect objects and animals further than the reach of its headlights, plus a range of safety tech. There's also a semi-autonomous driving capability that essentially allows the Taycan to drive itself on the motorway, although it'll never be fully autonomous - it's still a Porsche, after all.
Tesla's technology is mostly channelled through that large touchscreen. Using Google Maps means the sat nav is instantly familiar and has up-to-date traffic info, while you can add apps like Spotify and a calendar to the tablet-like screen. The Tesla comes with a whole suite of safety technology, plus the option of full self-driving if it's legal where you live (it isn't in the UK). When you ask it to, the Model S can drive, change lanes and even park itself. Other equipment includes powered front seats, all heated seats, a glass roof and a heated steering wheel.
Practicality
While you don't buy a car like this for its luggage space, both do quite well for people and cargo. There's plenty of space for four adults inside the Taycan, and the rear seats offer plenty of legroom for even your tallest friends. The svelte coupe shape means that some will find headroom a bit cramped, though. Plus, while there is a fifth seat, it's only suitable for very short journeys as it's far narrower than the other two rear seats. The main boot space measures 366 litres - nine litres shy of a Mercedes A-Class - and there's an extra 81 litres under the bonnet.
The Taycan's figures aren't so impressive when you look at the space available in the Model S. It offers class-leading room for rear-seat occupants, and there's a good-sized middle seat with plenty of foot room too. There are a number of storage cubbies dotted around but you might not need them, as the boot is massive. You'll have almost 750 litres to fill with the seats up - that's more than a Mercedes E-Class Estate, and more than double the Taycan - and there's up to 150 litres more in the front trunk. Seats down, you'll have 1,795 litres of space.
Safety
You could argue that these cars are at the cutting edge of automotive development, so it's no surprise that there's a vast amount of technology on board to keep you safe. The Taycan may not get tested by Euro NCAP but it's likely to get a five-star rating if it does. Porsche's optional InnoDrive self-driving system combines lane-keeping assist, overtaking assist, radar-guided cruise control and stop-and-go, and there's also a night-vision system, auto emergency braking, collision avoidance assistance and rear cross-traffic alert.
The Model S has picked up glowing safety scores in Europe and America. In fact, in a US roof strength test, the Tesla broke the crushing machine; it's strong enough that you could put four cars on the roof and it wouldn't cave in. As well as the optional Autopilot system, which costs over £5,000 and delivers a similar level of autonomous driving to the Porsche, the Tesla features lane-departure warning and speed assistance.
Verdict
While one of these is made by a Californian tech company and the other is built by a sports car manufacturer with decades of experience and VW Group backing, the Taycan and Model S are fairly well-matched. If you only look at the numbers, the Tesla would impress you most - it's quicker, more practical and offers a much longer range - but there are still doubts over its build quality. Tesla seems to continuously change its pricing (earlier in 2019, it slashed the price of the Model S by as much as £48,000), which worries some potential customers and makes monthly finance payments more expensive.
The comparison between the two cars will be more equal when the entry-level Taycan arrives, as it'll be closer in price to the Model S. We're slightly ambivalent about Porsche using 'Turbo' as a model name for an electric car but there are no such doubts about the car's construction, and Porsche is much more predictable than Tesla when it comes to range and pricing changes. Despite the electric power, the Taycan lives up to the Porsche badge and is better to drive than the Tesla. It's the better car of these two but not by much.
For other eco-friendly cars that are good to drive, read our guide to the best hybrid and electric sports cars.
London Congestion Charge exempt cars 2020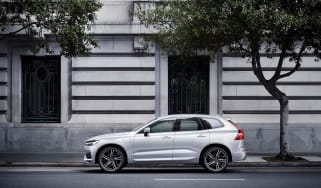 London Congestion Charge exempt cars 2020
The world's fastest electric cars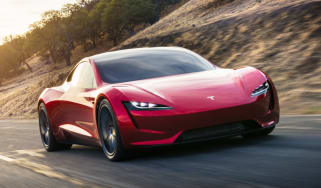 The world's fastest electric cars
Car dashboard warning lights: the complete guide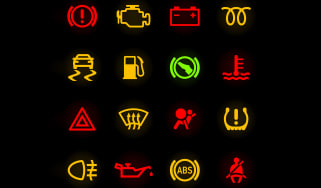 Car dashboard warning lights: the complete guide
Best small SUVs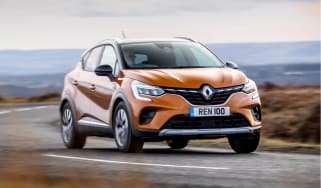 Best new car deals 2021