2020 Aston Martin DBX prototype drive review
We drive a pre-production model of the Aston Martin DBX, the company's first SUV
The arrival of the new Aston Martin DBX means we'll have to get used to the unfamiliar concept of an Aston Martin SUV. The company's first 'crossover' model will give wealthy buyers a sportier alternative to the Bentley Bentayga, Rolls-Royce Cullinan and Range Rover, and it'll also compete for sales against the Lamborghini Urus and Porsche Cayenne.
The field of powerful, luxury SUVs seems to be getting larger all the time. Manufacturers of low-volume sports and luxury cars have realised that bringing SUVs into their ranges will improve sales and, in some cases, ensure their survival. Porsche, arguably the first brand to introduce a car of this type in the form of the Cayenne, wouldn't be in the same financial position it is today if it hadn't made its SUVs. In fact, it could be said that today Porsche is predominantly an SUV company, given it sells far more of them than it does of its sports cars.
Best luxury cars to buy this year
Aston Martin will hope that the DBX can have a similar effect. Financial troubles have never seemed too far away at Aston, and strong DBX sales could give the company stability for the next few years.
The DBX was first shown as a concept five years ago when it was revealed as a high-riding two-door coupe. For the production model, the DBX has morphed into a proper SUV, and we think that's for the better. You'll immediately notice that it's an Aston Martin from the front, with a supersized version of the company's familiar grille and rounded headlights similar to those fitted to the latest Aston Martin Vantage.
There are more Vantage design cues around the back, where the tail-lights are joined by a light-bar on the ducktail spoiler. It gives the DBX a slight coupe appearance, making it look a bit less chunky than some other luxury SUVs. Despite sitting between the Cayenne and Bentayga in terms of size, the DBX hides its bulk well and actually looks a similar size to the smaller Porsche Macan.
The ducktail spoiler isn't just for show; it cleans up the aerodynamics and allows the Aston to go without a rear windscreen wiper. Sure enough, our test car's rear screen didn't get dirty even in the weather we encountered.
Aston Martins tend to be gorgeous on the outside but some of the interiors have been outclassed by Bentley, Porsche and Mercedes recently. The DBX looks to change that, and it could well have the best Aston interior we've seen for a long time. The centre console is arranged in an almost egg shape, which neatly houses the 10-inch infotainment screen and the climate controls. More on that later. What's the Aston Martin DBX like to drive?
Pressing the starter button (keyless entry and go are standard) feels theatrical, as it's mounted high on the centre console. The 4.0-litre twin-turbocharged V8 engine wakes up with a pleasant rumble, and it's a completely different sound to the Aston Martin DB11 and Vantage. It's a somewhat softer, mellower noise, but stick it in the sportier driving modes and you'll enjoy various pops and bangs from the exhaust.
With 543bhp on tap, the DBX is easily capable of pushing you back into the seat when you accelerate hard. Get a stopwatch out and you'll find 0-62mph is dispatched in 4.3 seconds, and it'll carry on all the way to 181mph. The Lamborghini Urus and Bentley Bentayga Speed offer top-speed bragging rights (both will hit 190mph) but the Aston provides enough performance for most. A nine-speed automatic gearbox is tasked with marshalling all that power, which was chosen for its smoothness and towing ability. The gearbox and engine are both borrowed from Mercedes, and the buttons next to the starter button take the place of a gear shifter.
The way the DBX corners is perhaps more impressive than its straight-line performance. We're only driving the first prototype (a couple more prototype versions will follow), but it doesn't feel like a heavy SUV when you tackle corners. It's pointy and accurate, and there's remarkably little body roll. Sure, it's not at the same level as the Vantage, but a blindfolded passenger might struggle to tell whether it's an SUV or a sports car.
There's a range of chassis technology to thank for this, with adaptive triple-chamber air suspension, active differentials, adaptive dampers and an electronic anti-roll system all fitted as standard. Power can be shifted to each individual wheel, at the benefit of on-road cornering or off-road traction. Those wheels are shod in bespoke Pirelli all-season tyres, while summer and winter tyres (also bespoke Pirellis) will be available.
Good handling can often come at the expense of a comfortable ride, and the latter is very important for a family SUV - even one with an Aston badge. Happily, although firm, the ride is never jarring or even mildly uncomfortable. You'll know what the quality of the road surface is like but you won't be disturbed too much by potholes and broken tarmac.
There are six driving modes to play with, and not an 'eco' mode in sight. 'GT' is the standard setting and the best for everyday driving without diving into the 'Individual' settings, with 'Sport' and 'Sport+' on hand when you want to drive the DBX hard. These modes sharpen the gearbox, steering and chassis response, and tell the car to hunker down on its suspension. There are also 'Terrain' and 'Terrain+' modes that increase the car's ride height if you're heading off-road.
While the average owner is unlikely to explore the wilderness in their DBX, Aston Martin has ensured the car has the capacity to do so if you want to. It'll wade through water up to 500mm deep, and climb some pretty steep and rugged inclines. We took the DBX up into the Welsh hills near Aston's St Athan factory (where it'll make all production DBXs) and, although a Land Rover would be more capable, the Aston never really struggled. It's quite impressive off-road - especially when you consider it's an Aston Martin - and is more capable than many owners will ever need.
Handily, it's easy to see the extreme corners of the front end over the vented bonnet, which helps drivers whether they're on or off-road. Overall visibility is decent; the DBX has big wing mirrors and the view behind is reasonable. We found the driving position to be perfect, and there's plenty of adjustment if it's not spot-on immediately.
While the interior is one of Aston's best for a while, it's not entirely perfect. There are a few too many buttons on the centre console for our liking - it looks a little fussy - and the controller for the infotainment system can be a tad clunky. Wireless phone charging and a premium audio system are yet to be fitted, but Apple CarPlay does come as standard, alongside a healthy selection of driver aids and safety features.
The DBX's practicality gets the thumbs-up from us, as the car is very spacious for passengers and luggage. The rear seats feel even more luxurious than the fronts, partly thanks to the standard-fit panoramic glass roof and the quality of the upholstery, fit and finish. Getting into the rear seats is easy, too, with wide-opening doors. Behind you, there's a 632-litre boot, and the air suspension can drop down to make it easier for dogs to leap into the back. The car's max towing capacity stands at 2,700kg.
There are no bulky batteries to hide anywhere, so you'd expect the DBX to be spacious. Not even mild-hybrid technology is available on Aston's first SUV, although CEO Andy Palmer has previously said that all models will be electrified by 2025, so we expect a hybrid DBX to eventually join the range.
With no electrical assistance, a powerful petrol engine and a heavy SUV body, the DBX's fuel bills will be pretty large. Official economy figures stand at 19.7mpg and 269g/km of CO2.
Verdict
Besides poor fuel economy (which won't worry many buyers anyway) and a slightly busy interior, there's very little not to like about the Aston Martin DBX. It drives like a sports car, yet it copes with all the practical requirements of an SUV. There's plenty of space for your family and their belongings, it's comfortable and well-equipped. Even with many luxury SUVs to pick from, the DBX could well turn out to be our favourite. We'll say for definite once we've driven a production model but the initial signs are certainly promising.
Read our other Aston Martin reviews, or see what else you can expect in showrooms in 2020.
Aston Martin DBS Superleggera Concorde Edition lands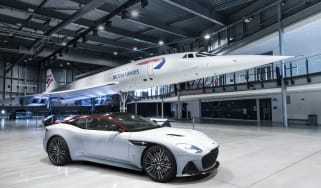 Aston Martin DBS Superleggera Concorde Edition lands
2020 Aston Martin DBX SUV finally breaks cover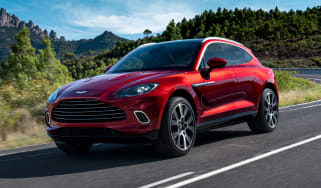 2020 Aston Martin DBX SUV finally breaks cover
2020 Aston Martin DBX SUV: prices, specs and release date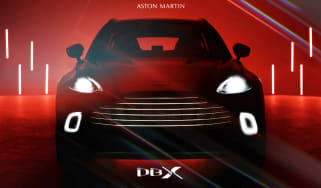 2020 Aston Martin DBX SUV: prices, specs and release date
Cupra Formentor SUV review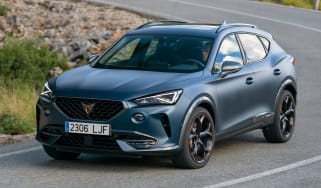 Cupra Formentor SUV review
2020 Volkswagen ID.3 hatchback: base model starts at under £30k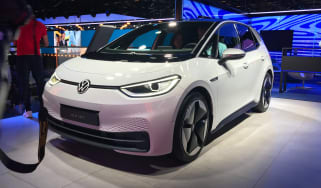 2020 Volkswagen ID.3 hatchback: base model starts at under £30k
Audi Q8 gains plug-in hybrid versions with 28-mile electric range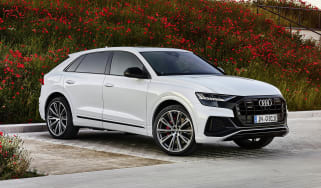 Audi Q8 gains plug-in hybrid versions with 28-mile electric range