New electric Jaguar saloon planned to rival Tesla Model 3
An upcoming small Jaguar EV could be first in a wave of new electric Jag models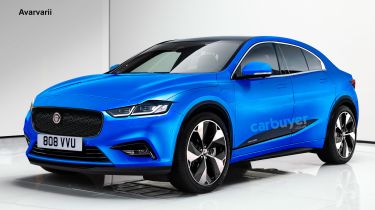 Model 3 outsells both XE and XF
More small electric Jaguars likely
F-Type sports car may not be replaced
Jaguar is working on a baby electric saloon to rival the Tesla Model 3 and Polestar 2, and our exclusive images suggest how it might look. Rumours suggest Jaguar may become a brand focused on electrification, and this saloon would be key to those plans. It'll be a couple of years before it's launched and we'd expect it to cost around £50,000.
The new car will be built at Jaguar's Castle Bromwich plant, which is being turned into a hub for electrified cars; both the forthcoming Jaguar XJ and a future Jaguar J-Pace large SUV will be built there, alongside a Range Rover crossover due in the next few years.
The brand's first electric car, the Jaguar I-Pace, is one of our favourite electric SUVs - and it's selling well too. Sales are much less rosy for the Jaguar XE and Jaguar XF saloons, so we expect this EV will replace both. As well as rivalling the Tesla and Polestar, this'll also be Jaguar's new answer to the BMW 3 Series and Mercedes C-Class.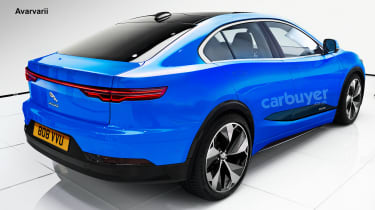 Like the Polestar, the Jaguar EV is expected to be quite tall, in order to accommodate a large battery without impeding on passenger space. We're told it'll be fast and refined. It'll be underpinned by Jaguar Land Rover's (JLR) new 'MLA' platform, which also enables the brand to create electric replacements for the Jaguar E-Pace and Jaguar F-Pace SUVs.
Jaguar's director of engineering, Nick Rogers, has expressed a need to think about a more compact electric model, while design boss Julian Thompson recently spoke to our sister site Auto Express:
"I think, reflecting on what's happening around the world, I would love to do cars which are smaller, more efficient and have all the inherent values of a Jaguar, which are a beautiful thing to look at, with a fantastic interior, and are just great to drive – I'd love to do smaller cars like that".
If this EV sells well, it could pave the way for even more compact Jaguar electric cars, especially given JLR and BMW have agreed to work together on electric powertrains. An electric Jaguar hatchback or small SUV isn't out of the question, which would be a similar size to the BMW X2 and Mercedes GLA.
The E-Pace and F-Pace are due to get plug-in hybrid powertrains when they're facelifted, but a replacement for the Jaguar F-Type sports car is harder to justify. Not including the Jaguar XJ, which is due to go off-sale in the coming months, the F-Type is Jaguar's lowest-volume model.
Check out our guide to the best electric cars to buy now.