UK road tax rules for 2020 explained
We explain how the current Vehicle Excise Duty system works, and what it means for UK motorists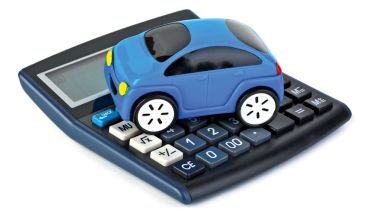 The Vehicle Excise Duty (VED) or 'road tax' rules have seen a number of revisions in recent years, with the UK Government implementing lower tax rates on zero and low-emission cars to encourage buyers to switch to cleaner models.
Several changes were made to the system again at the start of April 2020. The headline news was that the annual tax rate increased in line with inflation from £145 to £150. For alternatively fuelled vehicles (AFVs), including hybrids, it went up from £135 to £140.
VED rates continue to be based on CO2 emissions but cars will be assessed on their WLTP (Worldwide Harmonised Light Vehicle Testing Procedure) results instead of those taken from the older NEDC test (New European Driving Cycle), which is considered to be less accurate.
Changes for April 2020 also mean that the tax surcharge on new cars costing more than £40,000 excludes zero-emissions models. It still applies to conventional petrol and diesel cars and is payable on qualifying cars from the second year of registration for five years.
For drivers of petrol and diesel cars registered between 1 April 2017 and 31 March 2020, the VED system remains unchanged, aside from a slight yearly increase linked to inflation.
Owners of older cars continue to pay annual road tax as per the rules of the previous tax structures albeit with a slight rise due to inflation. The previous systems were split into two separate periods - cars registered between 1 March 2001 to 31 March 2017, and cars registered before 1 March 2001.
If you're set on buying a new car soon, it's important that you know how much annual road tax you'll be required to pay. Business users, too, need to know about Benefit-in-Kind, or BiK. This is the figure used to calculate company-car tax and we've created a guide to how it works.
Read on to understand the current road-tax structure and what it means for you.
Current Vehicle Excise Duty (VED)
The current VED system is split into two main rates. The first rate applies to the first year the car is on the road and is calculated based on the car's CO2 emissions figure. From the second year onwards, a flat rate applies. A small discount applies if you have an AFV e.g. a hybrid, and electric cars are exempt.
First-year VED rates
When you buy a new car, the first year of road tax will be included in the car's on-the-road (OTR) price.. The first-year rates start from £0 for zero-emission cars and AFVs that emit less than 50g/km. The most polluting cars are hit the hardest, with those emitting 255g/km of CO2 or more costing £2,175 in the first year.
The majority of diesel cars now sit one band higher for the first year unless they meet the latest RDE2 emissions standards. There are currently only a handful of diesel cars on sale in the UK that meet these new standards. This means that a petrol hatchback that emits 105g/km of CO2 will cost £155 for the first year, whereas a diesel model with the same emissions figure will cost £175.
The RDE2 emissions standards have yet to be met by most manufacturers, as they don't legally come into force until the 2020/21 year. Certain diesel models of the Jaguar E-Pace, Mercedes A-Class and Range Rover Evoque, however, have already been certified as 'RDE2' compliant.
Meanwhile, hybrids and cars running on bioethanol or LPG get an annual discount of £10.
Annual VED rates
From the second year of ownership onwards, the annual road tax bill for conventional petrol and diesel cars is a flat rate of £150 (up from £145 in 2019/20). AFVs that emit over 51g/km of CO2, including hybrids and plug-in hybrids, will cost £140 a year (up from £135 last year).
Conventional petrol and diesel cars costing more than £40,000 are subject to a £325 additional supplement per year (up from £320 last year) the first five times they're taxed. The logic behind this is that people buying expensive cars are able to afford more in tax. The additional charge applies for the first five years, bringing the total annual cost to £475 for these cars. After the five year period ends, annual road tax is just the flat rate of £150 or £140 per year.
From April 2020 onwards, all electric cars costing more than £40,000 are exempt from the surcharge. The exemption has also been backdated to apply to all zero-emission cars registered from 1 April 2017 onwards, meaning that existing owners are no longer liable for the additional tax payment.
The table below shows the current bands, with corresponding CO2 emissions figures and the amount payable on initial registration (first year rate) and subsequently (standard rate).
VED bands for car registered from 1 April 2017 onwards
Emissions (g/km of CO2)
Diesel cars meeting RDE2 and petrol cars first-year rate
All other diesels first-year rate
Alternative-fuel vehicle first-year rate
Standard petrol/diesel annual rate
Standard alternative fuel annual rate
0
£0
£0
£0
£0
£0
1-50
£10
£25
£0
£150
£140
51-75
£25
£110
£15
76-90
£110
£135
£100
91-100
£135
£155
£125
101-110
£155
£175
£145
111-130
£175
£215
£165
131-150
£215
£540
£205
151-170
£540
£870
£530
171-190
£870
£1,305
£860
191-225
£1,305
£1,850
£1,295
226-255
£1,850
£2,175
£1,840
Over 255
£2,175
£2,175
£2,165
Cars above £40,000 pay £325 annual supplement for five years from the second year of registration (excluding zero-emission cars).
How does the current VED structure affect you?
Vehicle Excise Duty rules are intended to favour buyers of less polluting cars. The latest structure gives buyers the biggest incentive yet to buy zero-emissions cars by making them the only ones that can possibly qualify for full VED exemption.
When it comes to the initial registration fee, all cars that emit any CO2 incur an initial charge ranging from £10 for the lowest polluters to £2,175 for the worst. A Toyota Prius hybrid, for example, which once attracted no initial registration fee, now costs buyers an additional £25 at the point of sale (this is included the car's 'on-the-road' (OTR) price).
VED tax bands for cars registered from 1 March 2001 to 31 March 2017
Vehicle Excise Duty (VED) for every car registered between 1 March 2001 and 31 March 2017 is determined by its CO2 emissions, measured in grams per kilometre (g/km). The VED taxation bands start with A (the lowest amount of CO2) and run to M, the maximum amount. The table below shows the exact VED rates for cars registered between 1 March 2001 and 31 March 2017.
VED Band
CO2 Emissions
Annual rate
A
Up to 100 g/km
£0
B
101-110 g/km
£20
C
111-120 g/km
£30
D
121-130 g/km
£125
E
131-140 g/km
£150
F
141-150 g/km
£165
G
151-165 g/km
£205
H
166-175 g/km
£240
I
176-185 g/km
£265
J
186-200 g/km
£305
K*
201-225 g/km
£330
L
226-255 g/km
£565
M
Over 255 g/km
£580
*The Band K rate also applies to cars that were registered before 23 March 2006 and have an emissions figure over 225g/km.
Check our list of the 10 best used cars that'll save you money if they were registered before 1 April 2017.
VED tax bands for cars registered before 1 March 2001
If your present car was registered before 1 March 2001, it falls into one of two bands based on engine size, making it easy to work out your annual bill.
If your car has an engine less than 1,549cc in capacity, it's liable for annual VED of £165. Larger engines attract a VED bill of £270. If you're not worried about driving an older car, those with an engine smaller than 1.6 litres will be a lot less costly to run.
Meanwhile, if you have your sights set on an older car with more power, even exotic sports cars or big SUVs cost no more than £270 to tax if registered before 1 March 2001 – while an example of the same car registered after then could easily cost twice as much to tax.
Since 1 April 2017, all cars over 40 years old are considered to be historic vehicles and aren't liable for VED.
Driving without tax
If you're caught driving a car without road tax, you could receive a severe fine. If you're stopped by police at the roadside, they have the power to confiscate your vehicle. You can check if your car is taxed on the DVLA's website to make sure.
When buying a new car, you need to tax it before driving away, as there's no 'grace period'. You can tax a car online or by calling the DVLA, ensuring you have the logbook (V5C) or new keeper slip (V5C/2) handy so you can obtain the vehicle's unique reference number. If you have a car you want to keep in storage and not drive, you can cancel its road tax by making a SORN (Statutory Off-Road Notification), which is valid for 12 months.
Road tax refund
The disappearance of the tax disc in 2015 brought with it a significant change; previously, if the tax disc of a car for sale hadn't yet expired, it could be sold along with the car. With tax already in place, this made it simple for a buyer to simply arrange insurance over the phone to drive away legally in their new car.
It's no longer possible for road tax to be transferred to a subsequent owner. Instead, it's up to the owner to apply for a refund of any remaining tax (allow up to six weeks for it to be processed). It's also up to the buyer to tax the car themselves immediately; you can do this online through a relatively simple process and it's still possible to visit a Post Office to arrange your car tax.
Pay road tax online
It's now possible to pay your road tax with a monthly Direct Debit, while the annual and six-monthly payment options continue. The DVLA automatically sends out renewal reminders (called V11 forms), so remembering to tax your car is easy, despite the fact there are no longer tax discs. V11 forms also have a Direct Debit form to fill in on the back, which you can then take to a Post Office if you'd rather not pay online.
Do you want to know more about buying a new car? Read our guide for our top tips or read our explanation on how to finance a new car.
New 2020 Kia Stonic SUV: prices and specs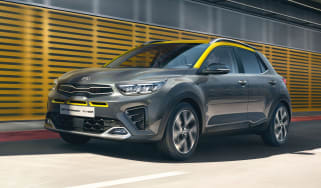 New 2020 Kia Stonic SUV: prices and specs
Updated Jaguar XF launched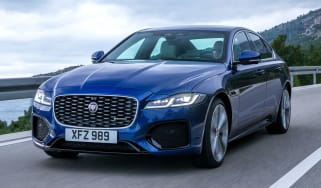 Updated Jaguar XF launched
Updated Peugeot 5008 starts at £29,585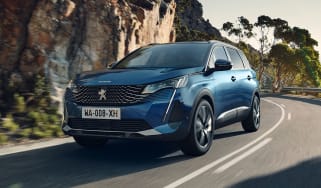 Updated Peugeot 5008 starts at £29,585