Used BMW 1 Series buying guide: 2004-2011 (Mk1)
First BMW premium family hatchback is fast becoming a bargain for used-car buyers
While it could be argued that the BMW 3 Series cCompact was the pioneering small rear-wheel -drive premium hatchback when it went on sale in 1993, it took until 2004 before BMW launched the car that would broaden its appeal further than ever before.
With the BMW 1 Series, BMWthe company finally had a genuine rival to the Audi A3 hatchback and range-topping versions of the Volkswagen Golf. Unlike its 3 Series Compact predecessor, the 1 Series was all-new from the ground up, although it followed BMW's traditional, driver-pleasing rear-wheel -drive layout.
The looks, which echoed the features of small BMWs from the 1960s, were controversial at first, particularly as the five-door body had a far longer bonnet than its contemporaries, while the accommodation appeared somewhat squashed up towards the rear of the car. There were no doubts at all, though, about how well the 1 Series drove, and more powerful engines were introduced over the years to further hone its appeal for enthusiastic drivers.
The very first 1 Series is now over a decade old, and there are many second hand examples available at temptingly low prices. Although a third -generation 1 Series will soon be with us, the first of the breed still has plenty of appeal.
Follow our buyer's guide to find the right Mk1 1 Series for you.
Which is the best BMW 1 Series Mk1 version?
The 1 Series was launched with a wide choice of petrol and diesel engines. There were 1.6-litre 116i and 2.0-litre 118i and 120i petrol models, and 118d and 120d versions of a 2.0-litre diesel engine. The three3.0-litre 130i was launched only a year later to much applause from fans of fast BMWs – its 265bhp straight-six engine was well suited to the well- balanced rear-wheel -drive 1 Series chassis and made for a true driver's car.
The diesel models, meanwhile, offered an impressive blend of performance and economy – particularly the 120d, which couldcan manage 0-62mph in less than eight seconds. It could should approach 60mpg, too, – only a little short of the economy of the less powerful 118d.
A rather prettier three-door version was introduced during an update in 2007, along with a twin-turbocharged 2.0-litre 123d variant. Styling was tweaked at the same time, with the bumpers and headlights being subtly improved, while a stop-start system was introduced on cars with a manual gearbox in order to reduce CO2 emissions.
The three3.0-litre petrol engine was made available in a less powerful form for a new 125i model in 2008, while a less powerful 116d diesel was introduced, bringing even greater fuel economy. The 116i petrol engine was changed from a 1.6 to a 2.0-litre towards the end of Mk1 production.
Three-door models are rather less commonly found than the more practical five -door. Early 116i and 118i models had a five-speed gearbox, but were soon upgraded to the slick six-speed unit standard on all other models. A five-speed automatic gearbox was available across the range.
The early service history of most used BMW 1 Series' is usually well documented, as many customers took advantage of the cost-effective BMW Service Pack. This looked after all routine servicing for the first five years or 50,000 miles. Although the 116i has to be worked hard to move quickly, every 1 Series engine is a pleasure to use.
It's worth remembering, though, that there were frequent improvements to the engines while the Mk1 1 Series was in production. For example, the early 118d had 122bhp but facelifted (post-2007) cars had 143bhp and you can really feel the difference.
Running costs
UK buyers were particularly fond of the 1 Series diesel, thanks to the low running costs and decent performance offered by every version. The 118d can return around 60mpg while the muscular 120d is only marginally less thrifty. Most economical of all is the 64.2mpg 116d, which also enjoys a £30 annual road -tax bill thanks to 118g/km CO2 emissions.
Low -mileage drivers are likely to be happy with the fuel-efficiency of the petrol engines, too – the 118i can manage 47.9mpg and has a reasonable turn of speed. For motorway driving, the hard-working 116i is likely to be less economical overall than its more powerful sisters, although urban fuel economy is likely to be better. The big-engined 130i is less frugal than the four-cylinder models, but 34mpg is reasonable for a 265bhp hot hatchback.
This is a competitive class, with the second version of the Audi A3 arriving in 2003, a year before the 1 Series. Like the BMW, it's a fantastically well-built car, with a lovely interior and a comprehensive line-up of engines. With a choice of front or four-wheel-drive in contrast to the BMW's rear-wheel drive, the 1 Series is arguably the better choice for driving enthusiasts, thanks to its ultra-precise handling.
Other models worthy of your attention include the MkV and MkVI Volkswagen Golf, which share a lot of their components with the A3, along with the Mercedes A-Class introduced in 2004, which has impressive comfort and build quality, but is nowhere near as sporty as the BMW.
Should I buy one?
If you value how a car drives as highly as comfort or practicality, the BMW 1 Series will bring a smile to your face on every journey. It backs up its excellent dynamic abilities with fine engineering and a well sorted cabin for front passengers.
The main downfall of the 1 Series is a lack of space for rear passengers, even in the five-seat version, along with a smaller boot than many rivals. If you have children or often need to carry adult rear-seat passengers, there are better alternatives.
It's also worth avoiding the most basic trim levels, with ES or SE the best starting point for a fun, economical and desirable small hatchback.
Best luxury small cars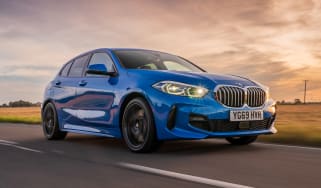 "Ignore the official figures and change how you drive"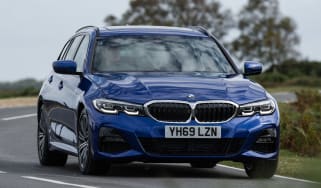 "Ignore the official figures and change how you drive"
Updated Peugeot 5008 starts at £29,585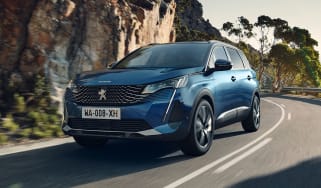 Updated Peugeot 5008 starts at £29,585
Cupra Formentor SUV review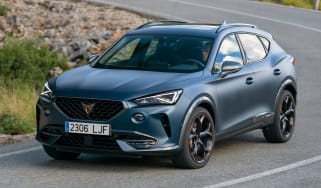 Cupra Formentor SUV review
2020 Volkswagen ID.3 hatchback: base model starts at under £30k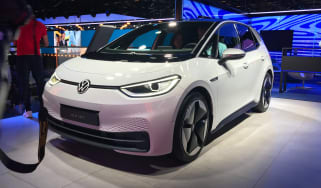 2020 Volkswagen ID.3 hatchback: base model starts at under £30k