BMW 1 Series M Sport review
The BMW 1 Series M Sport mixes hot-hatch looks with low running costs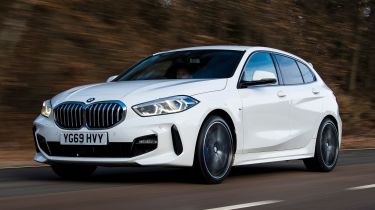 The BMW 1 Series M Sport is a common sight on UK roads, but you might easily mistake it for a proper 1 Series hot hatchback. After all, it has the same big wheels and gaping air intakes as the powerful BMW M135i, and can be ordered with sporty-looking blue brake calipers and a big spoiler.
It's a popular choice because it combines these eye-catching styling details with the same low running costs as the rest of the range, and most buyers don't need the extra power and cost of the hotter 1 Series versions, the 128ti and the M135i.
There are some subtle changes to the grille and bumpers compared with SE and Sport models. The lower part of the grille has a sharper-looking design, and the grille has more chrome parts to help it stand out. Yet the M Sport model isn't all about looks; there are plenty of other changes over other models in the range, and since it's a top-spec car, there's more equipment inside as well.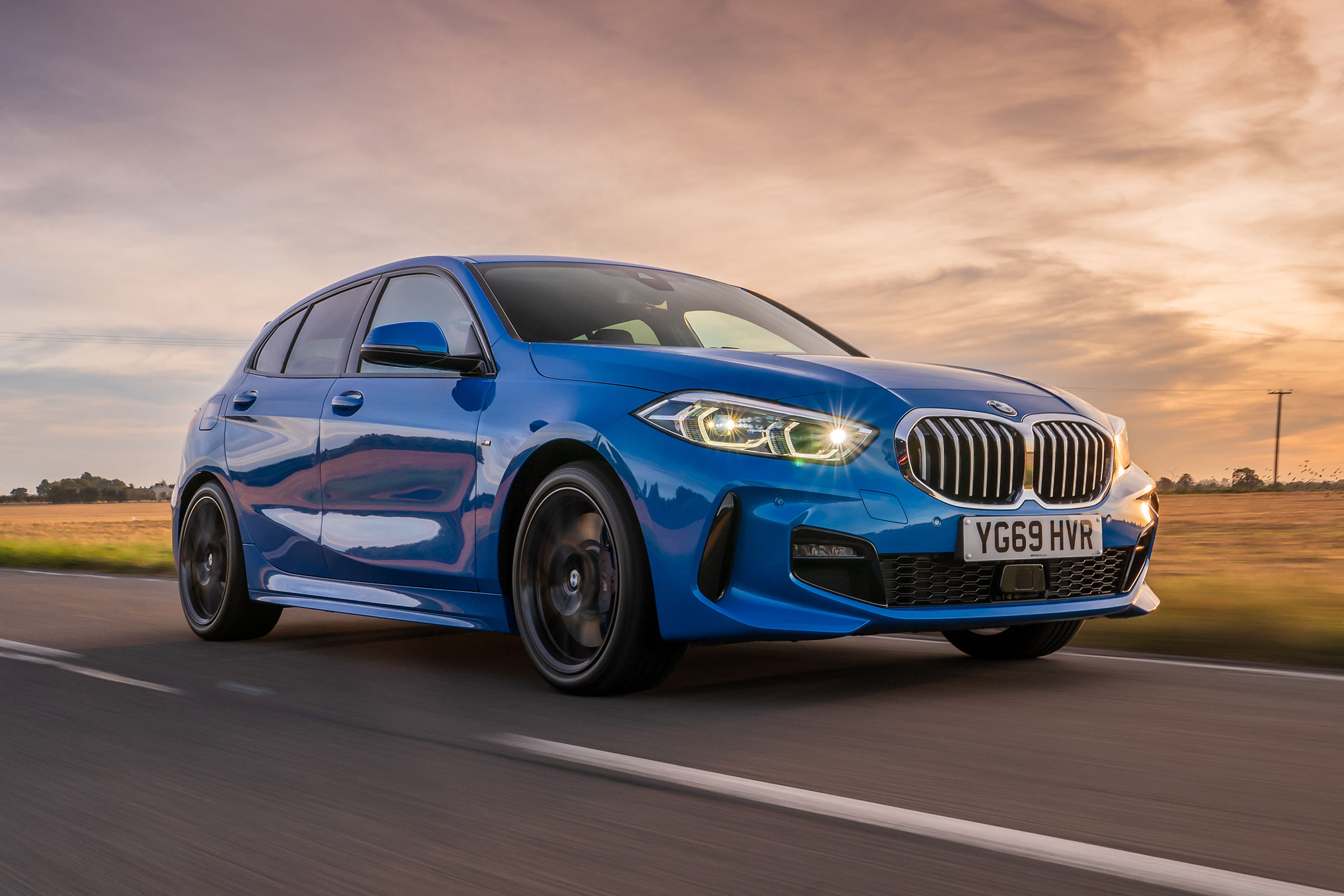 Top 10 best luxury small cars 2022
All BMW 1 Series M Sport cars have sports suspension that improves the car's handling and there are some other driving-focused options such as a larger fuel tank, sportier steering and more powerful brakes.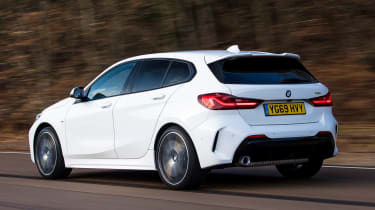 The BMW 1 Series M Sport is available with one petrol engine: a 138bhp 1.5-litre engine badged 118i. It's a little strange that there are three diesel engines when buyers are turning away from the fuel, but you can still choose the 116d, the 118d or the 120d, with increasing power outputs. You also get the option of either manual or automatic gearboxes and even the possibility of all-wheel drive.
More reviews
Car trim reviews
In-depth reviews
Road tests
Used car reviews
Petrol makes sense for all-round use, so the 118i is our pick for most people. Those looking for a sporty drive will want either the 128ti or range-topping M135i hot hatchbacks, and those who do a lot of motorway miles might want one of the punchy but efficient diesels.
The BMW 1 Series is aimed at buyers looking for an upmarket small car, and targets the same customers as the Audi A3 and Mercedes A-Class. It's the most fun to drive of the three, especially in M Sport form. Check out our review of the Mercedes A-Class AMG Line to see how it compares with the 1 Series M Sport.
It's sporty to drive but not uncomfortable, and the engines are smooth and powerful. It's well equipped and M Sport trim brings useful additions such as heated front seats. As M Sport holds its value reasonably well, it's often good value on finance.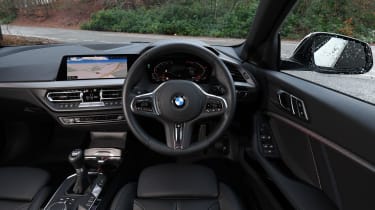 The M Sport model's firmer suspension and larger alloy wheels means it's not as comfortable over bumps and potholes as the SE or Sport versions. 
The BMW 1 Series in general isn't as practical as a Volkswagen Golf, nor is it as fun to drive as a Ford Focus. It's worth considering cars with less upmarket brands to get the best value for money, especially as M Sport is the most expensive version of the 1 Series.
What you get
18-inch alloy wheels
Sporty suspension
Heated seats
LED headlights
Climate control
Parking sensors
Apple CarPlay
Cruise control
Sports seats
Sat-nav
Recommended optional extras
Larger fuel tank
Wireless phone charging
Parking Assistant
Verdict
The M Sport model can be good value as long as you do your research. The BMW 118i M Sport is the best version to go for if you're unsure which will work for you. It has plenty of performance - 0-62mph takes 8.5 seconds - and delivers decent fuel economy of between 42.2 and 47.1mpg. And because it's a petrol, it's quieter and smoother than the diesel versions around town. The auto gearbox best suits the car but the manual is fine, too.