Used BMW 1 Series review: 2011 to 2019 (Mk2)
"The BMW 1 Series is great to drive, efficient and has a high-quality interior, but it's not the most practical family hatch"
Pros
One of the best cars of its type to drive
High-quality interior
Excellent engine range
Cons
Slightly cramped inside
Can be expensive to buy
High maintenance and running costs
The BMW 1 Series is an excellent car in many different ways, so it makes a top used buy if you're after a small family car with an upmarket image. It's fantastic to drive, has a wide range of superb engines and is luxurious inside, plus there are versions with sports-car performance. There are a couple of drawbacks to be aware of, including limited practicality and potentially high running costs, but if you want a small car that's good to drive, comfortable and upmarket then the 1 Series should be on your shortlist.
The BMW 1 Series is a small family car that sits among a handful of models offering more luxury than a normal hatchback car. They're often called small premium family cars or something similar, and the list includes models such as the Audi A3, Mercedes A-Class and sometimes high-spec versions of the Volkswagen Golf.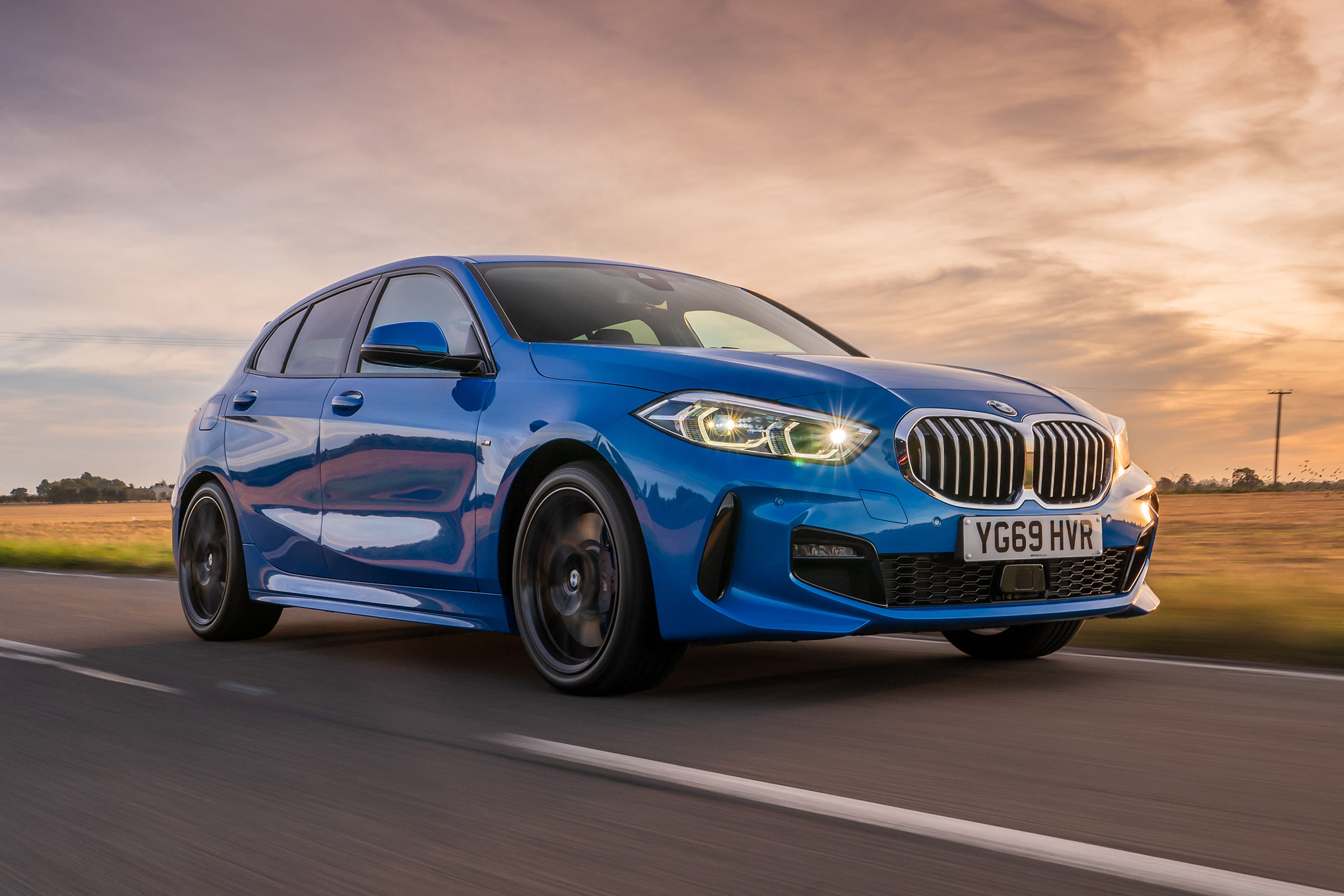 Top 10 best luxury small cars 2022
The 1 Series stands out from the pack in terms of engineering, though. It's the only car of its type that uses rear-wheel drive (until the 2019 Mk3 model arrived, but we're looking at the Mk2 model here). Rear-driven cars tend to be more agile and fun to drive than front-wheel drive models. Yet the 1 Series is also available in four-wheel drive on certain models as well.
Even though the BMW will appeal most to people who love driving, it has lots of qualities that should be desirable no matter your outlook: it's comfy, upmarket and has a wide range of engines that are both punchy and efficient. Read on to find out everything you need to know about this excellent small family car in our buying guide for the Mk2 model.
What's the history of the BMW 1 Series?
The first-generation BMW 1 Series came out in 2004, and was available in Coupe (two-door), five-door and convertible forms. It still looks remarkably fresh today, if only because the second-generation model didn't move the styling on all that much.
The Mk2 model arrived in 2011 and was now only available as a three- or five-door hatchback, because the coupe and convertible versions were now called the 2 Series. In 2015 the 1 Series was updated with some changes to the engines and equipment.
In 2019 the last rear-wheel-drive 1 Series was built and a new front-wheel drive Mk3 model was launched using technology from BMW's MINI range. It's still on sale now and despite the shift in engineering, it's still one of the best family cars to drive.
Which is the best BMW 1 Series to choose?
The BMW 1 Series was available with loads of different engines, although a lot of them are pretty similar. The petrol range had three options, a 1.6-litre four-cylinder (in earlier cars up to 2015), a 1.5-litre three-cylinder (from 2015 on), a 2.0-litre four-cylinder and a 3.0-litre six-cylinder. The naming structure uses numbers, higher meaning more performance. There's the 114i (1.6 only), 116i (1.6 or 1.5 depending on year), 118i (also variable depending on year), 120i (1.6 or 2.0, variable) and the 125i (always a 2.0-litre unit). The M135i and M140i models both use a powerful six-cylinder engine but power increased from 311bhp to 330bhp.
The story is the same for the diesel engines. The 114d model is either a 1.6-litre four-cylinder motor or a 1.5-litre three-cylinder unit depending on whether it's pre- or post-2015, and the same is true for the 116d. The 118d, 120d and 125d models all use a 2.0-litre diesel no matter the year, but power and economy figures vary depending on the year of production - later is better in all cases.
Our recommendation is a 118i if you want a petrol model; the later car with the three-cylinder engine is better, because it's punchy but economical. If you want high fuel economy then a 116d is best, as it's really efficient and still has decent performance. The high-performance M140i model is huge fun, but also quite expensive to buy and run.
What are the alternatives? 
There are plenty of alternatives to the 1 Series in the family hatchback class, but none is rear-wheel drive, so the BMW drives quite differently to any of them. Models such as the Mercedes A-Class and Audi A3 are the closest rivals in terms of price, as they're also premium models.
However in terms of driving enjoyment, alternatives could include the Ford Focus and Mazda3, which are cheaper to buy but also a lot of fun while also being comfortable and hi-tech. The Volkswagen Golf is another option, and you could even consider a MINI five-door because it has similar engines to the BMW, although it's even more cramped inside.
1 Series Mk2 video reviews
Pre-facelift 1 Series Mk2 video review