Audi S8 saloon review
"The Audi S8 combines the luxury of Audi's flagship saloon with a powerful V8 engine and clever active air suspension"
Pros
Effortless pace
Clever active suspension
Interior technology
Cons
High running costs
Lack of steering feel
Sober interior design
The Audi S8 is the result of an unlikely marriage between the standard A8 luxury saloon and the 4.0-litre twin-turbocharged V8 from the Audi RS7. Designed to dominate German motorways, it's possibly the last in a dying breed of fast petrol performance saloons that go unfathomably quickly and cost a fortune to run. Models like the S8, Maserati Quattroporte and the AMG-tuned Mercedes S-Class are likely to switch to hybrid power in the near future or be killed off altogether if they can't clean up their act.
The BMW 7 Series and Bentley Flying Spur have lost their flagship V12 engines, and hybrid versions of both are now available. The next-generation 7 Series will gain an electric version to join the Mercedes EQS, while the Audi e-tron GT is a Porsche Taycan-based electric range-topper that gives a different flavour of performance to the similarly costly S8.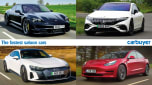 Top 10 fastest saloon cars 2023
Undeterred, Audi has given the S8 a facelift for 2022, in line with the main Audi A8 range. A new grille, bumpers and lights are pretty much the extent of the changes, although the high-tech light clusters at each end push the envelope of what's currently possible with lighting technology.
With 563bhp, four-wheel drive and a slick automatic gearbox, the latest S8 is a limo that catapults from 0-62mph in 3.8 seconds and is capable of sitting at its 155mph limited top speed until fuel or road runs out. It's not just a leather-clad hot rod, because it's clever predictive air suspension and all-wheel steering mean it's also surprisingly agile and resistant to understeer, if not the most involving to drive.
Its active suspension doesn't just improve handling. Cameras also scan the road for bumps to help the chassis soak them up, and it can tilt into corners. Both features improve passenger comfort, so backseat clients can work or sleep. There's plenty of room in the back, despite the S8 being short-wheelbase only, and despite the huge size of Audi's flagship saloon, its turning circle is surprisingly tight. That's because it features four-wheel steering, with the rear wheels turning in the opposite direction to the front wheels, helping to make it feel like a much smaller car during tight manoeuvres.
Every mod con is included inside, from twin-screen displays in the dashboard to voice control that recognises natural speech and can connect to Amazon Alexa. While it's unlikely Euro NCAP will crash-test the S8, it's fitted with a vast array of cameras and sensors to help predict and avoid collisions. It's all deeply impressive, and if you simply want a very fast Audi A8, the S8 delivers.
MPG, running costs & CO2
Clever fuel-saving technology can't make up for a big, thirsty engine
With a twin-turbocharged V8 engine and a weight of well over two tonnes, the Audi S8 is certainly no eco-champion. This would be even worse without technology such as its 48-volt mild hybrid electrical assistance system, which turns the engine off when it isn't needed - even while coasting at high speeds. While it's running, the engine can also deactivate individual cylinders to save fuel when full power isn't required.
While the S8's official fuel economy of 24.6mpg and CO2 emissions of 261g/km prove there's only so much fuel-saving technology can do in a heavyweight petrol performance saloon, the figures are fairly comparable to rivals like the BMW M5, which manages up to 25.4mpg and emits 258g/km.
Partnership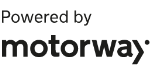 Need to sell your car?
Find your best offer from over 5,000+ dealers. It's that easy.
The car's flagship status places it in the highest Benefit-in-Kind tax band and road tax costs nearly £500 in the first five renewal years.
Engines, drive & performance
Huge power and clever air suspension helps the Audi S8 defy physics
The Audi S8 is one of a dying breed of ultra-fast, huge saloon cars. A 4.0-litre V8 petrol engine churns out 563bhp and 800Nm of torque, shrugging off the S8's significant weight and shoving it from 0-62mph in 3.8 seconds. Audi's quattro four-wheel drive system helps here, as does a smooth-shifting eight-speed automatic gearbox. But compared to the latest high-performance electric cars, the S8 doesn't quite offer as much in the way of thrilling acceleration.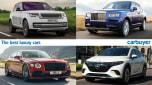 Top 10 best luxury cars 2023
One of the biggest advances over the older S8 is the move to predictive air suspension. This uses forward-facing cameras to scan the road ahead and adjust the suspension to anticipate upcoming bumps.
Not only that, but the S8 can lean into corners by up to three degrees in Comfort+ mode, subtly reducing the forces passengers experience in a bend. There's not much in the way of feedback while driving the S8 but it's remarkably fast and agile given its size, with the active-rear wheel steering helping to make it feel smaller than it actually is on the move.
Accelerate hard and you're made aware of a subtle V8 burble. The engine cuts out altogether at lower speeds thanks to the car's mild-hybrid electrical assistance setup.
Interior & comfort
Technology impresses, but the S8 doesn't do much to distinguish itself from the regular car
The S8's clever proactive suspension is impressive, softening the blow of speed bumps and road imperfections very well and even raising the car by up to 50mm to make it easier for passengers to get in and out of the seats. We had expected this to feel gimmicky, but it's a thoughtful touch.
Elsewhere, Audi has been typically restrained in appointing the interior, adding features like diamond-stitched sports seats and carbon fibre trim pieces to give a sporty flavour. Like other A8s, the S8 features two large touchscreen displays, with the upper screen taking care of navigation and media and the lower screen looking after the car's settings and climate control.
Practicality & boot space
The sheer size of the Audi S8 means interior space impresses
Thanks to its performance bias, the Audi S8 is only available in standard wheelbase, rather than the stretched long-wheelbase limousine bodystyle. However, even in this form there's as much space in the back of the S8 as in the front, and Audi's flagship is far larger than most other cars on the road. That can make it tricky to park, but rear-wheel steering improves its turning circle and the S8 has no less than five radar sensors, six cameras, 12 ultrasound sensors and a laser scanner to look out for obstacles.
The car's generous length helps boot space, and there's 505 litres of space under the lid. That's very similar to the Mercedes S-Class and provides ample space for suitcases for those on board.
Reliability & safety
Cars as fast and heavy as the Audi S8 are unlikely to be cheap to maintain
The S8 is a very expensive car and you'll need a healthy motoring budget to maintain it. Not only is Audi servicing pricey at the best of times, but the S8 is fitted with huge brakes and tyres that might not last an awfully long time if the car is driven enthusiastically. Audi has been selling the A8 that the S8 is based on for many generations, but it's increasingly complex, so electrical glitches are likely to be the most common problem owners face.
It's unlikely the S8 will ever be crash-tested by Euro NCAP because it's sold in relatively low numbers, but it's reassuring to note that every Audi tested since 2015 has received the full five stars. In theory the S8 should be at the top of the pile, too, because it's fitted with the full range of Audi's active and passive safety equipment.