New Ford Focus vs VW Golf vs Vauxhall Astra: rivals comparison
The Ford Focus is better than ever, but how does it compare to the new Volkswagen Golf and updated Vauxhall Astra?
When the original Ford Focus was launched in 1998, it ushered in a new era of hatchbacks and transformed Ford into a brand with fresh, fun models that all the family could enjoy. Sharp looks and even sharper handling meant the Focus has resided at, or near, the top of sales charts over the course of three generations and two million sales in Britain. But, by the end of the last car's lifespan, it had begun to show its age and was less competitive in the hotly contested family car class.
The Mk4 Focus addresses all the criticisms we had of the previous model; it's better to look at, more practical, better equipped and more technologically advanced. It feels slightly more upmarket now, too. Despite those improvements, it's still hard to ignore the latest Volkswagen Golf if you're looking for a tech-filled, 'premium' hatchback; it's a car that has a huge arsenal of gadgetry and touch panels instead of buttons.
There's also the facelifted Vauxhall Astra, with updated styling and new Peugeot-sourced engines. It's still a popular contender, with keen pricing and plenty of standard equipment. These three cars also face an ever-improving group of rivals, including the Skoda Octavia, SEAT Leon, Mazda3 and Kia Ceed.
Read on to find out how these cars compare in key areas.
Practicality
One of the Mk3 Focus' biggest issues was a lack of interior and boot space - but the new Mk4 Focus now matches its rivals with 375 litres, even if it still trails the 420 litres in the back of the Honda Civic. The new Focus is a better place for passengers to spend time, thanks to 50mm more space than before. It's wider too, with 60mm of extra shoulder room that should make it easier for three passengers to sit in the back. Ford has given it larger rear windows to make the rear seats less claustrophobic and has tried to lessen the thrumming often experienced when one window is opened at higher speeds.
The latest Volkswagen Golf sits on the same platform as its predecessor and offers a similar amount of space as before. A little extra boot space would have been good but its 380 litres is still reasonable, if only average for the class. The Astra offers 370 litre, but you won't notice the minimal difference, and the Vauxhall is pretty good for interior space too. While there's a Ford Focus Estate and a Volkswagen Golf Estate due soon, Vauxhall no longer offers an Astra estate.
Safety
As crash-test body Euro NCAP has made it tougher to achieve a top five-star rating, and semi-autonomous driving technology has seen an array of sensors added to new models, manufacturers have invested in active safety systems.
Not only should the new Focus protect you in a crash, it should also make it a lot harder to have one in the first place. Technology offered as standard or optionally includes traffic-sign recognition that can alert you to speed limits – a feature that's also offered in the Golf and Astra. The Focus has adaptive cruise control as the other two do, and like the Golf, the system can centre you in a lane and even assist you in heavy traffic to relieve the strain of monotonous queues.
Connectivity and technology
Like the latest Ford Fiesta supermini, the Focus has been treated to a complete technological overhaul. At the centre of this is a slim eight-inch touchscreen that sits above the dashboard and reacts to pinch and swipe gestures. It uses the latest version of Ford's SYNC 3 software, but you can also connect your smartphone and display Apple CarPlay or Android Auto on the screen, just like in the Golf and Astra. We found the Astra's system to be particularly easy to use, although the one in the Ford is pretty intuitive too.
The undisputed winner in this category is the Golf because VW has pulled out all stops with tech and, as a result, you get equipment previously reserved for luxury saloons. All trim levels get a digital instrument cluster and a 10-inch infotainment screen, while Car-2-X allows the Golf to talk to other cars and infrastructure to warn you about upcoming hazards and traffic, as well as showing you where vacant parking spaces are in real time.
Trim levels and equipment
The Focus range now starts with Zetec, and even this model comes with an eight-inch touchscreen with DAB radio and smartphone mirroring, plus air conditioning, cruise control and auto headlights. ST-Line and ST-Line X add sporty looks, with the latter adding more kit too. The Titanium model features parking sensors, two-zone climate control, sat nav and heated seats, while the Vignale spec tries to seduce Audi and BMW buyers with active parking assistance, a heated steering wheel and a premium audio system. There's also the rugged-looking Ford Focus Active and the Ford Focus ST hot hatch.
Speccing an Astra is pretty similar to the Focus. SE is basically the equivalent of Zetec, SRi adds slightly sportier looks and Ultimate Nav includes luxuries like matrix LED headlights, leather upholstery and extra safety kit. Because the Astra is a popular car for fleet and business users, there's also a good-value Business Edition version with sat nav, privacy glass and a leather steering wheel.
Volkswagen will soon introduce an unnamed entry-level model, but for now the Golf trim levels are Life, Style and R-Line (matching continental Europe). LED headlights, all-round parking sensors, sat nav and adaptive cruise control are all fitted as standard, but the cheapest Golf is noticeably dearer than equivalent Focus and Astra models. Style adds three-zone climate control, ambient lighting and exterior upgrades, while the R-Line gets sporty seats and a body kit. As before, there are also the performance models, badged GTI, GTD, GTE and R.
| | | |
| --- | --- | --- |
| Ford Focus | Volkswagen Golf | Vauxhall Astra |
| Zetec - from £20,690 | - | SE - from £19,090 |
| Titanium - from £22,690 | Life - from £23,900 | Business Edition Nav - from £22,100 |
| Titanium X - from £23,940 | Style - from £25,495 | Elite Nav - from £24,160 |
| ST-Line/ ST-Line X - from £22,940/ £25,190 | R-Line - £26,165 | SRi/ SRi VX-Line Nav - from £22,800/ £24,400 |
| Vignale - from £26,730 | - | Ultimate Nav - from £26,960 |
Engines, gearboxes and suspension
A variety of petrol and diesel engines are fitted in the Focus, starting with the award-winning 1.0-litre EcoBoost petrol. The latest version comes with either 99 or 123bhp, comparing well to the Golf's 128bhp 1.5-litre TSI petrol and the Astra's 108 and 128bhp 1.2-litre engines. Those looking for more power can upgrade to the 1.5-litre EcoBoost petrol providing 148bhp or 180bhp. The entry-level version looks almost identical – on paper at least – to the 148bhp 1.5-litre TSI found in the Golf, employing similar cylinder-deactivation technology to save fuel.
For diesel buyers, Ford offers a new 1.5-litre EcoBlue engine with 94 or 118bhp, plus a 148bhp 2.0-litre EcoBlue engine. All three return over 60mpg with a manual gearbox, and there's not too much of a penalty if you choose the eight-speed automatic. The Golf's 2.0-litre TDI diesel, with either 113 or 148bhp, claims a very impressive maximum of 68.9mpg, which also compares well with the Astra's 1.5-litre diesel that returns up to 65.7mpg.
The Focus has always had a great reputation for being the best family hatchback to drive and this is continued on the new Focus. It also has an excellent ride and equally impressive balance; thanks to excellent damping it delivers a comfortable ride while still retaining its trademark driver involvement. The steering is quick-witted and well weighted, making the Focus feel particularly agile and the most composed of this trio at higher speeds.
The quickest Focus is the 180bhp 1.5-litre petrol, closely followed by the 148bhp 2.0-litre diesel, with 0-62mph times of 8.3 and 8.5 seconds respectively. VW may not offer such a powerful Golf but the 148bhp 1.5-litre petrol almost matches the 180bhp Focus - 0-62mph takes 8.5 seconds - and the 148bhp 2.0-litre diesel isn't far behind. It's clear that the Astra is aimed at higher-mileage or company-car drivers; all manage 0-62mph in 9.5 seconds or more.
The Golf can't match the Ford for driver involvement. Where the Golf does score highly is in its general refinement and build-quality. While the Ford is exceptionally refined around town and on the motorway, the Golf manages to match it in most scenarios, just missing out on having the same damping control as the Focus. The Golf's steering is less communicative, too.
While the Astra doesn't quite match the Focus for driver involvement or the Golf for its overall feeling of solidity, it does still offer an excellent blend of ride comfort and agility. Its ride quality is well judged and is a little softer than either the Golf or the Focus, but it lacks the ultimate composure of the other two cars over the worst of surfaces. Ultimately it's a less driver-focused machine than the Golf or the Focus, and is consequently less likely to reward the keen driver. It's still a great family hatch but can't quite compete with the class-leading Golf or Focus.
| | | |
| --- | --- | --- |
| Ford Focus | Volkswagen Golf | Vauxhall Astra |
| 1.0 (99 and 123bhp) | - | 1.2 (108, 128 and 143bhp) |
| 1.5 (148 and 180bhp) | 1.5 (128 and 148bhp) | 1.4 (143bhp) |
| 1.5 EcoBlue (94 and 118bhp); 2.0 EcoBlue (148bhp) | 2.0 TDI (113 and 148bhp) | 1.5 Turbo D (104 and 120bhp) |
Read our guides to the most economical family cars and the best used family cars.
Used VW Golf buying guide: 2004-08 (Mk5); 2009-13 (Mk6)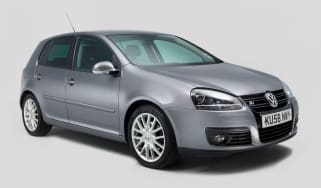 Used VW Golf buying guide: 2004-08 (Mk5); 2009-13 (Mk6)
New Volkswagen Golf GTI Clubsport gets 296bhp and racetrack mode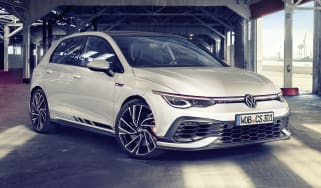 New Volkswagen Golf GTI Clubsport gets 296bhp and racetrack mode
2020 scrappage schemes: the complete guide
2020 scrappage schemes: the complete guide
Best new car deals 2020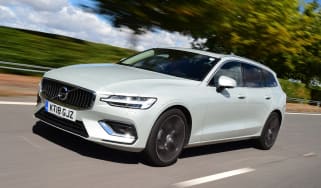 The UK's top 10 best-selling cars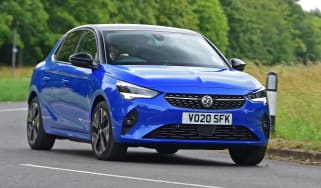 The UK's top 10 best-selling cars