Best pickup trucks
Pickup trucks are fantastically practical machines that can carry huge amounts in their load bays, while also offering excellent towing ability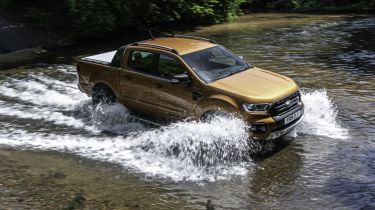 Pickup trucks are increasing in numbers on UK roads these days, but they have a long way to go to match the popularity they have in North America. That said, we can't seem to get enough of big, tough vehicles these days, with the sales of 4x4s and SUVs also shooting up.
Sales increases have gone hand-in-hand with pickup trucks becoming far easier to live with. Their driving experience has become much more car-like, and in most models the interior quality has gone from cheap and utilitarian to comfortable and luxurious. Muddy maps have been replaced with sat-nav screens and double-cab versions are fitted with four doors and accommodating rear seats, making them as useful on a family holiday as they are on a building site.
Best large SUVs you can buy in 2020
We don't get the pickup trucks sold in the USA, partly because often they're too big for UK roads, not to mention a lot more expensive to run. There isn't a huge choice of models available in the UK, perhaps because customers tend to stick to the same brands. The Mercedes X-Class and Fiat Fullback were both withdrawn due to poor sales, even though they were based on the Nissan Navara and Mitsubishi L200 respectively.
Large loading bays designed to carry up to a tonne require heavy-duty suspension, so some pickups still aren't as smooth to drive as SUVs, but newer models are starting to get more sophisticated setups for a gentler ride.
If you're willing to sacrifice some comfort, a pickup might be the ideal way to join the dots between family duties, load carrying, towing and the ability to go off road, without having to own more than one vehicle.
We've tested all of the most popular models, so read on for our list of the best pickups on sale in the UK right now.
Not too long ago, most pickup trucks felt agricultural and they weren't particularly safe or comfortable. The Ford Ranger, which was updated at the end of 2019, successfully addresses all three criticisms, as it's a genuinely good alternative to an SUV. Buyers also considering an SUV will undoubtedly be drawn to the Wildtrak model, which is offered in bright metallic colours with body coloured bumpers and an interior that has more equipment and technology than many SUVs. There are models to suit everyone, however, and business customers may be drawn to the entry-level XL with its no-nonsense spec list.
If you're going to be transporting family around, then the Ranger could be worth considering, as it's one of the only pickups to be awarded the full five-star Euro NCAP safety rating. All models get four-wheel drive and special off-road-biased driver assistance systems to help you out when the going gets tough. You get a choice of two engines (both diesels) and three bodystyles, of which we'd recommend the less powerful 168bhp 2.0-litre diesel and double-cab body. The 168bhp diesel is the smoother and cheaper to run of the two engines, while the double cab offers more interior space than the other two options. In this spec, you get a load bay that can carry nearly 1,200kg plus a towing capacity of up to 3,500kg.
The current Mitsubishi L200 pickup was launched in 2019. It's the sixth-generation model and serves as proof that Mitsubishi has plenty of experience in building pickups. Beyond their traditional rough-and-ready abilities, pickup trucks now need to look good, too. The latest L200 delivers on that, combining rugged toughness with some neat detailing. Add to that the fact it's well equipped inside and has a strong 148bhp 2.3-litre four-cylinder diesel engine, developing 400Nm of torque and allowing a towing capacity over three tonnes, and the L200 starts to make a certain amount of sense. It's also enormously capable off-road – if not that refined on it (a problem common to many models on this list) – thanks to four-wheel drive, a low-range gearbox and chunky tyres.
Despite all this, the Mitsubishi is actually one of the most efficient pickups you can buy, returning over 40mpg. Like all the pickups on this list, it's classed as a light commercial vehicle (or LCV) for road-tax purposes, so you pay a flat rate of £260 a year, which isn't linked to CO2 emissions. Business owners can also claim back the VAT on the purchase and company-car drivers face lower Benefit-in-Kind (BiK) payments.
Nissan has been building rugged pickups for years, but this most recent Navara is the most road-biased and comfort-orientated one yet. The double-cab version – which we recommend – comes with sophisticated rear suspension that makes it surprisingly comfortable on road and one of the best-to-drive pickups available. This doesn't diminish its off-road abilities, however, while the cabin will be familiar to anyone who's sampled the latest Nissan Qashqai and Nissan X-Trail family cars.
There is just one engine available in the Navara, but in two outputs. The 2.3-litre diesel is available with 158bhp on lower spec models, while top spec versions come with a more powerful 187bhp twin-turbocharged version. Not only does it allow you to tow up to 3,500kg, but it's also pretty refined, too. Like the L200, the Nissan should return more than 40mpg and has the standard £260-a-year road-tax bill for light commercial vehicles.
There are five trim levels but the more basic Visia and Acenta models feel sparsely equipped. We'd recommend going for at least the mid-range Acenta+ with the more powerful engine, 18-inch alloy wheels, dual-zone climate control, reversing camera, side steps and power-folding door mirrors. The majority of buyers will probably go for the top spec Tekna trim with its Around View Monitor camera, rear parking sensors, heated leather interior and LED headlamps.
An icon of toughness, dependability and reliability, the Toyota Hilux has a fantastic reputation for keeping going, no matter the situation. To succeed in the UK, however, it needs to work as a family car as well as a rough, tough pickup. It's reasonably comfortable and refined compared to its rivals, while the interior feels pretty well put together, too, with plenty of space – as long as you go for the double-cab version.
There's just one engine available – a 148bhp 2.4-litre four-cylinder diesel, which is powerful enough (although not quite as strong as some rivals) and returns around 40mpg. A maximum towing limit of 3,200kg puts the Hilux in the middle of the class, while the load bay can carry over a tonne itself. There are four trim levels to choose from, and while the Icon is around £5,000 more than the entry-level Active, it does mean you get a double-cab bodystyle plus extras like a reversing camera, cruise control, tinted rear windows and Toyota's Touch 2 touchscreen infotainment system.
This is certainly one of the plushest pickups on sale right now, with the high-quality interior fit and finish you expect to find in a Volkswagen. The Amarok is fitted with a 3.0-litre diesel, with 201 or 255bhp. The updated Amarok won't cost a huge amount more to run with the bigger engine, with both returning around 36mpg. All models come with selectable four-wheel drive as standard and if you choose an automatic gearbox, the Amarok is capable of towing up to 3,500kg. The 2.5 square-metre load bay can carry over a tonne and is wide enough to take a forklift pallet.
Two main trim levels are offered, called Trendline and Highline; if you're after a luxurious pickup truck, the Highline Amarok should be at the top of your list, with equipment such as leather upholstery and heated seats, 19-inch alloy wheels, front and rear parking sensors and chrome detailing. There are also two Black Editions with black styling touches and extra equipment.
This model comes from the more utilitarian end of the pickup spectrum than some of the others in this list. There's only one engine to choose from – a 163bhp 1.9-litre diesel that's good for a towing limit of 3,500kg and carrying just over a tonne in the load bay. Both the automatic and manual gearboxes have high and low ratios to improve the D-MAX's performance off-road.
The truck pulls strongly, but sounds a little rougher than some rivals, while its suspension is less comfortable on-road than some of its rivals, too. However, all models are just about unstoppable off-road and most are pretty cheap to buy in the first place, too, which will make them more appealing to buyers planning to use them for work. Isuzu has cottoned on to buyers wanting a beefy-looking truck, as the D-Max is now available in a rugged-looking XTR spec.
The latest SsangYong Musso, introduced in 2018, is heavily based on the SsangYong Rexton SUV, so it's pretty well equipped and luxuriously appointed inside. The driving experience is still quite old-school however – there's no doubting this is a commercial vehicle at heart, and it's far from being the most fuel-efficient model in the class.
It is good value to buy, though, as well as being powered by a 179bhp diesel engine, boasting impressive towing capacity of 3,500kg and coming with a market-leading five-year/unlimited-mileage warranty. A new Rhino LWB model gives you an even longer bed (1.61 metres), which allows a standard pallet to be transported - a rare feat for double-cab trucks.
The Ford Ranger Raptor is unlike any other pickup on this list. It's not built for load carrying - in fact, its thoroughly upgraded suspension means it has a lower payload than the standard Ranger. As a result, business owners can't claim VAT back (a big draw of pickups), while it's expensive to buy and won't be cheap to run either. But if you're taken by the Raptor, these drawbacks won't matter a bit.
The top-spec Ranger is made for driving off-road at high speed, highlighted by its 'Baja' driving mode inspired by one of the world's toughest 4x4 events. It stands much higher than the standard pickup, and few cars offer the same presence.
New 2020 Kia Stonic SUV: prices and specs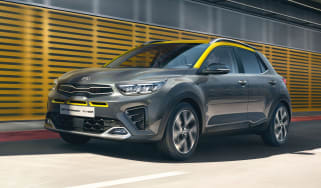 New 2020 Kia Stonic SUV: prices and specs
Updated Peugeot 5008 starts at £29,585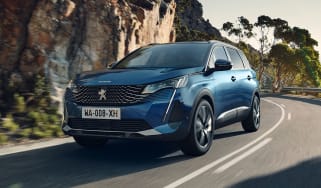 Updated Peugeot 5008 starts at £29,585
Cupra Formentor SUV review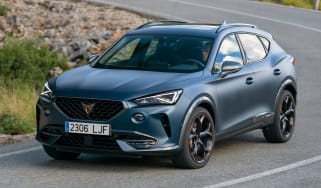 Cupra Formentor SUV review