Top 3 used plug-in hybrid family cars for £20,000
"Dear Carbuyer, I've got £20,000 to spend on a family car, and I want a plug-in hybrid. What would you recommend?"
The ever-stricter emissions regulations governing new vehicles has seen car makers introduce a large number of plug-in hybrid models in recent years. Go back to 2015 and nearly all family cars were powered by petrol or diesel engines, but today, several manufacturers offer a variety of low-emission plug-in hybrid (PHEV) saloons, estates and SUV models.
Cars of this type typically combine a petrol engine with an electric motor and a large battery that can be charged via a charging point in a few hours. This means most can be driven on electric power alone for around 15-25 miles without using the engine.
One key benefit of the petrol/electric powertrain is lower emissions, with most models officially claiming under 60g/km of CO2, meaning they can be driven in low-emission zones like the Ultra Low Emission Zone in central London for free.
Most plug-in hybrids are economical, capable of around 40-60mpg providing you charge the battery. Most will offer enough electric range to cover the majority of shorter journeys as well.
One minor downside of plug-in hybrids is compromised practicality. As nearly all are based on a car that started life as a conventional petrol or diesel model, the battery pack is typically built into the boot floor, which can reduce boot space. An example of this is the BMW 330e plug-in hybrid saloon, which has a 375-litre boot - the standard 3 Series saloon has a 480-litre boot.
Despite the loss of luggage space, every plug-in hybrid model will be as spacious for passengers as the standard version. Plug-in hybrids tend to sit towards the top of their respective ranges, so they're well-equipped, with features such as leather-trimmed seats, sat nav, Apple CarPlay and Android Auto smartphone connectivity, and climate control.
Lastly, despite having solid green credentials, plug-in hybrids don't compromise on performance either. Most petrol/electric powertrains produce more power than an equivalent petrol or diesel model, meaning they're comfortably faster off the line.
Our reader is looking for a family sized plug-in hybrid for a budget of £20,000. At this price point, there's a decent range of models to pick from. All offer low running costs, a decent electric range, plenty of kit and good performance.
The driver's choice: BMW 330e
For: Great handling, strong powertrain and infotainmentAgainst: Not as sharp as petrol 3 Series, no Android Auto
Great fuel economy easily offsets the 330e's (ever so slightly) blunted handling when compared with a petrol or diesel-powered 3 Series. BMW quotes economy of 140mpg and an all-electric range of 25 miles, so short commutes could be powered by the battery alone.
Used prices for the F30 3 Series have slipped with the arrival of the Mk7 car, and a high-mileage 2016 example can be had for £11,000. Your budget, however, secures a 2017 M Sport with only 13,610 miles on the clock.
Inside, the 330e features leather seats, soft-touch plastics plus BMW's excellent iDrive infotainment system. Ergonomics and the driving position are spot on even if, as in its rivals, the 330e's boot loses some space (100 litres) for the hybrid batteries.
With a turbocharged 2.0-litre four-cylinder petrol engine and an 87bhp electric motor powered by a 7.6kWh battery, total output is 249bhp along with 420Nm of torque. Performance is generally impressive, with a 0-62mph time of 6.1 seconds – and the electric motor works all the way up to 70mph.
The stylish choice: MINI Countryman PHEV
For: Refined, practical for a MINI, characterful cabinAgainst: Divisive styling, firm ride, so-so handling
Classic MINI enthusiasts love to hate the Countryman SUV but buyers can't get enough of them. This plug-in hybrid variant is designed to steal sales from the Mitsubishi Outlander PHEV, and it boasts an upmarket interior, brisk performance and a decent boot.
It's not quite as comfortable as the Passat GTE or 330e, but you'll get a newer second-hand car than you would if you went for either the VW or BMW. A 2018 model with 22,000 miles on the clock can be yours for £19,999.
The Countryman's interior sports MINI's trademark circular dash display and chrome toggle switches. Quality is excellent, and while the Passat and 330e make significant space sacrifices for their hybrid batteries, the MINI's boot only loses 45 litres.
There's a surprising turn of speed in the Countryman PHEV. It's powered by a three-cylinder turbo petrol engine and an 87bhp electric motor, has a combined output of 221bhp and a 0-62mph time of 6.8 seconds. Don't be fooled by the Cooper S badging – it can't match the petrol car for driving thrills.
The plush choice: Volkswagen Passat GTE
For: Comfortable, well equipped, useful electric rangeAgainst: Less practical than petrol Passat, expensive
Diesel cars used to rule company car parks, but a changing tax regime means plug-in hybrids are now in greater demand. So while a diesel Passat was once the default choice for many business users, the popularity of PHEVs means you should be able to find an ex-fleet Passat GTE without difficulty.
Your budget will only bag a pre-facelift 2017 model, unless you're lucky. But we found a tidy, well specced saloon with only 25,000 miles on the clock for £20,000.
The GTE's interior is identical to the standard Passat's. The only drawback is a loss of practicality – the battery is under the boot floor, so the cargo area is 180 litres smaller than the regular car's. A Passat GTE Estate is available if you need more space.
Power comes from a turbocharged 1.4-litre four-cylinder petrol engine supported by a 114bhp motor and a 9.9kWh battery. In total, the system produces 215bhp and returns a claimed 217.9mpg, together with an all-electric range of 34 miles. Plus performance is decent, with a 0-62mph time of 7.4 seconds.
Carbuyer's choice, as picked by deputy editor Ben Hodges - BMW 330e
All of our choices are excellent, but I'd pick the BMW 330e. It's the most upmarket of the three, with a huge amount of standard kit, and it's the best to drive.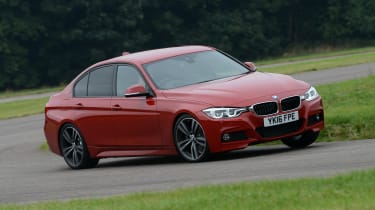 The 3 Series has always been a great driver's car, and this generation is no exception. The switch to a petrol/electric powertrain has improved its breadth of ability even further still, with a decent electric driving range that's perfect for city driving or commuting. It also offers similar agility to a standard 3 Series, with the electric motor helping to give it an additional turn of pace when you want it. Combine these aspects with the premium interior, strong level of kit, and value for money at £20k or less, and it's easy to see why I'd want one!
Need more advice on picking a used family car? Read our top ten picks here.
"Plug-in hybrids don't add up"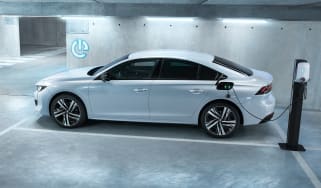 "Plug-in hybrids don't add up"
New 2020 Kia Stonic SUV: prices and specs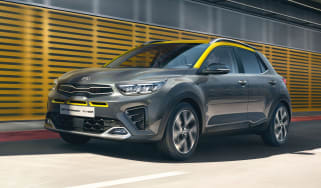 New 2020 Kia Stonic SUV: prices and specs
Updated Jaguar XF launched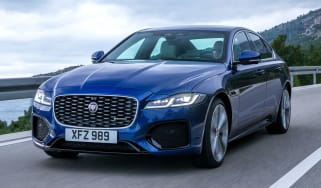 Updated Jaguar XF launched
Updated Peugeot 5008 starts at £29,585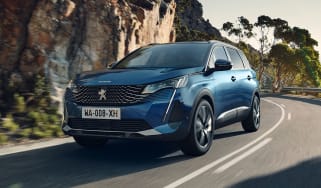 Updated Peugeot 5008 starts at £29,585