Ford Fiesta named Britain's Best Car
New Ford Fiesta crowned Car of the Year and Best Small Car
The new Ford Fiesta is Carbuyer's 2018 Car of the Year. The announcement was made at a ceremony at London's Curzon Bloomsbury Cinema this morning. The latest version of Ford's iconic small hatchback also scooped the Best Small Car award.
Uniquely, Carbuyer Best Car awards are defined by the questions in-market car buyers ask, using real-world language. That means you're more likely to find an award for 'best first car' or 'best seven-seater' than you are for 'best compact executive'.
Carbuyer's awards are underpinned by the Best Cars section on Carbuyer.co.uk, which accounts for more than 20% of the website's traffic.
The latest Ford Fiesta was unanimously praised for its combination of style, comfort, space and an exciting driving experience.
Carbuyer editor Stuart Milne said: "It's Britain's favourite car year-in, year-out, and the latest Ford Fiesta is the best yet. It looks great inside and out and packs plenty of big-car features into its compact dimensions. Buyers can choose from tremendous stereo upgrades, autonomous driving features and, in top-spec Vignale trim, levels of luxury that were unthinkable in a supermini until a few years ago.
"The new Fiesta boasts more interior space and safety kit than ever before, plus it's a fantastically fun car to drive. With attributes like this, it's no wonder we've named the new Ford Fiesta as Best Small Car and Carbuyer Car of the Year 2018."
Robert Stiller, Ford Fiesta engineer, said: "After eight years as UK best-seller since 2008 for Fiesta, expectations were high for this new model. To win Carbuyer Car of the Year halfway through its launch is an accolade for me and the whole product development team. We have further new Fiestas to come next year in the rugged Active and hot ST models – hopefully Carbuyer will love those just as much."
The winners in each category were chosen through a rigorous scoring process, which emphasises the elements most important to new-car buyers. These include running costs, practicality and reliability, making it easy for consumers to compare cars side-by-side and make a fully informed purchase decision.
Carbuyer Car of the Year and Best Small Car - Ford Fiesta
It's Britain's favourite car year in, year out, and the latest Ford Fiesta is the best yet. It looks great inside and out and packs plenty of big-car features into its compact dimensions. Buyers can choose from tremendous audio upgrades, autonomous driving features and levels of luxury in top-spec Vignale trim unthinkable until a few years ago.
The new Fiesta boasts more interior space and safety kit than ever before, plus it's a fantastically fun car to drive. With attributes like this, it's no wonder we've named the new Ford Fiesta as Best Small Car and Carbuyer Car of the Year 2018.
Best Family SUV - Peugeot 3008
In an SUV market crammed with great models, it takes something truly special to stand out. And that's what the Peugeot 3008 does with style and grace. Its interior is a real highlight, with a genuine concept-car look and feel and a standard i-Cockpit digital instrument display. But the 3008 is superbly practical, comfortable and safe, too. It also features a range of efficient engines that keep running costs down, while remaining an excellent car to drive.
Best Small SUV - Citroen C3 Aircross
The C3 Aircross is the latest in a line of funky cars from Citroen, a transformed brand brimming with confidence. The C3 Aircross looks different to anything else on the road and sports a stylish interior that's bursting with personality. It's also one of the more spacious compact SUVs and has a big boot – perfect for growing families – and that seals the deal for our Best Small SUV for 2018.
Best Large SUV - Land Rover Discovery
The best large SUVs blend considerable off-road ability with elegant yet rugged looks and a comfortable and spacious interior. None combines all these quite as well as the Land Rover Discovery. The latest model is a genuine seven-seat SUV – a rare thing indeed – where all occupants can sit in comfort. Its engines are smooth and quiet, the interior offers an upmarket experience and it's simply without rival when it comes to driving off the beaten track. It's a worthy winner of our Best Large SUV award.
Best hybrid car - Hyundai Ioniq Plug-in Hybrid
Still a relative newcomer, the Ioniq Plug-in Hybrid is an exceptional car. Thanks to space for five occupants and a big boot, you need to make few sacrifices to enjoy truly enviable real-world fuel economy and a thoroughly decent driving experience. Its infotainment system is one of the easiest to use and it undercuts its closest rival on price, too.
Best family car - Skoda Octavia
The Skoda Octavia has long been a Carbuyer favourite, but a series of revisions made earlier this year mean it's better than ever. Those tweaks saw new technology fitted inside and out, as well as a sharp new look. But it's what inside that counts for a family car. The Octavia is fantastically spacious whether you choose the hatchback or estate and is crammed with useful features like built-in umbrellas and an ice scraper behind the fuel filler cap. All things that make family motoring just that little bit easier.
Best used car - Vauxhall Astra
The Vauxhall Astra is a spectacular family hatchback, with good looks, a great driving experience and more than enough interior space to suit most needs. But as a used car, it's unbeatable thanks to a wide range of great-value examples available on the market. With nine trim levels and a huge range of efficient petrol and diesel engines available, coupled with the choice of automatic and estate models, there really is something for everyone. What's more, all models carry Apple CarPlay and Android Auto technology and most feature Vauxhall's excellent OnStar concierge service.
Best first car and Best city car - Skoda Citigo
The Skoda Citigo is tremendous value for money, cheap to run and has those all-important good looks allied to a range of customisation options – making it the perfect car for city dwellers or first-time drivers. Its compact dimensions mean it's a cinch to park and its small, efficient engines are more than capable of taking you on a long journey. Most importantly, it's safe, with a five-star Euro NCAP rating.
Best electric car - Volkswagen e-Golf
If you're looking for a stylish, well built, upmarket and practical electric car, the Volkswagen e-Golf really must be at the top of your list. It offers the same straightforward, proven, high-quality appeal as conventional Golfs; the only difference is a driving range determined by the charge in its batteries, not how much fuel is in the tank. Interior space is plentiful for passengers and luggage. Most impressively, the e-Golf's official range is 186 miles, which is more than many of its rivals.
Best economical car - Toyota Prius
With an official fuel-consumption figure of 94.1mpg, the Toyota Prius uses its hybrid technology to superb effect. And while other cars can come close to that official figure, none is as easy to extract as many miles per gallon from as the Prius. With new-car registrations turning against diesel and the growth of hybrids accelerating, the Prius is more perfectly placed to vie for customers' attention than ever before.
Best estate car - Skoda Superb Estate
The Skoda Superb Estate is enjoyable to drive, reliable, safe and economical. It's also a terrifically comfortable car for long motorway journeys. The deciding factor in it being named Carbuyer's Best Estate Car is the sheer amount of space you get. If you want a roomier car than this, you need to buy either a van or the biggest of SUVs. We recommend the Skoda Superb for anyone looking for a large and comfortable hatchback, but as an estate car it really is the obvious choice.
Best seven-seater - Citroen Grand C4 Picasso
2018 makes it a hat trick for the Citroen Grand C4 Picasso, taking Carbuyer's Best Seven-Seater award for the third year in succession. It's not hard to understand why. In a world moving to SUVs, the uncompromising shape of an MPV simply delivers more usable space for seven occupants. Couple that with the Grand C4 Picasso's stunning looks, willing yet economical engines and light and airy interior and it's not hard to understand why it remains one of our favourite new cars.
Best pickup - Mitsubishi L200
Mitsubishi has made a name for producing tough vehicles and the L200 is unquestionably its best pickup yet. The latest model packs plenty of equipment, some neat detailing and a punchy 2.4-litre diesel engine that's capable of hauling over three tonnes. Its four-wheel-drive system means it's as capable off the road as it is on it. Despite all this, it can return a claimed 40mpg-plus, making it pleasingly cost-effective.
Best convertible - MINI Convertible
Convertibles are all about putting a smile on your face and none is quite as capable as the MINI Convertible. It retains all that's great about the MINI hatchback, including its trademark go-kart handling, but adds that all-important fun factor. Whatever engine is under the bonnet, the MINI Convertible oozes character. It boast a great interior, a superb infotainment system and countless customisation options, too. And that's why it's our Best Convertible for 2018.
Best hot hatchback - Hyundai i30 N
With a plenty of power, a sweet chassis, exceptional steering and a fantastic six-speed gearbox, the Hyundai i30 N has shot right to the top of the hot-hatchback class. What really is astonishing is that the i30 N is Hyundai's first-ever hot hatchback and it's already shaming the class establishment. Factor in the i30 N's practicality, five-year warranty and remarkable price tag, and it's no surprise it's Carbuyer's Best Hot Hatchback for 2018.
Most reliable car - Lexus CT
Lexus has long been known for its exemplary reliability and this marks the second year in succession the firm has won our Most Reliable Car award. This year, it's the turn of the CT hybrid hatchback which, in our Driver Power owner satisfaction survey, scored a massive 94% rating for reliability for cars between three and six years old – the period where the car comes out of warranty. It seems that problems with the Lexus CT really are few and far between, making it a surefire bet for a car that won't let you down.
Best car for under £150 a month - Kia Picanto
The Kia Picanto has grown up, but thankfully it's still a new-car bargain. You can buy a well specified Picanto 3 for less than £150 a month. For that, you'll enjoy the 3's Apple CarPlay and Android Auto technology operated through one of the simplest and most responsive infotainment systems in the business. The price isn't the only draw, though: the Picanto is also good looking, practical, cheap to run and good to drive. If you've got £150 a month to spend, you can't do better.
Best large family car - Vauxhall Insignia Grand Sport
The Vauxhall Insignia Grand Sport is more than just a spacious large hatchback. It looks great, offers a supremely comfortable driving experience and is loaded with technology, such as Vauxhall's brilliant OnStar concierge service. It also offers a line-up of efficient engines, making it a fantastic car to drive long distances. As an all-round large family car package, it's sensational. But what really steals the deal is its value for money, thanks to a starting price of less than £18,000.
Best sports car - Mazda MX-5 RF
With the introduction of the Mazda MX-5 RF, the world's most popular sports car got even better. It retains all that's great about the gorgeous, agile and entertaining MX-5 soft-top, but in RF (Retractable Fastback) guise, it's quieter and more comfortable. Yet, despite being a better all-rounder than the standard car, it's lost none of that thrill-a-minute charm that makes every journey an event. That's why it's our Best Sports Car for 2018.
Best small luxury car - Audi A3 Sportback
The Audi A3 Sportback is the benchmark when it comes to small cars that offer a genuine big-car experience. The stylish five-door hatchback has a fantastic interior that's festooned with technology, including Apple CarPlay and Android Auto fitted as standard to all models. The optional, but must-have, Virtual Cockpit display is sensational. The A3 Sportback delivers the kind of comfort and luxurious ambience buyers demand, particularly when downsizing from larger cars.
Best luxury car - Mercedes S-Class
The Mercedes S-Class remains the yardstick for the comfort, ambience and technology that a luxury car must offer. Our Best Luxury Car 2018 offers restrained elegance inside and out, but makes every journey, for driver and passenger alike, an event. There's a huge amount of interior space, and technology such as massaging seats and the car's Magic Body Control is single-minded in its pursuit of cosseting, relaxing transport.
Updated Peugeot 5008 starts at £29,585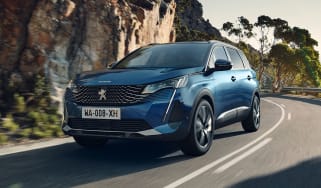 Updated Peugeot 5008 starts at £29,585
Cupra Formentor SUV review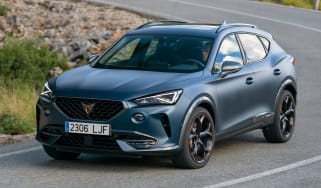 Cupra Formentor SUV review
2020 Volkswagen ID.3 hatchback: base model starts at under £30k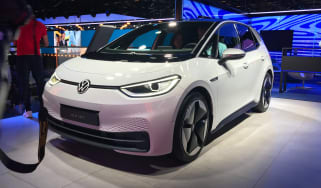 2020 Volkswagen ID.3 hatchback: base model starts at under £30k