Renault Megane eVision concept previews 2021 electric Megane crossover
New Renault Megane to launch next year capable of driving 'from London to Newcastle'
Ultra-compact powertrain promised
130kW fast-charging available
0-62mph in under eight seconds
The next Renault Megane will morph into an electric crossover, previewed by this Megane eVision concept. When the car launches in 2021, it promises an impressive range and nippy performance, and will be the first Renault built on a new platform.
That platform is called CMF-EV and, as the name suggests, it only supports electric cars. Shared with the Nissan Ariya, it enables a spacious passenger area by pushing out the wheels to each corner and minimising the space taken by the electric powertrain. Renault says the new Megane will have the thinnest batteries on the market and an ultra-compact power unit.
The skinny battery is 60kWh in size, which is equivalent to the Volkswagen ID.3's mid-range battery. We're told the Renault Megane eVision can travel between London and Newcastle - a distance of 284 miles - in the same time as the journey would take a petrol or diesel car. A range of around 250 miles should be feasible, and would be quite similar to the ID.3, and 130kW fast-charging would enable a partial recharge in the time it takes to have a coffee at a service station.
Like the entry-level Ariya, the electric Megane promises 214bhp and a 0-62mph time of under eight seconds. This model will be two-wheel drive but the chassis can also accept a second electric motor for four-wheel drive and increased performance. It's not known whether the Megane would be available with this setup, or whether it'd be reserved for bigger models to be launched on the same architecture. Likewise, the Ariya also gets a larger 90kWh battery, which allows 310 miles on a charge.
The Megane eVision concept is a little shorter than traditional family hatchbacks but short overhangs and a wheel at each corner means you'll gain interior space, rather than lose any. There's also a flat floor because the car doesn't need a transmission tunnel.
We haven't seen the inside yet but the exterior shows you what to expect from the production model. The confident design features full-width LED tail-lights and Matrix LED headlights, with a sharp daytime running light design that's an evolution of the current Megane's look. The rear bumper is inspired by the Morphoz SUV concept, while this show car demonstrates a grey and gold colour scheme which may be referenced in the production version. Alloy wheels measuring up to 20 inches will be offered.
Read our Renault reviews, or see where the Megane places on our list of best family cars.
Best concept cars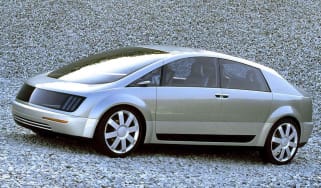 2020 Renault Megane facelift: prices, specs and release date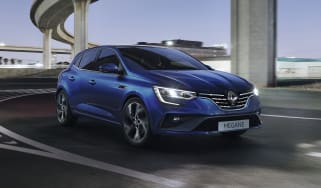 2020 Renault Megane facelift: prices, specs and release date
Best 4x4s and SUVs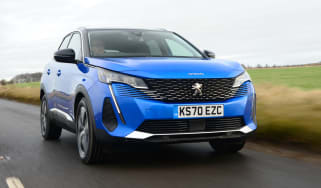 2021 scrappage schemes: the complete guide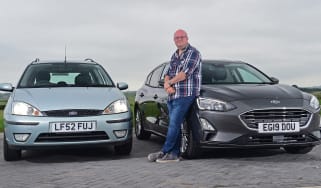 2021 scrappage schemes: the complete guide
Best new car deals 2021