Best fast estates
The best cars if you've got a load on your mind and don't want to hang around.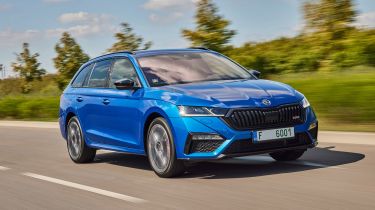 While many enthusiasts love the idea of owning a different car for every occasion, the harsh reality of life is that most of us have to make do with just the one. Finding a single car to do it all can be difficult – especially if having fun behind the wheel is an important consideration.
Thankfully, car manufacturers have cottoned on to the fact that many people want to own a practical family car – an estate – that's also fast and fun to drive. The very best examples even take fuel economy and running costs into account.
The following models are our pick of the very best performance estate cars, as determined by our rating system, which takes all aspects of ownership into account. Hot-hatch-based models feature heavily, with a choice of petrol or diesel power in some cases, along with some more specialised machinery capable of giving supercars a run for their money.
Here's our list of the best fast estates you can buy today. Once you're done, why not read our guides to the fastest hot hatchbacks on sale, the best used estates or the best four-door sports cars?
The fourth-generation Skoda Octavia vRS estate has succeeded in retaining the key elements that made its predecessors so brilliant, including a near-perfect blend of performance, practicality and usability. The latest model is available with a turbocharged petrol engine, a plug-in hybrid powertrain, and a punchy-yet-frugal diesel. 
The new vRS shares its underpinnings and engines with the Mk8 Golf GTI, GTD and GTE PHEV models, with every version offering brisk performance and an agile chassis that's easy to have fun with on your favourite road. It's also competitively priced, with a sporty high-tech interior and vast boot helping to make it the pick of the bunch. 
BMW doesn't yet offer an M3 estate but it does offer a range-topping 3 Series Touring that should be plenty for most buyers. The M340i xDrive produces 369bhp from its 3.0-litre engine, and launches from 0-62mph in just 4.5 seconds.
There are very few estates that are faster for a similar price, and you can make the car look very subtle if you're a fan of understated performance cars. Plus, the back seats and the boot are spacious and there's lots of equipment. There's also a fairly rapid 330e plug-in hybrid if you want lower running costs.
Closely related to both the Volkswagen Golf R and the Skoda Octavia vRS, the SEAT Leon ST Cupra is a family estate with the added appeal of sporty handling and performance. The 'R' is a run-out special with lots of copper and carbon fibre touches, and you can opt for a SEAT-approved tuning pack that pumps the output up to around 350bhp - quite an increase from the standard 296bhp.
The Cupra now only comes with an automatic gearbox, and has four-wheel drive available for improved stability and cross-country pace in all conditions. It may not be as practical as its Octavia relative, but the SEAT is the right choice for enthusiastic drivers.
The Ford Focus ST Estate is back for a second generation and is a real rival to the VW Group cars above. Like the last model, it drives sweetly, and both petrol and diesel engines are much more powerful than before.
The ST also remains a comfortable family car when you're not driving it quickly, thanks in part to supportive Recaro seats. The interior is more spacious and more modern, and a huge boot also counts in its favour.
A consummate all-rounder, the Volkswagen Golf R estate is perhaps the ultimate incarnation of one of the best small estate cars on sale.
Offering a near-perfect blend of understated looks, practicality, effortless performance and remarkable comfort, the Golf R is the car that can do it all – although the keenest of drivers may find it to be less involving than some cheaper rivals. Four-wheel-drive stability and rock-solid residuals further bolster its appeal.
Supercar-like straight-line speed, business-class luxury and one of the most raucous exhaust notes on this list make the E63 a compelling choice.
Four-wheel drive comes as standard, as does a twin-turbocharged 4.0-litre V8 engine with 563bhp – or 604bhp if you opt for the E63 S. The result is a two-tonne estate that's as quick to 62mph from rest as a Ferrari Portofino – although far more practical and arguably no less dramatic.
If you want your small executive estate to hold its own against much more exotic machinery, it's hard to ignore the Audi RS4.
Thanks to its twin-turbocharged 2.9-litre V6 petrol engine and quattro four-wheel-drive system, the RS4 can cover 0-62mph in just 4.1 seconds – beating the Porsche 911 Carrera T and Maserati GranTurismo MC with ease. As well as being highly potent, the RS4 can also be set up at will to be a cosseting cruiser.
The Porsche Panamera Sport Turismo's rakish 'shooting brake' looks set it apart in this company, offering a dash of style for those who just need a little extra space than the standard car's five-door hatchback layout.
There's a big range of engines to choose from, all of which offer plenty of performance – even the plug-in hybrid variants. If it's outright pace you're after, the fastest model is electrified – the Panamera Turbo S E-Hybrid. Thanks to its 4.0-litre V8 and electric motor with a combined 671bhp, 0-62mph takes just 3.5 seconds, while a top speed of 192mph makes it one of the fastest estates on this list.
The Audi RS6 is a direct rival to the Mercedes-AMG E63 Estate elsewhere on this list. Available only in estate form, the RS6 is powered by a twin-turbocharged 4.0-litre V8 petrol engine with a staggering 592bhp.
Audi's quattro four-wheel-drive system is used to great effect to put all of that power to the road with surprisingly little fuss – the result being 0-62mph in 3.6 seconds in the car's most powerful form. In-gear acceleration is similarly prodigious, making overtaking an almost instantaneous process. Price, emissions and running costs count against the RS6, however – as does its rather detached driving experience.
Like the Porsche Panamera, the fastest Volvo V60 is electrified. It may look sensible, but the V60 T8 Twin Engine boasts 385bhp, all-wheel drive and a sub-five-second 0-62mph time.
Opting for the Polestar Engineered pack improves the car's driving dynamics, as a BMW 3 Series is more fun through corners than the standard V60. When you don't need scorching acceleration, keeping the battery topped up means you can drive for up to 30 miles on electric power alone. The interior is classy, too, and the boot size is unchanged for the hybrid model, which is rare.
2020 Skoda Octavia vRS: prices and specs revealed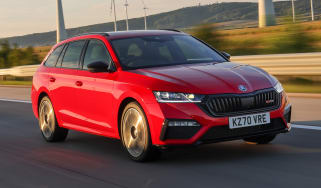 2020 Skoda Octavia vRS: prices and specs revealed
Skoda Octavia Estate: old vs new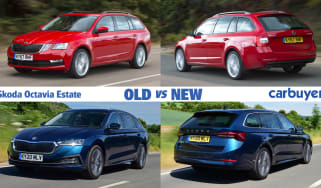 Skoda Octavia Estate: old vs new
Top 3 used quick estates for £15,000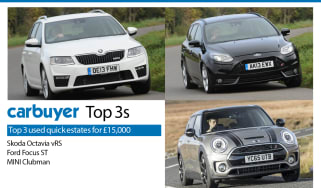 Top 3 used quick estates for £15,000
Best new car deals 2020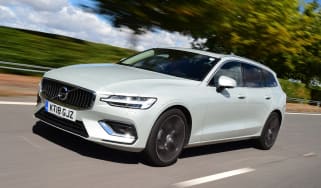 2020 scrappage schemes: the complete guide
2020 scrappage schemes: the complete guide
The UK's top 10 best-selling cars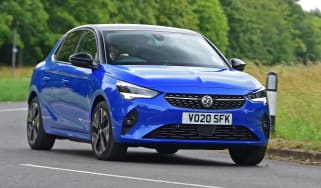 The UK's top 10 best-selling cars