Ford EcoBoost engines: what are they and should you buy one?
Everything you need to know about Ford's high efficiency EcoBoost engine technology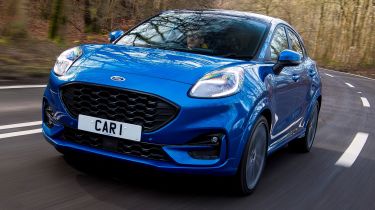 Drivers want ever more efficient and cleaner cars, and national governments and institutions like the EU have been tightening the regulatory screws for years to help make sure we get them. Ford EcoBoost engines are simply those that feature Ford's most advanced mainstream petrol engine technologies in an effort to deliver the maximum efficiency and performance.
Environmental pressures – and related legislation – have been affecting car manufacturers for years, and you can look all the way back to the 1970s oil crisis for the start of a serious social shift towards improved fuel economy through down-sizing engines. Downsizing means reducing the engine capacity and often the number of cylinders too, typically in a quest for improved MPG or reduced emissions.
Back in the old days the trade-off was less power for greater economy, but thanks to modern technologies like those featured in Ford EcoBoost units, smaller 'down-sized' engines can now perform just as strongly as their bigger, thirstier predecessors. For example Ford reckons its EcoBoost 1.0-litre three-cylinder engine is as powerful as the old four-cylinder 1.6-litre engine – and far more frugal.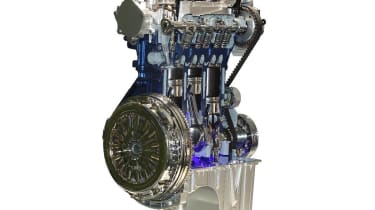 The popularity of EcoBoost engines has been boosted in recent years as awareness has grown about the potential harm of diesel emissions, and interest has grown in petrol alternatives. While Ford has trademarked the EcoBoost logo for its engines, the truth is that very similar tech is employed by EcoBoost rivals such as VW's TSI engine line-up.
So what do EcoBoost engines have that others don't?
Ford itself likes to explain EcoBoost by splitting the name into its two constituent parts. 'Eco' refers to the exceptional fuel economy requirement, and 'Boost' to the requirement for good power output and performance. The two are combined into a single powertrain package that offers economy and performance, but they're arrived at with two specific technologies.
Delivering the first part of the equation – improved economy – is the direct fuel injection system that dispenses with a traditional intake manifold and sprays a precisely measured and shaped jet of atomised petrol into each cylinder at exactly the right moment in the combustion cycle. With extremely efficient combustion, it's possible to reduce the amount of fuel required in any driving cycle, giving EcoBoost-equipped cars the potential to return impressive economy figures.
But drivers want flexibility and performance too, and it's turbochargers that put the boost into EcoBoost engines. These increase the performance levels to the point where a 1.0 EcoBoost engine can not only reproduce the driving characteristic of an older 1.6-litre, but actually improve on them. That's because fitting a turbocharger means more torque – or pulling power – is available right across the rev range, which makes an EcoBoost car feel more flexible in everyday driving.
Which Ford ranges offer EcoBoost options?
You can now find EcoBoost engines in pretty much any Ford from the Fiesta to the Mustang sports coupe. Naturally a 2.3-litre EcoBoost Mustang will be much less frugal than a 1.0 EcoBoost Fiesta, but compared to the Mustang GT V8 it's a model of efficiency.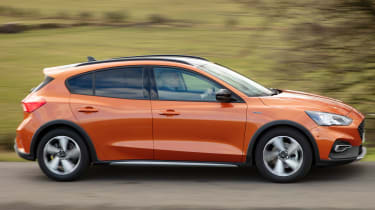 That said, in the UK the smallest 1.0-litre EcoBoost petrol engine is by far and away the most popular, with the base 94bhp version available in the entry-level Fiesta Trend and the rugged Fiesta Active. A more powerful 123bhp version of the same engine can be specced in the Puma, Focus and EcoSport, with the latter also getting a 138bhp version.
Ford's hot hatchback line-up is also powered by EcoBoost petrol engines, with a turbocharged 1.5-litre three-cylinder EcoBoost engine powering both the Fiesta ST and the new Puma ST, while the larger Focus ST is powered by a 2.3-litre EcoBoost engine.
Ford EcoBoost mild-hybrid
Ford now offers a new variation of its turbocharged 1.0-litre EcoBoost petrol engine fitted with mild-hybrid electrical assistance. It's available in both 123bhp and 153bhp power outputs across the Fiesta, Puma, Focus and Focus Active model ranges.
The system uses a belt-driven starter-generator system, which harvests the energy normally lost during braking and coasting into a small battery. The recuperated energy is then used to improve the efficiency of the stop-start system, and provides a boost in power to help take the strain off the petrol engine during normal driving and under acceleration. The result is a small improvement in fuel economy and lower emissions.
Are there any known EcoBoost problems?
The EcoBoost tech has now been fitted to millions of engines, and is really pretty mainstream technology, which means it's well run-in – there's certainly no reason to fear undue breakdown or reliability issues.
A couple of high profile recalls for EcoBoost cars issued in 2018 may sound alarm bells, but the truth is the faults were not specifically related to the EcoBoost tech. A Focus 1.0-litre EcoBoost recall referred to a nylon pipe potentially overheating in the cooling system, while a potentially more serious fault in the cylinder head of 1.6-litre EcoBoost engines again isn't directly related to EcoBoost tech.
One potential issue facing buyers looking at EcoBoost cars for sale is that fuel economy figures in the real world can be some way off those quoted. The turbochargers deliver punchy performance, but if you're tempted to use that performance often it's understandable that the EcoBoost fuel economy advantages start to disappear.
Do you want to know how the EcoBoost engine compares to its rivals? Read our list of the most economical family cars to buy.