Top 3 used family hatchbacks for £6,000
"Dear Carbuyer, I need a spacious family hatchback that's economical. What do you recommend for a budget of £6,000?"
Despite the surge in sales of crossovers and SUVs in recent years, the family hatchback has remained a popular choice for car buyers - and it's not hard to see why. Models like the Vauxhall Astra, Volkswagen Golf, SEAT Leon and Ford Focus are now more technologically advanced than ever before, while remaining hugely practical and affordable to run.
Nearly all family hatchbacks can be specced with a petrol or diesel engine, with most offering a decent amount of power for everyday driving. As hatchbacks retain a standard ride height and weigh less compared to their taller SUV counterparts, they're generally capable of better fuel economy.
Best used family cars to buy now
One other benefit of a standard ride height is improved handling, with the majority of hatchbacks offering less body roll in corners. Practicality is usually respectable, with usable rear seat space and a decent boot.
Finally, despite being something of a mid-range model in most manufacturer lineups, nearly every car in the family hatchback class comes well-equipped. Standard kit is likely to include at least air conditioning, cruise control, heated seats, Bluetooth, and automatic lights and wipers.
The used family hatchback market offers a range of options, with a budget of £6,000 enough to buy an example in reasonable condition with relatively low mileage. All three of our choices offer an excellent level of practicality, are good to drive and are capable of respectable fuel economy.
The popular choice: Ford Focus
For: sharp handling, plenty of choice on used marketAgainst: smallest boot here, button-heavy dashboard
Ford's Focus is a staple of the family hatchback market, so you'll have plenty of choice when buying a used car. while not quite as desirable as the Golf, it's sharper to drive than the i30, and offers similar value for money.
We found a 13-plate 1.0-litre EcoBoost Focus Zetec with 47,000 miles on the clock for £6,000. That trim includes electric windows, air-conditioning and Bluetooth, as well as Ford's excellent quickclear heated windscreen. Like the Golf, this variant of the Focus gets group 11 cover.
The Focus has a better-built cabin than the i30, but it's some way off the Golf's cohesive, minimalist design and solid build quality. The Ford also has the smallest boot here, at 316 litres with the seats up, and 1,101 litres with them folded down.
Although it may not be the refined cruiser the Golf is, the Focus has the best dynamics of these three cars, so it's the one to go for if you prioritise handling. The 1.0-litre EcoBoost engine officially returns 60.1mpg, but in our experience its real-world economy is similar to the Golf.
The well equipped choice: Hyundai i30
For: low insurance group, plenty of equipment, reliableAgainst: The least dynamically engaging car here
The second-generation i30 was a big step up over the car it replaced, yet it still managed to be cheaper to buy than rival family hatchbacks. Although it's not the model to go for if you're after the sharpest handling, the i30 should prove reliable, and it offers decent ride quality.
We found a 13-plate 1.4-litre petrol i30 Active with 47,000 miles for £5,995. sitting in insurance group seven should make cover affordable, while Active trim includes cruise control, parking sensors and Bluetooth.
Inside, the i30 looks conservative and features some plastics that could be of higher quality, but it comes with plenty of equipment. The i30 also has the biggest boot here, at 378 litres with the rear seats up, and 1,316 litres with them down.
While the i30 is the least exciting of these three cars to drive, it's composed and generally comfortable – although the Golf has a better ride quality. The 99bhp 1.4-litre petrol engine officially returns 47mpg, and while the alternative 1.6-litre diesel is more economical, it sits four insurance groups higher.
The premium choice: Volkswagen Golf
For: modern-feeling cabin, well made, strong imageAgainst: expensive to buy compared to Focus and i30
You will spend more on a Golf than you would on an equivalent Focus or i30, but you'll be buying a car whose cabin has aged well, and is built from better-quality materials. plus, the Golf offers the best of both worlds, blending enjoyable handling with a comfortable ride.
We found a 40,000-mile entry-level Golf S trim model, with a 1.2-litre TSI petrol engine, for £6,000. Bear in mind that insurance is likely to be higher if you opt for a Golf over an i30 – even this basic model sits in group 11.
With a simple, unfussy design and durable materials, the Golf trumps the Focus and i30 inside. But it sits in the middle for practicality; its boot capacity is 350 litres with the back seats up, and 1,305 with them down – less than the i30, but still decent.
Compared to the i30's 1.4-litre petrol engine, the Golf's 85bhp 1.2-litre TSI unit is down on power, but it does offer better economy; fuel consumption is officially pegged at 51.4mpg. While the Golf is not quite as sharp as the Focus to drive, it is more refined on a cruise, and is arguably the best all-rounder.
Carbuyer's choice, as picked by deputy editor Ben Hodges - Ford Focus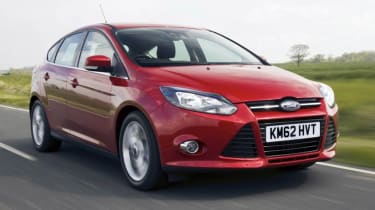 Of the three choices, all of which are very capable, I would have to go for the Ford Focus. It's the best to drive and comes with an excellent level of standard equipment that still feels fairly modern by today's standards.
It also has the best powertrain of the three cars, with an impressive turbocharged 1.0-litre petrol engine. Don't be put off by its small size, as it's one of the best engines ever produced by Ford. Driven hard, it produces a thrummy exhaust note with enough power for normal driving. It's equally capable on longer journeys, making it a relaxing car to drive and one that can easily return an economy figure of over 40mpg. The button-festooned dashboard does date the car's interior somewhat but good practicality makes up for it, and helps to make the Focus a great all-rounder that's easy to live with on a daily basis.
To find out more about our picks for the best new family cars you can buy, take a look at our top 10.
New 197bhp Volkswagen Golf GTD now on sale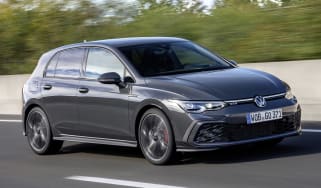 New 197bhp Volkswagen Golf GTD now on sale
The UK's top 10 best-selling cars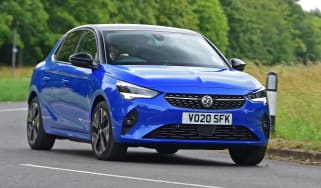 The UK's top 10 best-selling cars
New 2020 Kia Stonic SUV: prices and specs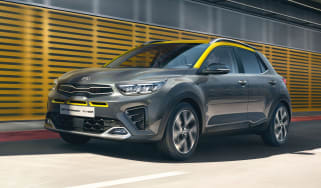 New 2020 Kia Stonic SUV: prices and specs
Updated Peugeot 5008 starts at £29,585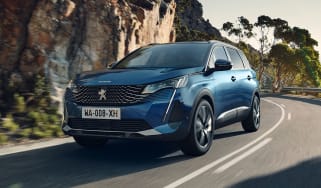 Updated Peugeot 5008 starts at £29,585
Cupra Formentor SUV review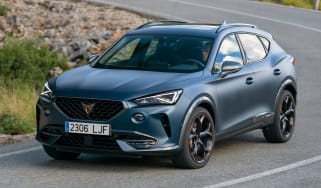 Cupra Formentor SUV review