Should you buy an Audi?
Three premium German rivals, each with their own character; we help you choose between Audi, BMW and Mercedes. Here's our rundown on Audi
Audi
Slogan: Vorsprung durch Technik (progress by technology)
Based in Ingolstadt near the banks of the river Danube in southern Germany, Audi can trace its roots back to the early days of the automobile at the turn of the last century. Now under the ownership of the Volkswagen Group, Audi produces a range of luxury cars, from the diminutive A1 supermini to the vast and fast Q7 SUV and the R8 supercar. The brand has a reputation for beautiful interiors, quattro four-wheel-drive technology and sleek styling.
Naming strategy:
Saloon, coupe and hatchback models are prefixed with the letter 'A' (like the A3, A4 and A5), with higher-performance versions of these replacing the A with an S, such as S3 and S4. Estates are known by the name 'Avant' and SUVs are denoted with a 'Q' (the Q3, Q4 e-tron and Q5, for example). The most driver-focused, high-performance models begin with the letters 'R' or 'RS'. The Audi TT sports car exists in a category of its own, while all the brand's latest electric models (EVs) are badged e-tron..
Trim levels:
While individual model ranges get slightly different trim options, entry-level Audis are currently known as Technik, and mid-range models are usually Sport Edition and S line. Black Edition and Vorsprung are the most luxurious range-topping models. While exclusive Edition 1 launch models are usually only available for the first year of production and feature high levels of standard equipment.
Today, Audi is known for a few things:
Although Audi does have a raucous side that is revealed with cars like the R8 supercar or high performance RS6 family estate car, they are largely known for their reserved character. Throughout the vast majority of models the emphasis is on quietness and refinement to enhance the driving experience. The priority here is on overall quality, rather than driver excitement, whereas BMW pursues driver engagement. Most Audi vehicles are considered good to drive, although the suspension can be a bit stiff for some on the sportier models.
While this is less true than it once was, an Audi with large alloy wheels and sports suspension (a free upgrade with some higher trim levels like S line) can be somewhat uncomfortable over potholes and broken tarmac.
Perhaps the most difficult aspect of potential Audi ownership is working out what's under the bonnet. Instead of a numbering system that relates to the engine's size, Audi has settled on a numbering system that denotes a range of power outputs. You still get TFSI (petrol), TDI (diesel), TFSI e (plug-in hybrid) and e-tron (electric) badges, but these are now prefixed by a variety of numbers - 25, 30, 35, 40, 45, 50, 55, 60 and 70. As an example, a car wearing a 40 on its boot lid could have anything between 165bhp and 198bhp. However, there are exceptions to this numerical naming convention, with the brand's flagship EV wearing the 'e-tron GT' and 'RS e-tron GT' nameplates.
Four-wheel drive: Audis bearing the 'quattro' badge have four-wheel drive. This option typically costs around £1,500 and is offered on almost all Audis – although the A1 is a rare exception. Depending on which model and engine combination you go for, you may find that quattro is standard. While many drivers may not need the extra grip four-wheel drive brings (note that it tends to dent fuel consumption by a couple of mpg), it's a very popular option. Some feel that an Audi offers a better drive when fitted with the quattro system, thanks to the extra cornering ability it conveys. 
Partnership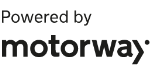 Need to sell your car?
Find your best offer from over 5,000+ dealers. It's that easy.
It's also worth noting that all quattro systems aren't equal. That used on the A3 is known as a Haldex-controlled set-up, essentially running as a front-wheel-drive car most of the time and only engaging the rear wheels when its senses wheelspin at the front end. On A4 and above you get a more traditional (but very sophisticated) four-wheel drive that is permanently engaged, helping prevent spinning wheels rather than reacting to them. Audi's e-tron-badged electric vehicles instead utilise a dual- or triple-electric-motor set-up for quattro all-wheel drive: with one motor mounted on the front axle, and up to two on the rear axle. Just like on regular combustion-engined cars, this allows all four wheels to be powered independently for maximum grip.
Luxurious interiors: with perfectly judged soft-touch plastics and a sense of unfussy style, Audi's interiors have long been considered up there with the best. Audi is also known for making technologically advanced and intuitive driver controls, from its clever and configurable 'virtual cockpit' digital dashboard dials to the chunky automatic gear selector found in higher-end models. Audi owners appreciate the sense of quality and attention to detail their cars feature inside, and it's a particular brand highlight.
Styling: The majority of Audi's range is understated with the aim of sleek yet discreet body lines. A handful of the most powerful models eschew this by being offered with bright paint colours and an array of spoilers and aggressive intakes. The rest try to blend in, setting themselves apart only by how carefully constructed the finished product is, plus the advanced technology inside.
Anything else to know?
Audi came 23rd out of 29 manufacturers in our 2021 Driver Power customer satisfaction survey, being beaten by both BMW and Mercedes. Audi's three-year/60,000-mile warranty is average but is less generous than many other manufacturers' policies. Be careful when specifying any new Audi, because it's easy to add many thousands of pounds to the price if you tick one too many boxes – although in fairness, BMW and Mercedes are also guilty of this. On a more positive note, Audi's diesel engines tend to offer an excellent blend of performance and economy, while many models are available with a 1.5-litre petrol engine that features 'cylinder-on-demand' technology. This shuts down half the engine when you're gently cruising, helping you save money on fuel.
Cheapest route into Audi ownership: the competent, efficient and classy Audi A1 supermini starts at around £18,000.
Electric cars: Audi offers a handful of fully electric cars, which wear its e-tron badge. First to arrive were standard and Sportback coupe versions of the e-tron, a full-size SUV that's almost as big and imposing as Audi's Q7 SUV flagship. The Audi e-tron GT is the third e-tron model and is a swoopy four-door luxury saloon rivalling the Porsche Taycan and Tesla Model S.  A more compact and affordable EV option is the Q4 e-tron, which is also available as an SUV or 'Sportback' coupe-SUV.
Most exclusive model: the fearsomely powerful Audi R8 sports car. Ferociously fast, capable of covering vast distances at great speed with untapped excitement; comes with a big price and a small boot.
The one you'll probably buy: the Audi Q3. The brand's mid-sized family SUV is billed as a more premium alternative to the Ford Kuga or Nissan Qashqai, and is packed with all of the tech and luxury you'd expect with a stunning interior derived from higher-end models such as the A6 and A8. Boot space is an impressive 530 litres with the rear seats folded down across both the regular SUV model and the stylish 'Sportback' coupe-SUV version. 
Find out what BMW is all about, or read on for our rundown on Mercedes.
Best new car deals 2023: this week's top car offers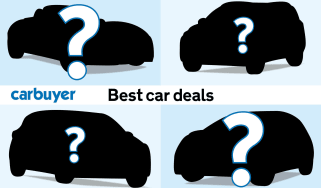 Best new car deals 2023: this week's top car offers
New 2024 Porsche Panamera – new looks, interior, and Turbo E-Hybrid model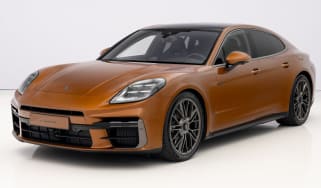 New 2024 Porsche Panamera – new looks, interior, and Turbo E-Hybrid model
New 2024 Dacia Duster arrives – popular budget SUV enters its third generation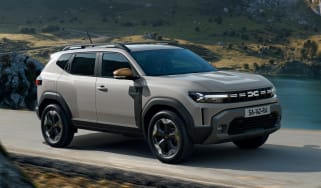 New 2024 Dacia Duster arrives – popular budget SUV enters its third generation