Best cheap sports cars 2023
Looking for the ultimate weekend toy but you're on a budget? Check out our top new and used picks for affordable sports cars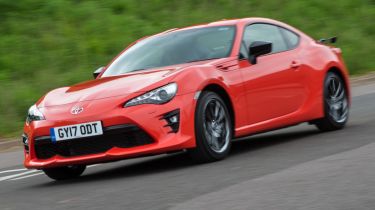 Everybody loves a sports car but even the best sports car models on the UK market have their drawbacks. These are cars built to look good and entertain their drivers but they often come at a comparatively high price, without the same level of practicality you'd get in a similarly sized hatchback or SUV. If you can live with a slightly smaller boot and a little less passenger space, our pick of the best cheap sports car models is a great way to find one that fits your budget.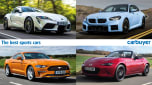 Top 10 best sports cars 2023
We've pulled together our top 10 best cheap sports cars below. There are five brand new models and four more that might make sense as an affordable nearly-new buy to keep costs down even further. You're going to need a budget of around £30,000 to buy a new sports car today but if you expand your scope to nearly new models you can pay under £20k or even less than £10k in some cases.
We aren't just talking about sporty looking cars with a sporty driving experience here. Our choices are confined to sports cars in the truest sense rather than the hot hatchbacks and performance SUVs that tend to offer performance without the same practicality compromises. We're dealing with coupes and roadsters, some with two seats, some with four and others with what's best described as a 2+2 cabin layout. What they all share, to a greater or lesser extent, is the low, sleek shape and a driving experience designed to put a smile on your face.
Best cheap new sports cars
Mazda MX-5 roadster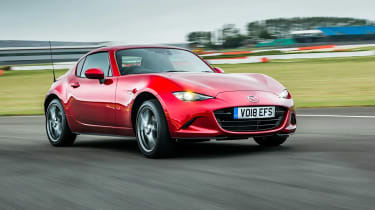 Mazda may not have been the first manufacturer to sell an affordable two seat sports car, but they may well be the last. The MX-5 has faced competition over the years, but it has beaten all comers and its simplicity is a reminder that driving enjoyment is about so much more than power. Most hot hatchbacks boast more horsepower than the MX-5, but they can't offer the confidence inspiring feedback and light-footed handling along a country lane that proves how much more there is to driving than numbers.
The standard car has a manually-operated fabric roof, although the folding-hardtop MX-5 RF is also available. Entry-level MX-5s start from around £26,000 and feature a 1.5-litre 130bhp engine which covers the 0-62mph sprint in a respectable 8.3 seconds. Higher-end models get a more-powerful 2.0-litre engine with 181bhp. This shortens the 0-62mph time to just 6.5 seconds and upgraded Bilstein suspension makes the MX-5 handle even sweeter.
BMW 2 Series Coupe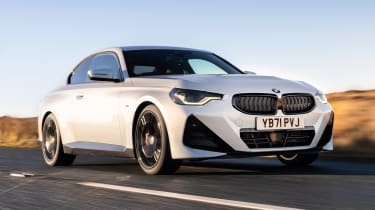 In recent years, it may seem that BMW have turned their focus to building the best luxury cars rather than the 'ultimate driving machine'. Thankfully, the latest 2 Series is exactly what enthusiasts have been asking for: a small, relatively affordable coupe with the same level of dynamics and luxury that we've come to expect of BMWs. The 2 comes highly-equipped with the brand's full iDrive infotainment system as standard; plus, the sizable 390-litre boot means that it's not confined to solely being a weekend car.
The majority of 2 Series Coupe models are rear-wheel-drive; except for the range-topping 374bhp M240i which uses BMW's slick rear-biased xDrive four-wheel-drive system. The base model is the £37,000 220i which uses a 2.0-litre four cylinder engine with 181bhp; this should be good for 0-62mph in 7.5 seconds. While a 190bhp 2.0-litre diesel is also available, it isn't really befitting of the 2 Series' sporty character.
Audi TT Coupe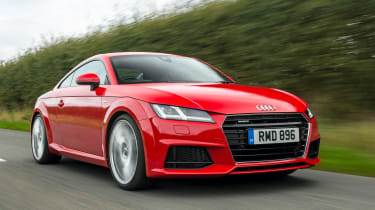 The current iteration of the Audi TT is likely to be the last as we know it. After arriving in the UK in 1998, the TT experienced high demand, but sales have recently started to slow as people turn towards SUVs. Now in its third generation, the TT is still available as a coupe or soft top Roadster, with an impressive interior boasting Audi's Virtual Cockpit driver's display and heavily bolstered sports seats.
Partnership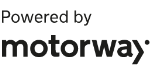 Need to sell your car?
Find your best offer from over 5,000+ dealers. It's that easy.
As well as a choice of body styles, the TT can be specified with a variety of engines and power outputs. Entry-level cars are front-wheel-drive and use a 2.0-litre turbo petrol engine which produces either 194 or 242bhp. More-powerful TTS and TTRS models are also available with sportier styling and quattro all-wheel-drive; the latter offering performance comparable to that of the original R8 supercar. Whichever model you choose, the TT is still great fun to drive, if a bit less engaging than some of its other sports car rivals.
Toyota GR86 coupe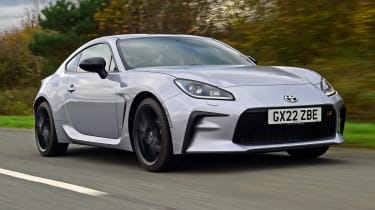 The Toyota GR86 is a classic 2+2 coupe that blends a naturally aspirated 2.4-litre engine with slick manual gearbox and a lightweight construction for loads of fun on the road. The 231bhp on offer is equivalent to hot hatchback competitors like the Golf GTI, but it's delivered with a high-revving nature that enthusiasts cherish.
The 226-litre boot is generous by sports car standards and although the cabin lacks a little in terms of design flair it does display that robust build quality we've come to expect from a Toyota. You can expect decent reliability from the GR86 too, assuming you can get your hands on one. It's currently sold out as a new car so it's a case of waiting for more stock to become available or keeping a close eye on the used market. 
BMW Z4 roadster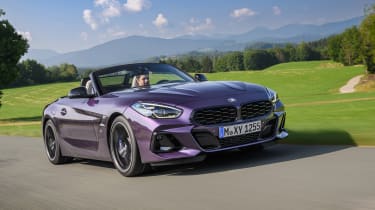 Developed in tandem with the new Toyota Supra, the BMW Z4 is a sleek and stylish roadster that still offers decent roof-down thrills if you need something a little bit more practical than a Mazda MX-5. The Z4's interior is as plush as any other BMW and all models come well equipped with an M Sport bodykit, LED headlights, leather upholstery, heated seats and the brand's iDrive infotainment system.
The Z4 underwent a very mild facelift in 2022, with new alloy wheel designs and a tweaked version of BMW's iconic kidney grille. There are two engines to choose from – a turbocharged 2.0-litre four-cylinder and a muscular 3.0-litre six-cylinder – however its the former that is the more affordable option. With 194bhp at your disposal and a slick dual-clutch automatic gearbox, 0-62mph takes just 6.6 seconds.
Best cheap nearly new sports cars
Can't afford a new sports car at today's prices? These nearly new models deliver the same kind of driving thrills for a little less…
Toyota GT 86 coupe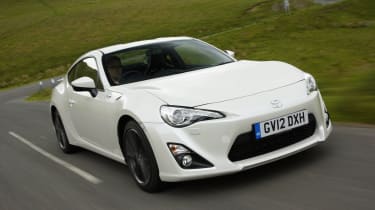 The Toyota GT86 marked a welcome return for the small, affordable and fun coupe; a combination not seen from Toyota since the Celica was discontinued. With a long bonnet and a low-slung body, the Toyota GT86 looks like a sports car, and feels like one the moment you climb inside. But it's when you drive away that the magic happens. The steering, suspension and brilliant rear-wheel-drive chassis combine to deliver a totally immersive driving experience. So much, in fact, that you won't give the relative lack of power a second thought.
Toyota recently replaced the GT86 with the Toyota GR86, however, the new car sold out almost immediately. For now, your only option is a used GT86, or to wait for the GR86 model to filter onto the used market.
Abarth 124 Spider convertible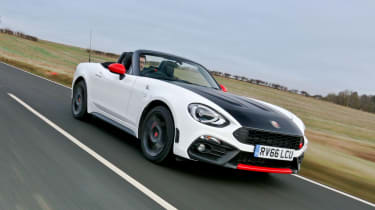 If you ever wondered what an Italian take on the Mazda MX-5 would be like, look no further than the Abarth 124 Spider. The Abarth is based on the Fiat 124 Spider which, in turn, is based on the Mazda MX-5. Here, the Turin-based tuning company has given its tamer Fiat sibling a more aggressive bodykit, firmer suspension, a rortier 'Record Monza' exhaust and an uprated 1.4-litre engine which now produces 168bhp – 38bhp more than the equivalent 1.5-litre MX-5.
On the inside, the Abarth is virtually a carbon-copy of the Mazda, with only a smattering of 'Abarth' badges to differentiate the two. However, unlike the Mazda, the Abarth is only available with a manual soft-top which may deter some buyers in colder climates. Poor sales compared to the MX-5 means the 124's life was short-lived; yet you can experience one for yourself for just under £20,000 on the used market.
Ford Mustang coupe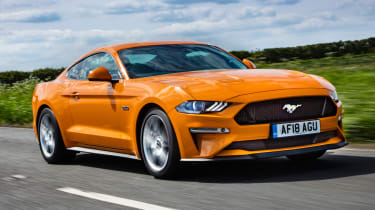 Despite being sold for over 50 years, it was only in 2015 that Ford decided to officially bring the legendary Mustang here to the UK. The sixth-generation 'pony car' is unlike the archaic models of old and features fully-independent rear suspension, a touchscreen infotainment system and even a (now discontinued) model with a fuel-sipping Ecoboost four-cylinder powertrain.
Perhaps most importantly, the Mustang is one of the cheapest ways into a modern V8 sports car. The Mustang in 'GT' guise produces a monstrous 444bhp from its 5.0-litre V8 motor and boasts the same deep, rumbling sounds you want and expect from a muscle car. The Mustang is a slice of Americana that may be deemed unsophisticated by some – but our advice is not to knock it until you try it!
Nissan 370Z coupe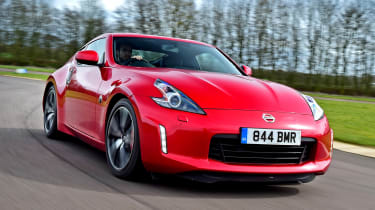 The Nissan 370Z was sold in UK showrooms for over ten years meaning that although it isn't a common car there should be plenty of choice, including some recent low mileage examples. The majority of cheaper models will be early models from 2009 and 2010, but if you have a little more to spend there is a Nismo edition in both 2015 and 2020.
The big advantage with buying a 370Z will be the engine. It's both reliable and produces good power without the aid of turbocharging thanks to its 3.7-litre size. The downsides are that it is quite thirsty and the boot space is limited by the brace that helps stiffen the chassis and contributes to a great driving experience.
Porsche 718 Cayman coupe/Boxster roadster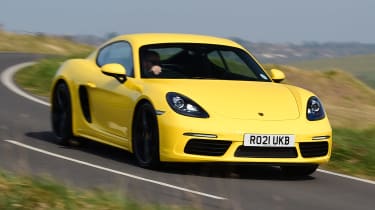 Perhaps the most exotic – and expensive – car on this list, the rear-wheel-drive, mid-engined Porsche 718 is a brilliant driver's car. Porsche offers it in two forms: the hard-top Cayman coupe and the soft-top Boxster roadster; however both are equally exciting from behind the wheel, and which you should go for should really be up to personal preference and/or what is available at the time.
Porsches notoriously hold their value well, so don't expect to get a huge discount by looking on the used market. While the 718 range spans all the way from the base model to the £113,000 Cayman GT4 RS, we believe the entry-level 2.0-litre car offers the best bang for buck and the purest driving experience. Even this has a plush interior, a powerful 296bhp engine and a sweetly-tuned chassis, meaning even the cheapest Porsche on sale doesn't feel any less premium than its more expensive siblings.
Looking for a cut-price convertible? Check out our list of the top 10 best used convertibles
Best cheap sports cars
Best cheap nearly new sports cars