BMW 3 Series saloon - MPG, running costs & CO2
BMW 3 Series petrol and diesel engines are economical, and the 330e hybrid is even better
The latest BMW 3 Series comes at a time when diesel power has rather lost its sheen. Despite this, the BMW's conventional petrol and diesel engines are some of the best in the business, and there's also a plug-in hybrid alternative.
Whichever version you choose, you can take comfort in the knowledge that the latest thinking in aerodynamics – including features such as an active front grille to manage airflow – has gone into making sure the 3 Series is impressively fuel-efficient.
BMW 3 Series MPG & CO2
In recent years, the 320d diesel has proven by far the most popular 3 Series model, thanks to its impressive blend of performance and fuel economy. The latest version is claimed to return up to 58.9mpg in its most efficient form, with CO2 emissions of 127-129g/km for Sport models rising to 137-145g/km for M Sport trim equipped with xDrive four-wheel drive. The latter results in a mid-range Benefit-in-Kind (BiK) company car tax rating, with higher trims and larger wheels resulting in higher running costs.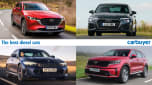 Top 10 best diesel cars 2023
The diesel line-up has been slimmed down over the years, so the only other version is the high-performance 340d, and you can expect up to 46mpg for the fastest diesel. All diesels now come with mild-hybrid technology to reduce fuel consumption and emissions, and an eight-speed automatic transmission is standard.
Turning to petrol, the 320i officially manages up 44.1mpg, although we struggled to better 33mpg during our time with a pre-facelifted example. CO2 emissions range from 145-155g/km, making it a pricey choice for company car drivers. The 330i uses a turbocharged 2.0-litre, four-cylinder petrol engine that produces 254bhp. It's claimed to return up to 42.2mpg, with CO2 emissions of 150-158g/km placing it towards the top of the BiK bandings. With 369bhp, the BMW M340i xDrive prioritises performance over fuel-efficiency, but still manages to return up to 35.3mpg with emissions of 182-184g/km.
The BMW 330e plug-in hybrid is the most efficient in the range. Its battery pack provides an all-electric driving range of up to 38 miles when fully charged, helping the car achieve a low emissions figure of 30-31g/km and fuel economy of 217.3mpg, although you may struggle to achieve this number unless you use the electric power for most journeys. This qualifies for the lowest BIK rate for business drivers, and also makes it exempt from emissions tariffs such as the London ULEZ.
If you manage to keep the price of your 3 Series below £40,000, you'll be liable for a standard-rate road tax bill from the second year – the first year's tax will be bundled into the price. Break that price barrier and you'll need to pay an additional surcharge on the first five occasions that you pay road tax, bringing the total to over £500 a year.
Insurance
The BMW 3 Series is an upmarket car but the insurance groups are, for the most part, fairly reasonable. The pre-facelift 320i sat in group 28, and the 330i and M340i were in groups 32 and 39 respectively. Hybrid models sit in groups 33-35. For the diesels, the 320d starts in group 31, while the most potent model, the M340d xDrive, sits in group 42.
Servicing
Like all BMWs, the 3 Series uses sensors and oil-quality monitors to determine when routine maintenance is required. Typically, visits to the workshop will be called for between one and two years apart, with fewer than 20,000 miles elapsing between services. Certain components, such as spark plugs on petrol engines, and fuel and air filters, will need occasional replacement, and a service contract will enable you to budget for these items more easily. Your BMW dealer will be able to arrange a contract to match your driving requirements.
Warranty
BMW provides all new car buyers with a three-year, unlimited-mileage warranty that includes three years of BMW Emergency Service cover. It compares directly to the policy Mercedes gives its customers and beats Audi's warranty by having no mileage limit. At the end of your warranty, it can be followed up by a 'BMW Insured Warranty' on a year-by-year basis, although there are certain exclusions under such policies.