Genesis G80 saloon review
The executive saloon class is full of accomplished, established contenders, so it's impressive that the Genesis G80 gets so close to the best in class
Pros
Impressive quality
Good to drive
Ownership experience
Cons
Relatively small boot
Brand image
Slightly firm ride
The new Genesis G80 certainly looks the part, with a large 'G-Matrix' grille and slotted LED headlights ensuring it stands out. If anything, we can see inspiration from luxury car manufacturers in its design, including hints of Aston Martin, which is no bad thing. If you want to stand out in the company car park, the G80 delivers.
While some luxury car challengers fall apart once you get behind the wheel, there are no nasty surprises here. The G80 has been tuned for European roads and its chassis has been subjected to the rigours of the challening Nurburgring test track in Germany. It's very refined and has poised handling, with a smooth eight-speed automatic gearbox.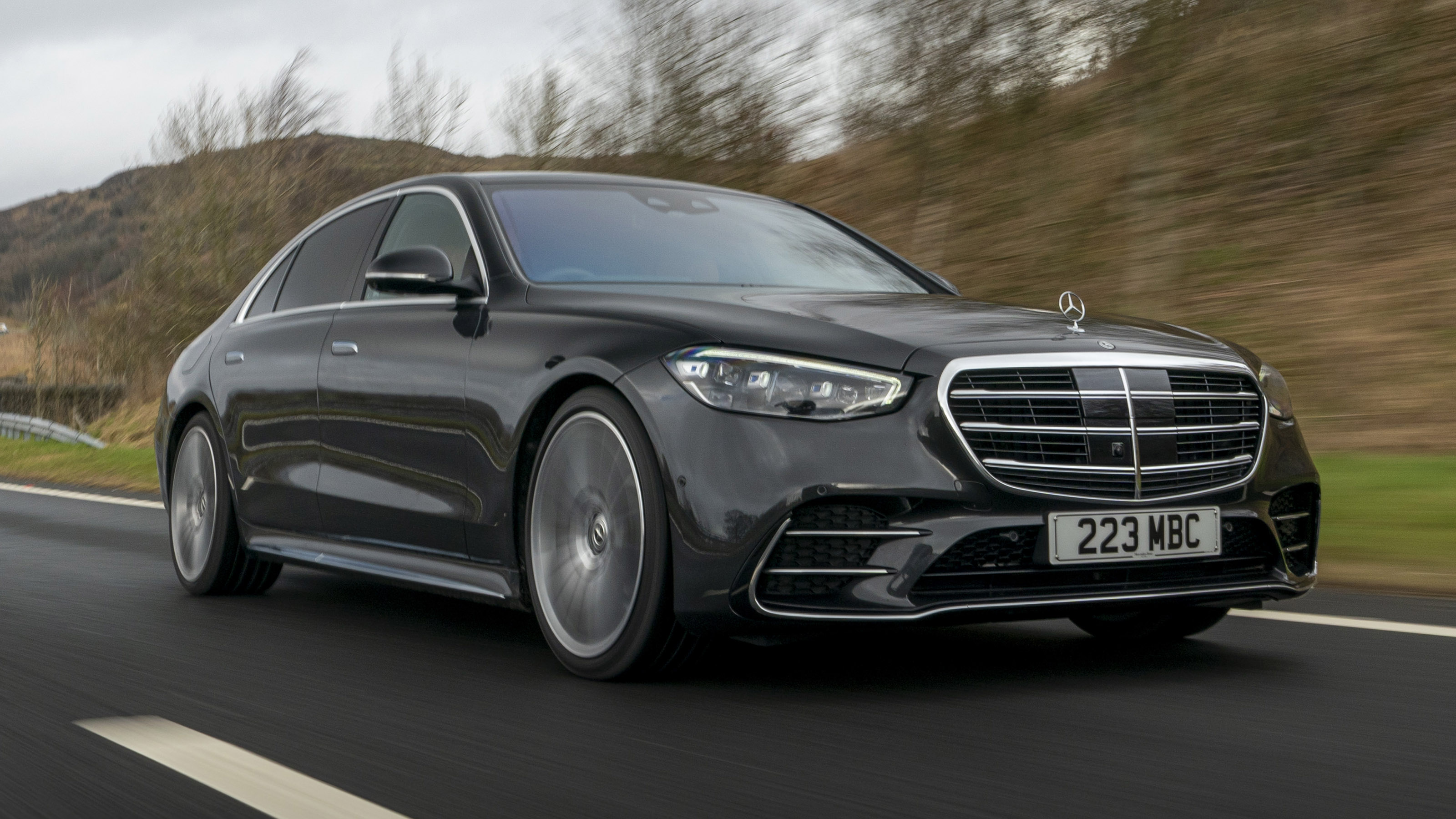 Top 10 best luxury cars 2022
Engine choices are a 2.5-litre turbocharged four-cylinder petrol with 300bhp capable of 0-62mph in six seconds, or a 2.2-litre diesel with 207bhp that takes two seconds longer to reach 62mph. Motorway drivers will appreciate the better fuel economy of the diesel, which can manage around 45mpg, but neither model slots into a cheap emissions band for company-car drivers. 
There's also the 'Electrified G80' EV, which is powered by two electric motors, making it cheaper to run and much more appealing as a company car. With 364bhp it can easily outpace the combustion-engined versions, and feels much quicker and more refined in everyday driving. It's expensive - costing from around £65,000 - but this puts it in a similar ballpark to all-electric rivals like the Mercedes EQE, BMW i5 and Tesla. In fact, the EQE is significantly more expensive.
The interior is relaxing and feels well built, with artificial 'leatherette' upholstery in the Premium Line trim replaced with real leather and wood trim in the Luxury Line range-topping model. Standard kit also includes a large 14.5-inch infotainment display, adaptive cruise control, a rear-view camera and LED exterior lighting. Luxury Line adds 20-inch alloy wheels, a powered boot and triple-zone climate control.
Genesis is also hoping to impress customers with its buying and ownership experience, in a similar way to Lexus - a brand that has topped our Driver Power survey in recent years. You won't need to visit a bricks and mortar dealership to buy one, and owners will be appointed a Genesis Personal Assistant. Cars will be collected and delivered for servicing and a five-year care plan will include a five-year warranty, servicing with a courtesy car, roadside assistance and wireless software updates.
MPG, running costs & CO2
Distinctly average running costs for the petrol and diesel but the electric G80 improves matters
For now, the Genesis G80 is offered with either a 2.2-litre four-cylinder turbodiesel engine or a 2.5-litre turbocharged petrol. Both come fitted with an eight-speed automatic gearbox as standard. If you plan on covering serious miles, the extra fuel-efficiency of the diesel is likely to appeal as it can return up to 45mpg. CO2 emissions of 205-210g/km do put it in the top Benefit-in-Kind (BiK) band, however, which is likely to put off company-car drivers.
Opt for the petrol version and the G80 will only return up to 31.2mpg, which isn't terrible given the power on offer but lags behind rivals with hybrid electrified powertrains. During our test, we returned an average fuel economy figure of 26.7mpg in mixed driving conditions, getting close to 30mpg on a motorway run. The petrol G80 also returns slightly lower CO2 figures than the diesel, ranging from 164-169g/km. However, this places it towards the top of the BiK bandings, meaning it will result in costly tax bills for business drivers.
The Electrified G80 EV joined the range in mid-2022, providing a potential range of up to 323 miles thanks to its 87.2kWh battery. According to Genesis, rapid charging will be able to take the battery from 10-80% in 22 minutes, while Vehicle to Load (V2L) technology also makes it possible to charge other electric devices using the car. This could be the pick for businesses, thanks to its lower running costs, even if it's the most expensive model to buy.
Engines, drive & performance
Don't let the lack of badge prestige put you off; the G80 is very grown-up to drive
Considering the G80 is a new model from a new brand, we're surprised just how close the Korean luxury saloon comes to matching the class-leading BMW 5 Series. Ultimately, it's a little bit softer to drive than the performance-focused BMW, but it is still highly accomplished and should leave its target buyers very impressed. Even the Electrified G8 is excellent to drive, with plentiful composure for all but the most daring drivers.
Of course, Genesis' parent brand Hyundai already knows a thing or two about tuning a car's chassis for European roads, and the G80 has been partly developed at the Nurburgring circuit in Germany. While it isn't intended to set any lap records, this twisting test track does help manufacturers fine tune a car's handling.
It's possible to increase or reduce the engine noise of the petrol model, and the latter seems more appropriate in a car as generally hushed as the G80. The eight-speed automatic gearbox responds quickly and smoothly with barely noticeable gearchanges, and while you can tell the G80 is a large and heavy car, it handles tidily.
The 2.5-litre turbo engine produces 300bhp, getting from 0-62mph in six seconds and on to a top speed of 155mph. On the road, it feels quick enough for a car of this size, with a slightly muted engine note as you accelerate. Refinement is excellent on the move too, with the luxury cabin doing a good job of isolating passengers from road noise. There's a minimal amount of wind buffeting at motorway speeds too.
While the G80 is not set up to be an all-out sports saloon like the 5-Series, it handles well on the road, with reasonably accurate steering and a balanced suspension setup. Its size and weight is noticeable in corners, although the chassis does a good job of controlling body lean in sharper turns, while maintaining a smooth ride on rougher roads. While some of its German rivals may offer a sportier driving experience, the flagship Genesis offers a more relaxed attitude.
In diesel form, the G80 isn't quite as potent, with the 2.2-litre engine producing 207bhp. It sprints from 0-62mph in eight seconds; that puts it slightly behind the BMW 520d. On the road, this engine is smooth, refined, and its pulling power makes it easy to get up to speed on motorways – although there is a small amount of diesel hum present in the background as you accelerate. Overtaking manoeuvres are also pretty brisk, although the automatic gearbox does feel slightly hurried on occasions, as it tends to downshift several gears as you put your foot down.
Thanks to dual motors producing 364bhp and with four-wheel drive, the Electrified G80 is comfortably the quickest version, whooshing from 0-62mph in 4.9 seconds. It's potent enough to surprise unsuspecting Tesla owners away from the lights, and perhaps more impressively, acceleration isn't the car's only party piece. 
Genesis claims the Electrified G80 is actually 50kg lighter than the petrol version, and along twisting tarmac it feels hunkered down and confidence-inspiring, with direct steering. The intelligent regenerative braking also works well, and allows you to complete most journeys without ever touching the brake pedal - once you've got used to it. 
The only negative is the G80's size in urban settings, as it always feels like a large car, and it doesn't get the rear-wheel steering that improves the turning circle of some rivals that have this system.
Interior & comfort
Clever tech improves comfort and there's plenty of equipment on offer
The G80 features a technology called Ride Preview, which scans the road ahead and adjusts the suspension to help soak up bumps. In spite of this, the ride felt slightly firm around town, so we're hoping this is improved by 19-inch wheels fitted in place of the 20s on our Luxury Line test car.
There are just two trim levels available: Premium Line and Luxury Line. The former is fitted with kit like LED headlights, folded door mirrors and 'leatherette' seat upholstery. There's also a 14.5-inch infotainment display with Apple CarPlay and Android Auto, and an audio system with nine speakers.
Luxury Line adds the aforementioned 20-inch alloy wheels, real wood trim and leather upholstery, a heated steering wheel, a powered tailgate and triple-zone climate control.
Genesis is also offering several technology packs and extras, including an electronic panoramic sunroof. An Innovation Pack adds a 12.3-inch digital instrument panel, head-up display, safety tech and a wireless phone charger but costs just under £4,000. There's also a similarly priced Executive Pack for the Luxury Line trim, bringing laminated rear glass (for improved refinement), electrically folding rear seats, heated and ventilated front and rear seats, soft-close doors and even curtains for the rear windows.
A Convenience Pack for just over £1,000 seems reasonable value: adding an electric tailgate, a heated steering wheel and climate control for rear-seat occupants. It's also possible to include Nappa leather upholstery for around £2,300 and Vehicle-to-Load (V2L) functionality for the Electrified G80 is another £250. A solar roof - that's able to add up to 1,000 miles of charge every year - is just under £1,500. But be careful: add all of the above and it's easy to end up with a G80 costing over £80,000.
Practicality & boot space
Considering its size, the G80 isn't the most spacious executive saloon available
The Genesis G80 is a big car, measuring over five metres in length, so you'd expect plenty of interior space. It doesn't feel class-leading inside though, and we'd recommend avoiding the sunroof option if you expect tall people in the back regularly. If this is a concern, the GV80 SUV clearly shows the advantages of a taller roofline.
Measuring 424 litres, the boot is also noticeably down on the 455 litres of the Mercedes C-Class and the 530-litre capacity of the BMW 5 Series. It's not yet known how much the G80 will be able to tow but it will need to be in the region of 2,000kg to compete with its German rivals. 
Boot space is even more restricted in the Electrified G80, because of the way Genesis has packaged the battery and electric motors beneath the car. At 354 litres, it's a bit smaller than you'll find in a family hatch like a Volkswagen Golf, and there's a step in the floor so it's not entirely flat.    
Reliability & safety
The Genesis G80 is safe and comes with a five-year warranty
While Genesis may be an unfamiliar name in the UK, parent company Hyundai scores well for reliability, which should prove reassuring. We also like the sound of Genesis' five-year care plan, which includes a warranty, servicing and roadside assistance, along with over-the-air software updates.
While Genesis didn't feature in our 2021 Driver Power owner-satisfaction survey, Hyundai came 16th out of 29 manufacturers, with 21.1% of respondents reporting a fault in the first year. Quality feels impressive throughout, and Electrified G80 owners should be reassured by Hyundai's track record for producing some of the top-selling electric models, including the EV6, Ioniq Electric and Kona Electric. 
There's also no doubt that the G80 is a very safe car, thanks to a five-star rating from Euro NCAP. The saloon scored 91% in both the Adult Occupant and Safety Assist categories, with the latter being a particularly high score that highlights how much active safety kit is included to help prevent collisions. 
While expensive, the Innovation Pack is worth considering as it adds a plethora of equipment to make driving safer and more relaxed. There's automatic braking to help prevent bumps while reverse parking, along with collision avoidance technology for pulling out of and turning at junctions. It also adds blind-spot warnings and a 360-degree parking view.